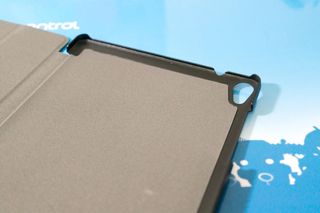 Keep that Nexus 9 covered
When a new Android tablet like the Nexus 9 arrives, third-party cases soon follow. The folks at our store are working out exactly what we're going to carry for the Nexus 9, but we know two things about early adopters who already have their Nexus 9 in their hands — nobody likes to wait, and we all want something to cover and protect our new (and expensive) tablet.
Both the official Magic Case and Keyboard Folio are really nice cases, but we know they won't be perfect for everyone. I spent the last week or so digging through Amazon and trying out a slew of third-party cases. We've put together a list of the "best of the best" for you to have a look through while you are waiting. The list of available accessories keeps growing every day, so I'm not done here. But this is a great start and chances are you'll see something that would work well for you.
Fintie SmartShell case for the Nexus 9
This slim SmartShell cover has auto-sleep and auto-wake abilities, and comes in a color or pattern for every taste
The Fintie SmartShell cover for the Nexus 9 is your basic slim folio case. Your Nexus 9 snaps into the molded back, which has a grip that's tight enough to keep things in place but not so tight you have a hard time taking it off or putting it on. You have cutouts for all the controls and ports, and everything fits nicely. The magnetic cover stays in place while your Nexus 9 is in a bag or purse, and everything will stay protected.
There are plenty of smart cover folio cases for the Nexus 9 available, and many of them fit well and work great. The one thing the Fintie SmartShell has that most others do not is the style factor. Of course basic black is available, but you also have 11 colors and 8 patterns to choose from. I picked up this smart map pattern, and I really like the look.
FYY Premium Leather Smart Cover for the Nexus 9
The FYY Premium Leather Smart Cover for the Nexus 9 comes complete with card slots for your ID or credit cards, and a strap for easy one-hand holding
The FYY Premium Smart Cover takes a standard folio style case and builds a wallet into it. With slots to stash both your cards and a bit of cash (there's even a small pocket for an SD or SIM card) the FYY cover is great for use on the go. There's even a built-in hand strap so you can hold your Nexus 9 with one hand and without any fatigue in your digits or wrists.
There's also a smart sleep and wake function, and the whole thing really does have a premium feel. Of course, you have full access to all the ports and controls of your Nexus 9, too. Eight colors to choose from means you'll likely find one that suits your taste.
KAYCASE Gel Cover for the Nexus 9
This flexible and soft gel case protects the back of your Nexus 9 from scratches and gives a more "grippy" feel
Not everyone wants or needs a full cover case for their Nexus 9. If that sounds like you, the KAYCASE Gel Cover might be the perfect case. It's soft and flexible — which means it's easy to put on and take off — and covers the back of your Nexus 9 fully. The raised lip on the sides also means the screen won't be touching if you lay your tablet face-down on your desk or a table.
You'll have easy access to all your controls and places to plug things in, and the soft gel material makes your Nexus 9 a bit grippy and easy to hold. The KAYCASE Gel Cover comes in three colors.
LK 360 Rotating Smart Case for the Nexus 9
The LK 360 Rotating Smart Case for the Nexus 9 comes with a twist — it also serves as a stand in portrait orientation
There are plenty of smart covers for the Nexus 9 that let you stand your tablet up in landscape, but few offer a portrait stand option. The LK 360 Rotating Smart Case does, and it does things well. PU leather on the outside and a soft velour-like cover on the inside will keep your Nexus 9 safe, and the elastic band keep the cover closed in any bag, backpack or purse. Full access to the camera and controls is built into the backing, and as a simple smart cover it's well built and recommended.
The secret, though, is the swivel where the cover attaches to the back. It allows you to stand your Nexus 9 in either portrait or landscape, and the deep furrow in the cover means your tablet will stay put when you need it to stand up. The LK 360 Rotating Smart Case comes in five colors.
SUPCASE Unicorn Beetle PRO Full-body Protective Case
The SUPCASE Unicorn Beetle PRO case for the Nexus 9 offers the ultimate protection. This is the case for people who aren't gentle with their tablet
If you want to get active with your Nexus 9, or are just hard on your equipment than this is the case for you. It's a two piece unit, complete with a rugged rubber outer shell that will keep your Nexus 9 safe from many of life's bumps and bruises. Precision cut-outs for controls and cameras mean everything works as intended, and rubber flaps keep the dirt and dust out of the USB port and headphone jack. This thing is tough.
The SUPCASE Unicorn Beetle PRO also has a built in screen protector, but it's not the highlight here. It will protect your screen, and you can use your Nexus 9 without any issues, but it definitely has that plastic feel. The good news is that it's easy to pop out should you want to replace it with a better screen protector.
Protip: This case isn't easy to put on or remove. This is by design, because of the tough rubber outer shell. When you first open the box you'll see a barcode to scan. This barcode directs you to a YouTube video explaining the process. In addition, you may need something stiff and slim to get things started — I used a heavy guitar pick.
Jerry is an amateur woodworker and struggling shade tree mechanic. There's nothing he can't take apart, but many things he can't reassemble. You'll find him writing and speaking his loud opinion on Android Central and occasionally on Twitter.
Well none of those tickle my fancy, thanks for the info. I ended up with an IVSO case from amazon and am pretty happy with my $15 case! Keep up the great work, Jerry and Happy Holidays!!

Got an iDesign special price on Amazon for my Nexus 10. (Not ready to go down an inch just yet for the N9, especially since getting the Nexus 6) Anyhoo- Paid $5.99 Prime for an otherwise $30+ case. Thought it was too good to be true, but it wasn't. Turned out to be a very excellent quality case plus the reviews were pretty much 5 stars. Love me some Amazon! Zenwatch rhymes with Winwatch. Coincidence? I think not.

I just bought the other Fintie case available on Amazon (full leather wrap around like the FYY you highlighted, without extraneous pockets)... There seems to be less movement in these than when I got my N7 and within a month every other case had dozens of reviews, not a shocker I guess. I bought that particular Fintie because I'm gifting the N9 along with the keyboard cover and it looked like it'd be easier to slip the tablet in and out of it (Velcro closure) than with any of the hard back snap on cases, we'll see. No biggie either way at $12.

I don't see the Map print option under the link for the first one btw, could've swore I'd seen it on Amazon tho... They might've broken it out of the main entry with all the other color choices.

found it, you have to search the map version http://www.amazon.com/gp/product/B00PFDSKSQ/ref=as_li_qf_sp_asin_il_tl?i...

Hoping that Devicewear will eventually do one of their Ridge Folio cases for this

I went through a bit of case wars myself, have the IVSO, KYY, and magic cover. I like the magic cover best so far, it has drawbacks (not secure, awkward use, loose magnets) but it doesn't overpower the tablet and I like having a bare tablet at times. Posted via the Android Central App

The Moco Case on Amazon is better than all of these. Also comes in many color options and is like $10! Posted via the Android Central App

Which one, there's like five different styles from a folio to slim fit. Posted via the Android Central App

Ultra slim. It offers good protection, thin, attractive, and cheap. Posted via the Android Central App

This Moko case is the nicest - slim and functional and CHEAP too for $11! http://www.amazon.com/gp/product/B00J2QUWTW/ref=as_li_qf_sp_asin_il_tl?i...
No point buying a nice tablet and covering it up with something chunky unless you really need rugged protection.

Yeah dude I am using the black one. Very impressed with quality, durability, appearance, and price. Solid purchase. Posted via the Android Central App

I've had the Hotcool folio case since it came out and it has been great. Especially since it was 6.99 when I got it. Posted via the Android Central App

Video sex Posted via the Android Central App

Anyway you can get your hands on a Devicewear Ridge case? Their iPad and Nexus 7 versions won top nods over at Lifehacker. Haven't heard anything about their new Nexus 9 case.
Android Central Newsletter
Get the best of Android Central in in your inbox, every day!
Thank you for signing up to Android Central. You will receive a verification email shortly.
There was a problem. Please refresh the page and try again.