The Nexus 6 is the best Android flagship you can buy today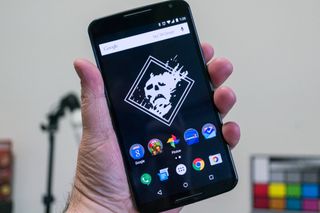 We're at the time of the year when most of the big players in Android hardware have shown us what they have to offer (waiting on you, Motorola) and many of us have had a chance to try them all.
There is some really good, and interesting, stuff out there in 2015. We've moved past the gimmicks like 3D and dual-camera lenses, and the folks who make Android phones have worked hard to deliver something for everyone.
But after all the dust settles, the Nexus 6 is the best Android "flagship" you can buy, even though it's not the newest.
Granted, the Nexus 6 doesn't have the best screen. I'm pretty impressed by what I've seen on the Galaxy S6 and the LG G4. But I've never looked at the screen on my Nexus 6 and said, "this is horrible." That's because it isn't. It's big, bright, and 493 pixels per inch are enough to make anything look great on the 6-inch display.
The Nexus 6 also doesn't have the best camera of any phone available. The LG G4 is the first Android phone with a camera that's more than good enough, and if your main reason for wanting an Android smartphone is the camera, you should probably think about buying one.
There are also plenty of folks, like me, who just don't love carrying around a 6-inch phone. I can use it just fine (save the cracks about my lack of manly hands), but I don't like the size of it in my pocket and it doesn't fit in the cup holder of my car very well. I've come to terms with it, because just about every other Android phone is bigger than I like, so I have to suck it up. I'm looking forward to the next Z-series compact from Sony, though.
There are plenty of things about the Nexus 6 that are done better by the competition, so why in the heck do I say the Nexus 6 is the best phone you can buy?
The software.
I'll be up front — I'm a software guy. Take a room full of smart engineers and they can design a phone that ticks all the boxes and is the best thing ever — on paper. When you pick it up and use it, you soon find that the software is like the soul of a phone, and makes all the difference.
I don't mean TouchWiz versus HTC Sense versus "Stock" Android versus whatever LG calls its stuff now. It's perfectly fine to like a thing that looks different from another thing. I mean the way the software works, how well it works, and how good the next version is going to work.
The Nexus 6, like every other Nexus phone before it, had a rough few months in the beginning. I joke and say Nexus users are Google's beta testers, but it really does feel that way when a new Nexus phone comes out and we're trying a new version of the operating system. But, also like every Nexus phone before it, Google pushes out updates that address the complaints we all find. Right now, Android 5.1.1 on the Nexus 6 is the best version of Android ever. Even more telling, Android 5.1.1 on the Nexus 5 runs better than every other 2015 phone, too.
This is because one company is in control of both the hardware and the software. The Galaxy S6 is a technological wonder. You can't help but be impressed with the design and the hardware used to make it all happen. But on the software side, they have to use a product designed by another company with another phone used as the initial software target. They wait on Google to make changes, alter things to try and optimize the software for their gear, then build a different user interface on top of it all. They find ways to make it better and send the changes back to Google, and the next version of Android will probably run better on their phones.
In the meantime, you have issues stemming from using an older version of Android, as well as issues Samsung introduced itself. The same goes for LG, and HTC, and everyone else building Android phones. Software is hard. Getting it right takes time and dedication. Getting it right while also trying to change the entire interface means it's never going to be as smooth as the original. An interesting aside — when HTC monkeys with the RAM management on their phones, we call for their head. When Samsung does it, we blame Lollipop. This says more about us than the phones themselves, though.
The Nexus 6 isn't perfect. Nothing ever is, really. But if you want to spend a bunch of money on an Android phone, it's the best way you can spend it.
Jerry is an amateur woodworker and struggling shade tree mechanic. There's nothing he can't take apart, but many things he can't reassemble. You'll find him writing and speaking his loud opinion on Android Central and occasionally on Twitter.
I would love this phone if it was just a little smaller. It's just to big to carry around in everyday life for me. As a secondary phone at home, if I had the money I would do that. Posted via the Android Central App

I wished I would of gone this route instead of a LG-G4, but I just couldn't get my hand around it! I'm patiently waiting for the next series of Nexus phones to be released, I miss my N5, but the battery life was unbearable. Posted via my Nexus 9

There must be a whole lot more guys out there with tiny hand syndrome than I thought. I'm a woman with average to small sized hands and I don't have any problem holding onto my N6. This is the 2nd phone that I've 'loved', the 1st being my G2. Unfortunately, it's spoiled me for anything other than vanilla Android, so I hope the Nexus as a thing doesn't go away.

Lol people will find any reason to dislike something so when I see people say its to big and they have the note 4 or other phablet size phones I know its a personal problem. Posted via the Android Central App

Yup Posted via Morse Code

For me, it's not the size of the phone that might bother me, it's the placement of software buttons in the upper left of the screen. I hate that apps are still designed with buttons there.

For me, holding it (and other phablets) is not the problem.
It's the amount of space it takes in trouser pockets that's the problem.

Spot on. Posted via the Android Central App

Totally agree. I also have the issue that these large screens let the manufacturer's and Android off too easily by allowing huge heavy batteries. I still think that the Galaxy S2 form factor was the best. Put it in your pocket you don't notice it. 6" is still too small to properly enjoy a movie but big enough to not fit in your trousers or in the cup holder of your car. Too big and heavy to hold with thumb and index while reading. I really don't get the fascination. I would trade my GS4 for something the size of that tiny nokia that awestruck us a decade ago. Now imagine something that size that could hotspot LTE, play HD music into your car over BTooth while running Waze or Strava. That would be a bridge to smart watches. Running with a 6" behemoth strapped to you. the GS4 is bad enough. I'll settle for a quad core high pixel density Galaxy S2 form factor.

Best comment in a bunch of good ones. I keep my old s2 charged and ready with my screen layouts. It's such a good thing. Plenty of cheapies have copied it but none have it's lightness and niceness in hand. The original, tiny star tac is the other one I like and for similar reasons. I used to hold both of them in my hand and just appreciate how my awesomeness was in my palm. My now old m7 is also svelte, like an s2 crossed with an ultra book :-).

"There must be a whole lot more guys out there with tiny hand syndrome than I thought." Oh, it's not limited to tiny "hands" m'dear!

How easy is it hold with one hand and reach your thumb to the upper left hand corner though? That's usually where the hamburger style menu is location. Swipping the notification screen is a pain too. I mean, I can use my G4 with one hand, but it's not comfortable and like the 5" form factor better. When I used to the Moto X (2013) I had a little size envy, it was conveniently small.

For quick use, I have not found using one hand to be much of a problem. However, when I am at my phone for more than a quick glance, I often find myself using two hands more often than not, but I do not see using my other hand as being overly difficult.

For me it's the pocket issue. Using it... Not an issue. That said, I'm sure I'd get used to it. I've no reason to move on from my N5 though. Posted from my Nexus 7 2013 via Android Central App

How is performance and battery life on your N5 with the 5.1.1 update?

Now this I've never understood. Do people wear skinny jeans all day? I've never had an issue, ever, fitting a phone into a pocket. I get the usability thing, but not the pocket issue. Posted via the Android Central App

Couldn't agree more! I love my N6, although I just got in the pool with it in my pocket lol. Thank God for insurance. Most people talk down the N6 and never tried it. Posted via the Android Central App

Are you using it with two hands? One holds the phone and the other does the operating? I'm pretty sure the people that complain are the ones trying to use the Nexus 6 with only one hand.

I decided to try out the note edge. It's the biggest phone I've had, and its definitely stretching the limits of how big I want my screen. Before this I had a Sony z3, and I think it's been my favorite phone, size wise. It also had the front facing speakers, which was awesome. If I could get the z3, as a nexus, I think I'd be in heaven. Maybe bump up the size to 5.5 from 5.2, and I'd be in heaven even more!

I still can't believe how huge the nexus is every time I see one in the wild ...what were they thinking? Posted via the Android Central App

I have gorilla hands and a belt holster. I never use one hand to text, although I could with the N6. I love this fone!

They were thinking the larger size might appeal to some people. They were right.

Stop wearing women's pants if you're a dude, fits in my pocket just fine

+1. If you're wearing skinny jeans the size of the N6 isn't the problem. Posted via the Android Central App

Better than wearing baggy jeans and looking like a slob who can't dress themselves.

When you want to give your package plenty of ventilation baggy is the way to go. I won't say skinny jeans is just for chicks but there is no denying baggy jeans are not sloppy, it's like a penthouse for your junk and yes my note 4 fits in the pocket. Posted via the Android Central App

Depends on the pants pockets. I've noticed or is a little snug in my 501s, but fine in khakis. Best of you have a jacket. It's a big phone but not much more than the 6+ and the screen is huge. Posted via the Android Central App

"...Penthouse for your junk" you win the internet for the day.

Lol go put on your jeggings haha. I wear normal pants and jeans and the nexus 6 fits fine. Doesn't bother me a bit. Posted via the Android Central App

*looking like a man. Fixed it for you.

Never wear skinning jeans, but do have to wear dress-ish pants for work every day. Even my Moto X 2014 with a pretty slim case is a bit annoying sometimes, particularly when I sit on the floor cross legged and am working on a computer under a desk. I'm not complaining about the size of the N6. If I was in the market for a new phone I would definitely look at it, but it is certainly a very large phone (this is different than saying, "too big") -- that is NOT going to be as comfortable in the pocket as, say, the Moto X 2013 (I would forget it was in my pocket until I double checked).

Yeah, fits in my pockets too.

+10000000 Posted via the Android Central App

Funny how perceptions are. I actually have a nexus 6, so I'm not like 99% of the other people who call it too big, and I actually find the nexus 6 just a little bit too small. In fact, if Google were to announce a 6.5" nexus, I'd eat the loss, sell my nexus 6, and buy the bigger one. If the next nexus is smaller than the already too small, nexus 6, I'll pass on the newer phone and keep the "six" as long as it still runs right.

That's funny because I've been waiting for a tablet sized note like phone with flagship specs. That would be a dream come true. Posted via the Android Central App

Not me. I don't want a tablet sized phone. I want a phablet sized phone and 6" barely cuts it. In fact, it doesn't cut it, really. It's a wee bit small.

Sony had a 7" last year Posted via the Android Central App

You aren't the only one. I've used Hangouts and my Google Voice account to turn my Nexus 7 2013 LTE into a phone. If I could get rid of the bezels, make it slightly thicker with a bigger battery, and add current processor & RAM specs.... it would be almost perfect. Posted via the Android Central App

I'm with you PR2.
pretty much word for word.
6.5 is what i want
and i too will stand pat with N6
until there is a bigger and better Nexus.
(hint: these are pocket computers, not cell phones.)

I agree with you 100%. We need a few phones larger than 6 inches that aren't an afterthought. i have a Nexus 6 and Xperia Z Ultra and the 6.4" Z Ultra makes my Nexus 6 seem tiny. I'd love something similar to the Huawei P8 max.

You get used to it. OPO was big for me, now its tiny. I would still prefer 5.5-5.7 though. As far as pocket fit, OPO, Note 4 and N6 are all uncomfortable in front pocket, in back pocket it makes no difference for me.

Too small. Waaay too small. Even the Nexus 6 is too small. I'll skip the 15N5 unless they make a last minute decision to make it big enough. -Peter

Obligatory Dilbert reference.... http://dilbert.com/strip/2012-02-23

Dilbert said "you want me to design something that is a bad tablet and an even worse phone?" FTFY "NO. I want you to design me something so I don't have to carry around both."

Heck yeah... if somehow Google got to be the first phone with Qual 820 processor in the 2015 edition nexus 5... I'd finally put my current N5 out to pasture for sure. I put my phone in my front pocket and even with normal jeans my N5 isn't actually a loose fit in the pocket... in khaki's a big phablet might be doable but in normal jeans (say lucky brand normal loose fit OR even Levis 501's) the nexus 6 or bigger whouldn't be comfortable to sit down with it in there... with the thin bezels that LG is pushing out now a new nexus 5 will be perfect!!!

Did you ever actually try it? People that have never used a larger phone for more than a few days are the ones that say it's too big. Remember when 4.5" evo was "CRAZY HUGE OMG WHAT ARE THEY THINKING???!" This phone is pretty perfect. The part that other phones do much better, the camera, is still incredibly good. The worst thing for me is battery life, but I don't think any phone has good battery life. The only time battery life works for me is when I can replace the stock battery with a zero lemon.

I was saying the same thing until I put away my Nexus 5 thoughts and really have the Nexus 6 a shot in the store. I just ordered one plus Google Fi. We'll see what happens. AC App via Nexus 5

I respect your opinion, and you have good reasons for why, but id rather have a note 3 than the n6. Posted via the Android Central App

Note 3 over the Note 4? I'm curious as to why.

Haha I was thinking the same thing, I think he probably meant Note 4 though. Me personally I like what Samsung has done by adding features to Android but I just don't like the touchwiz experience. Pure Android us nice but it's boring at times with any mods. A good mixture of both would be nice then again we have those Google Play editions which wasn't big this year for some reason. Imagine an S6 plus with stock Android and a lil touch of TW, this would be awesome. Posted via the Android Central App

I have a Note 4 and basically hate TouchWiz, except for multi window. So, a custom launcher, disable a bunch of TW apps (from a long list given to me by a Vzw tier 3 tech support lead) and I have the lightest weight Samsung phone running a stock TW OS, uprooted.

Ditto. If a GPe version came out for either S6 or S6 edge, I'd be all over it. Could I just flash stock Android? Sure...but I just don't like to tinker much anymore. I just want it to have it without TW and the bloat out of the box. :-)

even Note 2 is smarter than any d*mb Nexus ;)
N6= too big, camera not good enough, too d*mb, too expensive

Lol good joke Posted via the Android Central App

Why are you censoring the word "dumb"?

Because touchwiz has warped his brain... lolol!

It's not too big, the camera is fine and it's cheaper than a Note 4. Say what?

I meant note 3 to prove a point. Posted via the Android Central App

What point did you "prove"? That you love Touchwiz and 2 year old phones? Methinks you need to Google the definition of the word "prove". Posted via the Android Central App

Nah. The Note 3 is still an awesome phone. I miss mine. Posted via the One M9

I think the note 3 has a better display I think the pen and multitasking on a note is superior I think the feel in hand is better on a note 3 I think the swappable battery and ad card slot is necessary I find the ir blaster to be a big deal I find wireless charging to be a small deal that I find gimmicky I think you're a nexus fanboy and I know I'm a Samsung fanboy which makes me smarter ;) Posted via the Android Central App

Samsung is terrible. Even htc and lg are better. Posted via the Android Central App

Cool story Posted via the Android Central App

Agreed! If one is going to make a phablet, make it with a stylus and multi-window. (Screen) size matters, but how you use it matters more. Posted via the Android Central App

Its not that, its just that TouchWiz when you really look at it is actually quite ugly. If it wasn't for them trying to lollipop up their phone it would still look like pre gingerbread. It's not the design of the outside so much as it is the software. And just like this article says, it's true the software is the soul of the phone. It's why I was able to look past the small Nexus 6 issues, because the pros far outweigh the cons. When I own a Samsung device there are so many things I have to turn off, hide, and tweak/ replace that it just isn't worth it to me anymore to have a Samsung device regardless of the camera or the screen. Even the phone icon on TouchWiz is horrendous. That square with the white borders its just ugly. Right now I'm using an Alcatel Idol 3 to test out and the software user experience on this is nicer than TouchWiz hands down. If Alcatel made an high end version of this phone with the same specs as the Galaxy S 6, I'd choose this experience over the best Samsung made software in a heartbeat.

I have a feeling you are going to lose some sleep tonight. Lol Posted via the Android Central App

yeah I respect Jerry most of the time, but hell he is so wrong on this one. Battery is not the best (same with the s6) but the camera alone sets this off as a "you can do better" phone.

No, he is totally right. Sucks to be wrong doesn't it lolol Posted via the Android Central App

Meh, I went from a nexus 6 to a Galaxy S6. Wouldn't say I regret it.

When Lollipop first came out, my N5 started to have battery issues. Eventually, with updates, it seemed to go back to normal. With the N6, my battery lasts a very long time. However, I just recently purchased this, so perhaps the phone had some issues at the beginning like the N5 did.

I think many here totally agree with Jerry... it's the whole package and pure android where the sum of it's parts are so much more than they are individually. I agree but the camera is good enough for a phone... if I wanna take good photo's I use my digital Nikon in RAW+jpeg and work on it in Photoshop and Lightroom.

I don't know why people always complain about the Nexus camera. I would have to say 98% of my shots come out pretty crisp, clear and nice. I've taken some pretty amazing shots that people are surprised it's from my Nexus. Then again I only use my pictures mostly for social media or for casting to my TV. I don't use it for income, and selling wall picture art as some of you do. Posted via the Android Central App

Uh... The Nexus 6 got a lot of things right, but isn't the software a Motorola phone without the extra Moto apps like Moto Voice, Moto Display, etc. You know... stock?

The Nexus 6 does not run "stock" AOSP Android without modification to the source. Neither does the Moto X. Nor does any phone I can think of.

Don't go there.... Posted via the Android Central App

Correct. I should say Nexus-"stock", not to be confused with AOSP stock. Maybe I've started taking the Nexus line for granted as the "stock" android from which the OEMs build when that's not at all what occurs.

Wait.. Thats not how it works?

Nope... There's "Google Android" that goes on the Nexus and Google Play Edition devices, and then there's "AOSP Android" which is the open-source version that the OEM's get to use at no cost. :)

yeah it is. A Nexus is not AOSP

I`d do it, but I have Note Edge. I thought to get it first.

How's the Note 4 edge lag wise? Conceptually I love that phone. Given how good the regular a Note 4 is screen wise, camera wise, and feature wise, I imagine the edge is even better. But the lag on the Note 4 killed it for me. And of course 9ersfan3 will tell you that I'm an idiot because there are "very easy ways of getting rid of the lag on the Note 4", but I tried those to no avail. Posted from my Nexus 6 Android Central app

Not to hijack this further, but I've managed to get rid of just about all the Note's lag with a combination of Pop Rocks ROM (V5X), Emotion kernel, xposed, and Wanam. It wasn't easy; I don't care what anyone says. But it's gotten the phone awfully close to where it ought to be. 5.1.1-based ROMs should do the rest of the job. As for this article: I owned the N6 for a month and hated it. Underwhelming camera, over-the-top size, Lollipop Android that, at the time, felt hastily thrown together. It seemed like to many negatives for such a price increase over previous Nexus models (which I loved). Oneplus One beats the pants off the N6 for quality:price ratio, in my opinion. Hell, so does the Zenfone 2 with 4GB of RAM. Anyway, it's interesting to read that someone has such a different take on the phone from my own.

Most users even on this site do want to jump through all the hoops you just posted. I have no idea if the lag is a problem on the Note 4 or not, but if it is I'm not going through all that trouble. Posted via the Android Central App

^this Posted via the Android Central App

I hate that we, the end users, have to jump thru these hoops to get a properly working device but I believe that doing so is much more worth it than settling for all the hardware limitations Jerry himself acknowledged in this story. For the record, I also use PopRocks ROM and it wasn't challenging to get it set up the way I wanted it. Then again, I'm a techy person on a tech enthusiast site so maybe that's why. Posted via the Android Central App

I would gladly have done that with my Note 4, but it was an AT&T one, and the bootloader was at the time as locked as they get. I don't know if folks have finally managed to get that unlocked, but I understood that Verizon and AT&T variants were not modifiable.

What is this "Lag" that thou speakest of?
I knoweth it not, nor doth my M8 ;)

M8 still the fastest phone. Posted via the Android Central App

I actually have both. We haven't seen the M8 on 5.1.1 yet (it's on 5.0.1 right now), but the N6 is the speed king right now. Perhaps that changes with the M8 on 5.1.1, but regardless, both are lightning quick with no lag. If HTC had actually made the M8 Maxx last year I might have never found out how great the N6 is. Posted via the Android Central App

I've had my Note 4 for a couple of weeks. I have has some hiccups with this lag you speak of, but I came from an iPhone 5C. This thing destroys that and most of the iPhones I've seen these days in terms of lag. To an all-android audience, this must seem like a given. I have to say I probably would be happier with a G4 than this, but the N6 camera is lackluster. I will not take a step down in the great camera quality that this gives me. TouchWiz is more invasive than I thought, but I guess it serves me right for buying a Samsung out of an iPhone.

Just left the Note 4 for a Zenfone 2 for this very reason. I just can no longer deal with the lag. Its infuriating for a phone with such specs to suffer as much lag as it does. I'm really, really going to miss its camera, but you can get better, more consistent peformance out of a Moto G most of the time. Its unbelievable.

how do you like your Zenfone 2, if you don't mind me asking??? I'm a current Note 3 user, and i can't seem to decide on whether to get it or not. I was going for the N6, but without dual sim...never mind.

Lag wise my note edge drives me nuts. Everything else is awesome, but the lag kills me. I wouldn't have bought it if I wasn't on jump with T-Mobile. But since I was I decided that the 6 month experiment would be fun.

I have owned a Note 3 and a Note 4 since the day both were released and never experienced the slightest bit of lag on either device. I also know alot of people who owned both and they never once complained of any lag. Posted Via The AT&T Note 4

The lag does exist but from what I understand it has to do with lollipop. The lag is not enough for me to give up the camera, screen, uses for the larger screen and the big battery. The only reason I want a nexus is to try project fi. Other than that I'm not drawn away from my note except by either the next note or who knows I may be surprised one day by a different Oem. Posted via the Android Central App

My Note 4 has been on Lollipop for a few months now and haven't experienced a bit of lag. I also don't have a 100 apps installed and cleared my system cache and did a factory reset after the update. Alot of my friends did the same and haven't experienced any lag at all either so IDK. Posted Via The AT&T Note 4

I've owned pretty much every Samsung Phone and they all have slight lag. Everyone's Samsung phone that I fix (I replace screens) or play with has the same lag. There is no way yours doesn't have any lag if it's stock. They all lag with no extra apps installed.

Same here. Had a Note 4 and Nexus 6, got tired of the Note 4. It lagged on KitKat and Lollipop. If you say your stock Note 4 has no lag then you either have never used a Nexus 6 or your senses aren't working correctly. Yes you can root and ROM but most people don't wanna have to do that. I rooted and debloated it and gave it to my girlfriend. If you root and debloat the Stock ROM enough the lag goes away. I am not a fan of Touchwiz anymore.

Ok if you guys say so lol. I'm not going to argue back and forth about the non existent lag on my previous Note 3 or my current Note 4. Posted Via The AT&T Note 4

Hey jerry can I have a link to that wallpaper? Posted via the Android Central App

Also without having to wait for updates. And that extra stuff you mentioned is still extra stuff. It's also still not easily recoverable like a Nexus (factory images easily available and flashable). And the Nexus 6 camera is better than the X IMO. Posted via the Android Central App

Fair enough. Maybe it's just that I've found extra stuff that i like. Oh, crap, I'm turning into a Samsung fan. Well, Motorola, but still.

Well the moto x phones are too small for my taste.

To each their own, I suppose. I guess my girly tendencies are just too strong to deny the appeal of a phone that'll fit in my cute, snug blue jeans?

Its OK...its not your fault lol. I'm glad there are choices for all.

O_O Posted via Android Central App on The Nexus 5

Hey, you can be a guy with decent size hands, and still like small phones! There's guy at work with the same size hands as me, and he rocks a Galaxy Mega with no problems. I just shared a day or so ago that my favorite phone (size wise) was the original HTC One mini. I used to carry it in my hand instead of my pocket just because it felt so good! I stepped up to the M8 to get more memory, expansion, battery, speed, NFC, and of course the IR blaster. I've gotten used to the bigger size, but frequently use it without a case to eliminate the extra bulk. Cute, snug blue jeans? Arggg! I'm not gonna be able to get that out of my mind for HOURS!

The jeans I'm wearing today are too tight for a phone in the front, actually. Enjoy! <3

Stop it. Posted via the Android Central App

Is that where we're at Android Central? Writers trying to titillate commenters with descriptions of what they're wearing? Between the clickbait and this kinda stuff this site is going down the tube.

I didn't realize jeans with tiny pockets were that titillating. You must be really easy to excite.

BWAHAHAHA! Zing! Posted via the Android Central App

Dude really? Posted via the Android Central App

It's called playful banter. I worked for years at a women's hospital where nurses used to corner me, and I've been the technical engineer at women's events where it's me and 150 women at remote campsites. I'm there because they trust me in any situation, and they know that even dragging me into the lake is not enough to break my self control. It takes a lot more than a playful comment to get me going, and I think you guys would have ignored it all if it came from someone less attractive.

Cool story bro. Posted via the Android Central App

You sound silly. Some of you guys need to be shipped to another world with your crap. Posted via the ACA on NEXUS 6

moto does more changes under the hood than just throw in some apps. tis the reason why every single time they just throw out an update to say they were the quickest... the phones suck.

4th of July is next weekend. That's when you're supposed to do heavy drinking. Posted via the Android Central App

I don't think I can get behind this idea of a nexus phone being the "best flagship". I might just be a "Normal" phone user who like gimmicks, but I'll take a phone that has everything over a phone that has basically nothing. Multiwindow, IR blaster, and removable batteries are things I have used every day for the last couple years (GS3, LG G3, now LG G4) and want on my next phone. the vanilla android experience is incredibly boring after a while and seeing what other people can do on their phones make it even more boring. This is probably that big divide between normal people and the tech crowd. I want everything for my money. If I don't get everything, I feel like I've made a bad purchase for my 2 year contract.

Ya, neither can I, and for alot of the reasons you mentioned. But stock LP definately isn't boring imo. It's a huge leap forward for android from a design standpoint that aesthetically puts it ahead of iOS imo. But there are too many ways that other flagships the just better than the N6 to call it the best android phone IMHO.

Is a huge leap forward, but I consider it boring in the same way an iPhone is boring. There's no... Flare to it. If you hold up a nexus 6 and a droid turbo, they look pretty much the same from a software standpoint,but the Droid had so many little Motorola touches that it ends being more fun to use. So I guess what I mean is; stock Android is a canvas. I want something interesting painted on it. Posted via the Android Central App

There is an app for that. You are correct, it's a canvas and it's up to you to do what you want with it. Posted via the Android Central App

But what I want is things you can't download an app for. As unpopular an opinion as it is, I tend to side with the majority and buy the version that has everything thrown in like on the S6 and LG G4. (i use the G4 and gave the S6 to a parent). I had a Nexus 5 for a short time and after a full week of searching, downloading, and messing with soooo many apps in hopes of making it more of an all-round performer, but at the end of the day, I still couldn't use it for everything in my day like I can a G4. For a stock android phone. I'll pay $150 for a Moto G, but if I'm signing a contract or paying for an equipment plan, I want EVERYTHING in that beast.

I get it, I'm just on the opposite side. There just to much going on with G4, S6 for me. Software that I would never use and just disable, however having expandable storage and replaceable battery is a plus. Posted via the Android Central App

All around performer? So you like garbage bloat and skins. Vs stock android.. Just use Nova or a launcher. If you like laggy phones I suppose the others are fine.. Posted via Android Central App

He won't make you feel bad about your purchase that easily haha Posted via the Android Central App

Well said! Posted via the Android Central App

I see your point. But "flare" takes resources. Some of that flare I can live without. So I add it where I want it with apps. I'm using a OnePlus One (Please NoNexus... don't hurt me). I bought it several months ago when my N4 screen started developing dead spots. The latest version of Oxygen is just what I'm looking for in a phone. Very similar to the Nexus experience. I considered the Nexus 6, but price and form factor won over. The N6 was just a little too wide for my tastes.

I split the difference. I want a stock UI, but I want a lot of features I'll use. If the 2015 Moto X put in an IR blaster, it'd be just about perfect. I use the voice commands, Moto Display beats the pants off Ambient Display (thanks to the IR sensors I initially scoffed at), but I want the stock controls and look for everything so things looks uniform (and so there's less futzing before updates and I can replace what I don't like).

That actually would be a fantastic phone. And if that split screen option in Android M makes it to the full version, I would be incredibly happy. Posted via the Android Central App

Split screen is looking to be awesome once it supports all apps. So far, multi-window is a tease because it doesn't support much.

And that's why I love my Note 4. Not just any Note 4 but a T-mobile Note 4 because of it's ability to be rooted and ROM'd. Allows any apps to be multi windowed and addition and subtraction of apps and features almost at will. I know, I know. What if you don't want to root your phone? Well....... we're on an Android enthusiasts site aren't we? Root and ROM. Posted via the Android Central App

What got me noticed was an article about how rooting and ROMming aren't as necessary as they once were, and how I'm willing to vote with my wallet on a device that gets both the software and hardware right. Being an enthusiast doesn't mean I'm going to do the manufacturer's job for them when it comes to software.

I agree that it isn't as necessary as it once was and that we shouldn't have to do the manufacturers work for them. That being said, it's liberating being able to do it to get a nearly perfect combination of hardware and software. The thing is, I actually agree with a lot of Jerry's points, I just rather solve them differently. I surely would not settle for all the hardware limitations of the Nexus 6 when the software limitations of the Note 4 can be reduced dramatically with a little effort. Posted via the Android Central App

I don't think split screen on a Moto X would work the best...

I don't think so either (which is why I mentioned wanting an IR blaster instead.

Maybe you and the guy a few comments up can enlighten me on what is good about an IR blaster on a phone. I haven't used mine once. Give me something better than quick remote too. Posted via the Android Central App

What else would expect an IR blaster to do? I use it to control my media center from the notification tray while using either Plex, Kodi, or Chromecast to throw videos on the TV. saved me money I would have spent on a harmony remote and saves me the hassle of finding 4 different remotes around the house. If you don't have an entertainment console, that wouldn't be a selling point for you and you would be fine to ignore it if you did have it on your phone.

All of my gear is hidden and is controlled by an RF remote so no use here for a blaster. I was just wondering if there was some other cool use for it that I might be missing. Posted via the Android Central App

Nope. There's really nothing more to it than that. Probably the most gimmicky of gimmicks it there, but I've been spoiled by it now and hate having to find any other remotes when I already have my phone in my hand.

It's fun to be able to change the tv volume in restaurants or bars. Posted via the Android Central App

My thoughts exactly, I like how lollipop looks but stock is just so boring when I'm paying like £500 for a phone I want the best screen, best camera, features galore look multi window, ir blaster and a camera app that's actually awesome to use. Stock camera app is just bad imo. I like feathers as long we are given the option to enable and disable. Posted via the Android Central App

Um, no! Good joke though.

Great Article Jerry. Screw the haters.

I never let what anyone else thinks cloud my judgement. :)

Thx for the article. I only buy a new phone every 3 years, and I had to budget for my Nexus 6 for a year before it came out, even though I was budgeting for the 2014 Moto x and the N6 was announced for all carriers I was getting my holy grail phone, Nexus 6 inch Motorola that worked on verizon so I can keep unlimited data, been delighted ever since.

I do still find myself putting my SIM back in it from time to time. Kinda why I want Fi. Gives me an excuse to keep using it (I'm more of a hardware guy). Posted via the Android Central App

I had a Nexus 6. The adhesive on the back suddenly popped off one day without warning, and oh yeah.... when Android 5.1 came out, I could no longer use it as a PHONE. So, yeah, no. I returned it and got a Samsung phone. Yay Samsung.

Based on some people that back cover issue never existed :)
And phone has been performing flawlessly as well Posted via the Android Central App

This is gonna be a busy comments section haha! Personally I'd say Note 4 is a better device in the category the Nexus 6 is aimed at 'the phablet market' Software and updates might not be just as smooth as the nexus, but expandable storage, better camera, extra hour screen on time, s pen features, multi-window, removable battery, ultra power saving mode, better amoled screen surely make the note a better option? Posted via the Android Central App

+1 Posted via the Android Central App

Exact sentiment here! I think the Note 4 is heads above the Nexus 6 hardware wise which to me is what matters the most since hardware cannot be easily modified whereas software can be (ex. if you have root access can flash a custom ROM or at minimum use third party apps). :-)

I've used most flagships over a year and have to agree with Jerry here. The software experience is what matters most, at least to me. And nothing comes close in my opinion than pure stock android out of the box. Yes, you can do exactly the same on a skinned device but at the end of the day I always come back to a nexus or moto device despite their shortcomings. I've passed up the GS6 and G4 knowing how great their cameras, specs etc. We're all spoiled by great devices and each to their own but for me, if it isn't stock it doesn't rock. Just my personal preference. Posted via the Android Central App

Not just that. there's nothing wrong with wanting all the features other phones come with. There is something wrong with having to disable many of them to make the phone run better, and still not as well as others.

Jerry, I owned a Nexus 6 for a while. I was really upset they disabled the Motorola enhancements. The GS6 is a really nice phone. Posted via the Android Central App

They didn't disable them, they just were never there. Posted via the Android Central App

They didn't disable them, they just were never there. :) Posted via the Android Central App

Disabled Moto enhancements? Clearly you may be a little confused about this phone. Motorola (as well as other OEM's in the past) are contracted by Google to build the Nexus hardware. They have no say in the software. Google directly manages the software, so there will be nothing added from the OEM. My point is, if you wanted Moto's enhancements, buy the Moto X. Posted from the Nexus 6, Nexus 5, or Surface Pro 3

I like the way your put together jerry. Great points. Software will always win for me. Posted via Android Central App

Software,software,software . You can do more, with advanced hardware features, but smooth operation trumps. Mfg's tweak their oom settings too much.

Hahahaha this article was a good joke. Posted via the Android Central App

Love my nexus 6, tried the G4 and I came back. Also, link to wallpaper please?

https://dl.dropboxusercontent.com/u/5505104/gfs4vBM.png

Ugh. Jerry, could you ask the team that works on the AC app to add copy comment text? Unless I'm missing something. Posted via the Android Central App

Done. We're working hard on things, and that's now on the list.

I agree with you. I do wish though that Google/Motorola did a better job with the camera. Having used both the Nexus 6 and the Note 4 for a while, the one thing I really miss from the Note, is the awesome camera. I have kids, so that factor is perhaps more important to me than to others. But it is the one let down I have. Using multiple apps at the same time is also something they should have added given the size of the screen. Still, for me, it is the smoothest, fastest phone out there no matter how many apps are running at the same time. I don't ever have lag (Samsung) or screen not sensitive enough (LG G4) or other similar issues ever since 5.1.1. I just installed the HTC camera on it, so hopefully that will resolve some of those issues. Otherwise for people who like phablets and consuming content a lot (loud stereo front facing speakers), nothing comes close. Posted from my Nexus 6 Android Central app

BATTERY!!!! PLEASE GOD GIVE IS MORE BATTERY!!

Loved the Nexus 6. I ended up selling it last week since I loved my S6 more. I had them for over a month and finally decided it wasn't practical for me to have both. A couple days after selling my Nexus 6, I received my Project Fi invite. My luck...

I did NOT expect this article lol. I've heard nothing but nexus hate since this and the 9 came out. I'd love one of these myself if I could afford it. Posted via the Android Central App

I just wanted to say I won't get involved in this one. Posted via the Android Central App

This dude must be smoking crack! Posted from my Samsung Galaxy S6

Nope Posted from my Samsung Galaxy S6

Loving 5.1.1 on my nexus 5! Posted via the Android Central App

Me too - I'm still not convinced any of the current phones are any better than the N5. I replaced my N6 with it (too big), and never looked back.

I love my Nexus 5 too, but the screen is kinda too small for everything I use a phone for. Watching videos, surfing the web and most any app has a better user experience on the large screen. The battery life has also been much better on the N6. Android M is going to be epic if the DP is any indication of battery life. So far, a few days in, I am really loving the N6. Posted via the Android Central App

Sounds right to me.. Posted via the Android Central App

Yeah, I just don't get it. A phone is the sum of its parts, not just the "software" aspect. Battery life (and a removabale batter), camera, screen, weight, size....all these are important. It's pretty disingenuous to say well, screen, size, and camera aren't important enough, so GOOGLE! YAY! Sorry, but when your title says best flagship available today, you should probably define what you mean by "best" and limit it to Basic Android by Google, since that's the take-away of the article. I agree that a Basic Android software phone is great, I have a Nexus 4, 5 (no 6, that was too big and heavy to even consider) and two Nexus 7 tablets. But when i am looking for a phone that I am going to use everyday, there is a lot more I consider besides quick software updates. I have to take into consideration the quality of the screen I am going to be looking at everyday, multiple times each day. i have to look at the lenght of time the phone can be away from a charger, I always look to have the best camera available, I look at storage capability and expandability, and I look to see if I can use the software, then how the phone feels. When Ii do that for the Nexus 6 i come away very underwhelmed. It's not only big, it's heavy! It is oversized screen wise for the battery that supports it, it's screen is nice, that is a plus, but there is no provision for a removable battery to supplement the phone, nor expandable storage if needed. And finally the camera is OK, but definitely not close to the S6 or the G4. So again, if we are just going to sit and talk about software, and you are not going to weight aesthetics, then just about every "flagship" phone on the market right now would get the job done. Each manufacturer may change the way it GETS done,, but it all does get done. Out of the box, and it works just fine. Now as to updates, then if that is your most important criteria then there is no doubt that whatever Google branded phone is current, then that is going to be the "best" phone. But again, that's kind of a niche when discussing the "Best Flagship Smartphone of 2015". Everyone needs to pick a phone that works for them, we all understand that. But trying to sell me on a phone that you acknowledge is "too big", has a sub optimal camera, average battery life (at best), and not the best screen experience........as the BEST flagship? that's just troll bait.

We have different criteria I guess. I won't use a phone that has horrible software, which makes the Note 4, Galaxy S6 and G4 non-starters. That leaves the HTC M9, and the Nexus 6 if you're OK with spending too much money on your phone and not buying one of the new cheaper and very capable unlocked models.

Kudos Posted via the Android Central App

Horrible software huh.....lol !!!

Yes! It is horrible Posted via the NOT so perfect Note 4

I'm not a branded phone apologist, by any means. But I've used a lot of Samsung devices (GS2 and GS4, and GS6 a little bit)....they kind of are overwrought, but again, i can't say that if you put aside aesthetics, that it works worse than the N6. I've used the LG software on the G3 and now the G4, and although it isn't technically "stock", it is pretty close, close enough I don't put a launcher on it anymore. I've used my N4, and N5 plenty over the past six months (mostly when in-between phones) and I love the software on that, but there are other failings with that phone that make it less than ideal long term (like battery and camera). But I wouldn't choose the N5 as "the Best" of anything, but I do like it better than the N6. All things being equal the two phones (and I have used a N6, just not long term), are comparable software wise, but I'd pick the N5 over the N6 any day. If you feel that branded phone software is cludgy, then be specific about how they compare to the N6, as I am certain many commentators are going to just say "No, sir!" and there's no dialogue there.....but to be fair, you haven't exactly clarified what it is about the branded phones' software that you are critical of, either. There can't be a discussion unless both parties understand what they are talking about.

Like. Posted via the Android Central App

I enjoyed the article and agree - The longevity of the Nexus line always keeps me coming back whether it be software and hardware.. I think even in a year you can come back to this article and still stick by it - how many other "flagships" will be able to say that, great example my N5... Kudos..

You're right. The nexus 5' display, camera, and battery life still hold up so well to the competition, don't they. /s And as far as the title of the article being accurate, it never was. The note 4 was the superior handset the second it hit the market, let alone what's come since (I only compare it to the Note 4 since the 2 share the same processing package)

Jerry, my sentiments exactly.

"We have different criteria I guess." Exactly. Which is why the headline should read, "The Nexus 6 is my favorite Android flagship you can buy today", not "The Nexus 6 is the best Android flagship you can buy today". Your article does not substantiate the headline, making it nothing but troll bait.

I don't expect such fanboy comments from you guys. The Note 4 S6 and G4 are so far from horrible that I am forced to assume you felt that way before even using them and found the tiniest "issues" to reinforced this tired narrative perpetrated from stock android purists.

Agree. The title of this article should be, "Jerry's Favorite Phone". Making the claim that a phone is the best based on one of many potential criteria is nonsense. On that logic I could make the argument that HTC has the best flagship because it's made of metal. Sure other phones are cheaper, smaller, bigger, faster, and have better cameras and software. But that doesn't matter because metal. Posted via the Android Central App

It's not comfortable in the hand. That is a must for a daily driver flagship. Posted via the Android Central App

Everyone's hand aren't the same size as yours... Posted via the Android Central App

I have pretty big hands and it's just doesn't feel right for me. 5.5 really is the sweetspot in my mind. Posted via the Android Central App

Agree with you Jerry, plus 100%. Your opinion is your own, but don't think for one second that you are alone in that opinion. Posted via the Android Central App

Exactly! Posted via the Android Central App

The size is about the one spec I cannot ignore. Usually I can live with a negative if the positives outweigh it but a tablet sized phone is too much of a negative. This phone really is no better than a nexus 5. The junky software encryption(even though it has the hardware to handle it) and high resolution mean it performs no better than a nexus 5 and in some cases worse.

Because you're a software guy it doesn't make it the best android flagship

Its the best in his opinion and for that matter, mine as well. You don't have to like it.

Exactly! Posted via the Android Central App

I never really liked the Nexus 6. The stock software is fine and all, but it's a bit bland. CM 12 or 12.1 would be excellent on the device though. The theme engine and excellent performance really do it in for me. The screen is far too warm for my liking, and it's not very comfortable to hold (keeping in mind that I have large hands as well). I prefer the Oneplus One, Galaxy S6, and Galaxy Note 4 over it honestly. Posted via the Android Central App

Ya, the Note 4 easily beats the N6 as a complete package IMO. If you're into a stock like experience then the Note 4 on CM 12 is also a much better package as well IMO.

Not if you have an At&t note 4 Posted via the NOT so perfect Note 4

trolling by the editors, i've seen it all now

Having an opinion (and clearly marked as an opinion) is trolling now? Awesome. I can double my trolling power and get paid for it.

Got em! Posted via the Android Central App

Your opinion is based on what they are paying you.

You couldn't be more wrong. Phil is not the type of boss who tells us what to write or how to write it. When something you see on Android Central is marked as an opinion piece, you can rest assured that it is the opinion of the author and not something he or she was told to write. This is my opinion. It doesn't match your opinion. The difference is that I took the time to say why it's my opinion, and you simply tried to disparage my good name with a drive-by comment containing zero substance. Twice.

And yet you need to troll Rene on imore when he posts an article based on his opinion. Posted via the Android Central App

So you deleted my comment rather than challenge it eh? Speaks volumes.

Andrew better get in on this! I've never read a newspaper that offered an "editorial" section, for people to voice an opinion different than the main stream.....and that really grinds my gears!

You haven't read newspapers for very long then. Posted via the Android Central App

You don't get sarcasm then

I don't think it's trolling. I think it's mainly click bait and a comment generating story......and apparently it worked. :) Posted via the Android Central App

Heaven forbid someone has a different opinion than yours. Believe it or not there are people out there who do not care for heavy skinned phones like Samsung and LG. Posted via the Android Central App

I actually agree with a lot of Jerry's points. I just go about a different way of resolving them. Posted via the Android Central App

The size of the Nexus 6 and the underwhelming camera are why I didn't get one. The LG G4 is the phone for me. But you don't have to take my word for it.

Underwhelming? That's one of those things that are a matter of opinion. Ever since Google's update, my N6 takes great photos, especially in HDR+ mode. When I need my flash I use Camera 360 for especially good results. While it's not the best (that's the G4), it's very good now, and easily enough to impress some folks. Posted via the Android Central App

I had the Xperia Z3 and I kept on wondering why I didn't like it more. It did everything right and it had that battery life I had always been waiting for. Then on a whim I used my Jump upgrade on T Mobile to go to the Nexus 6 and I have to say I like it much better, even with the larger size. I love the new stock Android M. it's awesome. Lucky I got it the week of 5.1.1. Im looking forward to the next version with the Dose feature to get my battery back in line with what I had before.

Hopefully soon multitasking will get a fix on the Galaxy S6. Other than that it's been the best smartphone I've ever had.

I must have cataracts because the N6 is an ugly phone, disgusting in size and heft and even stock Android can't make me like it any more or less. If it were in the 5 - 5.2 inch sphere, I would definitely give it a shot, but 6 inches, please.
I currently use an LG G3 (got a dang good price on it, and had a G2 before that) and it satisfies me even though at 5.5 inches it's pushing it.
Not too enamoured with the G4/HTC M9/Galaxy S6 either.
If the N6 were any smaller, it would be all over the place in sales.

hopefully getting mine today! :D

Just listened to this week's podcast, I thought Phil didn't want to use the term "flagship" anymore. Posted via the Android Central App

We all hate that word, but it's hard to find another way to describe the phones that each manufacturer considers their best and pushes from the sales side. That, and i started writing this before the podcast :P

Nobody ever talks about the crazy good rf performance of the nexus 6. It's better than just about every phone and I mean EVERY phone in that department. First phone to work on all 4 major networks in the U.S. too is really over looked.

I totally agree that crappy software can kill the experience on a state-of-the-art hardware. After playing with the S6 Edge for a few minutes I loved the device, but the software was a deal breaker. I don't understand why Samsung has to cripple the experience so much. They should just build upon "stock" Android like Motorola does it. Moto proves you can keep the unaltered core Android experience while still delivering many new features.

Looks ugly... plus some people find a vanilla android experience boring... myself included. Looks like something Texas instruments would make lol Posted via the Android Central App

Stock android is incredibly boring. And these people want samsung, lg, moto, etc to build their phones around the stock experience. I pray that never happens. A bunch of boring nexus like devices that we can't get away from would be terrible. I hope these other manufacturers continue to differentiate themselves from vanilla as much as possible since google kind of had them by the balls anyway. I love android but the sleep-inducing nexus is a no go for me

I think we should be blaming all parties involved for buggy software. Maybe the n6 is the best phone now since it's probably running a less buggy version of Android for now at least.

If I could put my s6 camera in the nexus 6.... Posted via the Android Central App

Or stock lollipop on the s6 as I would say the s6 looks much better and is better spec in almost every department unless you want the 6" device. Posted via the Android Central App

Would've gotten the nexus 6 if it weren't for Verizon delaying it so bad.. -_- I stuck with the note edge and I'm beggining to regret that decision.. Posted via the Android Central App

This very astute article will no doubt piss off the Nexus hating camp.

My note 4 has crime deterrent. If i throw it at your face it'll hurt like hell Posted via the Android Central App

http://s45.photobucket.com/user/MissB0388/media/dethklok-Toki.jpg.html

That's hidden value brah Posted via Android Central App

Pretty sure that your headline applied to the DROID Turbo last November. Carrier and timely upgrades matter a lot, too.

If it were smaller, and didn't have that absurd leather back that looks terrible with wear/tear, I'd consider getting it through the Fi financing option. BUT, it's huge and has a leather back like the motox, so I can't get it. I'll wait for the 2015 N5, and wait for a similar article to this one.

No leather back on N6. Not even an option (and the moto x only has leather as an option).

Newest Android doesn't mean the best. I still like the Kit Kat aesthetic better but the Nexus 6 is great hardware. Posted via the Android Central App

Great article Jerry. Most people commenting are missing the biggest advantage of the nexus 6, custom roms and kernels. 6+ hours of screen on time, display calibration settings, under/over clock CPU and gpu, core control, and way too much more to list. No need for battery swapping when you have excellent battery life and turbo charging. The camera is amazing as well, shooting in RAW and using photo shop puts this out of reach of any phone's camera. Front facing speakers should be on every phone, what an under appreciated feature!! Posted via Android Central App

people can do all of that with a plethora of phones. and the n6 isn't the only camera to take raw shots. and all of them settings and such you talk about, including the time taken to do pics on a pc.... are not really an advantage. some people just want a phone that works, and works well.

..... Posted via the Android Central App

Hey Jerry, do you use all the stock apps, like the Google Camera app, or do you use 3rd party solutions on your Nexus 6?

I use both the Google camera app and Manual Camera from Google Play, depending on what I want to do. I also use several different eBook readers and a couple different music players.

Thanks. Was just curious. I almost bought a Nexus 5, but the Nexus 6 is way too big for my "hipster" jeans.

Jerry, what about rooting, do you do it? I've rooted in the past, but don't care for the hassle. I'd root my note edge to make it work better, but don't want the hassle and potential bug fest. My opinion is if you need to root to make a phone run smooth, then the phone is fundamentally flawed. I kinda wish I had the nexus 6 now, I just couldn't do the size and lack of WiFi calling back in the day.

If only there is GPE version of s6..

This. Not because I hate Touchwiz. I don't like it, but see the appeal. But because it would be a chance to have the GS6 hardware paired with current software that will get critical updates in a timely manner. Chances are it would improve Touchwiz as well, and bring it closer to a "good" experience.

Is there any GS6 GPE style ROMs available? If I was interested in the GS6 I'd go that route myself. Posted via the Android Central App

CM u fool Posted via My G2

Such boldness from behind the protection of a computer screen. Posted via the Android Central App

Seeing as how OEMs can choose certain features to include in updates, in my particular area of interest the Camera2 API, I would side with a Nexus device in the future for the simple guarantee of getting everything update versions have to offer. Cause who wants to wait for your OEM to decide when to enable manual focus, shutter speed, and RAW capture? Not me and that's only one example. Posted via the Android Central App

When my company switched from T Mobile to Sprint I switched from the Nexus 6 to the Galaxy S6 Edge, Then to the G4 and now I really wish I had my Nexus 6 back. The phone just does everything I need and didn't get hiccups like the G4 and GS6 did. I think I'm just a plain guy who doesn't want to be forced to have certain things that I don't want. If I want my phone to do something that is not baked in I'll hop to the play store. Actually, might just try trade my G4 for a Nexus 6..... Posted via the Android Central App

i would like to have purchased one of these. if it weren't for the $649 price tag I would have.

Was gonna get a nexus 6 but its size turned me off. It's why I picked up the Z3. First non nexus phone for me and I'm still a big fan of it(and the battery life). Posted via the Android Central App

I had the Nexus 6 for a month and I have to say it wasn't nearly as great as everyone made it out to be. It was way too big. It didn't fit in my pocket. It was difficult to type on it. It was comically huge. The S6 active is the best phone on the market at the moment, IMO. Posted via the Android Central App on the Galaxy S6 Active

The biggest problem for me with the S6 Active would be the storage. I guess I could use an OTG cable or a micro usb flash drive for my music, but what a pain.

Minor inconvenience. Posted via the Android Central App on the Galaxy S6 Active

Not everyone agrees on what the best phone is. I cannot believe that would be the case... it's not possible!

Nexus 6 the best flagship? Lol. Sure

Love my Nexus 6! Awesome phone.

One thing is pretty clear to me. Every phone user on this site has different requirements that they consider important to them, and they're all right to have those. It would be nice if there wasn't such a huge difference in experience of Android phones with near identical hardware (eg. Nexus 6 and Note 4), but there is. So if you love the S-Pen, or the phenomenal camera and/or screen of the Note 4, and either can live with, or have figured out a workaround for the lag, the Note 4 is probably the ultimate flagship for you. If on the other hand you easily get irritated with lag, love the purer Nexus UI and the ability to update as soon as the next upgrade comes out, can live with the mediocre (compared to other flagships) camera on it, and love the stereo speakers, or the 6" screen, the Nexus 6 is the better device for you. If you don't like phablets, neither will be your go-to device. At least Android fans have a lot of options (seems like none are perfect, but that's life). Our friends in the iPhone world have few options. iOS is very consistent across the 2 devices available and everything pretty much works without requiring mods. Since I hate the way everything (just) works in iPhones (hell, just look at the stock iPhone keyboard - it feels like the 1st iPhone keyboard - letters remain capitalized all the time, its slow as all get go to type on, there's no back button, etc.), I'm on this site rather than iMore. But there's no point in arguing with Jerry on this article. To him, and many others, the Nexus 6 is the ultimate flagship, and to be fair, he has probably tried more phones than most of us have. To others, it's not close.

If only it were not Pentile. And Motorola. We paid for a "premium" device yet I was sent something that had the backing permanently popped out on the back at the sides. It's fast. It's Nexus. But it's not up to par with what the Nexus 4 and 5s were for their time. Wish it was LG again or another quality manufacturer.

You guys appraised the G4 so much saying it was the best phone to get, that all those poor little bastards who went and bought the G4 are gonna feel betrayed after reading this article lol Yes in deed the Nexus 6 is the best phone to own if you want the best pure Android experience with the latest updates. Posted via the Android Central App

Wish they made an updated 5 inch phone. The N6 is difficult to hold for one handed operation. Posted via Android Central App

I own both the N5 and N6. I had a GS6 for about 2 weeks and it was my first Samsung device. I really enjoyed the camera on the GS6 but that was about the only thing. I used my 2 week trade-in through att on the N6. I really enjoy the size of the phone and the smoothness that it runs. The size took some getting used to, but I still switch back to my N5 when I have to wear scrubs, because the weight of N6 tends to pull them down. I do hope the next Nexus is a 5.5 phone with a better camera. Posted via the Android Central App

Last month it was "just too damn big" and now it's the best you can get. I have to disagree. The G4 is king right now but that's just my opinion as this piece is your opinion. I'm going with marshmallow via AC app.

Went from M7 to M8 to Nexus 6. No regrets. Blinkfeed is the only thing I miss even a little. The battery is just fine, the turbo charger makes up for the battery issues I don't have, and the camera is just fine. I'm running Android M and loving it. It might not be the best flagship phone, but it is the best one for me. Posted via the Android Central App

Same history here, although I don't miss Blinkfeed. I miss the IR transmitter, although I decided to keep my M8 so that's what I use it for (besides having a backup phone), lol. Posted via the Android Central App

Best phone on the market I've had them all Posted via the Android Central App

AGREED! No argument here. I love mine.

agreed. Nexus - there is no substitute.

It's funny that this article comes out the day after another engineer at work got an N6. It was a replacement for his older Samsung with a failed charge port. He likes a lot, and I was intrigued that it has stereo front facing speakers. Jerry, how good are the speakers and battery life?

I have a N6, a G4 and a Turbo. They're all great devices, depending on what you're looking for. Haven't made up my mind on which one I'll keep. The N6 battery last me all day with no issues, including running Android Wear for my Moto 360 watch. Knowing I'll have timely updates is important to me. The screen is very good, though the colors are on the warm side. The size makes you question the utility of it at times, especially if you keep it in a shirt pocket, but once you get used to it, anything smaller seems awkward. It's nice that one of the perks of Android, is choices! The speakers are excellent! Posted via the Android Central App

Ermmm... NO... definitely not

I love my nexus 6. It never lags the screens and performance is amazing. Lollipop is awesome and fast updates and always having the latest software before anybody else is great. Posted via the Android Central App

Must agree Nexus 6 for the win Posted via the Android Central App

I have a Nexus tablet and now a G4. Going back and forth between them, I barely notice the software differences. Once you own one of these devices for a week or so, using them becomes second nature (to me). I've never put down my recent HTC, Samsung or LG devices and said, "this software is horrible compared to my nexus." They are different and enhanced, with the only downside being a bit more chop/lag- a fair trade-off for me since they are far more functional which I think is an overlooked metric for those who sing the Nexus superiority song (a free spare battery and 128gb SD card far outweigh a slightly smoother UI anyday of the week for me- function over form). I was fine with the Nexus line before now since they once provided great value. Nexus now is like a base model BMW- good bones but for the higher prices, you want a few luxurious features standard. If the Nexus 6 cost less, I'd go to bat for it. Luckily, Google dropped the price recently so that settles my argument there. Posted via the Android Central App

Yep I have come to the same conclusion, Nexus 6 being the best. I always have the latest iPhone, couple of Android flagships with me. On the Android side this year, I have liked Moto X 2015 the best after Nexus 6. Nexus 6 size vs Moto X camera, I could tolerate the Nexus 6 size than Moto X camera. For the other phone between G4 and S6, I settled with S6 because of the size and fingerprint sensor but every time I handle the Nexus 6 after S6 reminds me how smooth the N6 is. But camera and screen on S6 is on another level. Posted via the Android Central App

Yes yes yes. U got my vote for president Jerry. Posted via the Android Central App

I love my Nexus 6 and my wife loves hers. You can't be a Nexus because they will always be the best except for the camera which is okay.

Have had my Nexus 6 since November and think it is my 2nd or maybe even 3rd best device. I thought it was a tad too wide when I got it and still think that. Posted via my Galaxy S6!

I was soooo stoked to finally have a Moto Nexus until I saw the size :(

I'll be the judge, jury and executioner on this. The Nexus 6 is the Ferrari 488 GTB of current smartphones. It only takes a few hours with the N6 to realize you can never go back to a smaller device. The screen is an absolute pleasure to look at. The front facing speakers sound amazing. The camera takes beautiful pictures. Android 5.1.1 runs like a dream. The all around performance of the N6 is exceptional whether it be watching YouTube videos, Netflix movies, keeping up with sports, checking emails, makes social media even better. The gaming experience on the Nexus 6 is out of this world. The Nexus 6 is a superb device and will be a powerhouse for years to come. Motorola knocked the ball out of the park on this one. Great job! Posted via Morse Code

Going! Going! And goneeeeeee!!! Posted via the Android Central App

Definitely nope
Lack of sd card support, not removable battery, not that great camera => deal breaker (for ME)
Also everyone has different needs and expectations from a smartphone
Very funny article :-P
MY best device ever that I'm still using as MY main device is the holy and unique xperia z ultra :-)

G4 is the first Android camera good enough?????? Disagree completely, The Note 4 has the best Camera, screen and yes it has what I consider the most powerful tool for any Smart Phone made, the S-Pen. The Note 4 blows any and all devices away including the iPhone 6 or 6+. I know, I have the 6+ as well. I've had just about every high end Android phone, nothing comes even close to the Note 4. Posted via the Android Central App

In your opinion right? Posted via the Android Central App

Note 4 is slow. Posted via the Android Central App

Laggy as well Posted via the Android Central App

You're upset. Lol. Posted via the Android Central App

Lmfao indeed he is Posted via the Android Central App

Lol...naaah, just thought your comment was kinda stupid based on my experience, which is pretty extensive when it comes to this last year's crops of android flagships

Lol... You are assuming no one else uses multiple phones? I use an S6, N6 and iPhone 6 currently and every time S6 software is inferior to N6 and iPhone 6 in terms of smoothness. S6 hardware on the other hand top notch, with one of the best cameras. Posted via the Android Central App

Assuming? "Based on my experience"

You're emotional Posted via the Android Central App

Haha. Without fail, anytime someone knocks Samsung, BAM in comes 9ersfan3. It's so predictable that I'd believe you if you told me you were a Sammy employee. Posted via the Android Central App

LOL Posted via the Android Central App

Absolutely! Your comment is spot on buddy!

I thought the same thing as you did for a short while. My first Android phone was a G3. I gave that to a family member who needed an upgrade and got a Nexus 6. Loved it. Then it broke, and AT&T still didn't have the Nexus. So I got the Note 4. I missed the stereo speakers and believe it or not, the 0.3" screen size. But otherwise thought the Note was far superior. It's camera is insanely good. It's screen is as good as there is, and the S-pen started growing on me. But after a few weeks, the lag became unbearable. I researched and tried many fixes for this and none of them lasted for more than a few days. Ultimately I sold it and got a Nexus 64GB again. I really miss the camera, especially because I have kids, and don't want to take multiple pics until I get one right, but otherwise love the N6. Have you experienced and/or resolved the lag? Posted from my Nexus 6 Android Central app

I agree. The hardware on the Note 4 cannot be beat. If I couldn't root and ROM though, I would have moved on to something else due to the lag in a stock device. Using PopRocks it's as lag free and just as smooth or smoother as my m8 I use for work and my wife's iPhone 6+. Posted via the Android Central App

Good for you. But touchwiz? Thanks but no.

No its not. Posted via the Android Central App

Jerry I've got nothing but respect for you you're one of my favorite people on the Android Central podcast however I strongly disagree with you about the Nexus 16 the best phone as of right now

Where can I get a Nexus 16?

I don't know what's different about Jerry's nexus 5... Mine is bone stock and every update since lollipop has made the phone laggy and poor battery. Posted via Android Central App

The burn in on motorola's AMOLED screens is awful. The nexus 6 is the perfect phone for me but I couldn't get it because the screen burns in so fast and so harshly. My note 3 took almost 2 years to burn in just a little bit while my friends nexus 6 burnt in about a week after purchase. Very bad burn in too, not just a little like on my note. They either use an old version of AMOLED technology or just cheaply/poorly designed panels. Very sad considering what a great phone it would be otherwise.

I'm on my 2nd N6. The first broke. What burn in? Many months in, there is zero burn in. The only units where you'll see burn in are those on store shelves stuck on the same screen for weeks on end. Posted from my Nexus 6 Android Central app

I would guess you managed to get a unit that is unaffected by this and that's good for you but many people are complaining about burn in on motorola's screens, especiallyou the motor x anf nexus 6. I have nothing against the nexus 6, I actually wanted one really bad but I don't want to risk getting one with a bad screen.

The AMOLED Moto use is at least a generation behind Samsungs latest, if not 2, there is no comparison in terms of burn-in or colour accuracy.

That makes sense when looking at a samsung side by side with a moto

I've seen a lot of people talk about burn in, but I had a 2013 Moto X since launch until last month and had zero burn in. Weird. Posted via the Android Central App

It's just like when the iPhone 6 came out a lot of people wanted reasons to hate it so the main argument was bend gate, propaganda is amazzziiinnggg how it can warp perception into reality Posted via the Android Central App

I actually love the nexus 6 and I'm glad no one on here has experienced the issue but I'm not "creating an argument"
3 of my friends have the nexus 6 and the screen burns in like crazy around the status bar and nav buttons. There is also alot of evidence of that online from what I've seen

8 month's here, no burn in whatsoever. If you research it, burn in occurred in very few Nexus 6's. Your 3 friends must have the worst luck in the world, for all 3 to receive defective units. The screen is not as vibrant as Samsung's I agree, mostly because of Samsung's over saturation and smaller screen. But there is no one on earth that would call this screen a slouch, it's beautiful and definitely in the top 5 displays out right now.

The screen does not burn. Posted via Morse Code

I've had mind for about a month: no sign of burn in here.

I still prefer my LG g4....sure the updates don't come out as fast.... But they come out sooner or later. I have the premium leather back and it feels perfect to me. I am a fan of big screens even though I have exceedingly small hands. All and all LG still has my vote. Ive had the n6....didn't like it because it seemed too boring and plain. I had the s6 and I felt like the battery life was mediocre. My only issue with the g4 is the Wi-Fi keeps cutting on without permission and it drains my battery. I got the promotion from LG which gave me a SD card of 32 gb, battery, and battery cradle so I don't care because I can pop in another battery when mine dies. Posted via the Android Central App

This is just part two of what Andrew started when he said he didn't like the g4. I think Phil has the troops trying to keep everything alive and kicking. I agree with Andrew on the g4 but the nexus 6 really is nothing but a joke. Posted via the Android Central App

What if I told you I planned out this post about 3 days after 5.1.1 came out? Maybe, just maybe, this is how I think. For reals. It would have been so easy to say "I love that popular phone that you all spent money on, so love me back" vs. the hate you know I'm getting for writing this one. This is my opinion. Nothing more, nothing less.

Too many people get banned around here so I will defer. Posted via the Android Central App

OK since people 'dont get banned' and I don't care if I do because my bookmark to this site is hanging by a thread already ill say it. This is a shill piece (not the first on AC these days), I don't believe its your opinion and if it is you're out of your mind.

Let me see if I understand this right, because he has this opinion about a particular phone he's out of his mind? What makes your opinion any better?

You calling the Nexus 6 a joke is insane. Can you provide facts proving it's a joke? Of course not because everything about the Nexus 6 is awesome. It performs better than other devices, it looks better than other devices and most importantly it handles business more efficiently than other devices. This was a terrific article and an article that's spot on. The Nexus 6 is a great device. Posted via Morse Code

I absolutely agree, Jerry. My current daily drivers are the Nexus 6 (personal phone) and the LG G4 (work phone) and I've gotta say, I'm using the N6 over the G4 95% of the time.

Personally it doesn't matter to me what my work phone is, and I get the latest every 4 months. I barely use the thing because it's a work phone.

Love my Nexus 6. Like Jerry I appreciate 5.1.1. It is super smooth and I have had fewer issues with this version of android than any other. Like Ara, I like some of the customizations on the X. It was a toss up for me, but I like the bigger screen of the Nexus and I couldn't be happier with it. I am interested in what the Moto X 3 is going to bring to the party, though. Posted via the Android Central App

My Nexus 5 with 5.1.1 runs like butter. Battery could definitely be better, and camera could be better, but my only longterm phones since 2010 have been the Nexus One, Galaxy Nexus and now the N5, so I know nothing about good camera phones. I swore I wouldn't go any larger than the One, but got the GN, then swore no larger than the GN, but got the N5. Not sure what I'm going to do about next phone, cause I like Nexus, but my hands really are at their limits with the size of the N5.

I have had my Nexus 6 for about 2 months and love it so far. It is not that big once you get used to it. And my hands are not huge either. It is a great design , looks like a big screen with minimal bezels. And it isn't that much bigger than a note 4. I just love have a vanilla android phone. Personally I can't stand Samsung / LG phones with their sh*tty skins on them. The only thing I ever put on my phones for a case is a dbrand skin.

I agree I hate the skins so extra and complicated Posted via the Android Central App

Good write up Jerry. I don't agree with your opinion, but I respect it. That's the nice thing about opinions, not only does everyone have one, but you don't have to agree with an opinion in order to respect it. Posted via the Android Central App

Tried N6. It is not the best flagship. I wish it was. Screen, camera, and design of S6 edge has been with Samsung for time being. I would prefer stock but touchwiz is better than previous version for sure. If I didn't have 4 kids take a bunch of pics I could possibly live with it. The edge is just a gorgeous phone. N6 just seemed unnecessarily big too. Posted via the Android Central App

I completely agree with you Jerry. Except that I find the camera to be very good. I had an iPhone 6+ for a few months, I like the N6 camera better. Maybe it's just the higher megapixels, but it seems like I get better pictures with the N6. My previous android phone was a Note 3. The N6 is light years beyond the Note 3 in the software front. It is so much more dependable than any Samsung product I've ever tried. I won't get anything but a Nexus, or something close to it, again.

My all around goto phone is certainly no flagship but suits me very well for EVERYDAY use and FITS IN MY DAMN POCKET is my LG G2. this phone still does everything I need it to do with no issues and a monster battery.

I want this phone, and my wife is actually interested in it too. I was surprised. As far as size i would carry it in a holster. Can the unlocked version work on Verizon? I noticed the unlocked version from Motorola is a lot cheaper than Verizon version on their website. Posted via the Android Central App on the HTC One M8

the unlocked N6 will work with any carrier sir.

Cool Thanks, I appreciate it! Posted via the Android Central App on the HTC One M8

I loved the Nexus 6, but after several tries with different units, it just got too uncomfortably warm in the hand during normal, non-intensive use. Otherwise I adored it.

I've been a long time AC reader and this is by far the most bias BS that I have ever read on here. I expect more from AC... Posted via my Note 4...(AC App)

Bias? It's s fact. Posted via Morse Code

No, it really isnt. AC has been doing down the pan recently, its a shill sight at this point.

How? Posted via the Android Central App

Love my Nexus 6. Best Phone Ever!!! Posted via the Android Central App

I hated every moment of the (2) Nexus 6's I owned and sold off. Got one early on, didn't care for it. Got another a few weeks ago, still didn't care for it. The battery life is hilariously bad. If you use it off the charger for even a little while, you can literally see the battery gauge go down in real time. Got another Note 4 w/an extra battery and I can use the thing all day with zero anxiety about it ending up dead fast.

Not true Posted via Morse Code

There must have been something wrong with your phone or you had some kind of software problem with one of the apps you were using. I have no complaints about the battery. I routinely get 18 hours standby and 3+ hours screen time with about 30% remaining.

You're the resident fanboy. You spend your time looking for any negative comment and then say something like "not true."

Samsung doesn't just wait for Google to improve Android and then put their own enhancements on top of it. They've actually gone ahead of Google and made commendable improvements. This has led to some duplication of features when Google came around to adding in those features to Android. Samsung was first with multi-window apps (and the accompanying inter-window interactions), audio latency fixes, power saving modes, S Pen, download booster mode, additional gestures and eye tracking control, and now their trick of keeping the camera app running in the background so that you can call it up quickly with two taps of the home button.

The nexus 6 is huge without a great screen, mediocre camera and the motorola software experience is much better. How is this the best phone? Not to mention you like small phones Jerry. Hipocrit... I guess the z3 compact isn't so great. Posted via the Android Central App

I love my Nexus 6.. I've gotten used to the size and at this point I don't think I want to use a smaller phone anymore. Posted via the Android Central App

The microphone works incredibly well on the Nexus 6. You can say Okay, google from 2 rooms away and it works. It's better than having an amazon echo, because you can take it anywhere.

I'll stick to my Note 4. After going through a few other android phones it just works for me. For the first time I feel like I have everything I want. I know some people hate TouchWiz but I don't mind it. To each their own I reckon. Posted via the Android Central App

I have the Note 4, too, and love it. I don't hate Touchwiz, but I prefer Smart Launcher Pro 3, which is what I use. (I also like Nova Prime.) Sorry, Nexus groupies, but I don't get the appeal of Google Now Launcher. It's the only launcher on the planet with fewer customization options than Touchwiz.

I have a N6. I'll disagree because the phone is awkwardly large, and the camera isn't very good. 2015 Moto X is better than the N6 due to the touchless control, but despite loving and missing that Moto feature, the Samsung GS6 is the best current Android Flagship. Slap on the Goggle Now Launcher, and the Samsung bits are remarkably unoffensive, while the camera is unparalleled in Android-land.

Love my Nexus 6. I'm used to the size now and any time I try a smaller phone, like my Nexus 5, they just seem to small. Not sure I'll be able to go back to anything smaller. I don't wear skinny jeans so I don't have problems with it fitting in my pockets...lol. I'll prob be getting a car dock since it doesn't fit in my cup holder. Posted via my Nexus 6

Obviously a subjective opinion here.. And let's not forget Motorola is now a Chinese company (data security risks)

Every iPhone and most other smart phones and computers are built by Chinese companies. What difference does it make if Motorola is owned by Lenovo it built by Foxconn? Posted from my Nexus 6 Android Central app

Also, the software on the N6 is completely controlled by Google. I think Google might be smart enough to negate this risk.

Here here! Great article! My current phone is certain high profile 3rd party Android phone (Samsung Galaxy Note 3). I like the phone well enough as a piece of hardware in a vacuum. And even the touchwiz'd Lollipop I have I don't have a ton of complaints about...now that I have it (and am using Google Now Launcher to get a more "vanilla experience") But I had to wait for 5 plus months for a monkeyed with 5.0, when the Nexus 6 already had vanilla 5.1. And were it not for Google Now, I'm not sure how much more I'd love the Lollipop touchwiz over the Kit Kat touchwiz anyway. So, while I'm still not sure which of the three major smartphone formats I'll go with for my next phone a year from now (I'm actually leaning Windows), I do know this for sure: if I ever get another Android phone or tablet, it's going to be Google Nexus. Period! End of discussion. And having messed around with both the Nexus 6 and Nexus 9 recently, I can say that I'm well impressed with both - particularly the 6, surprisingly. Cheers! Posted via the Android Central App

I know its a little late, but one thing I meant to add to that was that I completely agree that software is key. I have an HP Touchpad. The thing is about four and a half years old, and has been in my possess for about 3 1/2 years. In that time it's hardly been used because it had the worthless-to-me WebOS on it for most of that time followed by a string of too-buggy-to-use Cyanogenmod Android installs. Just a couple days ago, I FINALLY found a cm12 build that plays nice with my device, and so at long last I have a real working Android tab...running Lollipop! The point is, because of the software, this is my brand spanking new shiny exciting tablet that I just got a few days ago...despite being a 5yr old tablet that I've had for the past 4yrs. :-) And though I touched on it in my initial comment, I'll reiterate that software is the real reason any Android phone or tablet I buy in the future will be a Google Nexus. So yeah, software is king, ultimately! Posted via the Android Central App

Burn-in screen issue (cheap amoled panel), mediocre camera and back cover problems are something hard to overlook and adding the impossible to carry around comfortably size, puts it far from that top flagship spot for an average user. And all the early (messy) software updates, should only keep people away.
Nexus line of the phones has been developer's device for so long and it should stay that way. The attempt to make it consumer's was a big fail. Posted via the Android Central App

no burn in screen, mediocre camera or back cover problems for me...I think you must have been using a different phone.

None of those things exist. Posted via Morse Code

I deal with returning phones on a weekly basis, I've seen 1 unit out of 1000s sold that had a back cover issue. It's no antenna or bendgate, which I constantly see returned iPhones bent within a day. I'm not bashing apple, I'm giving my statistic from the sheer amount of returns I do twice weekly since both units came out.

Just wondering where you work at because if the phone was selling crazy like that it wouldn't have been discounted life it is now. Also the back cover may be resolved after the first batch.
Burn-in may subjective to some but it's real (again I know of the first batch) and I don't think it can be resolved.
Performance is good if everything is fine with software, but out of box there were a lot of issues even with Radios for which Motorola was historically well known.
Camera was and still is below N4, G3 and iPhone.
All things considered it shouldn't have been sold at 650$ and advertised as a consumers product.
Maybe now with everything ironed out (hopefully) and with 500$ tag it's OK to have to on display at retail locations. Posted via the Android Central App

Have not had any of those problems. Camera is good, altough not great. No burn in issue at all, and no issues with back cover. Very happy customer over here.

It's obvious that you've never used the phone.

I love my Nexus 6 for the software and the size. Unlike many I want my phone to be my computer and I couldn't settle for a smaller screen at this point.

Funny thing is majority people are saying screenburn just to have something to support their argument but probably have not experienced it. Posted via the Android Central App

Exactly Posted via Morse Code

I keep my screen at 3/4 and that's perfect. At night I take it down to 1/2. Posted via Morse Code

I never understand why having a screen super bright is an argument unless you are blind idk lol Posted via the Android Central App

Exactly Posted via Morse Code

Try using your phone in Las Vegas on a blisteringly sunny day. It's dim. At least the Note 4 kicks up to like 700 nits or something in direct sunlight. It's so nice. And yes, direct sunlight is a thing that happens. I'm outside walking around most of the day in the summer (i.e. Vegas Strip, hiking in the desert, etc) and it's nice to be able to clearly see your screen.

I can understand it. When you're outside, a bright screen is nice to have. I am a Nexus 6 owner, by the way.

I'm at 45% and it's just as bright. I do however set my video players to amp up to 100% when i'm in the app watching something, but it kicks back out at 45% once i'm done.

I swapped the SIM out of my iPhone 5 into a Nexus 6 five days ago and I couldn't be happier with it. If you wait around for the perfect device, you will always be waiting. The Nexus 6 is very good, and that's good enough for me for the next 2 years.

Has been a great phone for me so far Posted via the Android Central App

I'm a hardware kinda guy. Nexus 6 when i had it was missing regular notification light which i hated . Camera was really bad coming from the g3 and note 3 i noticed that right away. Front camera was horrible no selfies for me. Battery life was bad really bad. 64 gigs was not enough storage for me as my 128 gig micro sd card sat . I liked where the os was going but 5.0 on the nexus was so so. I knew all this before buying the phone but thought i would try it out because i thought i like getting fast updates. I came to realize as long as the phone runs good it dont matter what version your running . I downgraded my note 4 to kitkat and am enjoying it more than any phone i purchased this year and last . G flex2 had issues i returned it nexus 6 was soso i sold it . G3 was one of my go to phones but was old. Htc m8 was ok but Camera was bad . Note 3 was old and camera was not that good . There's no perfect phone . Every phone is targeted at certain buyers . Nexus 6 was not for me and at the end of the day somehow i always end up with a samsung phone so i now what i will stich with. There not the best but there the best for me. They take risk with niche devices that other companies dare not try.

I have always loved nexus devices, but I am at a point that I finally demand to have a good camera...for too long I have had cameras with slow speed and ridiculously low light quality... If I could have Google Android and awesome camera I would be all over it, but this time I am going for an lg g4 Posted via Android Central App

Nexus screen is not bright. It has 200 nits of brightness done by many tests and publications. It shows because on its maximum brightness it compares to about 65 percent brightness on my g2. It is the dimest phone if you compare it at any retailer. It's a nice phone but the fact that you have to max out its display all the time is a joke. Why lie? Posted via the Android Central App

Oh my god! You do not have to max the screen out. I keep mine 3/4 of the way up and it's plenty. Posted via Morse Code

Mine has been set at just around 50% since I first set it up in December. Have not had any issues.

I would love the N6 if it had expandable storage and a replaceable battery. Two things are going to happen with any phone that you have for a period of time: the battery will degrade or fail and you will run out of storage. Posted via the Android Central App

Android Central will promote & suck off any Manufacturer that pays them. This is a B.S. article, from a B.S sell out Android Central. Everybody should know that by now!

Damn bro... you don't get out much do you.... Posted from my Samsung S6 Active

Lmfao Posted via the Android Central App

How is it BS? The Nexus 6 is a marvelous device. Posted via Morse Code

I'm still trying to figure out this as well lol Posted via the Android Central App

Whoa! That escalated quickly. Posted via the Android Central App

How dare you criticize our Lord Jerry and his Nexus throne?! Nah, just joking, but seriously, don't be so butthurt. He likes the Nexus 6 and he thinks it's the best right now. Read the entire article. He mentioned why he thinks it's the best but did somewhat acknowledge that not everyone might like it. Seriously, the best is subjective, based on your usage patterns and preferences. People buy Nexus device because software is at the top of their list of wants in their phones. They generally don't mind other stuff like camera quality and features (battery life is important, though. You want to enjoy the goodness of stock Android for longer). They want an untouched build of Android that's what Google intended and that's fine. Posted from my "Jack Of All Trades" LG G4

Honestly, the Nexus 6 is a great phone and from my time using it, I really enjoyed using it. However, I think the sheer size of the device will limit the number of consumers it will appeal to and while stock Android is my favorite, it does feel a little barebones at times. The camera is actually surprisingly capable (given how Nexus devices historically had bad cameras) but it is missing a bit of features. That said, if you want the best of Google and don't mind those drawbacks, the Nexus 6 is great and you won't regret getting one! ;)

Nice post. Posted via Morse Code

Thanks. I liked the Nexus 6 a lot, but I'm afraid it's not gonna be my daily driver. I just find it too big to use for that I use my phone for and I think the camera is somewhat lacking in the features department. Lack of expandable storage is also a bummer for a guy who consumes a ton of media and takes a lot of photos like me. As such, the LG G4 better fits my usage pattern, but if the Nexus 6 best fits your expectations and usage patterns, then go for it. It's the best Google has to offer and I am sure that you won't regret it. Is it the best Nexus device? Personally, I prefer the more compact dimensions of the 5, but the 6 is an absolute beast. Posted from my "Jack Of All Trades" LG G4

I already own one. Straight from Motorola Posted via Morse Code

I hope it works better for you than it did for me. :) Posted from my "Jack Of All Trades" LG G4

When I looked at the landscape I came to the same conclusion, so... I bought my first Nexus phone (both of my other Nexus devices are tablets). Everything as far as hardware is concerned is excellent... but not the best. Then again, there's no weak links. The camera started as one, but Google's recent update really sped it up. Screen, processor speed, battery life, build quality, water resistance, durability... all are excellent. The competitors that best it in certain areas all have weak points in others. Not the N6. It's the Swiss army knife of flagships. Android 5.1.1 runs like butter, and nothing bogs it down. Gaming is excellent, and I browse on it more than on my PCs and tablets. My fiancée is ready to upgrade soon from her Note 3, and guess what she wants? Not the Note 4.... Posted via the Android Central App

Only Android phone I will ever buy will be from the nexus line Posted via the Android Central App

She's a smart girl! Hehe. I have the note 4 and the nexus 6. As a device the nexus 6 kills the note 4. The dimensions are only slightly larger than the note 4. I can't recommend the note 4 to anyone, really. .. Far too laggy for it's high price...

She thinks it's too busy. She never uses the S Pen, and the only feature she does use is multi-window. She just wants a big, fast phone that just works, she doesn't have to fumble through pages of settings with, and she doesn't have to disable 50 million things to make it work right. She loves that she can pick up my phone and just use it: no figuring out necessary. Posted via the Android Central App

Loving my N6 and won't own another a Samsung phone unless it was free. The size isn't a issue for me, ppl talked about how big the Note series was and it sells tons. You get used to the size after a few weeks, the G4 is about the only other phone I'd even consider just because I loved the G2 so much. Looking forward to the rumored Huawei Nexus, but for now N6 + Chroma rom + Hellscore kernel for the win. Posted via the Android Central App

I agree with your G2 love; my last four have been G2, One M8, Note 4 and GS6. The G2 is still the best of that lot.

Really wish there were still Google play editions. I love my g4 but the software cant compare to my Nexus 5- when it comes to fluidityand responsiveness. Kind of ruins it for me- the camera keeps me happy though.

Destiny wallpaper = much more respect for you Posted via the Android Central App

This is why I was on iOS for so long. We can all knock Apple. But if all works well together..... Having control over hardware and software is big deal. I just get too bored with IPhone. Posted via the Android Central App

The argument that was used here about "one company" could also be used for the iPhone. Just saying.

This is an unexpected article, but for my money, I have to say that I agree completely and for the same reason you cite as the main reason for you think the Nexus 6 is the best: the software. I love the way the Nexus phones work. My recently purchased Nexus 6 is my second Nexus phone; my first was the 5. I had serious doubts about the size before I bought the N6, but it turns out that I really like the size despite my small hands. I almost bought a Z3, but I just couldn't let myself do it. I had to have an N6 for stock Android, and I was not disappointed. I love the device! The size has not been a problem at all; now I don't think I could live with anything smaller. Now I might have to consider a Samsung Note series phone if Google decides to ditch their large phone. Again I'd be facing the 'desired form versus stock Android software debate.' I hope Google keeps making a phablet, and I hope the make a second, smaller phone for people who want it. Posted from a Nexus 6 via the Android Central App

Jerry,
I think you've pushed me over the edge; I grabbed the Note 4 and Jumped to the GS6 but I'm ready to Jump to the Nexus 6. Samsung's software drives me bonkers, if only the GPE program was still in play. I think the GS6 with stock Android would be hands down the best but that's not happening. So off to TMO I'll go this week and to heck with Sammy, I want my smooth and wonderful stock Android experience again.

Your in for a smooth ride my friend Posted via the Android Central App

I LOLed at the title of the article tho... Hate big phones, so this is a no for me. But I agree with Phil about the software side. Google's Vanilla Android will always be smoother than the other with skins. That said, I also think that HTC did a pretty good job on their HTC sense. For example, they found a really good way to implement the "so loved original mute" option in their interface. And that I really love about them. Other tweaks too that I dont really want to explain as it will too long. Things I wish Google would do similar in the Stock version of Android. (Missing my old Nexus 4)
Posted via the One M9

I'm gonna have to disagree. As of right now, the best ones, for me, are either the LG G4 (removable battery, expandable storage, awesome camera) & the Samsung Galaxy S6 edge (bolder and sleek design, awesome camera). If I'm gonna include a phone from last year, the Xperia Z3 Compact is the best option (smaller size, great camera, nice design, one of the few high-end devices in its size range), with the only gripe being a mediocre 16GB of internal storage.

Wow 300 comments just like that. Love it Posted via Morse Code

It wasn't any good for gaming, in my opinion. I had to move on.

It's actually the best device for gaming LoL Posted via Morse Code

I have had my share of bigass phones and for my daily driver they just don't work for me. Now everyone including Jerry is entitled to their own opinion but I can respectively disagree and will. Software alone does not make the device the "best" flagship phone, and the majority of people who have been using Android knows this. It might make the experience better, but that will entirely depend on what the individuals are wanting. Software while one of the most important parts is still part of the whole, and being such, doesn't account for the whole. Each of us has different requirements and preferences and until the perfect phone for everyone is built and sold worldwide there will never be "the best " title bestowed on any one device. I personally don't care for a plain Jane asop experience, been there , done that several times before,and same for a unwieldy sized phone regardless of the software on it. In today's world getting the best for anyone is simply a matter of looking for what you want, and with Android it is relatively easy to do since it comes in all sizes and flavors. My choice for the "best" for myself is the Active by Samsung. It allows me to setup to look and use, as I prefer, in places that would spell doom to most others and to have and use the best features offered by Samsung I prefer. This certainly doesn't mean that I consider it the best for anyone else because I know that it isn't. Posted from my Samsung S6 Active

Well said. Shame many others don't have the same well-constructed and mature post as you... Posted from my "Jack Of All Trades" LG G4

I love mine. Would love for it to be 5.5" but, I can deal with it in my pocket and in hand.

Personally I think touchwiz is much better than stock android. It May not look as pretty nor it isn't updated like stock android, but so much more functionality in touchwiz over the very boring stock experience. Posted via the Android Central App

Are you joking? Posted via Morse Code

No I'm not. What functionality does stock android has over touchwiz? Let's talk facts here. Let's look at a nexus 6 vs a note 4 and explain me how the nexus has more functionality then the note. Posted via the Android Central App

Don't expect an answer. There is no answer to that. I'm not a fan of Touchwiz, but Google Now launcher is the most brain-dead launcher available. I'd take Touchwiz over Google Now launcher anyday.

Functionality of touchwiz over stock.......o...k :/ Posted via the Android Central App

But he got a point tho Posted via the One M9

If you disagree tell me how stock android has more functionality. I'm listening. Posted via the Android Central App

I'm sorry I wasn't expecting my phone to transform into a toaster, or smoothie maker. Posted via the Android Central App

So you actually have zero arguments On why you think stock android has better functionality and you had to say something stupid. Posted via the Android Central App

I could go back and forth with you but after your previous statements i doubt you'll say anything useful but I can assure you'll point out a bunch of gimmicky things to back up your argument and you will feel as if your actually right. It's hard to convince someone your perception is right but its even harder when you you find it hard to believe yourself. Posted via the Android Central App

Sounds like you gave up, lol. Touchwiz generally, and especially on the note offers way more functionality. From multi-window to a wacom digitizer and a powerful software suite to go with it. Then there's all the hardware advantages like the much better AMOLED display, better camera, removable battery, fingerprint sensor, etc. The nexus 6 is an excellent device, just like every high-end smartphone these days, but it isn't on the note 4' level. Even more so when it gets 5.1.1 in the next 30-60 days

He sure did. It's the type of people that screams and yells but cannot back up their point of view but laugh at others. What do you call that? Loooll Posted via the Android Central App

I didn't scream or yell Iol this article has proven my point and many others agree with it as well so what do I have to prove? I'm waiting on you to tell me why touchwiz is better than stock..... Posted via the Android Central App

Touchwiz will always comes second to stock sorry only you and a handful enjoy such a horrendous software experience but its your choice. Posted via the Android Central App

You're being on the defensive and you're trying to predict what I am going to say. My initial statement was that touchwiz is more functional than stock android. Let's just be adults and have a nice discussion shall we? My goal is ot to make you prefer touchwiz, I could care less what your preference is. But when I made the statement that touchwiz was more functional you had a synical answer to my comment as of what I said was ludicrous. So I'm asking you now, why do you think stock android is more fun tonal than touchwiz? If you don't wanna answer don't but be mature about it that's all. Posted via the Android Central App

Completely agree! That was my exact experience with an OG Nexus 7 (boring!) and why I moved to an OG Note 10.1 that had a ton of software features built-in, many of which could not be duplicated with third party apps (granted the bigger screen was also a huge draw)!. I also got tired of the constant OS updates with a Nexus device that left me feeling like a beta tester. So from that experience I came to the conclusion that Nexus devices are over-rated and just not for me! :-)

I agree completely. The Nexus 6 is the bees knees! It's the only Android phone that I've kept this year and Ive purchased the s6 s6edge and G4. There's just something about a Nexus. The 4, 5, and 6 are my three favorite phones of all time.

Hmmm.. Let's see, a sub par camera, mediocre battery life at best, limited storage options, not the best display (not even top 5), oversized and bulky, no quick charging. Yeah, you keep telling yourself that it's the best Android phone out there lmao

Hmmm... Let's see: excellent display with more room than any other flagship, very good camera, very good battery life, more available built-in storage than almost every other flagship, not only supports quick charging and wireless charging... but also includes the quick charger (unlike some other flagships), not cramped and tiny (browsing on many of these flagships is a pain), well-built instead of overly thin and prone to breaking, water resistant without flaps, excellent front-facing speakers, faster updates over a longer period of time, and the best real world performance of any smartphone. Yep, it's the best smartphone out there. Posted via the Android Central App

Agree Posted via Morse Code

No kidding. The article admits some (but not all) of the flaws in the N6, and then concludes that it's the best flagship "because I like it". Why not write an article that says the Galaxy S2 is still the best flagship "because I like it". Makes as much sense.

Listen, I have a lot of respect for you Jerry, not to mention being slightly envious of your job. I appreciate your opinion, but I still don't understand how contradictory it is. You always talk about how much you like smaller phones. What gives? Posted via the Android Central App

My next phone will be the next Nexus. But the 6 is just too big Posted via...The One

The Nexus 6 is the best Android flagship you can buy? Hmm yeah maybe, if the Note 4 didn't exist. It's almost disrespectful to say that. Yes software matters a lot but it's not everything. Spec by spec the Note 4 is really the best Android flagship you can get. And this is coming from a guy using a Nexus and not a fan of TouchWiz. But I'm just being realistic. Posted via the Android Central App

I agree with the fact that it's the best phone for a software guy... but not as much as it was before.
i mean in the past few years. Nexus devices were head and shoulders above the rest software wise. But now other UIs have come a long way. None of them is as pretty as the stock android but in terms of functionality some of them introduce features that after using them you can't live without!
but these are all very minor things.
the best thing about the nexus phones is the updates. Unfortunately i have to have the best camera on my phone (not that i have too... it's probably my most important factor) and nexus phones never deliverin the camera part... so I had to go with the S6. And i check for updates every day even though i know nothings gonna happen!
but if someone is looking for the overall package it's the S6
and if you have to have a stock android... go for the closest! The Z3 or the Z3 plus

Would be nice if they made a nexus 6 phone.

Nice review. Topical for me right now. My old m7 fits so nicely on a cup holder! The m9 in a cover, not so well. That m7 was smaller than my previous phone and I liked the size. Picking it up now, it's still the nicest device I've owned. Now that I've gone up again though, I could imagine a 6 inch phone and like it. The OS stuff was good to hear. Thanks again.

Gotta agree, got the HTC One M9 over the Galaxy S6 because I knew I couldn't stand Touchwiz. My friend who uses her phone only for light tasks such as messaging and Instagram has already complained about lag/stutters within a week of getting her S6. Posted via the Android Central App

Does anyone else's Nexus 6 get warm with little to no effort?

Only when watching videos.

I've been using the Nexus 6 since last Christmas and it's still everyday a great joy to use it. Friends of mine have all the newer flagships and in my eyes the still can't compete with my beautiful Nexus 6. And that huge size where everyone is falling over.... You get used to it in less than a day, and once you do you just love it! Posted via the Android Central App

Exactly Posted via Morse Code

I love the Nexus series. If only this phone came in a 5 inch version... Posted via the Android Central App

I always found the Nexus 6 as the 'Most Ideal Android Flagship,' but far from the 'Best Android Flagship.' You say the Software is what makes the Nexus 6 the 'Best Android Flagship,' Yes, it's significantly faster than manufacturer-designed software, but I've always felt Google (Nexus) software to be INFERIOR to what is available out there from the manufacturers and beyond. -> Google Photos still has no ability to render GIF's, struggles in finding photos from non-conventional folders (DCIM/Camera, Downloads, the default Pictures folder in storage) and actually removes photos from folders if the sync is set up, which it does to many people.
-> Google Play Music piggybacks on manufacturer equalisers in some cases, and where the All Access is not available (which is in a LOT of countries,) it is an inferior standalone music player.
-> I need to put three SEPARATE programmes to edit Office documents (one for Excel, Word, and Powerpoint.) I know most recently MSFT did the same, but many Office solutions can interact with the different file types in ONE SOFTWARE (Samsung preloaded Hancom, Sony bundled Officesuite,) why in Google's vision do we need three separate programmes instead of integrating into one 'Super' programme?
-> Why does Messenger exist instead of improving the SMS functionality of Google Hangouts in the first place?
-> Google Fit is problematic in many, many phones - bad battery drain, inaccurate pedometer and biometrics tracking, feature limitations. It's very much half-baked.
-> An absolutely bare-bones Camera app, really?
-> Gimping the offline functionality of Google Maps is beyond me. I mean, cached maps that expire in weeks, no locations support offline, slow navigation, no offence, but what were they thinking here? Mapping solutions are most important when one is OFFline in a faraway place or on vacation, not ONline, because not all places have good internet.
-> I guess Chrome is the saving grace here, but even it is not immune from performance issues not on other browsers. My point here, is that while the Nexus vision of software is one that is very fast and visually pleasing, they're functionally inferior to the 'bloated, slow' software that everyone else provides. And often manufacturers add software that are ADDITIONS, NOT REDUCTIONS in the functionality and aesthetics of the software - lift your phone to your ear to call, double tap to activate or deactivate the screen, a holistic media experience, sensors that give phones significant abilities,
That in my book makes a phone 'the Best' - doing more than the absolute bare necessities (The Nexus vision does the basics admirably, even perfectly, but limiting the software to do just the basics as the Nexus vision questions the 'Smart' in 'Smartphone' in my book...)

Loving being able to run the M preview. What a treat!

Jerry. Don't even trip on all the haters out there. U did a good thing here... Nexus ! Posted via the Nexus 6

Hey guys I'm deciding between a nexus 6 and an s6. I currently have a note 3 and I am sick of this terrible lag. For example mortal kombat x loads so slowly and in the middle of my battles the game quits. I heard that the s6 toned down the software. I just think that lollipop and TouchWiz are a terrible combination. I have tried both devices and a I love them very much. I am used to a phablet thanks to a note 3. Don't mind downgrading to the size of the display of the s6. Should I consider waiting for the note 5? Heard it will be 6 inches too. I do a lot on my phone. Gaming, video, music, social media, you name it. Don't worry about battery life. Don't mind carrying around a 20,000 mah powerbank. I would really appreciate it if you helped me make this choice. Posted via the Android Central App

The Nexus 6 is now the official "Gold Standard". I 100% recommend the Nexus 6 as your next device. Posted via Morse Code

Thx for your input Posted via the Android Central App

Lol, just like it was a few months ago, right? http://www.androidcentral.com/head-head-nexus-6-vs-galaxy-note-4

Wait for the Note 5 but get one that can have the bootloader unlocked (T-mobile). If you don't want to wait get the Note 4 from T-mobile. There is a bunch of good development for it. A true lag free Note 4 (in other words with custom software aka ROM) is the best available device right now imo. Posted via the Android Central App

I'd definitely recommend the Nexus 6, coming from the large screen of the Note 3 to an S6 would be a shock to your senses. The S6 would feel like a little toy in your hand, you'd have to squint to read the text, and being used to the large spacious keyboard on the Note 3 would equal a nightmare when typing on an S6. Also being used to that big battery life, to having to always have a charger with you would be a headache. My personal Nexus 6 lasts me at least 18,19 hours with normal use. I never have to worry about having a charger near. Plus if you're looking for touchwiz to be toned down, try no touchwiz at all and try Android the way it is supposed to be. You will not regret it.

Incredibly frustrating that you can't get stock Android on all Android phones at least as a choice. I have no desire of proprietary features/software which more often than not comes at a cost of performance. On the flip side I want top notch flagship hardware. Basically I want what Apple does but on Android :)

Just get a device that has a bootloader that can be unlocked and that has developer support. As long as the best hardware has bad software and the best software has bad hardware this will be the route to go. Posted via the Android Central App

Way too big. I think everyone forgot that these are supposed to be portable.

speaking of software, the note actually has some that gives a point to a huge screen beside the point of just to be huge. software does not automatically trump hardware imo. if the moto x 2013 was on 5.1.1 would you say that's better than an S6 or G4? Note 4 is still my favorite flagship. But I'm in a minority I suppose that values a removable battery, SD, and stylus. (Along with a best in class display and one of the best cameras out there.) On the software side of things, I have no complaints.

I just don't see any device with better hardware than the Note 4 out right now. The software? Yes, it's not the best. Good thing the software can be changed, the hardware cannot. Posted via the Android Central App

I've been underwhelmed with the 2015 flagships this year (except S6 Active, but I don't use AT&T) and I agree the Nevus 6 is still the best phone or there still ... I haven't tried the M9 though, can't get past the black bar. Posted via the Android Central App

I love my jellybeen 4.1.1, HTC Evo 4g lte,and if it weren't for the vulnerabilities,I would stay with it. That said, Google play services and Google services in general go a long ways toward helping that. I can do just about anything all the newest phones can,and even some things they can not. But.....I really do like the nexus 6 or even the 5 just for the reasons stated in the article. But,likely I will end up staying with HTC,because when I update,it will be free for the m8 by then. Hard to pass up,and it will probably get the next Google update too. Posted via the Android Central App, HTC Evo 4g LTE ,on Sprint

This all just opinion and, on that note, I couldn't disagree more with this post. But hey, that's my opinion too

I'm just hoping the Next Nexus phone is significantly smaller.

I had this phone for a week and, while it wasn't bad, it wasn't for me. The camera was very finnicky, the audio through headphones was mediocre at best, I couldn't see the display outside, and it was the first phone I couldn't put in my front pockets (the Note 4 even fit). It's a beautiful device, but it's lacking in many essential areas...just like every Nexus device before it. The difference is that I paid far more for the Nexus 6 and, as a result, expected much more. Posted via the Android Central App

100% agree with you about the audio output with headphones.

Without much doubt. My next purchase will be either a Nexus 6 or whichever Nexus comes out. I now have a Nexus 5. I have been using Android for the past 4 years or so. (HTC & Samsung) By far, Nexus is the best experience yet. And yeah, software being the soul of the phone; I completely agree!

Every one has their complaints about the sizes of phone being too big, try using the Sony xperia z1s ultra! That's a mega phablet that nobody will let go, it's beautiful and a joy to have the only exception is the camera taking bad photos under low light scenarios. As for the nexus 6 it's an awesome phone that is true to its design and software direction. . Smooth as butter, nice screen great call quality not