New set of leaked Galaxy Alpha images reveal metallic frame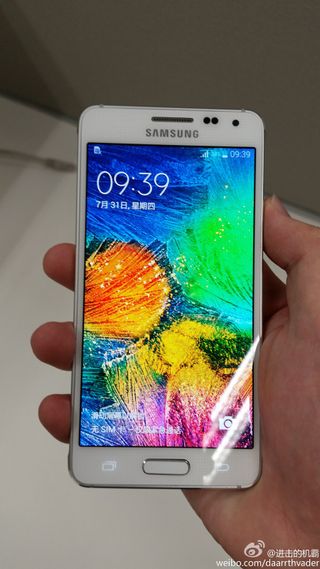 As we get closer to the rumored launch of the Galaxy Alpha, more pictures of the finished version of the handset are bound to leak, as is the case today. A user on China's Weibo uploaded several images of what looks to be a retail version of the Galaxy Alpha.
From the images, it is evident that Samsung is not aiming for an overhaul in terms of design, instead focusing on making the device feel more premium. To this effect, the Galaxy Alpha has a metallic frame around the sides, much like the Xperia Z smartphones. The latest leak highlights a more polished metallic frame to the one we've seen in earlier images of the device.
The Galaxy Alpha is said to sport a 4.8-inch 720p display, Exynos 5433 PU, 2 GB RAM, 32 GB storage, 13 MP camera, fingerprint scanner, a nano-SIM card tray and Android 4.4.4 KitKat. Samsung is rumored to launch the device on August 13.
What do you guys think of the design of the Galaxy Alpha?
Harish Jonnalagadda is a Senior Editor overseeing Asia at Android Central. He leads the site's coverage of Chinese phone brands, contributing to reviews, features, and buying guides. He also writes about storage servers, audio products, and the semiconductor industry. Contact him on Twitter at @chunkynerd.
Interesting but not interesting enough to pull me from my G3. Posted via Android Central App

EBay....... is all I have to say. $20 US can get you a aluminum case the looks ten times better. Posted from my "KNOX-FREE" 4.3 Sprint GS3 Maxx...!!! (PREPAID)

What a downgrade compared to my S5. LOLOL

Better SOC, worse display. And?

The Exynos CPU isn't exactly better. Posted via Android Central App

Keep telling that to yourself. 5410 was a mess, no doubt. But 5422 is a much much better SOC.
Why do you think Qualcomm will be using A57/A53 designs in 808/810?
And most likely 5433 will be using 20nm before anyone else in the industry. 805 is still on 28nm HPM.

You're probably right with regards to specs but it at least looks better the the S5. If it was actually a flagship device (and not one that samsung will release and then forget about in a month) I'd be at least curious.

They never said it was flagship. If its an entry level device why would it be better then the s5 in anyway? Its still a good phone. Better build then the s5. So looks like your s5 is a downgrade. Posted via Android Central App

I think you need new contacts/glasses. The S5 is a downgrade? How can it be a downgrade when the Alpha has a 720 display while the S5 has 1080p. And it has NO micro-SD expansion. Get your facts straight before you make a comment like that. Lulz.

Such an evolution Samsung, between this and the Galaxy S2 (from 2011)
http://www.mobilebazar.pk/images/mobile_store/zoom/437.jpg

Oh my god! It looks like a smartphone! Scandal!

My feelings exactly Posted via Android Central App

GS2 lives! Posted via Android Central App using an LG G2.

Actually GS2 is the best looking GS series, IMO. Posted via Android Central App

I agree. My first samsung phone was S2, and I think it's the best looking phone in galaxy series. I never bothered to check out s3 s4 s5 etc.

If you're not a spec geek.. why not just stick with an S3.. and save a ton of money.. I never thought a company could continue to spin the same design phone after phone.. year after year.. and get away with it You have to give Samsung & Apple credit.. They simply Dominate.. and have SO MANY sheep that just keep upgrading to another incremental version of basically the same thing..

The screen for one thing. Obfuscate the topic by calling it specmanship if you want, but simply put, the GS3 is very hard to use out in the sunlight. The GS5 is much better in that regard. If you ever come up out of mom's basement, you'll understand what I mean.

I'm not sure if you're saying this from first-hand experience or because you read it on some website, but I've yet to have any issue with my G3 outside. The display gets plenty bright to stay comfortably usable in sunny conditions.

You wouldn't recognize how bad the S3 is until you've used a phone that's much, much better. Both the S4 and S5 have special software that actually increases the max brightness, sharpens fonts and other similar effects in bright sunlight. Posted via Android Central App

Calm your fanboy jets down. Where in my comment do I compare the G3 at all to the S4 or S5? And in case you're wondering, I've got an S4 and S5 here as well. They've both also got great screens, just lower res. ;)

Oh come on. The S3 was the best phone at the time. Of course it is going to pale in comparison to something newer.

And this is the point you read the comment again, and realise your response had nothing to do with what Suntan said... :)

lol, you're right. S3, GS3, G3 /sigh I'd like to take this moment to fully agree with Suntan's comment. I definitely remember how horrible the GS3 was out in direct sunlight. :)

Reread the comments. They were talking about the Samsung Galaxy S3 not the LG G3.

Suntan...you're still clueless..
Re-Read what I wrote Jr.... It's the same Sheety design year after year.. phone after phone.. BASICALLY...
You need to come out from under Mommy's skirt and go to school.

Because the S3 started lagging after the first week, wait that happens with all TouchWiz phones so yeah better to stick with S3. Posted via Android Central App

Good word Posted via Android Central App

Not bad. Posted via Android Central App

Looks exactly like an iPhone. I smell lawsuit. And only a 720p display?
Posted via Android Central App

Uhhhhh what? Posted via Android Central App

Actually, it looks like Samsung very intentionally made it so it DOESN'T look like an iPhone. Those chamfers and how they resolve on the sides especially. Posted via Android Central App

From 6 feet away al cell phones look the same

Eyeglasses needs to be upgraded... ... ( 0ppo F5) ...

Yeah, it looks pretty, but the name Alpha is a tease as far as the internals.

That crooked home button ugh. Every Samsung device I've ever owned has had one.

And here I thought I was the only person in the world who ever noticed that.

Funny I have never had one (myself or family or my work testers) that had a crooked button.

It's like with German luxury cars they keep the same design language for about 10 years.. And in between just update specs etc why should apple and Samsung redesign when they on top... Posted via Android Central App

Was interested when I thought it would be an incremental step up from the GS5 with premium materials and possibly a new design. But it's basically a spec'd DOWN GS5 (4.8" 720p screen?) that looks exactly the same, but feels nicer. At that rate, I'd just get a GS5. Currently have, and love my LG G2, and have no immediate need to jump ship, but for the right phone I would. Was thinking this could be it.

The phone you're thinking of is the Galaxy F. Posted via Android Central App

At this point there seems to be no concrete evidence that the "Galaxy F" ever existed, or ever will exist. All of the rumors of a Galaxy F were overblown and now seem to have applied to the Galaxy Alpha, which is certainly not a "prime" edition of the Galaxy S5. Samsung themselves have indicated that they only have two major smartphone launches left for this year, with one most likely being the Galaxy Alpha and the other being the Note 4. That said, I wouldn't expect Samsung to tip it's hand too early about another phone if it doesn't have to.

The Galaxy "F" does exsist.. Its the updated South Korean S5 that spots a QHD display.. Only South Koreanske though..

I get your point, but that's the Galaxy S LTE-A which has always been said would be staying in South Korea. It also doesn't have the "premium materials" that the rumored Galaxy F did, so really it's not exactly the Galaxy F.

It's because it'll be released around the same time as the Note 4

It's interesting that they're going down in screen size and resolution with this device. But this could just be sort of a market test device like the Galaxy Round. I think eventually though, screen sizes will come down on phones with flagship level specs. Manufacturers will realize that not everyone wants a 5inch+ screen phone or a phablet device. Some people want an iPhone sized device and they're potentially locking themselves out of device sales by continuously increasing screen sizes (Samsung, HTC, LG, and rumor Motorola for the MotoX2 all guilty of this). There are a lot of people who are curious about 'Droids' and I do think a big hindrance to device sales could be the size of a lot of these devices themselves.

But that drop in PPI from a 5" 1080p display to a 4.8 720p is quite big.. If they squeezed 1080p in to a 4.7-4.8" display now that would be perfect..

If only it had a sd card slot, I know this hasn't got top end spec but it's got good enough spec and it's not a giant of a device. Posted via Android Central App using galaxy s4

Hello, Galaxy S2... Posted via the 64 GB OnePlus One

The chamfered edges make it look like an iPhone from the side. But that's not what bothers me. What annoys me is why make, what is effectively, a mid range smartphone using premium materials but then make the flagship device from poor quality plastic? Posted via Android Central App on my N5 with Android L

Probably testing to see how quickly they can make them, for possible use in a galaxy s. Posted via Android Central App

This whole "premium" material thing is overrated hype, for which we have Steve Jobs to thank. Beer cans are aluminum. Many trash cans are aluminum. A lot of parts on Chinese made bicycles bought in flea markets are aluminum. If a phone is manufactured from titanium, that might be a premium device. Or solid gold. Maybe silver or platinum. Or finely crafted from Harrison Ford's skull. But, aluminum? Give this working man high performance wrapped in impact absorbing scratch resistant composite material any day. Posted via Android Central App

The only mid-range point of this device is screen resolution. And even that isn't a bad thing. The screen will probably be great and have great colors, etc. And the pixel density will be good enough. 720p is not bad for 4.7 inches.

I have the GS5. There's nothing I don't like about it, but really nothing I love either. Every other phone ends up having something I hate, so I keep sticking with it. Have tried the M8, the G3, and the OnePlus... all sold and keeping the S5. Let me tell you, the metal-look plastic edge is not on my list of necessary improvements.

Curious, what did you hate about the G3?

The awful LG skin, the buttons on the back, the dim auto-brightness among other annoyances. Just didn't like the thing at all.

Fair enough. I never have gotten used to the back buttons on either the G2 or G3. Doubt that I ever will at this point. I do not think the skin on the G3 is bad (not great either) but to each his own.

Ha, yeah. Probably doesn't bother some. To me, it looks like Hello Kitty puked on the screen. :-) Posted via Android Central App

The only benefit of the smaller screen and lower resolution would be better battery life when incorporated with the better processor. With 32 GB of on-board storage and 2 GB of RAM, this could potentially be a really sweet phone. Posted via Android Central App

So much coverage on this device and I bet it's staying in Korea. This is nothing more than a market test device like the Galaxy Round and that humongous phablet they just released. Aside from that I like the improvements to the sides of the device. I wouldn't mind it on the Note 4/S6 but they'll need to bring back the micro sd slot and keep the internal storage at 32GB. Unless they'll shake things up the next time the Galaxy S edition releases and offer the Mini along side the main flagship just with a smaller less powerful screen and similar internals to the S5. I can definitely see them doing something like what Apple did with the 5S and 5C. Let's not forget another smartwatch to accompany those two. I'd hope so at least.

Huge bezels (relative to competition) and pretty much the same phone. I was hoping for at least the on-screen buttons. Samsung not doing well lately and it shows in their financial report.

On screen buttons are overrated. I would rather have the screen real estate than lose it to that crap

It ends up being basically the same... And then when you're full screen it looks way better.

No it is not the same. There are points where my 5.7" screen is actually a 5.5" screen with on screen buttons. I want all 5.7" all the time. (Thats what she said!)

If I had $10 for every time you said that, I'd buy a nice phone.

Doesnt make it any less accurate.

Of course. If you say it then it must be accurate

I am not the only one that says it. Redit has a whole thread on it. If you google "hate on screen buttons" you will get a ton of others that say the same stuff

I think I will stick with my s5 Posted via Android Central App

omg am I the only person in the world that thinks plastic is better than metal when it
comes to cell phones

No. I prefer plastic phones over metal because I like how it feels in my hand but there are different grades of plastic and different finishes. Samsung sticks with the worst ones.
They should look at Nokia, HTC, Motorola, 1+1, etc for ideas. And lose the old and tired design. I think declining sale numbers show that people are tired of the current design theme.
Samsung makes phones left and right, so why not make a new design model to "test the waters" so to speak? Make one with Nokia-like plastic and onscreen buttons and minimal bezels (MotoX). If it works, great... if sales don't support this idea, move on. Samsung can easily afford it. What they can't afford is making the same thing hoping for different result... the competition is clearly starting to nibble on its territory.

Do you realize the costs involved in doing that?

Really? Cost in making new molds/tooling? They do that anyway for every new model.
I you think Samsung can't afford a better quality exterior, I really have nothing else to say.

It is not about afforability, it is about profitability. Most of the samsung models use very similar back (it not the same) which cuts down on production costs.

Adding few $ to total cost won't change anything (assuming Nokia-like plastic actually costs more, which I doubt when you are talking tens of millions of devices = bulk). Most of Samsung phones have different shape. This means different molds.

They have about 4 shapes http://www.phonearena.com/phones/manufacturers/Samsung/?filter_class[]=1...

So... We get pics of both left and right side..
But.... not the bottom. FML.
Water resistance is not a necessity, but if it's an available spec why not go for it?
Knowing would help me decide to wait for the Alpha or not -____-

Sorry you lost me when you said 720 Posted via Android Central App

The galaxy range of phones look all the same where I live. Think Samsung galaxy, grand duos, etc etc etc Posted via Android Central App

Looks like Samsung is preparing for the rumored larger iPhone. I work for a carrier and most customers like the way the iPhone 5s looks, but hate the size of the screen. So they go for the Galaxy S4 or S5 instead. Although its sad normal people make decisions on a phones just by the screen size alone. And Samsung has cashed in on that big time. Well if Apple has a bigger screen on the iPhone Samsung needs a metal for to compare. Not mad at Samsung for the move I don't think this "Galaxy Alpha" is intended to sway current Galaxy owners. Instead it may be aimed at current iPhone users waiting to see what's in the iPhone 6. Posted via Android Central App

Is that a galaxy s2, because the overall design reminds me of that phone. And how's that an Alpha with the tiny screen/resolution? I'm disappointed.... Posted via Android Central App

i think Samsung is in serious trouble, they need a new design team in place, this design is getting too long in the tooth.

I never understood what made people so crazy about metal phones. Don't 90% of people put there phones in a plastic/rubber case and never take it out again?

While I'd love to say yeah.. I love it. I can't. In fact my GS3 I believe has the same size screen and resolution and is paid for (in fact I only paid $50 for it with the 2 year contract). I sincerely doubt I'd go for this and am thinking more like the Nexus 5/6, Opo One +1, or maybe wait to see what the new Moto X+1 looks like.. I'm tired of the mfg and carrier bloatware too.. My two cents.

WHy is the home button misaligned? lol

It looks like an iPhone! Sorry I have to go there lol!

Why is it coming out with mid-range specs?

Rectangular iPhone 5. Posted via Android Central App

I would be totally into it off it had a 5" screen. Posted via Android Central App

Looks like a note 3 Posted via Android Central App

Now that's a sexy phone Posted via Android Central App

The purpose of this device is to cement Samsung's identity in the mobile industry as a premium smartphone manufacture. Samsung prides itself on it's large displays, exchangeable batteries and expandable storage. Features that Apples iPhone doesn't have making Samsung's S devices the alternate choice and a "better" smartphone. Take those features away and is Samsung devices still wanted by consumers for it's other features(Super AMOLED display, camera res., S health/heart rate, etc. )? Samsung is testing itself with this device and will ultimately change its future line of smartphones.
Android Central Newsletter
Get the best of Android Central in in your inbox, every day!
Thank you for signing up to Android Central. You will receive a verification email shortly.
There was a problem. Please refresh the page and try again.