New rumor says Samsung's upcoming Galaxy S21 FE will be a Note 20 'follow-up'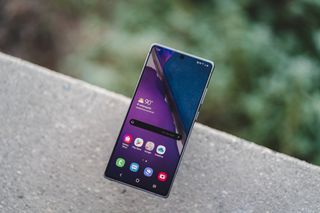 (Image credit: Hayato Huseman / Android Central)
What you need to know
A new rumor suggests Samsung plans to position the upcoming Galaxy S21 FE as the follow-up to the Galaxy Note 20.
It isn't clear if the Galaxy S21 FE will come with Galaxy Note features such as S Pen support.
Samsung is rumored to unveil the Galaxy S21 FE at an Unpacked event in July or August, alongside its next-gen foldables.
Back in March, Samsung warned that it might not be able to launch a new Galaxy Note this year due to the global semiconductor shortage. While we haven't heard any rumors hinting at a new Galaxy Note for 2021, reliable leaker Evan Blass has now tweeted that the upcoming Galaxy S21 FE will be a 'follow-up' to last year's Galaxy Note 20.
Blass says the Galaxy S21 series' "disappointing first-half sales" make the company's second-half flagship even more critical. Despite offering several major upgrades and being more affordable than last year's Galaxy S20 series phones, Samsung's best Android phones of 2021 have failed to achieve the same success as the Galaxy S10 series.
Since the tweet doesn't contain any other information, it is unclear if this means the Galaxy S21 FE will have S Pen support. After confirming plans of bringing the S Pen to more Galaxy devices, Samsung has launched just one phone with S Pen support so far: the Galaxy S21 Ultra. Rumors suggest its upcoming Galaxy Z Fold 3 will have S Pen support too, but it won't include a slot to store the stylus.
According to Blass, the Galaxy S21 FE will be unveiled at Samsung's next big Unpacked event, which could be held on August 19.
Samsung Galaxy S21
The vanilla Galaxy S21 may not have the same premium build as its more expensive siblings, but it offers a similar flagship experience. Thanks to its smaller display, the Galaxy S21 is also more comfortable to use single-handed.
Get the Android Central Newsletter
Instant access to breaking news, the hottest reviews, great deals and helpful tips.
There is one word that kind of sums up all phone manufacturers releases these days...CONFUSING!

"they" wonder why sales are slowing for flagships? Maybe because they're way too expensive...and not worth the money! For half the price of most flagships you can get a phone that will do EVERYTHING a flagship can do!

This is the absolute truth! I bought a Poco X3 NFC for £199 for 128 gig version and honestly can't believe just how good this phone is. It's just been updated to android 11 and is usually on sale for about £170 and the X3 Pro is only around £200 with a Snapdragon 860 chip which is flagship spec minus 5g which may be a deal-breaker for some but just check out the specs to price. I will never pay more than £200-£300 max for any phone in the future and plan on keeping the X3 NFC for at least a couple of years.

Samsung is in cloud cucko land if they think that the S21 FE will be an adequate replacement for a Galaxy Note this year, unless it's compatible with an S Pen, I don't see how this S21 FE can be positioned as a follow up to the Note. The S20 FE is completely overrated and had too many issues, especially with "ghost touch"and has poor battery life and that's with me just browsing and gaming was even worse for battery life so I turned off the 120Hz mode and 5G and battery life has improved slightly but overall battery life and the well documented issues make the S20 FE a disappointment and I fell for the hype of this phone, never again.

I understand your concerns Beno and I know your going back to a pixel etc as you don't like one ui but to get the best of Samsung you really need to own one of their flagships ie a Note or S21 ultra, neither will do anything for you if you don't like the software ie One UI to be fair but all I can say is don't hate on Samsung simply from owning only their mid range efforts. Yeah and nothing will replace a Note except a note fully agree with you there!

I'm not hating on Samsung, I'm just hating on a phone that was so hyped up to by tech reviewers, I don't like One UI but I don't have anything against it personally I just don't like the way One UI looks and feels so I've slapped on Lawnchair which gives me the Pixel like experience I love until I get my Pixel. Again, while I know Samsung's software isn't for me, Samsung's hardware is second to none and there is one aspect of One UI I like, and that's actually Bixby, especially for alarms, Google Assistant could learn a thing or two from Bixby. Again I don't regard the S20 FE as a midrange phone though.

"Who the gods would destroy they first make mad" . That sums up Samsung's attitude to the Galaxy Note lineup IMO.I fondly remember those halcyon days of old when there was was just a single Galaxy Note phone each year and it had the best features Samsung could offer.