Samsung says it may not launch a new Galaxy Note this year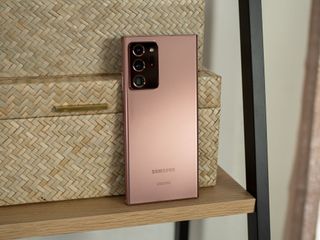 (Image credit: Andrew Martonik / Android Central)
What you need to know
Samsung has warned that it may not be able to introduce a new Galaxy Note this year.
The tech giant says it could be a burden to launch two flagship models in 2021 due to the ongoing global semiconductor shortage.
Samsung fans may have to wait until 2022 for a true successor to the Galaxy Note 20 Ultra.
At its annual shareholders meeting today, Samsung warned that it may not be able to launch a new Galaxy Note phone in 2021. As reported by Bloomberg, Samsung expects the ongoing global semiconductor shortage to have a serious impact on its business in the next quarter.
Samsung's mobile chief Koh Dong-jin told reporters:
While multiple reports had claimed last year that Samsung had decided to kill the Galaxy Note line in 2021, DJ Koh's statement suggests the South Korean tech giant isn't ready to bid-adieu to the Note series just yet. However, the Bloomberg report notes that the move is geared toward streamlining Samsung's smartphone lineup, and not just due to the chip shortage.
As revealed by a recent report from Reuters, Qualcomm is struggling to meet the demand for its Snapdragon 888 chipset due to the global shortage, affecting Samsung's Galaxy S21 series phones. The production of Samsung's best cheap Android phones is also said to have been hit due to a Qualcomm chip shortage.
Android Central Newsletter
Get instant access to breaking news, the hottest reviews, great deals and helpful tips
Hopefully this is not the official position of Samsung because I think this would be a huge mistake. Who wants to have the ability to use a S Pen but it's not stored in the phone?
Sadly, Samsung has slowly taken away all the things that have kept me loyal to the brand since the early Note series of phones.

The fold 3 will have it built in

Agreed. Note is niche though so I expect the S Ultra trumped it.

And view I have schadenfreude... Makes total sense though. The S21 can use an S-pen and the note 20 ultra is still very good...

I've been buying the Notes since Note 2. Back then it was not just a flagship, but also the one where they'd try new ideas. The later Notes were great, but they were essentially evolutionary and phone evolution is slowing. It seems like the foldables are where the odd, new things are being tried now but they're still priced out of my range.
So, I'm OK with waiting a year and having more new features to pique my interest.

MY Note 20 ultra is best ...can easily use it till next year note 22....love the note series....
I know sooner or later Note will become a foldable phone but pricing should come down....

WTF!!! I thought they weren't continuing the Note series... I would have waited downgrading to the 21u.

This doesn't say they aren't.

You consider it a downgrade and bought it anyway?

So the rumours were right and wrong.

I say, Thank the phone gods! This means I won't have to waste time researching, analyzing, or considering upgrading from my Note10+ – for no good reason but to get "The New".

Y'all can hold out hope, but I doubt we will see another Note device, this or any other year.

Why not? there's a large fanbase for the note range, I can see them phasing it out but not until the Fold can be bought in and around the same price range. I'm a note fan and personally I think it's a big mistake one of many in my opinion Samsung have made lately if they are trying to push fans to the S Range and Fold lineup but only time will tell if I am right. I've said numerous times and I will probably be in the minority but if there's no follow-up to the note, I'm moving elsewhere things like the built in s-pen, SD storage, Tizen on their smartwatches etc kept me loyal to Samsung but seems like they are going in a completely different direction than I would like these days.

This was sort of expected but wayy better then them cancelling it all together..

I will NEVER buy another Note again! But if they continue the series, I will ALWAYS buy another Note again!

Seems that I have to wait for next year to upgrade my Note 10 +...
Android Central Newsletter
Get instant access to breaking news, the hottest reviews, great deals and helpful tips
Thank you for signing up to Android Central. You will receive a verification email shortly.
There was a problem. Please refresh the page and try again.