New rumor says Samsung Pay could be heading to non-Samsung phones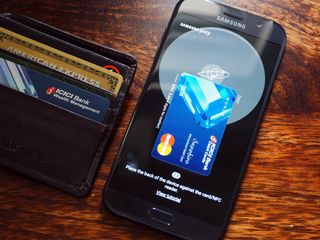 Samsung Pay is limited to the company's flagship devices and select mid-range models, but that may not be the case for much longer. According to Gadgets 360, Samsung held "internal talks within the company and with OEMs" to bring Samsung Pay to non-Samsung devices.
The key difference between Samsung Pay and Android Pay is that the former supports both NFC and MST (Magnetic Secure Transmission). MST mimics a card swipe, making Samsung Pay compatible with POS machines that don't have NFC built-in. The technology is enabled by a proprietary chip that's built into the rear panel of devices like the Galaxy S8 and Galaxy A7 2017, and it looks like Samsung wants to integrate the chip in other manufacturers' devices.
It would certainly be a welcome move — Samsung Pay works at most offline retailers — but it's hard to see other manufacturers integrating Samsung's proprietary tech in their devices.
An alternative would be an accessory that enables full-fledged Samsung Pay on non-Samsung devices. The company is said to be exploring both options, with a go-to-market timeline slated for mid-2018.
Gadgets 360 also notes that Samsung Pay will be heading to the company's mid-range phones. The service is available on the Galaxy A7 2017, but it could be making its way to devices in the Galaxy C series, and possibly the Galaxy J series.
In its Q2 2017 earnings, Samsung noted a sales decline in the mid-range and budget segments, and one way to counter that would be to bring Samsung Pay to these devices.
Would you be interested in using Samsung Pay on a non-Samsung device?
Harish Jonnalagadda is a Senior Editor overseeing Asia at Android Central. He leads the site's coverage of Chinese phone brands, contributing to reviews, features, and buying guides. He also writes about storage servers, audio products, and the semiconductor industry. Contact him on Twitter at @chunkynerd.
That would be cool, Samsung pay is on the short list of reasons why I'm even using a Samsung phone.

That would be great, that is the one and only thing I am missing after switching to a OP5.

License it to Android Pay. Make everyone happy

It did save my bacon one time at the grocery store when I forgot my wallet. I wouldn't pay too much to add it though, the profit margin is so slim already on low-mid range phones.

I can't use a phone without Samsung pay..

The best payment system just another reason to get a Samsung galaxy

On the downside though, Samsung Pay has slowed down adoption of real NFC terminals because it is a workaround.

Did you just make that up?

Nope. I've been an avid Android Pay user from day one, and was often the first to use it when it became available at local stores.
The technology differences between normal Android Pay and Samsung Pay are basic: Android Pay uses NFC terminals which are designed for contactless payment, Samsung Pay "fools" a standard card reader into thinking a card was swiped. Samsung Pay does not require stores to upgrade their systems, so they figure mobile payments already work and there's no need. Even store managers are confused now. Does it work, does it not work? They don't know because someone with a Samsung came in and used their old reader, and now they assume everyone using the proper NFC systems is good to go because a proprietary band aid works.

ONLY in America... Here in Australia, Everywhere here uses systems that can do Chipped cards and NFC with the mag stip being depreciated.

I wouldn't even use Samsung Pay on my s8 when Android Pay is already better never mind on a non Samsung Phone

Deleted Android Pay day one.

How is Android Pay "better"?

Android Pay doesn't work at any place I regularly shop at. Only time it's ever useful is a few chain restaurants I may go to 2-3 times a year.

How could Android Pay be better than Samsung Pay? Both Android and Apple Pay are using NFC technology which is basically non-existent in over 60% of stores. Some stores who have NFC are disabling it due to higher overhead cost.
Whereas, Samsung Pay uses both NFC and/or Magnetic Secure Transmission (where they bought the rights from Loop Pay). So even without NFC, you still can use Samsung Pay anywhere where credit cards are accepted, even getting tickets at train stations or paying for parking. Try that with Android Pay.

I love when people say things like "such and such is better" but give absolutely zero reason as to why they think that. Oh and btw, you can use Samsung pay literally anywhere, but you can't use Android pay anywhere... That's why Samsung pay is better and should be an option on every single Android device. Period.

Sorry maybe in the US where you guys still use antiquated mag strip terminals but here in the UK and the rest of the world we phased those out about 10 years ago and have NFC terminals almost everywhere so Samsung Pay offers zero advantage over Android Pay and boils down to which actual app is better and easier to use. For me Samsung Pay requires me to unlock my phone then slide up the app from the bottom to select your card, press the FPS then tap to pay. Android Pay only requires me to wake my phone from sleep then tap to pay.

Yes, it's a shame that we are so far behind regarding NFC.

Odd because I don't have to unlock my phone to use samsung pay.

Ok, so you don't have to wake the screen, swipe up to open Samsung Pay then hit the fingerprint sensor?????

You can swipe up from the lock screen and your cards will appear. Can't be easier

Hahahahahahahahahhaha
#clueless

I've never quite understood this "only on Samsung phones" thing. Samsung Pay has been working quite well on both my Nexus 6p and my Pixel XL.

The magnetic field chip I think they're referring to

You probably confused Samsung Pay with Android Pay. Samsung Pay as the name suggests is only available on newer Samsung phones and not even on older Samsung phones.
While Android and Apple Pay rely only on NFC, Samsung Pay also use Magnetic Secure Transmission (exclusively acquired/bought from Loop Pay). In order for it to work, it requires certain hardware to be embedded on the phone. And like what I said, only newer Samsung Phones have those hardware.

No, it's Samsung Pay on both phones, although I will say the phones are driving Gear S3 watches.

I mean even if they added it they would not have the real samsung pay, the big thing for me is the fact it works anywhere and the phones would need the mag strip emulator for that to work.

Ayup, someone only read the title and not the article lol.

I thought this was the plan all along?

Would love to see Samsung Pay on other devices. It's the best card payment method I've used and works in more places than Android pay. So why not!!!

That would be awesome. I have used it but do not own Samsung any longer and have not even signed up for android pay since they ditched the google card and app. Only use apple pay currently.

"POS machines that don't have NFC built in." Hmmm, I wonder what POS stands for 😏.

Love Samsung Pay! It would be nice to get it on other devices. I love my S8+, but if I could get Samsung pay on a new pixel, that would be wonderful! I don't foresee that happening anytime soon though!

I really want to try other devices, but Samsung Pay has me stuck on Galaxy phones.
Any company that gets in bed with Samsung Pay is okay in my book.

If Samsung was smart they'd keep it a Samsung exclusive to make people purchase their hardware. Similar to how Apple does with their proprietary software features like iMessage and FaceTime. A lot of people won't leave their iPhone just because of that. Samsung should advertise Samsung pay more. It's the best of the technology of its kind it works much better than Android Pay and Apple Pay from my experience.

For those of us that aren't so keen on Samsung phones, I would like to see the MST tech come to my AW watches and give me the ability to choose which payment system fits my needs at the time. I doubt Samsung will let LG or any other company have that watch tech cheaply, so I'm not holding my breath...

I would like that but some people stick with Samsung just to have it so not sure which is better for Samsung.

I would love it! I recently switched from the S7 Edge to the G6 after using Samsung Pay from day 1 in U.S. and it is the only thing that I miss about my Samsung phone.

I wouldn't if I was Samsung, unless they don't care about loosing customers. That's a huge reason why I love my gear s3 and my s8. If it wasn't for Samsung pay I'd love to try something different

They just need more international banks/credit unions to get on board.
My two banks use Android (and apple) Pay, but only one has Samsung pay.
Guess I'm staying with Android Pay for now

I doubt it will make it to iphones.
Android Central Newsletter
Get the best of Android Central in in your inbox, every day!
Thank you for signing up to Android Central. You will receive a verification email shortly.
There was a problem. Please refresh the page and try again.