Samsung Pay: Everything you need to know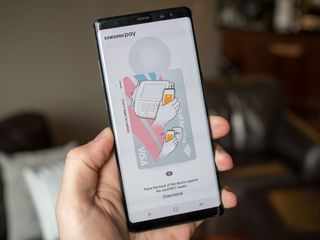 Paying with your phone is still a relatively new prospect, but it's become a ubiquitous feature on just about every NFC-capable phone over the last few years. The concept is simple; just hold your phone up to a compatible payment terminal to complete a transaction — secured with end-to-end encryption and authorized by your biometrics. Whether you forgot your wallet at home or simply have too many credit cards to manage, mobile payments can be a huge convenience.
There are plenty of different payment solutions, ranging from Google Pay to Apple Pay, but they all fall victim to the same problem: not every payment terminal supports NFC. Luckily for Samsung users, that's not necessarily a problem. Samsung makes use of a technology called Magnetic Secure Transmission (MST), which emulates the magnetic strip on a physical card to ensure that Samsung Pay works even on older terminals that don't typically support mobile payments.
The basics
If you're new to mobile payments in general, there's a lot to learn. Samsung Pay is largely popular thanks to its MST support, but there are plenty of other reasons one would want to use Samsung Pay over the alternatives. Some may prefer its UI over Google Pay, while others may prefer its selection of supported cards and banks.
Mobile payment systems have stagnated, unless you have Samsung Pay
Samsung Pay updated with a cleaner and more traditional UI
What devices are supported?
Samsung Pay is available on a long list of Samsung phones, but in the U.S. at least, it's constrained to Samsung's flagship Galaxy S and Galaxy Note phones, starting with the Galaxy S6 and Galaxy Note 5. In addition, some smartwatches support Samsung Pay — namely most variants of the Gear S2 and Gear S3, though the former lacks MST capability and only makes payments over NFC.
Is Samsung Pay safe?
One of the biggest concerns people have with mobile payments is security. What's to say someone won't hack your phone and steal all of your credit card information?
Samsung Pay only works once it's identified you with biometrics using the fingerprint sensor or iris scanner. From there, it uses tokenization, which replaces your actual card information with generated tokens that are then decrypted by the card's payment network to authorize the final transaction. Samsung Pay also utilizes Samsung's Knox platform for additional security.
How to set up and secure your phone using Samsung's My Knox
What about the rewards programs?
One of the biggest reasons to use Samsung Pay is its generous rewards programs. With every purchase you make using Samsung Pay, you can earn rewards points that contribute to free gift cards. You can also store existing membership and rewards cards from your favorite stores, giving you one less reason to carry your wallet.
Samsung Pay now offers its own rewards program in the U.S.
Samsung Pay's rewards program just got a lot less awesome
Where can I use Samsung Pay?
While mobile payments are most commonly used at payment terminals in stores and restaurants, Samsung Pay works elsewhere, too. These days, you can use Samsung Pay to make purchases online and even within apps, with more payment methods than ever — including online services like PayPal.
Samsung Pay adds online and in-app purchases, expands to new countries
Samsung and PayPal strike deal for new in-store and online payment methods
PayPal support finally makes its way to Samsung Pay
What other countries support Samsung Pay?
Samsung Pay is hugely popular in the U.S., but it works in plenty of other places in the world, too. Samsung is constantly expanding its reach — most recently, it launched in Italy, and at the moment it covers 21 unique markets. Depending on where you live, there may be other information relevant to your Samsung Pay experience.
Samsung Pay in the UK: Everything you need to know
What's your take?
Do you or have you ever used Samsung Pay? How do you feel it compares to other mobile payment services like Google Pay? Is MST a big deal to you? Share your thoughts on this and anything else related to Samsung Pay in the comments below!
Sign up for Black Friday email alerts!
Get the hottest deals available in your inbox plus news, reviews, opinion, analysis and more from the Android Central team.
Hayato was a product reviewer and video editor for Android Central.