How to use Samsung Pay on the Gear S3 without a Samsung phone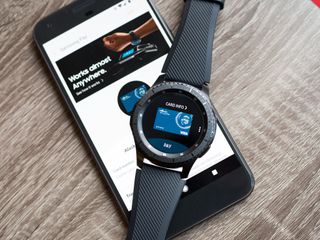 Samsung's new Gear S3 smartwatch includes the latest in its mobile payment technology, meaning you can use Samsung Pay on your watch to pay at practically any store — no matter if it has an NFC reader or a simple card swipe reader. In a rather surprising move, Samsung has also opened up this feature to work even if your Gear S3 is connected to a non-Samsung phone, bringing the great Samsung Pay experience to anyone who wants to drop $349 on its latest watch.
The setup process is pretty simple, and once you have it loaded up your watch will be ready to tap and pay at just about any payment terminal you come across. Here's how you get it done.
Setting up Samsung Pay on your phone
The Gear S3 is compatible with any Android phone running Android 4.4 and above — if the Samsung Gear app (opens in new tab) installs on your phone, then it's compatible. To get Samsung Pay up and running you'll have to go through a bit of extra configuration, though, as this is all handled through the Gear app and not through the standalone Samsung Pay app (which is still exclusive to Samsung phones).
Get your watch and phone paired and all of the proper plugins downloaded, then follow the steps below to move on to Samsung Pay
Open the Samsung Gear app on your phone while connected to your Gear S3
Switch to the "Settings" tab, scroll down and select "Samsung Pay"
Download the Samsung Pay plugin when prompted
After download, sign into your Samsung Account (or create one from the same screen)
In the Samsung Pay screen, tap "Add" to enter your card information
Follow steps for card verification with your bank
You'll also notice that part of the setup process is enabling a PIN on your watch. The PIN won't need to be used every time you launch Samsung Pay, but instead just every time that the watch has been removed from your wrist. While annoying, it's a great security feature.
If you want to come back to see purchase history or add more cards to Samsung Pay, you can simply go back into the Samsung Gear app on your phone and tap on the "Open Samsung Pay" button in the main interface.
One thing to remember here is that this doesn't do anything to enable the use of Samsung Pay on your phone itself. This only works to bring Samsung Pay to your Gear S3, and let you manage the cards and payment history on your phone. That's still better than it used to be, of course, and it means you don't have to fiddle through settings and details all on the watch itself.
Using Samsung Pay on the Gear S3
Once you've followed all of the steps for setting up Samsung Pay on your phone, the watch will simply be ready to go. Here's how you use Samsung Pay once you're in a store.
Press and hold the "back" button (at the 2 o'clock position) to launch Samsung Pay
Swipe left or right to select the card you wish to pay with
Tap "Pay" at the bottom of the screen
Place the watch on the payment terminal within 30 seconds to pay
Follow instructions on the payment terminal for a PIN or signature, if required
If the cashier for whatever reason asks for the last four digits of the card you're paying with, you can tap on the image of the card to view a special set of four digits — remember, this is different from the last four digits physically present on the card. This is done for safety payment reasons.
Samsung Pay on the Gear S3 doesn't require an active connection to your phone at the time of purchase, but it does have to sync back to your phone regularly. The watch holds a limited number of one-time use payment tokens, which have to be replenished by syncing back to Samsung Pay on your phone — if you run into issues, make sure your watch is connected to your phone.
Get the Android Central Newsletter
Instant access to breaking news, the hottest reviews, great deals and helpful tips.
Andrew was an Executive Editor, U.S. at Android Central between 2012 and 2020.
Can't even see the app in the play store on my pixel. I have the gear s2 and have the app on the watch but no app for phone. Dang.

You have to look for the Samsung Gear app and not the Samsung Pay app. If you don't see it your phone may not be compatible.

It's done from within the Samsung Gear app, which is compatible with the Pixels ... I'm using it now :)

The only time I haven't been able to use Samsung Pay is when the swipper is connected to the side of the register. It'll put numbers on screen but it won't go through. It may be because the cashier doesn't know what they are doing but almost every where else it works without them knowing what to do. I also haven't been able to get it to work at my barbers who uses Square. We just get a spinning symbol but nothing happens after that. I've read that it should work with Square so I'll try it again this week.

Odd, I used it at 2 separate locations and each had either (1) Swiper attached to the Display screen, or (2) Square payment attachment ---> and both went through fine.
BUT there are some card readers where I just can't find where to place the darn thing.
The GearS3 seems to work MUCH better than my S7 with Samsung Pay...fewer fails.

What about the Gear S2???? Last time i buy a Samsung product.

My understanding is they did the same for the Gear S2, opening it up to non-Samsung phones. It doesn't have "full" Samsung Pay thought, it's just NFC.

So you are mad at Samsung for adding features to susequent versions? Were you mad at Apple for improving their camera on the newest iPhone as well?

I shouldn't have to tap "Pay" to start the process. It should work like ApplePay. In this case we would long-press the back button and voila, the timer to make the payment should start ticking away for the default card. Samsung always misses critical UX details, argh -_-

you just hold your finger over the fingerprint sensor after you have selected the card you want to use and then it works MST no need for NFC like rotten apple

Samsung pay is the reason I may never buy a non Samsung phone every again. I use it daily just about everywhere except for the gas station.

This watch is the best thing to happen to non Samsung phone users!

I've been using Samsung Pay on my Gear S2 for two weeks now with an LGv20 actually.. (love hate relationship with that phone but needed a phone).... I also had it working with my Note 4.. Hoping Sammy doesn't screw up again so I could go back to Samsung again next year..

Only thing that kind of sucks is that there are no rewards associated with the watch version - or at least not that I can tell. Seems odd that they're basically two separate platforms.

I just read that I can use the gear s3 for Samsung pay even though my Nexus 6P is rooted. Now I'm definitely ordering one.

Probably because the security is in the watch... Not the phone

I read you can actually use the Bluetooth version 3 times without your phone.

I read it was 5, but yes. Since you set up the credit cards on the gear app on the phone, if it won't load because of root, I'd have been stuck. So, I just ordered one. Now for the wait. Wasn't going to over pay for it, so I'm in the back of the line at Amazon. Hoping for early January delivery.

I'm in queue too. Who knows when.

Will a non-NFC terminal work if it's wanting to use a chip reader?

As long as it has a credit card swiper. The watch mimics the credit card swipe which you probably already know.

Yes. The chip is only associated with the physical card. The digital card obviously doesn't have a chip, so it works with the MST swipe.

So this works on a pixel xl now???

Heck Yeah, just installed it on my vzw gear s2 3g and all went well!

Been looking at this. Pay on all Android + holiday discount $299 for frontier edition on Samsung.com made me pull the trigger! Ready to finally replace my beloved moto 360.

And if you are unfortunate enough to get an international gear S3 (model SM-R760 w/o additional letters), Samsung pay isn't supported on it (program not on watch) and they won't say when/if it will be...be aware.....and I cannot get it on samsung gear update.....

Anyone know if the tap and pay is available in Canada on the Gear S3 in particular? I know Samsung Pay is supported on phones Note 5 and later with CIBC only.

I too would like the answer to this.. samsung canada claims the canadien version of the gear s3 does not even have MST, but does have NFC.. this seems odd and I haven't confirmed. The supported devices as released by samsung and CIBC don't include the gear S3 but I'd like to know if anyone has actually tried and succeeded or failed.