What's the difference between Android Pay and Samsung Pay?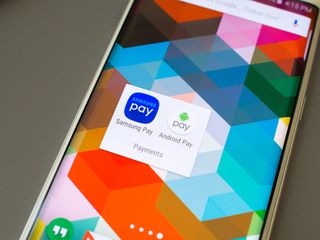 Well this is all pretty confusing, isn't it? If you have a Samsung phone in the U.S. chances are you have two new apps on your phone — Android Pay, and Samsung Pay. Well, you have an Android phone from Samsung so we suppose that makes sense, but while these apps both aim to do the same thing — handle your mobile payments — they aren't actually related in any way. On the other side of things if you don't have a Samsung phone but you're starting to see plenty of advertising for Samsung Pay, you may be confused as to why you can't have it.
We're here to clarify the situation, explain the differences between these two payment platforms and help you choose which one to use and care about.
Android Pay
We already highlighted the main features of Android Pay in a comparison to the new Google Wallet, so here we're going to focus on what Android Pay does versus Samsung Pay, which it directly competes with.
Android Pay is Google's second swing at mobile payments, replacing the old Google Wallet system. But just like Google Wallet did, Android Pay uses NFC (Near Field Communication) to transmit payment information between your phone and properly-equipped payment terminals at supporting stores. You load all of your debit or credit cards into the Android Pay app once, then you can pay with them virtually using your phone in the store. Android Pay requires that you phone has a secure lock screen (pattern, password, PIN or fingerprint) to work, and the payment information is sent completely securely.
Not all banks or card types inside each bank are supported by Android Pay, which leads to some bit of confusion. Google lists supported cards and banks (albeit roughly), but you may want to contact your bank before you get too excited about having full compatibility. For example you may be able to add a card, but you will have to enter a secondary authentication PIN to pay with it and may not get proper rewards or points from your credit card issuer when paying via Android Pay until it's fully supported. To add another level of confusion, cards previously added through Google Wallet will continue to work in Android Pay for a limited time, even though they wouldn't be considered compatible if they were added as new in Android Pay. It's a slight speed bump, but the fact that Google is working with banks this time around is important, as you likely won't hit as many snags with payment or seeing transactions properly on your bank or credit card statements.
Android Pay also supports loyalty and gift cards. You can enter them in to the Android Pay app, and it will display them on your phone's screen as a barcode for the merchant to scan. You can only add loyalty and gift cards from programs that are recognized by the system, so you can't manually enter any random number or merchant like you could with Google Wallet in the past. And as of Dec. 10, Samsung Pay now supports gift cards, too.
Android Pay works on phones running Android 4.4 and later that have NFC and HCE (Host Card Emulation) support. The carrier you use doesn't impact your ability to use Android Pay, and though it only works in the U.S. right now you can still use it on an international phone when you're in the U.S. If your phone is compatible, you'll either get an update to your old Google Wallet app, or the new Android Pay app will be available in the Play Store. Of course the bigger issue is likely to be finding stores that support NFC payments — major chains like McDonald's, Macy's and Walgreens all support it, but it's far from being universally adopted.
Samsung Pay
Samsung has actually been talking about its new mobile payment platform, Samsung Pay, for quite a while now, but until the release of the Galaxy Note 5 we didn't have many details on the launch. On the surface, Samsung Pay works very similarly to Android Pay. It's an app that lets you load up your supported debit, credit, loyalty and gift cards, which can then be emulated using the phone to pay in stores.
Samsung Pay will work in stores that support NFC payments, but its big trick is a technology called MST (Magnetic Secure Transmission), which it picked up with the acquisition of a company called LoopPay. MST lets your phone with Samsung Pay emulate an actual physical card swipe, meaning it can work at virtually any payment terminal where you can swipe a card. You activate Samsung Pay on the phone, authenticate with your fingerprint (or a PIN if you prefer), and then hold the phone over where you'd normally swipe a card — it'll make the terminal react as if you had swiped a card through it, and process the payment. Just like Android Pay the payment is made with a virtual card number and a one-time authorization token, so it's super safe and there's no way you can have your payment information compromised.
Making a payment in a store using MST doesn't require "support" from the retailer in the same way that NFC payments do — if they accept credit cards, they should accept Samsung Pay. One big exception is card readers that require you to insert your card and pull it back out, like you'd find at an ATM, public transit station, parking meter and the like — these kinds of readers don't work with the system, so you'll still need to use your old physical card there. Another thing to keep in mind is situations in which you are handing over your card to the retailer — like at a store where the merchant swipes the card on their side of the counter, or at a restaurant where the card is taken away altogether. (Of course Android Pay doesn't work in these situations either, but it's worth mentioning when you say "virtually anywhere".)
Though it works with more retail locations by far, Samsung Pay only works with a small number of banks and cards compared to Android Pay. At launch Samsung has Bank of America, Citi and U.S. Bank on board, as well as MasterCard, VISA and American Express. The slight difference here is that if you're able to add your card to the Samsung Pay app, you'll have the exact same experience between cards. There's no grey area, like on Android Pay, where you can add a card but it's only somewhat supported — if you can get it in the app, it'll work flawlessly.
Perhaps the biggest issue (though not a surprising one) with Samsung Pay is compatibility. It's only supported on the Galaxy S6, S6 edge, S6 edge+ and Note 5 — and presumably future high-end Samsung phones as well — but has the added restriction of needing a U.S. model of one of those phones on a supported carrier (at launch Sprint, T-Mobile, U.S. Cellular and AT&T). That means you can't bring an international version of the Note 5 to the U.S. and use Samsung Pay, and if your carrier — like Verizon at launch — isn't on board, you can't use it either.
Be an expert in 5 minutes
Get the latest news from Android Central, your trusted companion in the world of Android
Andrew was an Executive Editor, U.S. at Android Central between 2012 and 2020.