What's the difference between Android Pay and the new Google Wallet?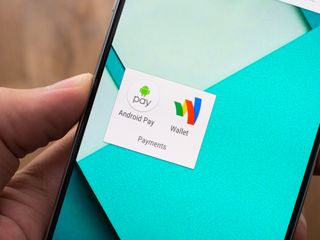 Times are changing, and as we shift away from "traditional" in-store purchasing with physical cards to a variety of new systems, there's plenty of competition for your business. Dozens of companies want your in-store and online payments flowing through it instead of a competitor, and while Google was early to the game in pushing NFC-based in-store payments it has had to basically blow up what it built and retry in 2015 with Android Pay.
Google Wallet never really took off in a way that Google wanted, but still to this day has lots of users for some of its features. Even though people may not be using Wallet to pay every time they walk into a convenience store or use a vending machine, they're using the app for money transfers and still have payment info stored for online payments.
So rather than continue down the path of using one app for everything, Google is splitting up the mobile payment and money management into two apps — Android Pay, and a new Google Wallet. Pay is for in-store and eventually online transactions, while the new Google Wallet will handle person-to-person money transfers and the use of the physical (but digitally managed) Google Wallet Card. Sound a little confusing? Well, we're here to clear it all up.
Android Pay is here
After being announced back at Google I/O 2015, Android Pay is finally available to use on your supported Android phone. Android Pay is Google's second swing at handling mobile payments — both in-store with NFC payment terminals and online with supported retailers — to replace the rather clunky attempt at the process with Google Wallet.
Unlike Google Wallet did in the past, Android Pay operates with the cooperation of banks and card issuers, and doesn't have any restrictions based on the phone carrier you're using. Adding a debit or credit card takes just a few taps — even less if you've previously had it stored in Google Wallet — and is verified by your bank at the time of adding. After that, you're using a virtual number within Android Pay, which along with other security enhancements guarantees you won't have your data compromised when making transactions.
Using Android Pay in a store is the same as it was with the old Google Wallet. Assuming the store has an NFC-enabled payment terminal (which is a growing possibility, but hardly ubiquitous at this point), just wait for the total to be rung up, unlock your phone and place it on the designated payment area of the terminal. You don't have to open up the Android Pay app first — just make sure NFC is turned on. You can set what card is used by default in the Android Pay app and change it at any time, as well as look back through your transaction history or contact your bank directly from the app.
Android Pay isn't just for managing debit and credit cards, though — it can also manage your loyalty and gift cards. Provided the loyalty or gift card program is recognized by Android Pay, you can scan or manually enter the cards and have them stored digitally in Android Pay. No more little cards on your keychain or filling up your wallet. By default your phone will give you a notification when you're nearby a store that supports one of your stored loyalty or gift cards, with quick access to the barcode for the merchant to scan.
In the future, Android Pay is also slated to handle online and in-app purchases, as Google Wallet (and transitioning to "Google Payments") currently does. This means that cards you have added to your account in Android Pay will also be available for purchases on websites and in apps that support the Android Pay system. Think of this as a direct competitor to in-app purchasing platforms from PayPal and Amazon, and eventually fully replacing online payments that are currently handled by Google Wallet.
During this transition from the old Google Wallet to Android Pay, if you already have the old Wallet app installed on your phone it will eventually be updated in the Play Store to become Android Pay. If you never installed Wallet, you'll be able to simply download Android Pay once it becomes available in the Play Store.
Changes to Google Wallet
As we pretty clearly explained following the introduction of Android Pay, Google Wallet isn't going away entirely — it's just changing. If when you read through the description of Android Pay it sounds a lot like what you're used to in Google Wallet, you're not alone — Android Pay is now going to handle all of the in-store and online payments with your phone, while Google Wallet is now focused on two simple features. When you install the new Google Wallet app, you'll see it has slimmed down quite a bit, and it's now simply used to send and receive money between individuals, and manage your physical Google Wallet Card.
As you've always been able to do in Google Wallet (and in Gmail via Wallet), you can use the new Wallet app to either send money to or receive money from anyone using their email address. When you attempt to send money you can pull directly from any Google Wallet Balance you have, or fund that sending with a connected bank or debit card (sorry, credit cards aren't accepted) without any fees. When you request money the person on the other end has the same choice — enter a bank account or debit card to send money to you, or draw from their Wallet Balance if they have one. There are some limits to sending, receiving and funding your Wallet, but they're quite high — $10,000 per transaction, or $50,000 per five-day period.
When you receive money from someone in Google Wallet it initially hits your "Wallet Balance," and is held there until you decide to "cash out" to your bank account. If you choose to leave the money in your Wallet Balance it can be sent to other people instantly, or used with your Google Wallet Card. Cash-outs take a few business days to process as they are sent to your bank account, but again don't have any fees associated with the processing.
The physical Google Wallet Card, which many people have forgotten about by this point, is still around and is the other big feature of the new Google Wallet app. If you're not familiar with it, this physical Wallet Card is a fully-featured MasterCard debit card that you manage through the Wallet app and can use anywhere MasterCard Debit is accepted. You can use it to buy things in stores, and even withdraw money from ATMs, all with no fees assessed by Google (though ATMs themselves may charge fees).
With the introduction of Android Pay and changes to Wallet, though, the Card has changed a bit. The Wallet Card now only gives you access to your Wallet Balance, and doesn't have a backup funding source such as another bank account or debit card. You can only spend what you have available in your Wallet Balance, just as if it were another prepaid debit card. You can fill your Wallet Balance with transfers from other people, from a connected bank account (no fee) or with another debit card (2.9 percent fee). Spending is also limited to $5,000 per day, and ATM cash withdrawals are also limited to $300 per day. You can monitor your Wallet Balance constantly in the new Wallet app, as well as look at transactions and lock or cancel the Wallet Card if needed.
While not that many people will actually use the Wallet Card, it may be a great choice for a young child who needs a physical card to use but also needs to also have spending limits and can't have a bank account. It's also a great secondary card to keep around if you need to use it as a backup in case of emergencies. For daily use, though, far more people are likely to use the Google Wallet app for sending and receiving money. With a painless funding system, easy-to-use interface and absolutely no fear of fees, it's a much better experience than anything else out there right now.
Get the Android Central Newsletter
Instant access to breaking news, the hottest reviews, great deals and helpful tips.
Andrew was an Executive Editor, U.S. at Android Central between 2012 and 2020.