What's the difference between Android Pay and the new Google Wallet?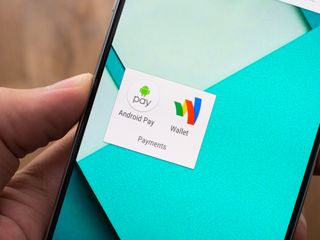 Times are changing, and as we shift away from "traditional" in-store purchasing with physical cards to a variety of new systems, there's plenty of competition for your business. Dozens of companies want your in-store and online payments flowing through it instead of a competitor, and while Google was early to the game in pushing NFC-based in-store payments it has had to basically blow up what it built and retry in 2015 with Android Pay.
Google Wallet never really took off in a way that Google wanted, but still to this day has lots of users for some of its features. Even though people may not be using Wallet to pay every time they walk into a convenience store or use a vending machine, they're using the app for money transfers and still have payment info stored for online payments.
So rather than continue down the path of using one app for everything, Google is splitting up the mobile payment and money management into two apps — Android Pay, and a new Google Wallet. Pay is for in-store and eventually online transactions, while the new Google Wallet will handle person-to-person money transfers and the use of the physical (but digitally managed) Google Wallet Card. Sound a little confusing? Well, we're here to clear it all up.
Android Pay is here
After being announced back at Google I/O 2015, Android Pay is finally available to use on your supported Android phone. Android Pay is Google's second swing at handling mobile payments — both in-store with NFC payment terminals and online with supported retailers — to replace the rather clunky attempt at the process with Google Wallet.
Unlike Google Wallet did in the past, Android Pay operates with the cooperation of banks and card issuers, and doesn't have any restrictions based on the phone carrier you're using. Adding a debit or credit card takes just a few taps — even less if you've previously had it stored in Google Wallet — and is verified by your bank at the time of adding. After that, you're using a virtual number within Android Pay, which along with other security enhancements guarantees you won't have your data compromised when making transactions.
Using Android Pay in a store is the same as it was with the old Google Wallet. Assuming the store has an NFC-enabled payment terminal (which is a growing possibility, but hardly ubiquitous at this point), just wait for the total to be rung up, unlock your phone and place it on the designated payment area of the terminal. You don't have to open up the Android Pay app first — just make sure NFC is turned on. You can set what card is used by default in the Android Pay app and change it at any time, as well as look back through your transaction history or contact your bank directly from the app.
Android Pay isn't just for managing debit and credit cards, though — it can also manage your loyalty and gift cards. Provided the loyalty or gift card program is recognized by Android Pay, you can scan or manually enter the cards and have them stored digitally in Android Pay. No more little cards on your keychain or filling up your wallet. By default your phone will give you a notification when you're nearby a store that supports one of your stored loyalty or gift cards, with quick access to the barcode for the merchant to scan.
In the future, Android Pay is also slated to handle online and in-app purchases, as Google Wallet (and transitioning to "Google Payments") currently does. This means that cards you have added to your account in Android Pay will also be available for purchases on websites and in apps that support the Android Pay system. Think of this as a direct competitor to in-app purchasing platforms from PayPal and Amazon, and eventually fully replacing online payments that are currently handled by Google Wallet.
During this transition from the old Google Wallet to Android Pay, if you already have the old Wallet app installed on your phone it will eventually be updated in the Play Store to become Android Pay. If you never installed Wallet, you'll be able to simply download Android Pay once it becomes available in the Play Store.
Changes to Google Wallet
As we pretty clearly explained following the introduction of Android Pay, Google Wallet isn't going away entirely — it's just changing. If when you read through the description of Android Pay it sounds a lot like what you're used to in Google Wallet, you're not alone — Android Pay is now going to handle all of the in-store and online payments with your phone, while Google Wallet is now focused on two simple features. When you install the new Google Wallet app, you'll see it has slimmed down quite a bit, and it's now simply used to send and receive money between individuals, and manage your physical Google Wallet Card.
As you've always been able to do in Google Wallet (and in Gmail via Wallet), you can use the new Wallet app to either send money to or receive money from anyone using their email address. When you attempt to send money you can pull directly from any Google Wallet Balance you have, or fund that sending with a connected bank or debit card (sorry, credit cards aren't accepted) without any fees. When you request money the person on the other end has the same choice — enter a bank account or debit card to send money to you, or draw from their Wallet Balance if they have one. There are some limits to sending, receiving and funding your Wallet, but they're quite high — $10,000 per transaction, or $50,000 per five-day period.
When you receive money from someone in Google Wallet it initially hits your "Wallet Balance," and is held there until you decide to "cash out" to your bank account. If you choose to leave the money in your Wallet Balance it can be sent to other people instantly, or used with your Google Wallet Card. Cash-outs take a few business days to process as they are sent to your bank account, but again don't have any fees associated with the processing.
The physical Google Wallet Card, which many people have forgotten about by this point, is still around and is the other big feature of the new Google Wallet app. If you're not familiar with it, this physical Wallet Card is a fully-featured MasterCard debit card that you manage through the Wallet app and can use anywhere MasterCard Debit is accepted. You can use it to buy things in stores, and even withdraw money from ATMs, all with no fees assessed by Google (though ATMs themselves may charge fees).
With the introduction of Android Pay and changes to Wallet, though, the Card has changed a bit. The Wallet Card now only gives you access to your Wallet Balance, and doesn't have a backup funding source such as another bank account or debit card. You can only spend what you have available in your Wallet Balance, just as if it were another prepaid debit card. You can fill your Wallet Balance with transfers from other people, from a connected bank account (no fee) or with another debit card (2.9 percent fee). Spending is also limited to $5,000 per day, and ATM cash withdrawals are also limited to $300 per day. You can monitor your Wallet Balance constantly in the new Wallet app, as well as look at transactions and lock or cancel the Wallet Card if needed.
While not that many people will actually use the Wallet Card, it may be a great choice for a young child who needs a physical card to use but also needs to also have spending limits and can't have a bank account. It's also a great secondary card to keep around if you need to use it as a backup in case of emergencies. For daily use, though, far more people are likely to use the Google Wallet app for sending and receiving money. With a painless funding system, easy-to-use interface and absolutely no fear of fees, it's a much better experience than anything else out there right now.
Andrew was an Executive Editor, U.S. at Android Central between 2012 and 2020.
Still not available to my Note 5 with T-mobile. Kinda looking forward to it.

Don't have it on my Nexus 5 either. Don't feel bad.

I just got it this morning on my Nexus 5, I used it/tested by buying a soda from the vending machine in our break room that has a NFC reader.

Hit my Note 5 (international) and S6 edge (T-Mobile) on Monday.

I have a Note 5 on T-Mobile and I have the Android Pay app installed. Posted via the Android Central App

Hit my Droid Turbo this morning. Haven't used it yet though. Posted via the Android Central App on my DROID Turbo

Can you go get the 8.x Google Play Services .apk? There's an Android Pay .apk you'll want as well. Mine didn't arrive for my S6. I just manually installed it.

Turns out I already had the right version of the Google Play Services but the Android Pay application was not in the Play store. So I just found the most recent apk online and it seems to have installed correctly.

Glad to help. Android Pay is sort of built into GPS. Before the Android Pay .apk came out, people were using it and setting it up by manually launching the activity using something like Nova Launcher.

No! Android Pay has nothing to do with your phones GPS! Hahaha just kidding Posted via the Android Central App

You can download the apk from a number of sites.

My friend has it in his note 5 and I've used it in my nexus 5. Posted via the Android Central App

it doesn't work on tmobile network. they have planned to release their own payment app like isis(softcard) bullshit..just kidding mine doesn't work i don't know if its because of rooted or not yet released. btw i downloaded from google search if you type softcard on google play store you will find it but i will say this device is incompatible with this version.. good luck

Works on my rooted T-Mobile Note 4.... Hat to untick Superuser in the SU app then re enable once the card was accepted.

that didn't work for me on moto x pure

if you type Softcard on google play store you will find it but you can't install it or can...it might say device incompatible with this version i don't know if its something to do with rooted phone or final release is not yet on play store. i download android pay from apkmirror website installed it when open it says android pay in not available. end of the story. i even fully unrooted it no luck

"Android Pay is here"....it's literally not even in the Google Play store yet lol

As long as my Google Wallet app still works, I'm good. Because I choose to use a GSIII over the Note 5, I own a Note 4.

I actually have the Google Wallet CC card, can align all my cards into one and switch back and forth using the app. Since only 5 stores have NFC and no others have opened NFC in the past 4 years except the same 5 stores, The GWallet card is more useful. And I can give it to my brother to loan him money instead of cash or transfers that take time to switch accounts or send and receive

I have the Google wallet card as well. I'm was able to add it to Android pay yet it won't take my Chase debit card. Go figure. Posted via the Android Central App

This is good news. I was afraid I wouldn't be able the use my Wallet balance with Tap to Pay, like I can with the old system. Great for budgets! Posted via Android Central App

It only works person to person now. I've tried 3 times to use it to purchase items, but it takes me to the setup for Android pay, which doesn't support my bank Posted via note 4, +32 gig micro SD and 2× batteries...because I can.

Been arriving on phones throughout the week with updates in the Play Store, and Google has announced the rollout. I'd say that's about as good as it gets in terms of Google apps being released :P

Where's the Play Store link then?

It's updating for people who have the old wallet installed. You can install the old wallet and it'll be updated to Android Pay as soon as you have the new Google Play Services. They can't put it in the Play Store on its own until that's rolled out.

It's worth noting that, if you have root, unlocked bootloader, etc the Android Pay app will not function. Even if you unroot, you get an error so long as you bootloader is unlocked. Some people are reporting that they were able to disable root and that allowed them to setup credit cards, but were still unable to actually make payments once they re-enabled root. If you have an unlocked bootloader, you have to re-lock it (if possible) and keep it locked for Android Pay to function. I get that "root" increases users' risk of infection by malware and such, but is there really a good reason for Google to "kill" Android Pay for all rooted users? It seems like the Android enthusiasts are *exactly* the people Google needs to get on board with this and spread the word, since that group of people are more likely to make the purposeful effort to use Android Pay in the first place.

It never complained about by bootloader, only root.

I got automagically installed on my HTC M8 on Sprint. It's there now.

Because it will install automatically on your phone after you install the wallet app or your old wallet app that had tap and pay will convert automatically. They still haven't set a separate install file in market yet.

I just got a notification that it's available to me. Tried setting up my cards unsuccessfully. I'm guessing because I'm rooted. Posted via the Android Central App

Yep, doesn't work on rooted, rom'd or unlocked phones and it requires a pin or pattern secured lock screen at all times or your cards will be deleted. No support for LG's knock code either. Total failure. Google said they decided to go with a secure lock screen for convenience instead of a pin to open the actual Android Pay app because that was only 1 secure unlock versus 2. I totally disagree. Having to use a secure pin each time I open my phone (100's of times per day) is hardly simpler than entering a pin once a week when I use android pay. I rolled back to the old google wallet app. Back to the drawing board Googs.

What would be nice is to have option. Either a lock screen or a special pin each time you use Android Pay. How GW use to be was fine with me. But now i won't use mobile payments even when the option available.

Yeah i would like to know the genius who thought forcing an unlock pin(for every time we unlock our phone) on us instead of a pin for the gw app itself was a better idea. That makes zero sense.

Why don't you just use a simple pattern unlock it's easy as one swipe and works. Posted via the Android Central App

because a simple unlock patter 100X a day is slower then a pin for the app the 1-4 times a week i use this app. Not sure why its mandatory to have a pin at all..My real wallet doesn't have a pin. If i lose my phone I just go online and disable my phone as a device for android pay/wallet. I would rather have an option for a pin, then I can choose the experience I want

I'm in the same boat; except when I rolled back Wallet it still won't accept my credit card (worked fine before). Still shows both of my loyalty cards, though the new Pay only showed one. I may roll back to an older version of GPS, but frankly I don't use Wallet all that often anyway.

It works fine on unlocked phones. It's rooted ones that it doesn't work on. The truth is, only a small percentage of people root their phones. With Android m their will be less reason to root although custom roms are still awesome. Posted via the Android Central App

By the way, it does work on rooted phones. You just have to unroot, install Android pay and then root again. Posted via the Android Central App

Disabling root works to allow you to enter your card details (unless your bootloader is unlocked). Unfortunately, if you turn root back on, Android Pay will not actually allow you to make a payment.

Actually it does you just have to go into su settings and unroot temporarily while setting up pay. Check root in su settings afterwards and bam, good to go. Posted via the Android Central App

This doesn't work in all instances. Those with unlocked boot loaders and custom rom are reporting issues (I've tried the above myself). It still won't let me add cards. Some get to add their cards, but when they go to pay they find out it doesn't work.

Thanks. Now I know why Android pay doesn't work on my rooted moto X. Google, you failed me and others.

I don't think offering protection is google failing lol

Totally agree. I uninstalled Android Pay after 1 day. Having to use a pin to unlock everytime I want to use the phone is a total PITA.
#androidpayfail

You can also use pattern lock. And the old gwallet required a pin every time also. If you want to just keep your phone open to everyone and let anyone use your cards than that's your choice but i don't google is going to allow that on their end.

The old Google Wallet app required you to enter a pin when launching the app, not every time you unlocked your phone. There's a *huge* difference, there. I may use Google Wallet (Android Pay) 2-3 times a week, whereas I unlock my phone dozens of times per day.

Actually it does work on unlocked phones... I have it on my OnePlus One and seems to work just fine. The PIN number requirement is a little irritating but not that big a deal for me. I enabled smart lock so the unlocking isn't as tidious

Unfortunately you can't stay rolled back. Once Play Services is updated it will say you need to upgrade to Android pay to use it.

You can roll it back? Posted via the Android Central App

Go into SuperSU and disable it. Then set up your cards. Then reenable. Worked for me. Posted via the Android Central App

I also had to uninstall xposed (using flashed xposed-uninstaller) to get it to set up cards. Then reinstalled xposed and re-enabled SuperSU.

Honestly not worth it to me, don't really need the feature that bad.

Funny I never had to touch xposed. Hmm. Posted via the Android Central App

No luck with my on my G4 w/ Xposed.

Same for me on my rooted Nexus 6 running CyanogenMod. They will probably fix that in a future nightly build.

Used it today. Using the unlock code after the phone is already unlocked was odd. Thought that was why they made mandatory lockscreen a thing. Posted from my Nexus 5 via Android Central App

unroot, activate android pay, root it back

It's not because he's rooted (which he didn't say he was anyway). Same thing happens to me and I've never rooted this phone.

Yup, not rooted here... Posted from my Nexus 5 via Android Central App

Great article that nicely explains the difference between the two and what to expect. Thank you! Posted via the Android Central App

Andrew's articles are always good. They are a must read. Posted via the Android Central App

Thanx Andrew, good job once again! FYI to you or your readers, this thread in the AC Moto X 1st Gen forum will give folks a taste of a 'real world' experience...http://forums.androidcentral.com/moto-x-2013/581266-google-play-services...
My tale begins about 3pm on the 15th!

I like it. Especially the fact that tit don't need to open the app at all to pay. Just tap and pin. Posted via my S6 on the Android Central App

How does that work? When I do it on my Note 4, i tap, it prompts for a pin and tells me to tap it to the terminal again and the app is most definitely open.

Ditto here.... Posted from my Nexus 5 via Android Central App

I use it every day, either the card or nfc, and I was tired of getting notifications + emails for every purchase. Now I get 2 notifications and an email. No way to turn off the emails. The point is that I liked one single app with all of my purchase history and my balance, and there is STILL no way to stop getting emails, which is redundant... very google. Oh, and now when I have a trusted bluetooth device it still makes me use my lock screen, which was one of my favorite features of a smartwatch.

Seriously.... That's crap... And would really annoy me too... Posted from my Nexus 5 via Android Central App

Seriously? I don't have my G Watch with me, but it really makes you unlock the phone even with the trusted device? If that's the case, I will be taking Android Pay right back off. Screw that, I love that feature...

Hm have you flipped the switch in the Android Pay settings off that says "notifications for transactions" ?

I know about that. I just don't want any more emails in the inbox. I can't turn those off. I have been using wallet for a long time, I'm enough of a geek to immediately go to settings. Posted via the Android Central App

Gmail has great filtering options. Set up a "Receipts" folder and have the emails skip your inbox and go there. You won't see any more notifications about them then.

Question though... When I tap to pay... What gets charged, my wallet balance or my card? When I use my physical wallet card, both apps tell me I have been debited. So if I tap, is the "pay" app being activated? If so, does my wallet balance get charged, or my bank card? Posted via the Android Central App

With the new android pay only your bank card gets charged. With the old gwallet tap and pay app, if you selected it, your wallet balance would get touched first. now they are separate which i can understand why people are frustrated.

I'd make one note that only if your card and bank support android pay will it show up directly on your card. If it isnt supported just yet it will work the way google wallet did using the virtual mastercard process which.

I wonder if one could get the Google Wallet card, and add it to Android Pay?

The fact that you have to have a detailed article just to explain what the difference between the two is exactly why Google struggles to get people to use some of their products.

Such is the nature of the beast so to speak when using a "smart" device to make payments versus a "dumb" one where the "smart" part is solely on the merchant's side. This is a BIG reason I refuse to consider using my smartphone to make payments, not to mention I just don't fully trust a so-called "smart" device (that's loaded with various other apps, sometimes of questionable nature) for anything of such sensitive nature.

That's why a little research goes a long way. Using your smartphone is safer and more secure than carrying and using physical cards. Example: when home depot systems got hacked, those people that used tap and pay didn't have anything to worry about because their transactions used tokenization and non of their info was stolen versus those that used physical cards.Yes at first it is cumbersome, but like everything else, once you get used to it, it is great.

Except hardly anyone accepts it STILL, and we have to carry cards STILL, rendering it all moot when it's a pain in the arse compared to just reaching for the card in the first place.

Apple doesn't have this problem, at least not to the same extent. Even us geeks are confused by Google at times. With Apple it's just technewbs who are confused.

I picked up a Note 5 last night and it updated to Android Pay. Sadly its not working here at work in the vending machines like my OPO did with Wallet. I get the pop up showing that my card was read and a green check, but the vending machine doesnt respond at all to it. Not sure what the deal is. I need to test it at a shop and see if its the same.

It could possibly be the same issue I used to have with Google Wallet where the payment wouldn't go through unless I had Bluetooth turned on.

It has nothing to do with Bluetooth. It's the nfc chip that activates. Some tap and pay systems are being updated so that could be a reason it doesn't work. Posted via the Android Central App

My Note 5 received the update to the Play store last night, and I'm going to try it out today. ☺ Posted via the Android Central App

Just so you know, I typed your exact title into google and your site wasn't on the first page. Not sure what's up with that.

Is it possible to have the program prompt you for which card you want to use at the Point of Sale, or will it always use the default? It would be nice to have a menu to select which card to use if you have rewards cards for certain categories or stores.

Pretty sure it's just gonna go with your default card. Indeed that's a bit annoying that there's no easy switch, but it's also trying to cut down on the length of the payment process, which already takes a few steps.

This. Posted using SwiftKey on my LG G4 via the Android Central App

I am happy that Google hasn't abandoned the Wallet card, both my wife and i use it all the time to reduce risk of exposing our checking accounts when swiping at a gas stations or other locations skimmers might be located. One note when using Android Pay if you are using smart lock with Android Wear for example you will be prompted to input your screen unlock pin on a pay screen on the phone if the phone is already unlocked when you tap your phone.

Where is there a 2.9 percent fee for using your debit card with the new Google Wallet? I have not seen that. edit: ok, I get it, it's 2.9 percent if you add money to your Wallet, but sending with your debit card as a source is free.

Good point. I made it a bit clearer that the fee is assessed if you're simply pulling money to your Wallet Balance, not if you're sending directly via debit card. Odd that there's a distinction between those two, though.

Not odd at all actually. Anytime you use a credit or debit card at a store. The store is charged a certain percent of the transaction. The percent charged can vary depending on the store, the amount, and whether it's a credit or debit. There's probably other variables as well. Most places just eat the cost. With Google, what appears to be the case is that when sending directly to the merchant via debit, Google isn't charged since they are just a go-between. However, when you add money to your Wallet balance, the money is going to them and Google is the one being charged the transaction fee. As a result, they pass that fee onto you. tl;dr
Sending directly via debit: Google isn't charged to process the card
Adding to Wallet balance: Google is charged to process the card and passes that charge onto the user.

I got it today and tried it out. Maybe I'm doing something wrong, but it still doen't seem faster than just pulling out my wallet. I tap it and the app comes up. Then I have to enter my pin and tap it again to the terminal. If I could just tap it, enter my pin and have the transaction go through, that'd be better, but having to tap it a second time starts making it faster to just have my card out to swipe.

If your phone is unlocked, you should only need to tap once, and enter the pin on the terminal only if prompted. Posted via the Android Central App

Okay, well that's not what my phone is doing...both times I tried it, the phone was unlocked and it still prompted for a pin. In fact at McDonalds for some reason the pin prompt kept coming up and I had to enter it four times (no, I wasn't entering it incorrectly. Nothing was indicating it was due to an incorrect pin)

Yes, this is what happens with me too. I have a Moto 360 trusted so it's always unlocked. I still had to tap->enter pattern->tap again.

Odd. You may need to contact Google support :(

When it asks for pin on the terminal just hit enter or credit. It will go through fine. Posted via the Android Central App

The way it's been working for me is that I tap the terminal, it prompts me to enter my lock code, then a message on my screen says to hold the phone to the terminal again, then enter the code again to complete the transaction. What makes it worse is I have a 360 so I'm using trusted devices but still get this behavior. It's not a deal breaker though. I'm guessing it'll be more streamlined on phones with fingerprint scanners and Android M. Posted via the Android Central App

What if u unlock it first and then tap it? Posted via the Android Central App

It was unlocked first. That still happened.

Faster but not more secure. Posted using SwiftKey on my LG G4 via the Android Central App

How is it less secure? My phone has a security lock and it was unlocked when I started. I shouldn't need to be prompted /again/.

Yeah, it's been doing that for me as well. Posted via Android Central App

no you misunderstand. he is saying the pulling out your card is faster but not more suture.

Ahh. Well, to that I say it's no less secure than it was before Android Pay. And will work in places that don't have touchless payments. Honestly, until I can leave home without my card and not have to think "Will the places I'm going have tap-to-pay?", this is nothing more than a novelty to me.

i 100% agree. i used wallet maybe 4 times. 3 times to show off i can and 1 time cuz i forgot my wallet. its muscle memory to grab the wallet so im not even thinking about using the phone at the few places that i could. One thing i will give apple credit for is using their sheep to make phone payments bigger than it was. now all of a sudden android pay and apple pay is everywhere. so i think you will be able to leave your wallet at home sooner than you may think.

I won't, though. I'll still have to have my driver's license and all that stuff, so I might as well bring my cards along too.

You don't need id if you use your phone, especially if you also have Samsung pay which works almost everywhere. Just leave id in car or for getting alcohol. Posted via the Android Central App

I have a Note 4. That magnetic thing Samsung Pay has does not work on the Note 4 as it doesn't have the required hardware.

I drive 2 cars and a tractor trailer. I ain't leaving my license ANYWHERE except on my body. I have a medical card I have to carry as well.

For what it's worth there are already a few States piloting digital drivers license applications.

You're right about Apple helping us out here. I use Google Wallet several times a day, and before Apple jumped on the wagon, the cashiers were a little freaked out. Now they say "Oooo! Is that Apple Pay?" I try not to roll my eyes, lol.

Giving it a trial run and seeing how it goes. Unfortunately if I bail the discount cards go with it. If it becomes more accessible I can always re-enable it. It's supposed to work with finger print scanners as an unlock method so likely I won't have the annoying lock screen issue then. Posted from my Nexus 5 via Android Central App

Do a little research. It's faster and more secure. Each transaction uses a random number so even if the terminal gets hacked they never get your actual card info. Posted via the Android Central App

I got mine yesterday and it's phenomenal Posted via the Android Central App

JUST got it on my AT&T LG G4. Wish it didn't use a default card though. I'd prefer to be asked which card to use just like picking a physical one from my physical wallet. Posted using SwiftKey on my LG G4 via the Android Central App

Showed up early this morning on my M8. Have not tried it yet, but if it actually does work without launching and unlocking the app, then it will be two less stepsw. I have to unlock the phone anyway to use either one. I have the physical Wallet card as well, and use it a few times a month. Posted via the Android Central App

This is how it's gone for me: hold phone to terminal, get prompt to enter unlock code, then get a prompt to hold to terminal again, then get another prompt to enter unlock code to complete transaction. And this is even with my phone being unlocked initially because of my smartwatch. Posted via the Android Central App

I tried using the old wallet whenever available and bow will try the Android Pay until Samsung pay comes out and then I'll uninstall android pay. Samsung pay works with magnetic stripe readers so it has the added advantage on Android pay The panda has spoken

The difference for me:
Google Wallet I was able to use with no issues.
Android pay? I can't even register a card because it's not compatible with my moto x 1st gen. Useless for now. smh.

Android Pay installed on my Moto X 2013 .its all set up ready to use since yesterday

Doesn't work if you have root/unlocked bootloader/etc.

I just wish that loyalty cards / programs that also carry a balance (Dunkin Donuts, Starbucks, etc) would display the balance on the card as well.

So far, I am enjoying the new app. My concerns, though, are why it doesn't show the recent transactions Google Wallet OR Android Pay? I bought something on Monday and it hasn't hit either app, or my bank account. If this is going to be normal, I don't think it's useful. I need to see my transactions and see my balance after those transactions Posted via the Android Central App

Should show transactions in the Android Pay app when you tap on the card you used to make the payment.

Does it have to be one of the official banking institutions working with Android Pay right now? Like USAA or one of those? Mine is not showing anything Posted via the Android Central App

Weird. When does it hit my bank? It's been since Monday or Tuesday Posted via the Android Central App

Actually, USAA debit is not supported. It's currently only working with USAA credit cards.

Mine shows my single transaction. Not sure how long it took to show up, but within 10 minutes.

Are you with a bank that is already working with Android Pay? Mine is not Posted via the Android Central App

It's the same card I used to use with Wallet but since it's Amex I think it's now directly supported via Pay. I guess grandfathered Wallet cards aren't gonna show transaction history.

Yea, mine isn't showing any transactions either. Posted via the Android Central App

Which bank are you with? Posted via the Android Central App

Does any of this work outside the US? Here in the UK we have had Chip and Pin everywhere for Credit/Debit cards for years and contactless up to £20 at most vendors. Starting to see Apply Pay signs at a few places (McDonalds) but never seen an Android Pay notice. Posted via the Android Central App

Only launching in the US :-/

And they wonder why wallet never took off. Try looking at the whole world not just the USA and then see if things take off. Posted via the Android Central App

According to recent stats, here in Czech republic, 60% of all card transactions are made by contactless payments (with cards, not phones, obviously). In Poland 40%. In UK 7% :)
Most of the payment terminals are NFC enabled. Yet there is no mass market option supported to pay with your phone such as Android pay or Apple Pay. Hopefully next year, I said to myself, same as I did for past 5 years - when I got my first NFC enabled phone :(

Google Wallet updated to Android Pay on my Verizon G4 this morning. Have not had a chance to use it. As has been mentioned in the G4 forums, you can't use knock code with Android Pay. i had to switch to a pattern. That was fine with me. It's just as fast and works perfectly fine. Some G4, and I assume G3, owners may not like that though.

Anyone know of a way to force an update from the old wallet to Android Pay?

Just have to have the new Google Play Services ... then it should arrive in the Play Store.

Google wallet isn't even available in the UK. So goodness knows when Android Pay will come to the UK. Posted via the Android Central App via My Nexus 6

Well the one difference I noticed is that I can't use it because Android Pay doesn't work with Samsung's fingerprint unlock. I shouldn't have to change my very secure lockscreen. So I guess that's that.. I guess I'll wait for Samsung Pay and hope it works with the Note 4 on Verizon..

Installed and activated Android Pay just fine when using fingerprint unlock on my GS6 edge. You're running into issues? Samsung Pay is also only enabled on the Galaxy S6, S6 edge, Note 5 and S6 edge+. And presumably future Samsung devices. Note 4 doesn't have the hardware to do MST, so no Samsung Pay for that phone.

Yes, it keeps telling me it will deactivate my card in a few minutes if I don't change the lockscreen, which it does, which also locks me out of my store discount cards that I had saved in Wallet and use way more than payments.

Very funky. It completely accepts fingerprints as my lockscreen method. Even has the secure credential that doesn't let me go back to swipe-only lockscreen.

Maybe anyone else with a Note 4 can confirm, because it's a pisser having to sign up all over again every time I want to use my store discount cards.

Someone in the office heard me b!tching about it again and told me to uninstall & reinstall .. Did and it's working. I don't know why I didn't try that first... It would have saved me from whining about it for two days...

Probably just an issue with the credential that it sets forcing the phone to require a secure lockscreen. Sucks, but it does happen. Glad it's sorted for you now.

You might be waiting forever since your note 4 will never be able to use samsung pay. It does not have the loop pay hardware which creates a magnetic field around the phone to emulate a credit card swipe.

I hate that now I have to lock my phone. I only use it at my local grocery store. dont want to keep my phone locked. gonna uninstall Posted via AC app on my X 14

Requires *LOCK SCREEN* = ON for phone. I touch my phone 75 times a day and don't use the lock screen. I'm not going to start just because Android Pay requires me to use their NFC. I'm upset I updated Google Wallet- wish I could undo it. I much rather press wallet and enter a PIN when I want to NFC than enter a PIN ever time I look at my phone.

However, I pre-ordered the moto 360 v2 a few weeks ago. When it arrives, I hear I can use that as a trusted device to prevent locking when the phone & watch are in bluetooth range. That should solve my problem of not wanting to enter a PIN every time I use my phone.

It does keep your phone from locking but according to others you still have to enter your lockscreen pin even if your watch has your phone unlocked when making a payment.

I'm ok with PIN on purhcase, just not every time I touch my phone. With my prior google wallet on my LG G4 Verizon, it did ask for a pin on the cash register pin-pad (not my phone) when making a purchase. When I had a Note 3 on ATT, I don't remember it behaving that way.

thanks for the tip on trusted device. set mine with my G watch R and my home location. I'm happy again! Posted via AC app on my X 14

Exactly the problem I'm having. It won't accept my Note 4's fingerprint lockscreen, which is much easier to me than a pass, pin or pattern..

I'm not a huge fan of it requiring a lock either. But I got around that by taking advantage of the smart lock features on my Note 4. I set up trusted places and devices so my phone only locked when I am out and about which I don't mind. It stays u locked when I am in my car and connected to my Ford sync or at home on my Wi-Fi. Posted via the Android Central App

Thank you! Thank you! Thank you! I was about to pull my hair out with the lock screen requiement, and I couldn't figure out anyway around it.

I got it yesterday. My Citi American Airlines MasterCard doesn't work with Android Pay (according to Citi customer service, Android Pay is not currently supported for their American Airlines and Hilton HHonors cards), despite having worked as a tap-to-pay card with Google Wallet for the last year.

Argh, I have that exact same problem. My other cards work fine. What is weird is it goes through all the setup process and even gives you the terms and conditions and then fails telling you to call the bank.

Yeah, that was extremely frustrating. There's no reason why the error message couldn't have read "Your card type is not supported by Android Pay at this time" or something. That would've saved me half an hour of hold time on the phone with customer service.

Didn't know that Android Pay requires a lock screen. That's really annoying becasue I'm not going to enable and have to use a lock screen every time I want to use my phone just for the tiny number of times that I might have an opportunity to use Android pay.

some one else mentioned setting up trusted devices, so if u have a smart watch or u can do it by location or on body detection( will lock when put down). these helped me Posted via AC app on my X 14

Hi, new to the Android community and happy to be here
Quick question if I may re: loyalty cards:
Is it possible to have location alert notify you if you arrive at a stores' location if you have that specific loyalty card loaded in the android pay app?

Pretty sure it does that by default, if you have loyalty cards saved. The old wallet app did, too.

My wallet app updated this morning, and I set up my two cards, although I haven't used it to pay for anything yet. What I notice during setup is that with my bank card, I had to accept the bank agreement just like before using any of their services, and I had to call the bank before the use was authorized. With Google wallet this was not a requirement. Thinking about this I think it is because when using Google Wallet you are really using Google just like with the play store, or music. The payment is processed through Google which is the charging the amount to your bank. With Android Pay you are essentially using your bank card and interfacing directly with the bank. For this reason I can understand the need for a Pin or some type of verification. Banks are not about doing unsecure transactions. Try using your bank card at an ATM without using a pin: You won't get far...and no money. So I am Ok with entering a Pin. I have always used a lock screen because I think it is the most secure...at least better than face recognition. I have my home enabled as a trusted place and so far no lockscreen pin required. Using Google Wallet I had to unlock the phone and sometimes still enter a pin on the terminal. I say sometimes because at some stores I did and other stores I didn't. My card can be used as a credit or debit card so perhaps that is the reason. I have a N5 and am planning to upgrade to a phone with a fingerprint scanner when they are released later this year and that may be even more convenient. So far I am pleased.

Interesting. I received the new android pay and my google wallet app now works with my wallet card. Just received my samsung pay so I may try that before andoid pay.
I like having one app versus two. Also like that Samsung works with magnetic strip readers. I need to see if it encrypts the number like android pay. Posted via my Galaxy S6!

Samsung Pay and Android Pay are very much operating the same way (which is also similar to Apple Pay). They're giving the phone a virtual card number associated with the physical card, and then each payment is made with that virtual card but tokenized to authorize for just that one payment.

But doesn't that negate the rewards aspect of the card?

"You know what this is for".... Nefarious things are going down at A/C....

Haven't seen this hit the HTC One e8 on Sprint yet, but I've been using Google Wallet whenever I can. Part of the time though when the retailers have the devices out for NFC, they say that it's not working. Question for the masses: Regarding loyalty cards, sometimes I'm able to get the cashiers to use their scan guns to read the bar codes loaded in my phone; Lowes is a good example. I can have them scan barcodes on my phone using the handheld scanner but using their self checkout scanner just never works. I'm guessing it's the proximity of the laser to my screen. Anyone else have this issue or able to confirm my thought on this?

At target they had to replace our hand held scanners to be able to scan off screens. Posted via the Android Central App

Depends entirely on the type of scanner. The single beam lasers and the older units have difficulty reading phone screens. Multi laser and scatter readers work well. I never researched the matter beyond personal experience, so my terminology may be incorrect. Of the places I have loyalty cards for, the ones that work are CVS, O'Reilly, Auto Zone, Pet Supplies Plus, Rite Aid, Speedway, and Walgreens. The scanners at Busch's Market do not work, and I have not tried it at Krogers or Godiva Chocolates because I have their key cards on my key ring all the time. Some places are skeptical about scanning the phone, and a few places have bet me that it won't work, but it does and they seem surprised.

I just did it. It's annoying. You hold your phone on the reader, it opens the app for you and asks you to enter your security pattern/pin/code/whatever and you have to tap a second time. At least with Google Wallet, you could get away with entering your PIN once every 24 hours. I wonder if that's the case with Android Pay?

Doesn't work with m preview Posted via the Android Central App

I'm still confused as to why this needed to be made into separate apps instead of all just being baked into one??

The difference is that Android Pay crashes along with Google Play services as soon as I press add card. Piece of junk..

I've been using the wallet card from day one. it's a firewall for my bank card same as paypal. Can't use anything else at my coffee shop (Dutch Brothers)

I see a lot of people on the Play store complaining that it's not working. Mainly, it "cannot verify the device."
Anyone experiencing this?

Yes, if your phone is rooted or have custom Rom it will not work. Also, Android m preview, it will not work with that either. Posted via the Android Central App

I just noticed a "feature" that I don't like: If you have a gift card with a barcode, it turns the screen brightness up to full. Nothing in settings to adjust this or turn it off. Damn near blinding and there's nothing you can do.

It really is bright, but presumably, it helps the scanner read the barcode data.

Exactly this. I could never get rewards cards to scan at normal (auto) brightness. Once Google Wallet updated to crank up brightness automatically (I think it was a year or so ago), it started working fine.

Wait so adding my debit card from my bank will include a 2.9 percent fee every time I use it? I really don't want to connect my bank directly but don't mind the card. I'm not going to allow more fee's just to use my mobile over my plastic though.... I guess I need to read the fine print when I have the time which is hardly ever. Posted via the Android Central App

It was quite disappointing to discover that I can't currently use any of my CitiBank issued credit cards that i have been using via Google Wallet, on Pay. It appears that CitiBank really hasn't come on board with Pay yet, and Pay requires a specific link between the card and the bank, unlike Wallet, The Pay list of supported banks https://www.android.com/pay/#supported-networks
shows CitiBank as "Coming Soon". For the moment, the only card I was able to activate was my Bank of America Debit Card. I hope Google really is confident that CitiBank will make the connection in the very near future, not at some ambiguous future date.

If your cards are already in Google Wallet they will work with Android Pay. Google grandfathered them in. The purchases will be processed through Bancorp just like they were for Google Wallet. Only downside is you might not get your reward points for purchases. For me my banks credit card works natively with Android Pay but their debit card doesn't. But since they were both in my Google Wallet, they both transferred into Android Pay.
One thing to note, if your card is natively supported and the credit card terminal asks for a PIN, you need to enter your credit card PIN. If you are using a grandfathered card with the old Google Wallet process, you will need to enter your Google Wallet PIN. You can tell which to use by looking at the details of the card in Android Pay. If it gives you the option of changing your GW PIN, that is what you use with the card.

Thanks for the info, Kerosh. I had read about the grandfathering for cards already in GW, and my cards do show up in Android Pay, but I have not had any success in activating them within the app. After entering the CVC code and proceeding through the contract details stuff, I end up with messages that the cards couldn't be added, and to call your bank. I noticed that as of today, CitiBank is now listed as one of the active banks, rather than shown as "Coming Soon", as it was last night, so I called them. Since the program is all so new for everyone, I ended up with a second level support person at Citi, who checked it out, but in the end informed me that it's not only necessary for the bank to sign-on to the AP program, but that the card programs need to also agree, and neither AAdvantage or AT&T Universal Rewards has signed on yet. There is no guarantee that it will be tomorrow, next month, or ever. It seems that I've taken a step backward from GW, no longer able to use my existing cards, and not able to utilize the. "grandfathered" capability, so for now, my bank debit card is my only usable card.

To get the Android Pay app, uninstall Wallet, then install the old Wallet from the Play Store. Pay will automatically download. Open Wallet and it will ask you to add your debit and credit cards that were already listed in Wallet. Just tap the + sign in the bottom right hand corner, choose a card, and it will ask you to verify that card. Just follow this procedure for each card. If an account is not yet available through Pay, you will be told so. You can use this same procedure to add gift and loyalty cards. The old Wallet has become Pay and that's how it appears in your app drawer. You can then install the new Wallet on your device.

Yes, you have to enable the lock screen, but for those that don't like to just change the lock timer to the highest setting. In my case on the S5 I can go up to 1 hour. I'm normally on my phone enough throughout the day I rarely have to put in my unlock code. Posted via Android Central App

I have one big gripe. It doesn't seem to support Knock Code on the LG G4. Here lies the "2016 Flagship Killer". It got slayed by 2015 flagships like the LG G4 being used to post this.

A lot of services that require security don't support OEM-specific security measures. My shitty corporate email client (Good for Enterprise) requires security and only allows PIN- and pattern-unlock on my G4. I'm not sure if it allows fingerprint-unlock on phones with fingerprint scanners, but I'll bet not.

I use my Google Wallet card on the regular, I can keep better track of my spending with it.

Android pay? Google Wallet? None of them available in Vancouver, B.C Posted via the Android Central App

In fact barely any people even know about it Posted via the Android Central App

Does this do the same thing "Apple Pay" does with the randomized card numbers? As in, I can't be tracked by my CC number?

Yup Posted via the Android Central App

The thing I didn't realize was how much people were opposed to secure lock screens. Here and on reddit a lot of people said they refused to use Pay because they would NOT use a lock screen. That was surprising to me because EVERYBODY I know in real life uses a pin or at least a pattern lock on their phone. I mean, some people are even more serious about having a lock code on their phones than they are with giving out their social security number lol Posted via the Android Central App

I think a lot of online users who don't let their phone out of their sight may use the phone a lot and find any kind of password a nuisance. My wife recently added a pattern and then after 2 days turned it off because she found it annoying. I put my motto 360 as a trusted device but I'm still finding pin being asked for when i wake up because the trusted device hasn't been in used recently. This work around also is going ask me for my pin when i use the app which is want. Plus i keep nfc off to save battery (not sure how much it uses but any is too much for something i use twice a month). Give me the option to have a lock screen or a unlock code for just the app. Choices are what makes Android desirable.

After i was asked to give a social security number, I never used Google Wallet again. Posted via the Android Central App

Then you were using the wrong gwallet LOL. It never asked for social security number.

I am sure you've got your PHD in gWallet, but you're still wrong. There is no need to SS# initially, but before it let you use certain aspects of the service it wants SS# - unless something has recently changed. This was a while back so...

I got it finally after the update this morning - Nexus 6 stock rooted
I will love to use the Pay but all my credit cards are not supported yet (blame the banks or Google)
I know it support Amex but I don't know where I put my card & I have to find it soon

There is a little + symbol on the bottom right. Select that and add new card and it lets you add the amex card like that.

Doesn't matter if your banks are supported or not: if you're rooted, you can't use the service.

i have it on my note 5 Verizon.

Ugh! So they split functionality between two apps. Not the best move Google. It was better when we could everything in one app. Hopefully PayPal initiates NFC payments soon. Then I can dump GW and AP and do EVERYTHING in one app again.

When I got the update last night, it looked as though Google Wallet required a positive balance in order to have the option to send and receive money enabled, meaning you couldn't just send from whichever bank account is connected like you could previously. The one nice thing about the split is that refunds processed through Android Pay will go through the card backing it where before that money just went to Wallet balance. But then Wallet balance can no longer be tapped using NFC. I didn't realize there was a problem with how the whole thing functioned previously.

I love Google Wallet card. That's the only reason why I use Wallet at all. Whatever Google does, don't take my card away! Better yet, bring Google Wallet card to Android Pay!

Does not work with my preferred CC so not much use right now no matter what they call the app!

Don't like the requirement to have a lock screen. The old Wallet app prompted your for a pin number to enter the app. That was much better than requiring a lock screen for the entire phone.

Banks probably don't think having a pin at the app level is a good idea, and after all when you are using Android Pay you are interfacing to your bank or financial institution just like you would with an ATM, and not interfacing with Google in a financial way at all. This fact was driven home to me when I verified my cards. My bank required me to call them, verify my account, and answer questions before the card was able to be used. I added my AMEX card and American Express, not Google, sent me an email about it. This may the other reason the apps were split in two. I am pretty sure Apple Pay would work this way also except that it is only offered on the new phones with finger print scanners. When new Android phones with these scanners become available I think the app will perhaps work differently with them since you unlock your phone with your finger print.

My banking app only requires my log in credentials when I use it. It does not require any phone security measures to be in place. In addition, I have multiple cards and use them for specific purchases, AMEX being my primary. However, AMEX is not accepted everywhere, so I need the option to select my Visa card at the time of purchase. Furthermore, my rewards (I prefer cash back, not points) varies on the place and type of purchase. So if the card is masked, I believe the proper type of transaction cannot be recorded defaulting the purchase credit to the lowest rewards level. ('m not sure about that, but what I've read indicates that to be the case.) Bottom line for me... it's easier, simpler, and more rewarding (see what I did there?) to just pull out the actual card vs using Android Pay. Now Samsung Pay may change my thinking, but my current phone does not have the hardware to use SP.

Apple pay has tons of banks at launch yet Google pay still doesn't have Chase? One of the biggest banks in the US. At launch they should have been added on to the short list of banks they are supporting. Hopefully they will be added on.

I'll be blunt. The difference is that Google Wallet worked and Andriod Pay is broken. I used Android Pay today for lunch at Subway, where I use the phone for every purchase. They know me and sometimes the girls come out to chat and rub shoulders (well, not literally, except for that one time...), so at least if it fails I can laugh it off.
You all know how it was with Google Wallet: Unlock app, tap to the terminal, walk away with your purchase.
My actual experience today using Android pay was this: Unlock phone with PIN. Tap to terminal. Watch phone screen lock. Squirm while the cashier eyes you and says "Try it again". Unlock phone again and enter PIN a second time. Tap to terminal. Watch app open and ask for PIN confirmation. Enter PIN a third time. Tap to terminal a third time. Apologize to cashier and take your food somewhere else to eat. Sorry, but if this is the way it's going to be, then I will be kicking Android Pay to the curb as a miserable failure. Posted via the Android Central App

They fixed it: you now tap once with no pins on an unlocked phone. Yay!

One the things I liked about Google Wallet before the split is that I could have tap and pay amounts taken from the Wallet account balance and not my Debit Card. I found with Pay that was not the case. So I added my Wallet card to my Pay account and set it as the default. Now all my Pay purchases come out of my Wallet balance. As Mason B said "Better yet, bring Google Wallet card to Android Pay!". adding the Wallet card information as one of your Debit cards to Pay takes care of this issue too.

Great idea. Thanks to both of you!

Why is it not compatible with my 2012 Nexus 7? Posted via the Android Central App

Should I assume there's no way to use this without a pattern/pin lock (without root or something)? I just installed it on my Moto X Pure and it's such a pain in the ass to have to keep unlocking my phone all the time. Why can't I just have to put in a pin every time I load the app?

Hmm, still no way to add your own "unlisted" loyalty cards to Android Pay. Wish they would add this or does this now mean I will have to use Keyring or Stocard?

They fixed Android pay. There was an update today, and afterwards I stopped by Walgreens to pick up some items. One tap with the phone unlocked was all it took. Launching the app manually still causes the screen to go blindingly bright, but at least they took care of the multiple pins and taps.

So no need for a phone lock? I am with others in that I'd rather just have to enter a pin to use the app rather than lock down the whole phone, that's why I hadn't set up Android Pay yet.

You do need a general phone lock for security reasons, but you do not have to launch the app and enter a pin number before the transaction. So as long as you have the updated version (I have version 1.0.103342659), it is easier than the original Google Wallet. PS: you can setup a Bluetooth device as trusted, and your phone will never lock when it's nearby.

The understanding of android pay is that is sucks for root users and it needs to be bypassed that's what. Posted via the Android Central App

Nostalgicgamerz: All true, but there really is no way for Google to guarantee to the banks that your phone security is not compromised on a rooted phone.

They have made it so confusing. Google wallet was simple and great. I used it everyday Posted via the Android Central App

I completely do not understand the logic behind splitting former Google Wallet into 2 separate apps. They removed one feature (sending/receiving money), and created an app out of it. Imo it only complicates things instead of making them simpler. It could have and should have remained one app. Oh, and by the way: it doesn't work.

Scanning all of these comments I'm surprised by how many people don't use a pin/pattern lock on their phone.

Android pay doesn't have support for my bank...so, I think I can no longer use NFC payments as I've done with Google Wallet in the past. Samsung Pay, Apple pa?...oh wait. They probably won't have support for my crappy bank either. Posted via note 4, +32 gig micro SD and 2× batteries...because I can.

I have this as of today and I didn't install nor do I need or want it....smh. Unlike the other post I can't uninstall

The Wallet card can also be used with Android Pay, so it's a nice way to get funds to a child, friend, sibling, significant other, etc. so that they can buy things, etc. without having to hand out Debit/Credit cards tied to important accounts or risk an important card being skimmed by ATM scammers, etc. And of course, it can be used for mobile payments. Friend of mine only uses his Google Wallet card. He puts money on it and then uses that card, because there have been 2-3 instances where he's had debit cards cancelled on him due to suspicious activity due to the recent ATM skimmer outbreak in this area.

I'm very disappointed that we can't use the physical card after June 30th. I rely on it, now I'm going to have to find a replacement or go back to Venmo Posted via the Android Central App
Android Central Newsletter
Get the best of Android Central in in your inbox, every day!
Thank you for signing up to Android Central. You will receive a verification email shortly.
There was a problem. Please refresh the page and try again.