How to set up Samsung Pay with your Samsung Galaxy S8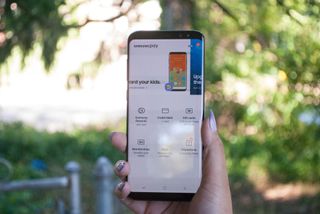 Paying for purchases while you are out and about has gotten far easier over the years, and tapping your phone to pay with Samsung Pay is one of the most convenient methods. Setting this app up on your Galaxy S8 is pretty easy and shouldn't take more than a few minutes of your time. We've got all the details for you here.
Setting up Samsung Pay on your Galaxy S8
Samsung Pay allows you to pay for purchases by simply tapping your phone against a terminal. This means you don't need to fumble with your wallet or cash, because your phone handles the transaction for you.
To get started with Samsung pay, the first thing that you'll need to do is download the app (opens in new tab). When you open it up you'll first need to agree to terms of service, and a privacy notice. Next you need to set up how you want to verify purchases — you can use a pin, iris detection, or the fingerprint scanner. From there, it's all a matter of entering your credit or debit card information.
Depending on your bank, you may need to make a phone call after initially setting up Samsung Pay. This is to verify your bank card information and ensure that there isn't any kind of identity theft going on. You may also be prompted with whether you want Samsung Pay to be your new default tap and pay method.
Step by step instructions
Open Samsung Pay
Agree to Terms and Conditions
Tap Next
Tap to choose a verification method
Tap Next
Tap add and enter your bank card information to add a bank card.
Tap call your bank in order to verify your card.
Will you be using Samsung Pay?
Samsung Pay is an easy way to use your phone to pay for purchases when you are running errands. With an easy set up, and just tapping your phone to a terminal to use, it can certainly be more convenient than fumbling through your wallet. Will you be setting up Samsung Pay on your Galaxy S8? Let us know in the comments below!
Get the Android Central Newsletter
Instant access to breaking news, the hottest reviews, great deals and helpful tips.
Jen is a staff writer who spends her time researching the products you didn't know you needed. She's also a fantasy novelist and has a serious Civ VI addiction. You can follow her on Twitter.
I would love to use Samsung Pay. But unfortunately Santander Bank USA is not a supported bank. I contacted them years ago. They said they were looking into it.... And still nothing.

Move to a more modern Bank.

LOL. I bank with a local credit union, that wants to offer business accounts and "act" like a big bank, without the perks. They still do not support Samsung Pay. I also bank with one of the major US Banks. They support Samsung and Android Pay. I find myself using those accounts more and will be dropping the Credit Union. If a bank or service providers isn't working out for you, find one that does.

@chefmorry, out of the 3 banks I do business with only 1 currently supports SP. I contacted one of my other banks yesterday and they said they were going to, but didn't have an ETA. I will be contacting them regularly and asking for an update. I recommend you start calling them and bugging them too. I'll be calling my other bank today and asking them what their plans are.

My bank's tap and pay app requires me to have the app open and be logged in to make payments.. Is Samsung Pay the same? Or can I tap my phone at any time to pay?

Swipe up from the bottom of the screen to bring up the card and authenticate with FP or iris. That easy.

Security researcher disclosed a potential flaw with Samsung Pay, arguing that its security tokens were not sufficiently randomized and could become predictable. However Samsung Pay is an easy way to use your phone to pay for purchases

Each time I use Samsung Pay, Chase sends me an alert with the amount of the transaction. Between the screen lock, pin , and SP PIn, I'm good on security. The first line of defense is keeping my phone with me.

Plus if you use code AC279F you will get a $5 gift card after your first purchase!

I keep getting server connection error when trying to set up Samsung pay on my S8 on At&t???

Unfortunately this is not support for my country :(

When I go to the Google Play store to download the app to my S8+ it says my device is 'not compatible with this version'. Is there another version somewhere, that works with my phone?