The next Moto G may be a flagship, and that's Motorola's best idea in years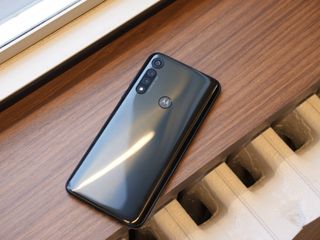 (Image credit: Joe Maring / Android Central)
I remember when the Moto G first arrived; I loved the idea of a simple and clean Android experience inside a phone that was cheap, so I quickly ordered a bright green one. I was pretty happy with it, to be honest — the specs were mediocre and sometimes it showed, but overall it was easily the best value in Android at the time. A lot has changed since the old days, but one thing hasn't: Motorola still makes some of the best cheap phones.
In fact, Motorola makes a lot of phones, but the company doesn't get a lot of attention — at least, the good kind of attention. Part of the reason why is how weirdly different Motorola is from other successful phone makers. Samsung has its Galaxy line. LG has its G and V lines. Sony has the Xperia line. Yet Motorola has a jumble of different models that aren't that different and exist with no cohesion. Is the Moto G Power the best Motorola phone, or is the Moto Edge+? The answer depends on who you ask.
But a quick announcement during Qualcomm's annual developer summit — that's where the Snapdragon 888 announcement happened — from Motorola caught most people off guard. The company told us it was going to put the Snapdragon 888, easily the most powerful Snapdragon chip to ever walk the earth — inside the 10th anniversary Moto G. That's a pretty big deal and I think it means Motorola is going to shift a few things around. A change for the better, if you will.
Imagine a baseline Moto G for a moment. It has a Snapdragon 600 series inside, something akin to the Snapdragon 690 5G, 4 GB of RAM and 64GB of storage. Yes, those are what base numbers should be in 2021. Fight me. Motorola is selling this phone for $300 in my fantasy.
Then add a mid-range Moto G Power into the mix like we have today. A decent phone that delivers at a level close to the most expensive Android flagships yet costs under $500. That's an increase over what the Moto G Power is in 2020, but adding just a bit to the "regular" Moto G means the G Power gets lifted a little, too.
Finally, there is a Moto G something that has top of the line everything inside. Snapdragon 888, 8GB of RAM, 128GB of storage, an awesome Samsung OLED display, and maybe even a stylus because Motorola makes a Galaxy Note clone, too. This works as Motorola's $999 phone because it has the specs people want to see in a $999 phone.
That's the easy part. Making phones that are great and have the right specs doesn't equate to selling those phones. At one time, Motorola was the darling of the Android enthusiast crowd. Forget Samsung, forget LG, heck even forget Nexus phones. Moto made the phone to buy if you were really into Android.
That quickly changed when Google sold off the company to Lenovo (after gutting all the talent, of course.) Right now Motorola is best known for making decent phones that enthusiasts don't want to buy because the company sucks when it comes to updates. It doesn't even try to hide that, offering 12 months of support while companies like Google, Samsung, and OnePlus are offering three.
But the fact remains that the phones themselves are still pretty good. If Motorola could gain back the trust of enthusiasts for some positive word of mouth advertising and increase its carrier presence, sales would naturally go up. Right now, if you walk into a carrier store, you'll probably see a Motorola phone offered, but the salesperson who offers to help isn't very keen on pointing you towards it. Motorola needs to give the carriers some incentive to sell its phones and do something to make that salesperson impressed with them.
Right now, this is just an idea inside my head. However, if Motorola turned the G line into something like Samsung's Galaxy line, decided that its phones were worth supporting for three years, and incentivized carriers into selling more of them, the company could find its niche and increase its bottom line. Motorola isn't going to sell as many phones as Samsung (though that's a goal the company should and probably does, have) but it just might sell enough to know it's doing things the right way.
I want Motorola to go back to being one of the best Android phone makers. Not for the good of the company or its Lenovo overlords, but for us. Motorola could absolutely kill it with a super high-end Moto G and I already want to try it. Many of you probably do, too. It can also build on this idea and fuse its disarray of phones into a single G line that offers value for everyone. I hope — and believe — that it does it, and does it the right way.
Best Budget Android Phone
(opens in new tab)

The Moto G Power is plenty fast, has a decent display, excellent battery life, and a price tag that your wallet will love.
Get the Android Central Newsletter
Instant access to breaking news, the hottest reviews, great deals and helpful tips.
Senior Editor — Google Ecosystem
Jerry is an amateur woodworker and struggling shade tree mechanic. There's nothing he can't take apart, but many things he can't reassemble. You'll find him writing and speaking his loud opinion on Android Central and occasionally on Twitter.
Have to agree Jerry I still used my 2014 Moto X till recently coz just couldn't find anything that I liked better but sadly some important apps like banking no longer supported on it so moved to a Poco X3 NFC and am loving it. However if Motorola simply put FHD screens and NFC in all its range of phones I think they could tempt quite a few people back including myself as I do like what they do with their software too.

DO NOT BUY MOTOROLA. I created an account just to say this. My motorola edge+ has been one of the WORST PHONES I'VE EVER OWNED. I've gone through THREE different phones because of screen cell burn, having each phone only last a week before the screen burn was so bad it had to be replaced.
terrible phone talking quality.
terrible bluetooth audio quality.
screen wake option is way broken and got WORSE after the 'up date'
I'm not a phone enthusiast, I just want one that works.
it's been a headache and a half. do not listen to comments like these or articles like these. DO NOT BUY A MOTOROLA PHONE EVER.

You just got a bad phone. There are a lot of great Motorola phones out there.

Did you really create an account called mitorolasucksass just to tell me not to buy a Moto phone? Thanks for being so concerned but I'll stick with the Poco X3 NFC I've bought recently just so the Chinese government know I shop at Aldi 😂

I like my Motorola G Stylus, it's got features the Samsung A51 doesn't have (and the A51 has specs I want in a Motorola). I'd pay $100 more to have a Motorola on par to the Samsung A71, just keep the Android OS stock.

Nice piece, kinda gave me goosebumps.. Yeah, I'm one of the seven who are way into Motorola.. This occurred by happenstance after the fuzz nabbed my OnePlus 7t (yawn, whenever that was) and decided it would be best that it resides in their evidence files... Anyways, nice piece man, I've dabbled in a z4, G7, Stylus, G Power and the ultra cheap 7 Maxx too.. Each very impressive in their own right but I really wanna run with the Edge for a test run . Like really bad.. That bugger is still out if my range but oohh la la I'm still so curious.. Blah, blah, blah, enough outta me just want to give yo' props homey.

I have been using moto X phones for years. I recently got a deal on a Motorola One Hyper. Had all my requirements, shake for flashlight, shake for camera, NFC, Full HD display. Turns out to have Android 10 also.
I have found Lenovo upgrades to be quite adequate. The performance is amazing.
The only change I could ask for would be the phone be about one inch shorter, fit in a pocket easier. The small bezel and totally full HD screen is great, the pop-up selfie camera works fine, but then I have never taken a selfie on purpose.
Cost was $300 IIRC, could have been $400, if so was still the best deal ever.

Lol Moto charging 1k for a device that will get 1 update... Yeah, no.