New logo confirms Samsung's next smartwatch will be called 'Galaxy Watch'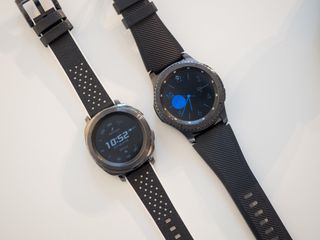 On Friday, June 6, a report popped up claiming that Samsung's next smartwatch will ditch the Gear branding and instead be called the Galaxy Watch. Now, a new logo's appeared that all but confirms this.
As spotted by GalaxyClub, the below logo recently went through the Korean Intellectual Property Office. As you can see, it shows the Galaxy Watch branding in Samsung's iconic font that's used for all of its other mobile products.
Aside from that, however, this logo doesn't tell us much else.
There's currently some speculation that the Galaxy Watch will run Google's Wear OS instead of Samsung's Tizen, but conflicting reports about this leave us unsure if this is something that'll actually come to fruition.
Along with that, the Galaxy Watch is also expected to come with a 470 mAh battery, blood pressure measurement system, and some sort of "new UX interaction."
Joe Maring was a Senior Editor for Android Central between 2017 and 2021. You can reach him on Twitter at @JoeMaring1.
Change in the name makes sense. Not so much for change in OS. I really hope the Wear OS is just that being a rumor. I can live with G Assist if that means I can keep Tizen. Otherwise this will be a huge no go for me.

I hope it comes with wear OS

Enjoy that bloated garbage

I think the name is the clue. The original Galaxy Gear changed names because they switched to Tizen. All Andriod based products carry the Galaxy name. I'm looking forward to it. I love my Gear S3, but there aren't many developers (good ones that is) for Tizen. Tizen is great, but Android is compatible with so much of my other devices. Actually, all of them.

The Gen II Motorola 360 had potential. Two years back I learned that Moto was taking a breather from the smartwatch game and I was a little disappointed there'd be no Gen III right away. Gear Watch/Galaxy Watch, whatever it's called, may be the best of both worlds and the logical successor to the 360 watch I'd once hoped for. It seems, to me at least, that the best era in smartwatches has only gotten going in the last two years.

No Tizen, no buy. Very disappointed in Samsung

It's going to need to WOW me to switch from my Gear S3 Frontier. I'd actually just go with this same watch with much improved battery life and the BP monitor. I like it that much.

I'm happy with my GearS3. Tizen is so smooth and fluid and mature in so many ways now, I don't understand why the change in OS would be desirable or necessary. Aside from better Whatsapp integration, I can't think of anything I miss with my Frontier. BP monitoring sounds great and I'd welcome it. As for the UX, what's better than the rotating bezel? Don't fix what's not broken. I'll be curious about the GearS4, but for me, the GearS3 hs been pretty close to perfect and better than what I've seen on any AndroidWear.

Lack of Google Maps turned me off from Tizen; even moreso when the HERE Maps app wasn't available in Canada (the watch version - not the Android app). That, or at the very least, a transit app

Because navigating on a small 1.5in screen is more convenient than your phone? Some of you complain just to complain. And then what you complain about doesn't make reasonable sense. Really? A transit app on your watch?? The watch is designed for notifications in conjunction with your phone, not to replace it. (Samsung Pay being an exception)

Navigation (by foot or transit) is actually preferable by watch for many, myself included. When in a crowded bus/subway/sidewalk I don't want to pull my phone out and much prefer to have my watch buzz when I need to get off or make a turn - so more like navigation notifications in conjunction with your phone (Driving navigation on a watch is pretty pointless). That said I quite like my Gear Sport as there are some good third party map/navigation apps available for a couple bucks.

As long as they retain the rotating bezel for navigation I'm good to go, and I would like to see Google Assistant on it, but I believe what we'll see is Bixby 2.0 on the Tizen OS.

A return to Wear OS would be just symptomatic of Samsung's commitment to software and services. Trying to copy you-know-who, but no resources to back it up. Completely unreliable. I was there for Bada, Tizen appears to look quite the same. And they want people to adopt their Bixby, invest in this or that service, etc. The only good thing with a return to Wear OS for me would be Google Pay. While I like Samsung Pay, the support from banks is ridiculous (at least here in the UK) and doesnt look to be improving (the good old 'we're discussing, coming soon' blah blah), contrary to Google Pay and Apple Pay. Yet another sign of Samsung's commitment to services.

Now all the apps will die off for the non Android watches. Its like owning a Blackberry again! Sucs!

Squeeze a camera in there. I have my original Gear Watch (paired with my back-up S8 Plus) which still provides adequate function to wear occasionally; for a nearly five-year old device it's pretty remarkable and it is in pristine condition. I have a folder in Google Photos where all of the photos taken with the Gear Watch are kept. The camera function was very handy at times.

Samsung fresh from having to pay Apple for blatantly copying them and now they're copying both Google and Apple by calling it the "Galaxy Watch" But the Samsheep will still buy it because of the logo.

Google can't make a phone worth copying.
The don't make crap. LG makes their crap, for which is crap.
Android Central Newsletter
Thank you for signing up to Android Central. You will receive a verification email shortly.
There was a problem. Please refresh the page and try again.