Motorola XOOM WiFi Android 4.0.4 update now available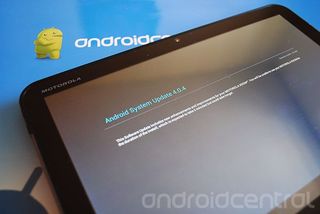 A few days ago, we learned that Motorola and Google would be pushing Android 4.0.4 to the Motorola XOOM WiFi. A few folks got their hands on the update but it never seemed to roll out to most users. If you check for updates on XOOM, you should now find it available for download though and as a reminder, here is what the changes will include:
Quicker screen rotation
A new setting to choose whether the power button immediately locks the device or not
Microsoft Exchange improvements with additional EAS policies
Better phone number recognition
Camera and image quality improvements
Improved stability
Sounds good! If you now have the update, drop us some notes in the comments how well it is or isn't running for you plus, you'll find some more discussion in the Android Central forums about it.
Got it last night late, so I'm still playing around with it. Hopefully it helps the battery a bit. I've noticed more OS drain than I had on Honeycomb.

Ditto on the increased battery drain when going from HC to ICS.

The XOOM gets 4.0.4 before my G-Nex! #RAGE

My Galaxy Nexus got the update this weekend. I suggest you either flash it or attack the update button in the settings menu :]

Got my update last night, and I noticed 1 thing. It was extremely laggy until I rebooted it a 2nd time (first reboot was part of the update). When the Xoom got it's original ICS update I noticed no lag, but I did this time until the reboot.

where is the LTE xoom love!!! argh!!!!!!!

Sorry... blame VZW on that one. Hope you get it one way or another -- it rocks!

The joy of owning a GED sorry Verizon users

Man F Verizon. We were the the first ones to get the "GED" device, weeks before the wifi folks. And the wifi folks are on their second upgrade of ICS, while we get nothing.

That is supposedly the difference between the Xoom Nexus (US Xoom WiFi) and the non Nexus (Xoom 3g/4g Verizon).... no carrier involvement to slow down updates. None of this was really said at the time the Xoom first appeared. But we should have all known it would be like that with a carrier involved. Many of us impatiently waited for the WiFi version to hit the streets before taking the plunge. I am glad I waited.

I've been using 4.0.3 and now 4.0.4 and both versions seem to have some really weird typing behavior. Editing is wonky at times. Kind of irritating.

Got mine last night, haven't used my Xoom too much since, but it seems like everything works great.

Have to deal with vzw for your update just like the nexus your at the mercy of the carrier

I got my update late last week. I didn't force it or anything. I won't lie, I did button mash the "Check Now" button for updates when I heard there was going to be one, but one night I was sitting there browsing the web and I got the notification to update to 4.0.4. What build number is this? I didn't look for the new power button setting. Where is it exactly?

I wonder if the (verizon) galaxy tab 10.1 will ever see ICS.

I'm debating between the Xoom wifi and the tab 10.1 wifi right now and seeing as the Xoom keeps getting these updated in a timely fashion I'm leaving towards it more and more. Anyone think tab is still better even though it's on honeycomb?

I've had the 4.0.4 update for about 2 days now, and I'm pretty happy with it. ICS was already pretty solid, and 4.0.4 seems to have cured some of the occasional wonkiness that I'd seen in just a few areas. Specifics: --The "faster screen rotation" isn't really "faster". Rather, it's more consistent. In the initial release of ICS there were random occasions when it would take the screen 3-5 seconds to rotate. That's gone now. When you flip the tablet, the screen rotates right away. And in a possibly related improvement, the side-to-side scrolling between home screens is also much more responsive. Like the screen rotation, there were occasional instances where the scrolling to the next homescreen would lag. That's gone. --Battery life seems to be improved. I don't know if that's just perception or reality. What I can say is that I wasn't looking for any change to battery life. It hadn't really occured to me. But the apparent improvement is drastic enough to have jumped out at me without looking for it. I unplugged my Xoom, fully charged, at 7:30 this morning. After 4 hours of pretty constant use, I'm only down about 4% so far today. --The issues with the corporate email widget not updating have not been fixed --The issues with Gmail occasionally popping up a "Gmail stopped unexpectedly" message, when exiting the app, have not been fixed. --I don't see any change to the already very good image quality on the camera. I've never had any complaints, and I don't see any changes. I'm guessing that there were specific use cases that may have been improved, and I just haven't encountered them. --One of the most noticable improvements: the wonkiness with the power button has been fixed! Under the initial release of ICS my power button sometimes had to be pressed several times to wake the tablet up from sleep, which was making me wonder if the switch was going bad. But 4.0.4 has completely solved the problem, so it was apparently a software issue. --The truly awful audio on HDMI has not been fixed. Those are my observations so far. I hope the above does not sound negative. I'm very happy with ICS and the Xoom.
Android Central Newsletter
Thank you for signing up to Android Central. You will receive a verification email shortly.
There was a problem. Please refresh the page and try again.