Motorola teams with DODO for line of colorful Moto 360 bands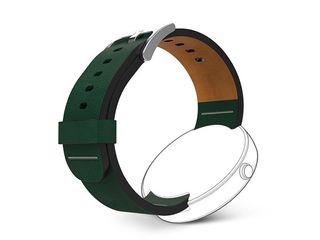 It looks like the band options for your Moto 360 just got a little bit bigger. Motorola today has started selling four new "premium" leather bands on its website. The bands, made by DODO, will set you back $60, and come in your choice of blue, green, red, or tan.
While the price may be a bit hefty — twice the $30 price tag of the standard leather band — these look absolutely gorgeous. Plus, the addition of blue, red, and green options finally gives you the ability to add a splash of color to your wrist.
If the new bands pique your interest, be sure to give that source link below a click to check them out for yourself.
Source: Motorola (opens in new tab)
Android Central Newsletter
Get instant access to breaking news, the hottest reviews, great deals and helpful tips
I'm still waiting for the slim bands to be sold separately.... but the blue would be kinda fun. I like my suede-ish charcoal grey, though.

I liked my grey one at first, but it looks like complete crap now. It's mostly flat and darker. I've tried using brushes to re-"suede" it, but the effect seems to only last an hour or so. Kinda wish it wasn't suede.

Price is too high for most considering the initial price and functionality of the device. Galaxy Note 4 Galaxy S III
LG G2

Android Wear really needs to step up.. the interface is just too bad. Posted via the Android Central App

You don't typically pair a $250 watch with a $20 band. My $185 Seiko would look ok with a genuine leather band for $30-$50, but I wouldn't pair it with a faux leather $10 band. That's for a Timex. I wouldn't use a $20 Hadley Roma band with a Rolex either. These bands may be high priced for some, but they're on par with what to expect with a $250 timepiece, especially when released by or under the licensing of the OEM. There are many viable third party band options. Hadley Roma and the Pebble metal bands both retail around $20 and are excellent budget bands for those who want them.

I went in stores to buy the Moto360.. what the heck? I don't get what all the fuss is about! That thing is ugly. It's big, thick and when you put it on, you don't even see the darn band because the watch itself is so big it covers everything. I honestly backed away from this. If the LG G Watch R ever gets to Canada, I might buy it.

A lot of people have differing opinions from you. I personally like large watches, I like how it has less bezel than the lg g watch R. I think the metal bands look great and I think the display is pretty sharp and clear. Posted via Android Central App

I'm the type of guy that wears a watch with the face on the underside of the wrist so all I see is the band.
Your opinion is invalid.

Pludgate : I agree. People have different tastes. Mkashen: My opinion is my opinion. You can say whatever the hell you want, it's still going to stay my opinion. Your comment is invalid.

I'm pretty sure he was joking. Posted via Android Central App

Some people are so sensitive.

And that's the great thing about opinions and personal taste. Everyone can choose for themselves. Isn't that great!

Huh. I can't find anything ugly about it. I've seen people wearing bigger classic watches, and its overall size is pretty reasonable, and the watch doesn't wrap around my entire wrist, so there's PLENTY of band to see. In fact, I can very clearly see the entire band. All of it. Because the watch literally blocks not one single bit of it. And as far as I'm aware, the LG G Watch R is larger, thanks to its bezel, so your core complaint wouldn't be resolved by it. I totally get that taste is subjective, but your complaints are worded in a way that implies universal objectivity, which is why they're causing people to bristle. An "I don't like the look of it, and it's too big for me" would be 100% reasonable and inarguable. But what you said was a bit more precise and universal, and the comparison to a watch that's even bigger just makes it look like you have something against the 360 more than the issues you described.

I agree. I didn't word properly. And, I never saw the G Watch R live yet so I probably messed up my comparison. I shouldve just said, I find it ugly and too big. I have small wrists so that's on me :p Posted via the Android Central App

See, that's totally fair. To each their own. Although I do think I have relatively small wrists, too, and it doesn't stand out to me. You might adjust faster than you'd expect. But totally your call in the end.

I just noticed your avatar is Enzo. Very nice. Also, I guess I should give it a try longer than just 1 min at the store. :p Posted via the Android Central App

Probably so, yes. Although in all fairness, that's about how long it took to convince me to buy one despite already owning an LG G Watch (original). So we have different standards.

I'm going to repeat back to you what you basically just said. I want you to tell me how dumb I sound, ok? "I don't want that, it's TOO BIG! So, I'm going to buy something bigger!"

Yeah, I agree, it's dumb. I never saw the G Watch R live so my comparison did make me sound dumb. My bad. Posted via the Android Central App

So LG is smaller and looks better than Moto 360? Okkkkaaay then.

Kinda pricey for a miniature belt (that's really what it is).

Now that you say it that way, I tend to agree. Though I did buy the Cognac version when it was released and I love it. Posted via the Android Central App

What's a good band for lg g watch? (square) Posted via Android Central App on 1+1

I recently got a 22mm polyurethane link band for mine on amazon. Very lightweight, very comfortable, and the black won't wear off of it like it would on a metal link band.

Black or white/gold? I'd go with tan leather for the white/gold one. For the black, maybe a dark silicone or rubberized band. Nothing too fancy. But like with what I just suggested, it's a huge personal preference.

That's nice and all, and while I think that choices like that are welcome, what I REALLY want to see is some high quality non-leather bands! Along with looking like a boss, I bought my +Moto 360​ to run and work out in, and I found an adequate substitute watch band made out of silicone so that it was more comfortable and held up to sweat better. I even did a review on running over 200 miles using the #moto360. Moto360 Review - A Runner's Take: http://youtu.be/ty-Yrv5oMk0 However, the band's quality isn't that great and I would definitely prefer a resin type of watchband like the ones on a G-Shock watch. Give me that in a darker gray and it'll like stylish and be functional at the same time. +Motorola Mobility​, and +Google, you've given us some great health apps, yet given it to is in a watch that has a band where it doesn't take will to sweat. Please consider giving us the option of a nice quality resin poly eurethane band. (I know your competitor is going to be doing that ;) )

Hey check out SnuG watchbands for a good band for working out!

$60??!! No thanks! Posted via Android Central App from a beautiful Ebony backed Original Moto X or the amazing Nexus 10

Moto is a day late and a dollar short with these and the previous bands... I actually preferred leather and had no qualms whatsoever with paying up to $70 for a quality leather band in a different color/style than the stock one. I even had a $25 credit on their store! (which I eventually used on a Keylink I gifted away) Got tired of waiting tho, eventually bought a Model 2 from Worn & Wound made out of better Horween leather than the stock one, actually paid exactly $60 for it. Only downside was having to modify it, way softer than stock tho. Had these been around earlier (as well as the cognac) I might've bought one or two just to save myself that hassle. They really missed the mark by not having all these options available on launch day IMO, would've added even more to the appeal for the non-enthusiast buyer (and I've come across a surprising number who bought the 360 on a whim as it is, I think we geeks actually underestimate the appeal of wearables for some regular folks with disposable income).

Why has it taken them so long to get good bands out? I'm not a big fan of leather in general because I wear my watch to the gym. After a few workouts you could see wear and stains on my stone band. Snug watchbands has some high quality silicone bands and cases for the Moto360 I recently tried and love for under $30!
Android Central Newsletter
Get instant access to breaking news, the hottest reviews, great deals and helpful tips
Thank you for signing up to Android Central. You will receive a verification email shortly.
There was a problem. Please refresh the page and try again.