Motorola sold 10 million phones last quarter, up 118 percent from a year ago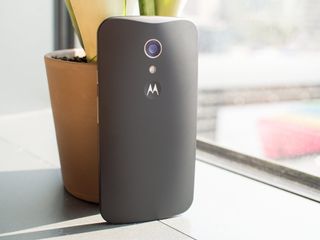 Lenovo has just reported its FQ3 2014/15 (which would be calendar Q4 2014) earnings, and now that Motorola is integrated into the company we're taking a bit more notice to the results. In the release its made public that Motorola sold 10 million phones last quarter, which is up a staggering 118 percent over sales from the year-ago quarter.
Lenovo doesn't break out the sales numbers of the Moto X and G, but we have to assume that in terms of volume the two generations of Moto G are a big portion of that 10 million. As it is oft to do, Lenovo reminds us that Motorola is poised to re-enter the Chinese market as well, which should send those sales numbers even higher.
Stepping into the business operations of the unit, Lenovo said that it expects Motorola to become profitable in the next four to six quarters. As of this quarter, Mobile Business Group (which now includes Motorola) posted an $89 million loss — knocking off a significant portion of Lenovo's overall net income of $253 million for the quarter.
Source: Lenovo (opens in new tab)
Andrew was an Executive Editor, U.S. at Android Central between 2012 and 2020.
Go Moto! love my nexus 6. Posted via the Android Central App

Hellz Yeah! Go Moto! Nexus 4 (AT&T)

Go Moto Posted via the Android Central App

You mentioned the G and X but does that include the Turbo and Nexus?

Of course Posted via the Android Central App

Naturally, but the Nexus 6 is a more expensive device with a narrower release, and the Turbo is sold on one carrier in one country (and the Moto Maxx variant is only available in a few South American countries).

The Moto Droid Turbo (Verizon) is supposed to sell under a different name in the UK and on ATT sometime soon I read. Last year's Droid also had ATT bands in it where an ATT sim worked on their network tested by DroidLife. Allegedly this year's Droid also has the same bands for ATT again.

I love the moto g and moto x... Posted via Android Central App

+1 mother-in-law & wife have the G & the X (respectively).. 2013 editions. Both running like new Nexus 4 (AT&T)

Apparently Motorola has already pre-sold 1 million phones in China. So I'd say they're off to a good start there.
Pity they're still pretty much nowhere to be seen in Europe.

Or Australia. If they stood here I would buy a motox without hesitation.

I think the only real major thing that kept the X from selling more than it did was its battery life. I would've bought one otherwise. Posted via OnePlus One

I would have bought one today with the $140 discount if the battery life was better and it was a bit bigger. Gonna hold out for the Nexus. Posted via the Android Central App

Same here (except I like the size). Just battery life. And I really would like QI included.

Better/bigger battery + Qi would've been an insta-buy!

+1 Posted via the Android Central App

+2 Posted via the Android Central App

I was considering the 2013 moto x developer edition for $200 last week, but decided not to because of the poor battery life and camera I've been hearing about around here since it came out.
I might've jumped on it if I actually needed a phone because it is a really good price when you compare it to other phones that are $200 & not refurbs. Posted via Android Central App

My wife has the phone. The battery life is not too bad. She also has the turbo charger and that phone charges really fast. I could probably live with it easily, just not worth the outlay to upgrade from the 2013 version in my opinion.

First gen had a problem with starting price (considering the spec war), availability and advertising - brand recognition. Regular people don't read the reviews on camera and battery - which were really bad compared to any flagship at the time.
Second gen was just not good enough to upgrade (usually case with most of the phones) for many. For the first time buyers, They did better job on pricing this time - off contract, but considering that in US (availability again) majority is shopping on-contract it didn't make a significant difference (500$ vs 650). There were still many phones - s5, m8, g3 equally priced on contract - with much better recognition.
With Lenovo's money and manufacturing power, this year they can have a huge hit - real flagship with no sacrifices at the same price or possibly below competition. via AC App on VZW Moto X DE/N7

Awesome! Glad to see Motorola resurging again. Moto makes some of the best build quality phones. Posted via the Android Central App

The Moto app on the Play Store is installed on 100k-500k devices. Currently it is only available for the second gen moto x. The number seems really low considering that the OnePlus One with it's invite system is at 1 million. Moto voice (for both first and second gen) is at 5-10 million downloads so there are currently a lot more first gen devices out there.

Well yeah. The jump between the two isn't that staggering and considering the first gen was built well it will probably last people awhile. Posted via the Android Central App

Yeah my Moto X 2013 Dev Edition (VZW) runs perfectly. I have a G3 now because I wanted a bigger phone, better camera, and better battery life; but that thing is still solid. It's not my remote for my chromecast and music player lol.

I have the Moto app installed on my Droid Turbo and it works fine. Dunno...

Most of them are cheap low end phones anyway lol Posted via the Android Central App

Yeah, but Motorola makes really nice cheap, emerging market and affordable phones

But they're quality Nexus 4 (AT&T)

Good for them.
Improve that camera and I'll give them my business

Replace "camera" with "battery" and I'm right there with you. If there were a reasonable GSM variant of the Turbo, I would've bought that instead of the Z3C I'm using now Posted via the Android Central App

Awesome go Moto... Make better software and sell more unlike crap Samsung software. Posted via the Android Central App

Samsung calls 10 million phones sold 'tuesday'. Posted by my soon to be retired Note 3

Quantity doesn't equal quality :-) I thought that was well known. Posted via the Android Central App

I Have a prepaid Verizon Moto G XT1028.
I have been patiently waiting for the update to lollipop. When I bought it I didn't know that it was going to be the worse moto g 2013 out of all of them. I can't root because I'm on 4.4.4. If I were on 4.4.3 I could use sunshine to unlock the bootloader since you can't go to the moto site and unlock that way like the rest of the moto g's. So no root, no custom recovery, custom kernels and Roms. It's straight bs! Even if I were on 443 I'd have to pay money to use sunshine to do it and paying someone like jcase is absolute bs. The only thing I have looking forward to on it is lollipop since there will never be anything for it. I'm glad it is now my backup phone. I received an lg g3 d850 for absolutely free and I've been able to tinker with this. Only good thing. Gasping for air sigh ugh aaahhhh Posted via the Android Central App

We want motorola moto Maxx globally!!! Posted via the Android Central App

Motorola says, "Thank you, Google."

Samsung saying... Oh shit we are hit hard on every direction. We better work on our crappy software, debloat, remove the lag, otherwise we will be doomed. Posted via the Android Central App

You're an idiot Posted via the Unrivaled Note 4 or Tab S 10.5

He's not an idiot entirely. Samsung's garbage software is what made me finally jump off the Galaxy bandwagon

You can add me to that list as well. Posted via the Android Central App

I wouldn't blame you if you owned an S4 or note 3. The S5 and note 4 are a different story though. Posted via the Unrivaled Note 4 or Tab S 10.5

My Moto g is killing it. Not a super high end performer, but it gets the job done, and in reasonable fashion for a phone that costs under 200. Posted via the Android Central App

On the comeback trail...nicely done but still got a ways to go. Posted from my Droid Turbo, Kelly and Ozone

Keep it up Moto! Posted via Android Central App (Moto X)

Good! I like to see Motorola succeed, they are the company that invented the cell phone after all! Posted via the Android Central App

I see they are still losing money. The mobile division expects to be profitable in the next four to six quarters... That company have been losing since forever. Even with all the cost cutting Google could not get them to stop bleeding red. Keep cutting Moto, eventually you will get there.

Well, I see it's not just Moto, Asus is doing its part too.
http://www.digitimes.com/news/a20150129PD204.html

The Moto X makes the iPhone 6 look like the crap Galaxy rip-off that it is, though. Posted via the Android Central App

Someone is butthurt for pointing out facts.

No one here is interested in hearing how butthurt you are. No need to keep reminding us. Posted via the Android Central App

Um I think you got those two confused unfortunately. It's okay though, everyone makes mistakes dear Posted via the Android Central App

That's because they aren't only making phones for Verizon.. They're finally making good devices for Gsm networks. Posted via the Android Central App

Agreed, before the Moto X came out, there was two tiers of Motorola phones. High end that went to Verizon and the crap that everyone else got. Carrier exclusives are stupid and in the long run, hurt everyone.

It seems Moto is actually doing better with Lenovo than they ever did with Google. I can't wait to see what comes up next. Posted via the Android Central App

It must be weird centering your life around hating Google even as you use their products. What's it like? Rise from bed: "Hmm. I wonder how I'm going to troll AC today. Should i go the straight negative rout or should I try concern trolling today? I guess we'll just see how it plays out.". I can honestly say I don't know what that feels like.

I credit Moto Maker and quality devices going to other carriers other than just Verizon more than Lenovo ownership. Had Google given them a chance, I think the results would have been the same. Lenovo hasn't had them long enough for their ownership to be making the difference.

Just picked up my Droid Turbo and I gotta say that I am loving what Motorola is doing right now!! Posted via the Android Central App on my DROID Turbo

Droid Turbo is the king of Android. I love my red edition. Posted via the Android Central App

yet still no 5.0 lollipop

Yeah...sucks downgrading from Lollipop on the N5 back to KitKat on the Turbo :/ Posted via the Android Central App on my DROID Turbo

Moto X Pure Edition got it. I've had it for 2 mos now.

I envy you. Lollipop is buggy.

Imagine how many they would have sold if they sold the turbo (or similar) for all carriers in the usa.

Yup, stupid Verizon exclusives are what hurt Moto. Not everyone likes Verizon, myself included.

And just think if these had been marketed more aggressively like Apple and available like Samsung sales could have been much better. Unless you live in America these devices are mythical.
I had my hopes set on a Nexus 6 but 2 months after being announced they were not available. No way would Samsung or Apple do this! Posted via the Android Central App

Great job Motorola. Now please get the x on sprint. Thanks. Posted via the Android Central App

Republic Wireless offers the Moto X (1st and 2nd gen) with wifi + 3G/4G on Sprint.

That's great! But I think it will be harder for them to sell cheap phones like moto g with more competition on the low end. Look at asus zenfone 2! It obliterates moto g on specs! Posted via Android Central App on 1+1

Love that G, talked my mom into getting one. However, their flagship X still leaves a lot to be desired. Excited to see the second gen Moto 360 and what they'll do with the X this year.

Takes a Chinese company to turn them around. Great job.

10m...that's Chen's dream right there lol Sent flawlessly from my Note 4

So Moto sells 10 million phones and everyone is cheering while Microsoft sells 9.5 million and everyone is writing them off. OK.

Your comment is at the most irrelevant.
Go figure via AC App on VZW Moto X DE/N7

But Microsoft and Motorola are drastically different entities so it's irrelevant. Posted via the Android Central App

I've never been happier with any phone in my cell phone years as I am with my moto x 2013. Can't wait to continue with moto phones!!

Go MOTO! I LOVE LOVE LOVE my Droid Turbo. I was NEVER this jazzed about my past two iPhones (3GS and original 5). And the best part is my Turbo is actually integrated into my professional and personal life as a valuable tool. Oh and then there's the battery!....... :-)
Android Central Newsletter
Get the best of Android Central in in your inbox, every day!
Thank you for signing up to Android Central. You will receive a verification email shortly.
There was a problem. Please refresh the page and try again.