The Moto Z3 is official, coming to Verizon on August 16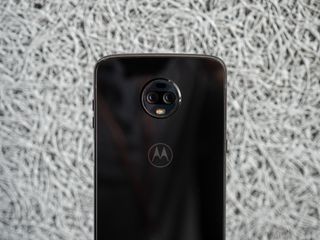 At a press event at its HQ in Chicago, Motorola officially announced the Moto Z3 on Thursday, August 2. This is a more powerful version of the Z3 Play that was unveiled earlier this year, and similar to past Z flagships, the Z3 will be sold exclusively on Verizon in the United States.
The Z3 looks a lot like the Z3 Play with its 6-inch bezel-lite Super AMOLED display and dual 12MP rear cameras, but under the hood, you'll find more powerful internals like the Snapdragon 835, 4GB of RAM, and 64GB of internal storage.
Like we were expecting, Motorola stuck with a similar design once again as to accommodate all of the Moto Mods that have been released up until this point. Speaking of Mods, the Z3 is launching alongside Motorola's latest snap-on accessory that brings 5G speeds to the phone.
There's no word quite yet as to how much the 5G Moto Mod will cost, but once it's available, you'll be able to place it on the back of the Z3 and access Verizon's 5G network (assuming you live in a market that's covered by it). So far, Verizon's confirmed that it'll bring residential 5G access to Houston, Los Angeles, Sacramento, and one other unnamed city by the second half of this year. In 2019, a "mobile 5G solution" will be released so more people can access the upgraded network.
The Moto Z3 is launching on August 16 and will be available for $20/month for 24 months — working out to a final retail price of just $480. To sweeten the deal, Verizon's offering up to $300 off when you switch and trade in your current phone.
As for the 5G Moto Mod, Motorola says it'll be available early next year.
Moto Z3 hands-on preview: A Verizon exclusive that adds a 5G flourish
Joe Maring was a Senior Editor for Android Central between 2017 and 2021. You can reach him on Twitter at @JoeMaring1.
This will probably be my next phone.

I keep my phones for 2 years, so I really can't imagine trying to stick with this thing until 2020...

835 isn't a slouch. And I've been on a 12 to 18 months cycle.

Gorilla Glass 3 so no. This is the most disappointing thing about it.

I'm sorely tempted to trade in my Z2 Force for one, then, because I hate how easily the outer Shattershield layer scratches, how it's started peeling up at the edges after only 9 months, and how you can't even just replace the layer yourself anymore like you could with the Droid Turbo. I don't know about you, but there's no way I'm going a week or more without a phone just so Motorola can do it.

Maybe I'm just disillusioned or I've been burned too many times, but when I hear the words "Coming soon", or "Won't be available until ____", I just assume it doesn't exist and will never see the light of day. This stance has served me well.

For that price this may be my new phone. I have the original Z Droid Force or whatever it is called with the shatter prof screen and I'm disappointed that isn't part of this.

This is a big ol' WTF, Moto. Weak sauce, marketed just to pander to Verizon and pimp their non-existent 5G. This is almost a spec-for-spec clone of the Z2 Force. It ... what, might have some fancier camera software? And it will work with the 5G mod sooner than the Z2 Force? (Along with a larger screen that is lower rez...) And for this you shlep journalists to an launch event?? Like I said, WTF. I guess my love affair with the Z line comes to an end in 2018. No chance I'll spend the next 2 years with this thing.

But it's priced right for the specs. I have a Z2 Force...I kind wish this is what it was.

Fingerprint on the side is perfect. Love it on my Sony XZ Premium.

Good phone for the price with solid specs. Outside of AR applications the 835 is nearly as powerful. Should work out great and has a solid, fair price.

Has Moto improved their cameras since the original Z Play ?

Can't speak for the Z series phones, but my Moto X4 has a legitimately good camera system. But, I don't know why Motorola hasn't done the wide angle lens on the Z series, like with the X4. It's very useful.
Android Central Newsletter
Get the best of Android Central in in your inbox, every day!
Thank you for signing up to Android Central. You will receive a verification email shortly.
There was a problem. Please refresh the page and try again.