Moto M with metal body and Snapdragon 625 leaks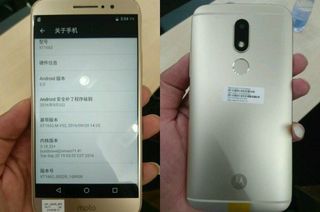 It looks like Lenovo is readying a new budget Moto M series that will co-exist alongside the Moto G and the entry-level Moto E lineup. Dubbed the Moto M, the phone features a metal body and is rumored to offer a Snapdragon 625 SoC, up to 4GB of RAM, 64GB storage, microSD slot, and a massive 5100mAh battery.
From the leaked image, the Moto M looks like a more refined version of the Moto G4, with the phone sporting a similar camera setup. It is possible we may see the same 16MP camera from the Moto G4 Plus (which was excellent) on the Moto M.
The fingerprint sensor has moved to the back (thankfully), and based on the hardware on offer and the metal chassis, it is feasible Lenovo is looking to fill the gap between the Moto G4 and the Moto Z Play with the Moto M. The combination of the 5100mAh battery and the power-efficient 14nm Snapdragon 625 should result in remarkable battery life, one that could outshine even the Moto Z Play.
Other rumors suggest we'll see a 5.5-inch Full HD display, and a release window sometime in December.
Harish Jonnalagadda is a Senior Editor overseeing Asia at Android Central. He leads the site's coverage of Chinese phone brands, contributing to reviews, features, and buying guides. He also writes about storage servers, audio products, and the semiconductor industry. Contact him on Twitter at @chunkynerd.
Agreed. But I do miss that original Moto X design.. Especially the 2nd generation

Arguably the most ergonomic phone of all time.

Did I read somewhere the CIA had determined Lenovo has built in spyware/hardware in their phones?

They did into some of their laptops, but I don't think their phones as well.

Is Lenovo imitating Samsung's product line?
If anything, it either offers more choices for the consumers, or confuses the them!

Please please please let this be 5-5.2" screen not another mammoth. They already have three 5.5" phones.

Yes, I am SO TIRED of 5.5" phones. The Iphone 6 with a 4.7 inch screen is ONE THE BEST SELLING phones in the world. As is the Iphone SE. Why can't any Android manufacturer introduce a smaller screen Android phone with a BIGGER BATTERY???

Look into the Samsung 2016 A3 & A5. Both these phones give me an easy 4hr SOT. If you a normal user you'll get an easy 2 day of battery life. The 2017 versions should be aval by December. If you live in the US you'll need the A310M or A510M version.

Nope, 4 hours SOT is merely acceptable nowadays. My Moto Z Play pulls 8-10 hours SOT over 1.5-2 days. That's the kind of battery life that should be the norm.

Yeah, I agree that 4hr is unacceptable and very easy for phone manufacturers to beat so long as they don't use the Qualcomm, fire breathing, battery intensive chips that have little value for basic things like apps, music, taking photos, and web browsing. Not to mention there is no reason for a battery sucking Quad HD screen on any thing less than a 5.5" phone. My Droid Turbo 2 averages about 5 or 6 hour SOT which is adequate. Unfortunately, Moto is hung up on 5.5" displays today. For me, the original Droid Turbo is about the right size as I feel my DT2 is a little too big and I certainly don't want anything larger. Someday Android will figure it out. They all love to copy Apple's Iphone Plus size specs but for some reason eschew Apple's GREAT SELLING smaller Iphone offerings.

Love to copy Apple's iPhone plus specs for some reason? What?

Yeah I thought Apple copied Samsung and all the other Android manufacturers. Maybe my memory is fuzzy.

Ok, you say 8-10 hrs of SOT in 2 days should be the norm. How is 4hrs of SOT in 1 day not acceptable then... Kind of a null statement you made....

Come on man. You should know that as SOT increases, standby time decreases, and vice versa. 8-10 hours SOT is if I stretch it over two days. If I try to use it up in a day I could get 12 hours SOT minimum, but likely more.

True. In 12 hrs I lost 31% of battery with 3:45 SOT. so, we are looking at around 1.5 hrs of SOT per 10% battery used (in short period). I can totally see 12 hrs SOT in a 16 hr day

You don't get it.. and thats ok. I didn't say 4hrs of screen on time and then my phones is dead. Anyway, what can one possibly be doing in one day to stare at your cell phone screen for over 12hrs in one day?

You don't get it either. I'm saying the battery life like the Moto Z Play's should be the norm. I'm not trying to say that your A3 is inferior, I'm just saying its battery life is average and not wonderful like you claim it is.

I know your not saying that. But I'm saying what's sufficient? Does one really need the ability to stare at a cell phone screen 8-10hrs in one day. That's insane, put the phone down and do something else. Take the 10mins that your in the bathroom, and put it on a charger. oh wait, that's right everyone needs to take a crap with their phone. God for bid we miss something on Instagram.

The point is if you want it @ 12hrs in a day u can have it. For majority it's about being comfortable making videos, pics , streaming stuff, traveling, etc. Full 2 days of moderate use should be the standard and technology is there, so we need major OEMs to implement it.

Alright, that's a tired and un-legitimate argument. Sounds like you're trying to justify your A3's battery life. What udazavlanje said is right. Everybody's usage is different, you can't judge what sufficient battery life is based on your own usage. More battery is always better than less battery; if you could have 12 his SOT, I'm sure nobody (you included) would turn it down.

You said 4hrs of SOT is merely acceptable these days.... Says who, you? You just told me that every ones usage is different, you can't judge what sufficient battery life is based on your own usage. But you want to tell me that my opinion is not valid, but your opinion of 8-10hrs of SOT should be the norm is. I use an A3, Nexus 5X, Blackberry 9900, A5, or a 6P on any given occasion. The OP simply asked for a 4.7" screen phone, I made a recommendation of a comparable phone, which lasts for 2 days with moderate use. You needed to flair me, and my recommendation on a completely off topic phone such as the Moto Z Play. One of the largest form factor 5.5" phones. No, the A3 does not a 3500mah battery, it has a 2300mah battery. If it had the battery of the Moto Z Play I would assume the phone to last 3 maybe 4 days.

Not my intention. I just wanted to make sure the OP didn't start thinking the A3's battery life is the best he can get. He owns a Droid Turbo 2, I know because I used to have one and saw him frequently on that forum. That phone gets better battery life than the A3 and it's not a basement budget phone like the A3 so he wouldn't be as satisfied with it. True, the A3 might be as efficient as the Z Play. But its smaller battery is what it is unless you invest in a bulky Zerolemon, so it's a moot point and not worth arguing. The best battery life in a smaller phone he could get is probably the Huawei Nova, which is 5" and has a big 3020mAh battery and the same efficient 625 chipset as the Z Play.

Or you simply didn't understand that he's looking for 8-10 hours of screen time over two days on a SINGLE CHARGE. The fact that your phone gets half of that per single charge does not make it equal. smh

There are not many like you who purchase phones with screen smaller than 5".So dont dream that anyone will make phones like your choice and forget a bigger battery than 3000 mah.

I went to a 5.7 inch phone and have found that I can't go smaller now. Haha

I agree. 5.5 is tolerable for me, but I'd ideally prefer something a bit smaller. Judging by the size of the phone compared to the hand in those pictures though, it looks like a 5.5 inch screen unfortunately.

This sounds damn near perfect for Dad. Damn shame he'll never consider it because of the Moto issues my twin and I have faced.

I had my Moto X 2013 replaces three times (last time they upgraded to the 2014), and twin's Moto G 2015 has been replaced 2-3 times and kept glitching, so she bought a Nexus 6P last week.

I have a friend with a Moto G that's barely 2 years old and he's having nothing but problems with it. I'm going to steer clear of these phones that's for sure

lol, I wish people who like to sob about phones copying other phones would make up their mind. Does it look like an HTC or a Samsung? Looks good, I wish other companies would take battery life as seriously on their flagships as Lenovo seems to be taking it on their mid-tier phones.

DAT BATTERY. DAT BATTERY. DAT BATTERY Oh, was that enough? DAT BATTERY.

Snapdragon 625 and a 5100Mah battery. Woah. Two day battery life right there.

Lol 2day u can have w Z Play (unless u were sarcastic :)) easy. Now it's at 6hrs SOT , 35hrs stand by and 35% left. So basically 2 day 2 night phone

5100 mAh battery with a 625 chip and 1080p display? Wow, this thing might last you a week without charging!

Is this coming to the US?

Doubt it. No Good phones with big batteries ever come to the US. It makes no sense but that's how it is. In the US everything is always thinner, lighter, and faster. Even though it would seem there is a large user base that would love a big battery.

There is less and less reason to have the newest high end phone with stuff like this out there.

Sure there is. It's Motorola, so you can count on the fact that this phone won't get an update and the camera will suck. Former Moto X and G owner here.

Won't get an update? It's confirmed that the Z Line will get updated to N Got lastest android security patch also for me z play, what you're talking about?

Congrats on your one update. I hope you enjoy it.

2015 Moto G didn't get an update after a year and it's the exact same chipset as the G Play in 2016, which is getting it. The E didn't get an update months after it was released. Also, the Z line is the top of the line, high end phone. My response was about not needing to buy the top of the line anymore. This M probably won't get Android O.

From this article " It is possible we may see the same 16MP camera from the Moto G4 Plus (which was excellent) on the Moto M"

i can live without the updates. But I never have figured out why Moto's cameras suck so bad. They can buy off the shelf from Sony and other manufacturers but it appears Moto is hell bent on reinventing the camera when review after review rate just about all Moto cameras poorly. And the two things folks want the most are 1) Battery Life and 2) Camera. I don't understand it....

Yeah not have to worry about your battery and batterylife is the feature of the year. Z Play and now this, wow.

seems like they would add the Mod options to other phones, not just the Z series also, techdroider lists the specs: http://www.techdroider.com/2016/10/Motorola-moto-m-official-specs.html claims a 3000 mah battery

Not sure how 5.5" has become the norm as they're very uncomfortable for me. 4.5"-4.7" is my sweet spot but will go up to 5", depending on the rest of the construction.

I thought 2-3 days batterylife of my Z play is enough but 1 week or so sounds awesome.

No chance that phone makes it to the US.

Why? You would not be forced to buy it.

Sorry, I think I misunderstood you, I thought you meant you hoped it wouldn't be coming to the US.

Weird I was just comparing the Moto Z Play to the Moto G4+. They're pretty similar. M sounds a lot like the Z play minus the mods. Good chance this will be my next phone.

Fingerprint Scanner on the back? You have to pick up your phone from the table to unlock it. Back buttons are great (LG) , but the Fingerprint sensor on front is better. Especially with moto devices (long press fingerprint sensor 2sec to lock phone)

just went from Samsung S7 Edge to the LG V20, i simply could not get used to the FPS on the back. ended up going back to Samsung

Totally disagree. I have a 5X for personal use and an iPhone 6S for work. I hate the front fingerprint button because I have to shift my grip when I pick up the phone, whereas my 5X is unlocked before I've even pulled it out of my pocket. And with ambient display I rarely run into a scenario where I have to unlock my 5X while it's sitting on the table/desk. But to each their own.

Another model to not keep up to date? It feels like they are reverting back to having way too many phones.

I'd totally buy this. All the good points of the moto z (apparently) but with better battery and metal design (which I prefer).

Same chip as the moto z play, and a bigger battery. So...more expensive than the Z play?

The article pointed to possibly lower price then the Z so so you never know

In for one. I was expecting something like this or similar to the Vibe P1. Yayyy.

As always, ill be keeping a close eye on this :) The Snapdragon 625 is quite a capable processor.

1 year after release it won't be updated...thanks Lenovo for destroying Motorola....

Would this phone work on Verizon?

That battery is B.E.A.U.T.I.F.U.L.

US Market Specifically (since this has a Snapdragon not a MediaTek) - Moto G4 Plus @ $250/$300 (16GB/64GB) and Moto Z Play ($400 Verizon/$450 GSM Unlocked). This Moto M needs to be $350 only.

Seems like mid-range overkill, what with the Moto X that is rumored to be updated and the Moto Z Play? I'm a Motorola fan, love my Moto X Pure Edition, it's just about perfect...if it could just lose a few grams and gain a bit more battery life. Can't imagine a phone without the Moto Display feature but I won't spend more than around $400.00 on a phone, so figuring on a Moto Z Play or updated Moto X if they go that way. Maybe the M will replace the X? If so, why a letter change? But, I'm still on May 2016 security patch, Motorola has dropped way behind on updates, they need to up their game there.

That's at least a 3 day battery l life Wow. Looks a great buy for mid range.

I really hope Moto continues to make these phones compatible with Verizon.

1-----> Screen is 5.5. FullHD
2-----> Battery is 3000mAh not 5k
3------> It will not come to US .,,,love yur IPhone
4------> Screen is Gorilla Glass 3 not 4
5-------> It will come with MediaTek only

1080P and 3000 mAh aren't cons for this phone.

I am using Moto G3 and happy with phone except with camera. (both) Camera quality is very poor . will motorola release any update? Also feel sad G3 not included in Nougat updation. I bought Motorola phone with expectation of updates. Hope motorola will do something in this regard.

Am I the only one who is bored of Motorola phones' design?

Finger print scanner at the back, definitely it's a catch for me
Android Central Newsletter
Get the best of Android Central in in your inbox, every day!
Thank you for signing up to Android Central. You will receive a verification email shortly.
There was a problem. Please refresh the page and try again.