Mophie's Juice Pack for the Pixel XL adds Qi wireless charging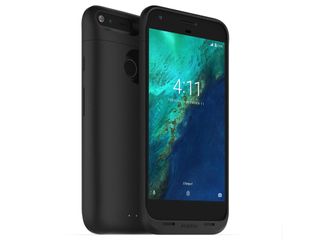 Mophie has concocted a clever solution for those of you who may adore your Pixel XL smartphones, but have been secretly ruing the day you abandoned your wireless charging privileges. The newly released Juice Pack case for the Pixel XL not only tacks on an additional 2950mAh battery, but it also adds Qi wireless charging capabilities.
The Juice Pack offers protective covering and up to 50 hours of additional talk time, claims Mophie. You can charge both the battery pack and the Pixel XL's internal battery via a Qi wireless charging pad, though Mophie also mentions compatibility with "other wireless systems." If you need even faster charging, you can plug in a USB Type-C cable instead and Juice Pack will prioritize re-juicing the Pixel XL first.
Perhaps the only drawback of the Juice Pack is that it tacks on an additional 3.8 ounces to your current load, making the Pixel XL an even bigger device. But if you need the extra energy and like the idea of tapping to charge, the Mophie Juice Pack for the Pixel XL sells for nearly $100.
Florence Ion was formerly an editor and columnist at Android Central. She writes about Android-powered devices of all types and explores their usefulness in her everyday life. You can follow her on Twitter or watch her Tuesday nights on All About Android.
No love for the baby Pixel?

People who paid the outrageous price for the Pixel XL are more likely to shell out $100 for this feature that should have been in the phone in the first place.

I tweeted at them asking and they were prompt with a NO reply. Jerks. There is a zerolemon pixel (and pixel XL) listed on amazon. Those wont have QI wireless charging, but I am ok with that. They are up for preorder and are not yet released.

Adds a feature that the flagship should have already had..

Ehhhh it is a Google phone, no way it was going to have wireless charging. Thought maybe they will about face when Apple includes it.

My Nexus 4 did... Pretty sure the 5 and 6 both did as well. It's only recently they've abandoned it.

It was a mostly metal phone, though. The glass window isn't a large enough surface area for wireless charging.

So, they were forced to make the back metal, and therefore had no choice but to omit wireless charging? Interesting theory.

Uh, no. They wanted a metal back, but since it's metal, it can't do wireless charging.

Generally have no problem getting through a day of typical use for me (4 - 5 SoT) but this might be nice for camping and hiking.

My friend just got a Pixel XL, 1 day 20 hours battery life off his first full charge, he's impressed and happy.

Did he not use it for 1 day and 20 hours?

His regular phone use, it would be pathetic if it only lasted that long on stand by. Got it Friday, charged it Saturday night, charged it again Monday afternoon.

.......I was being sarcastic.......

It's about time this was made. And what about the regular Pixel? And the battery life is fine, we just need wireless

Man I would like this for the regular pixel. These third party accessory makers suck sometimes. How do you cover one but not the other.

I know right? Especially since Mophie makes juice packs for both the Galaxy S8 & S8 Plus, and both the iPhone 7 & 7 Plus.

And it looks lien the Google Pixel will become a bigger phone coz of this addition..

Every case makes a phone bigger, DUH! There's no addon that would make it smaller. I'm surprised I even need to say that.
Android Central Newsletter
Get the best of Android Central in in your inbox, every day!
Thank you for signing up to Android Central. You will receive a verification email shortly.
There was a problem. Please refresh the page and try again.