Microsoft's Surface Laptop Go isn't the great Chromebook competitor it hopes to be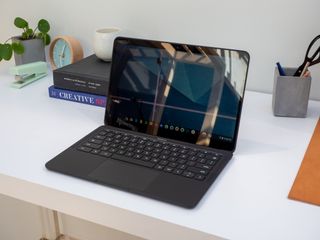 (Image credit: Android Central)
I really like seeing what Microsoft is doing with the new Surface Laptop Go. Probably because it's following the same path Google is when it comes to high-end Chromebooks by giving you a lot of value for the money. Not everyone needs a $1,000 or more laptop just like not everyone needs the best Android phone priced around the same.
I just think I'll like it a little more when Microsoft realizes that the ecosystem that can power a laptop like this needs to be in place, too.
I'm not talking as a consumer who is looking to buy a new laptop for my own use. If that was the case, I could still go with a new Surface Laptop Go (silly name, Microsoft) after I upgraded to the $700 version because you do not want any laptop that runs any flavor of Windows on a 64GB eMMC storage device. You just don't. Windows was designed to run with more breathing room and more robust storage and you'll wish you had it. But the $700 model, which comes with more RAM and a proper SSD, would force me to look at the competition, and there's a good chance I'd find something else that tickles my fancy.
Where the base model $550 Surface Laptop Go really fits, though, is in the classroom. And that's where Microsoft needs to put itself. But that's the area Chromebooks currently dominate, and the narrative isn't going to change anytime soon.
It's crazy to say that any large organization is better served through Google's G Suite than it is through Microsoft's years of progress in infrastructure, but when it comes to the classroom it's the truth. It's not because Microsoft doesn't have the correct tool for every task — it does. It's not because Microsoft doesn't offer the right software for a large group of people to work independently or in collaboration — it does. It's because administering a group of students with Chromebooks is super easy through G Suite and the basic tools offered are perfect for working in the classroom.
Yes, I'm saying exactly what it sounds like I'm saying: Google's "dumbed-down" version of collaborative office software combined with its simple but easy-to-administer backend for Chromebooks works better because it's "dumbed-down" and easy. If I ran a Fortune 500 company and wanted to buy 2,500 new laptops for all my corporate drones on the fifth floor, I'd jump all over the first rep who could sell me these new Surface Laptops. (Then probably end up buying 2,500 pieces from Dell instead because I'd save a bunch of money.)
But if I were stuck in the tough position of buying a bunch of laptops for K-12 students, I'd do things differently. I'd look at the bare minimum needed for kids to do schoolwork and make sure the barebones IT staff my district has can get those computers up, running, and in the hands of students. I hate to say it, but that takes these laptops and every laptop that's not a Chromebook out of play.
Apple is trying to get back into the classroom through the iPad. It's sort of working, especially in high schools or specialty technical schools. Microsoft has an easier task ahead of it, and seeing something like the new Surface Laptop Go with a silly name, weak hardware, and a reasonable price tag tells me it knows what it needs to do and is going to start doing it.
Once Microsoft figures out a simple admin console where a math teacher can fix issues with a student's laptop himself/herself instead of calling the IT department, it's totally game on.
Until then, something like this Surface is just a decent product in need of a good home. If you're looking for the best Windows laptop, you can probably buy the $700 version with 128GB of storage and 8GB of RAM and have something you can use for the next five years. Just don't get sucked into buying the base model because you'll regret it.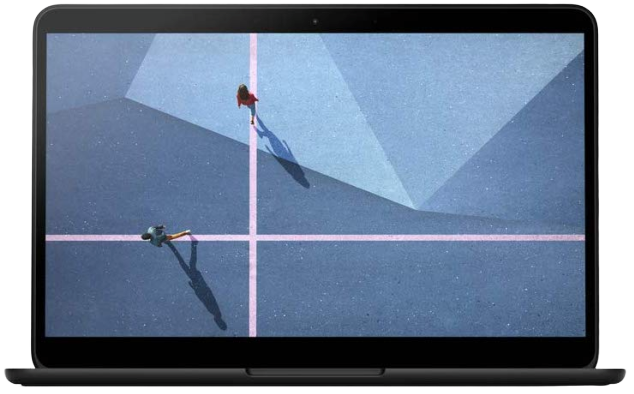 At a glance
(opens in new tab)

The Pixelbook Go is a stupendous all-round laptop that doesn't pretend to be anything different. It can't fold to become a tablet, but it can last nearly 10 hours on a charge and make typing feel fun again. This is the premium Chromebook to buy right now.
Senior Editor — Google Ecosystem
Jerry is an amateur woodworker and struggling shade tree mechanic. There's nothing he can't take apart, but many things he can't reassemble. You'll find him writing and speaking his loud opinion on Android Central and occasionally on Twitter.
"But that's the area Chromebooks currently dominate, and the narrative isn't going to change anytime soon." This is extremely US-centric. In most parts of the planet, Windows largely dominates the education market. I get the point of the article though.

'But that's the area Chromebooks currently dominate' In the US; nowhere else... In fact, Android devices are practically banned in public institutions many places due to security reasons.

That should be a wake up call to the U.S.A. unfortunately, it isn't.

In my largish UK organisation (13k employees) we use windows PCs (work supplied) and Android phones (work supplied). However these are BlackBerry devices as only BlackBerry can meet the security level we need. Not Samsung, not Google and definitely not Apple.

Ok if it isn't competitive then why do you even bother creating whole article about it....

I love you call the Surface Laptop Go a silly name and then have an ad for the Pixel book GO at the end of the article. Derp!

Chromebooks might dominate the education sector in some areas but the Pixelbook Go doesn't. I don't think schools are going to spend money on a premium Chromebook just so kids can abuse it. But if we compare the devices on their own, it's no contest which is the better device... Pixelbook Go $649 - Intel m3 / 8GB RAM / 64GB SSD / 13" 16:9 Display
Surface Laptop Go $699 - Intel i5 (10th gen) / 8GB RAM / 128GB SSD / 12" 3:2 Display For $50, who wouldn't prefer a device with a much better CPU, double the storage and a better screen ratio? Keep in mind that to get similar specs on a Pixelbook Go you have to pay $849 and that's for a 8th gen Intel i5.

For extra $50 I'd definitelly get the "real" laptop which is Surface Laptop Go. I love the simplicity of Chromebooks but you end up spending too much time with workarounds for tasks that are readily available on Windows and Mac. One example is Zoom desktop which only works as a plugin and has many limitations. Yes, you can install the Linux .deb version but it doesn't support webcams yet. For low-end, Chromebooks are hands-down the best machines especially those cheap ones with IPS screen.

It's OK because Chromebooks have never been the great competitor to Windows that it hoped to be either.

I made 10k a month doing this and she convinced me to try. The potential with this is endless. Here's what I've been doing,
Please visit this site for full details..➤➤https://www.works79.com

Of course Surface Laptop Go isn't a Chromebook competitor. It isn't a Chromebook. Windows laptops don't compete with Chromebooks because that's not their strength.
Android Central Newsletter
Thank you for signing up to Android Central. You will receive a verification email shortly.
There was a problem. Please refresh the page and try again.