Make your home screen look good, even without an app drawer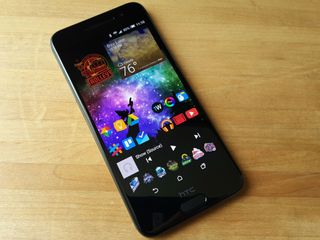 There's been a lot of talk about app drawers of late, particularly with more phones not using them by default. But what if you like not having to go to another screen to find all your apps? What if you don't want to hassle with learning a new launcher? What if you like the themes or features of the one you have, except for not having an app drawer?
Here's how to handle having all your apps on your home screen.
Folders are your friend
When you don't have an app drawer one thing becomes very apparent: all those app icons take up a lot of space. The first thing you can do to start clearing up the clutter is to put some of those apps into folders. In most launchers, dragging one app over another and dropping it adds them both to a new folder. You can drag all the games into a folder, all your work-related apps in another, and a folder for all the apps that came with your phone… the possibilities are endless.
This may seem like you're swapping one folder for another — and you're not entirely wrong — but having folders pop up on your home screen rather than going to an entirely different page can save a little time. Also, by using individual folders for categories or personal grouping of apps, there's less to sort though.
Read more: Folders and better ways to use them
Managing home screen pages
You don't need 10 pages for your apps, especially after you stick a lot of them into a few folders. If your launcher doesn't delete empty pages automatically, pinching in often brings up the edit screen that will allow you to delete them. Press and hold your empty home-screen and drag it to the trash can.
You also don't want five pages with a single row of app shortcuts on it. Unless you like scrolling and scrolling and scrolling to find your apps, that is. If you want your primary home screen to look a little neater than the pages hosting the majority of your apps, you can also add a primary page for widgets and more important apps, then pinch in and make that the primary screen (usually denoted by a home or star icon at the top of the that page).
Use search instead of hunting for apps
Because our phones are amazing and all have search engines on them, we have another way to find apps besides digging through pages of icons for them: Google search. By default, Google Now can search through your phone for apps and present them in your search results, but if you somehow turned it off, you can access it in the Google app by selecting Settings in the slide-out menu, and making sure Apps are checked in Phone search.
You can now tap the search bar — or the microphone that's likely on that search bar — and search for your app by name. You can also use Google Now on Tap to search and open another app without going back to the home screen at all.
The LG G5 — the latest to forgo a traditional app drawer by default — actually recommends this method during setup.
Hide space-wasting apps
I mentioned having a folder for all the apps that came with your phone before. Some manufacturers even start off their apps in pre-made folders to save you the trouble of rounding them up. And while you can hide them in a folder, you do have other options for hiding the apps you're never going to use.
Some launchers allow you to hide an app from the app list when you press-and-hold an app as if you were going to move it around on your screen. But even if your launcher does not, we can take another step to hide it: disabling the app completely.
This is for apps you're not going to use, apps that you do not want to look at, apps you do not need to let run in the background on your device. So we can go into Settings and down to Applications. Here we have a giant list of every single app that's running on our phone. We do not want to touch any of the ones here we do not recognize, as system apps that don't have icons on our home screen are here too and disabling them can affect performance.
When you find the app that you don't want to waste space and resources on your phone, you can tap it to bring up the app's information. This will display how much memory and space the app is taking up, and it will also give you the option to disable it if you can't un-install it. There will be a warning pop-up when you tap disable telling you what we said in the last paragraph about how disabling an app can cause other apps to not work properly. Once you tap through that, the app will be disabled, and when you return to the launcher, its icon will be gone.
It's worth noting that some system apps are not able to be disabled, and for those, if you can't hide them in your launcher's setting, you'll still have to stick them in a folder to get them out of the way. And if you disable an app that actually was being used in some important way, like the myAT&T app, you can always go back to the Applications list in Settings to re-enable it.
Give yourself more space with a bigger grid
Once upon a time, the launchers that came with our phones wouldn't let us change the home screen grid size, meaning we were limited in how much we could fit on one page. We're still limited in a lot of launchers, but some are getting better about offering a large grid option. If it is an option for you, changing your grid size means instead of fitting 16 apps on a page, you could fit 20, or 25. As you can see, that can make quite a difference when having to find space on your home screen for all your apps.
Read more: how to change the grid size on Samsung devices
When all else fails...
If you still don't like the way your home screens look with all your apps on them, even with the dreck hidden and your apps organized into folders, you have a few options, and they're called replacement launchers. However, there are several kinds of launchers that you could switch to for different takes on app organization.
Action Launcher has a regular app drawer, but the app drawer its users use most often is the Quickdrawer, which slides in from the left of the screen.
Aviate supplants your traditional app drawer with a page of customizable categorized folders between your home screen and the full app drawer.
Z Launcher Beta takes the search concept we talked about earlier and takes it to the next level. Instead of having to tap on a search widget or use 'OK Google', you doodle a letter on the screen to search for apps with that letter. Swipe and M for Maps and Google Play Music.
Or when all else fails, you can download a more traditional launcher like Google Now Launcher or Nova Launcher with a traditional app drawer. You may lose some of the bells and whistles from your phone's built-in launcher but there are launchers out there that give you more than enough features to make up for it!
Android Central Newsletter
Get instant access to breaking news, the hottest reviews, great deals and helpful tips
Ara Wagoner was a staff writer at Android Central. She themes phones and pokes YouTube Music with a stick. When she's not writing about cases, Chromebooks, or customization, she's wandering around Walt Disney World. If you see her without headphones, RUN. You can follow her on Twitter at @arawagco.
Ara
Thanks for the tips. I'll try them out! Posted via the Android Central App

Yes me too! Posted via the Samsung Galaxy Note 5

App drawer for life! Posted via the Android Central App

Search, one of my favorite features on both iOS and Android. Especially now that Samsung doesn't automatically sort the apps alphabetically. It's so much easier to type a few characters than to hunt for an app I only use occasionally.

Samsung doesn't alphabetize the apps? Note 4 does. I guess newer phones Posted via the Android Central App

Searching is the way to go, love it. Posted via the Android Central App

I still prefer my app drawer. I want a minimalistic and clean look for my home-screens and all my apps tucked away neatly in an (organized) app tray. But Action 3's QuickDrawer is a good substitute.

Me, too, but I accept that there are people who can get overwhelmed by them. Yeah, I figure if you're gonna get rid of the app drawer a least keep everything in the Quickdrawer so it's not cluttering up the screen.

Hell no, still looks like crap. Need my app drawer unless I have no choice. Posted via Nexus 6 running on any data plan I want

I personally love having an App drawer. It's one feature I wish Apple had so you were not forced to have all your App icons all over your home-screen. You can pick and choose all your favorites, yet still have a place to go when you need a long, lost app.

+1. I wasn't aware that some androids didn't have an app drawer. I figured it was a standard thing for android. I couldn't imagine not having one and having apps everywhere on the home screen. Android has widgets and bc of that the app drawer makes total sense to have Posted via the Android Central App

Do like everyone else and have a folder with unused icons, lol. Maybe if phones manufacturers, including Google, didn't have so much bloat it wouldn't be so bad but until I can uninstall or hide every single app installed on my phone I want an app drawer.

Lol. Takes longer to pull up now on tap and search for an app then it does tapping the app drawer, tapping my bills folder, selecting capital one app.

Exactly Posted via Techmology

Folders in the app drawer are even better.. Nova ftw Posted via Techmology

I never used folders up until about 6 months ago. Now I have 4 of them on the very bottom in the tray or whatever it's called. In each folder I have apps categorized. This setup works extremely well for me. It feels more like a computer than a phone Posted via the Android Central App

My tray is five folders, one phone shortcut and one app drawer shortcut. It works well for me, and leaves more space for widgets above. Posted via the Android Central App

Lol why is the app drawer causing such a fuss. Include it in every android and be done with it Posted via the Android Central App

Because apparently Apple was right about the UI and now people are butthurt over the fact Google may be about to confirm that.

Cluttered screens are never right. No logical reason to have an app you use once in a while staring back at you fifty times a day. I carry both phones: having an app drawer is better. Posted via the Android Central App

I've gone for Nova dock with 3 pages that can have 5 icons/folders on each page, in each folder maybe 8-12 apps that's more apps than I'll ever install...
so i never use my app drawer and i never have icons covering my homescreen.. Posted via the Android Central App

I've had all my apps categorized into folders in my app drawer for years. I find it easier than scrolling through the full list. Because of this, talk about losing the app drawer has never really concerned me. If I had to, I could designate a single home screen to contain all my folders and accomplish the same thing I have now - and gain an extra slot on the dock row in the process.

Even with app drawer or not, I always use search (spotlight search on iPhone and App search on Android). Both are just one swipe down gesture from any screen. (In android have set up gestures in Nova launcher). This always works best for me, so don't actually care about app drawer. In fact i'm ok to not have app drawer.

I like a very minimalistic view on my homepage (12 commonly used apps only with 70% icon size and no label in a 7 column grid) and on my app drawer I have all apps on one page. At times I have had 11 rows with 8 columns. That's even more space than I need as I currently only have 11 rows with five columns (icons at 70% size) to accommodate all my apps because the ones I don't use at all I just hide through advanced settings. Simple to find everything and pleasing to the eye. I also don't use labels because they just make it look cluttered. All possible thru Nova Launcher. Could not live without it. Posted from my S7e/Note 4/iPad Pro

Such a big grid... You don't fat finger those at all? Color me impressed. I'm a tabs and folders girl when it comes to my app drawer. Posted via the Android Central App

No because I make more space by eliminating vertical and horizontal padding and making the icons smaller. Here's a couple of screen shots of my desktop and app drawer. http://s30.postimg.org/64yfrso0h/Screenshot_20160329_180309.png http://s12.postimg.org/ugotztk6l/Screenshot_20160329_180057.png Posted from my S7e/Note 4/iPad Pro

How about this https://www.facebook.com/photo.php?fbid=573577619488001&set=a.5067722228...

I use swipe up to get into my app drawer. No icon on the homescreen for the app drawer so I'm not gaining a slot. I'd rather just not have the clutter of crap all over my home screens, especially folders of apps I don't use everyday.

Funny... it was when i tried the Iphone that i started using folders... hated having to scroll thru all the pages of apps... now that i'm back on android i only have one or two homescreens and folders for all my apps... just seems easier...

4 and 6 are the only two I'd consider good for myself. Everything else is too cluttered or too time consuming. Also, I only keep 3 homescreens ( Main with Clock/Weather widget, my 10 most used apps in the icon pack of my choice and crap 4x1 Google Music widget(miss the full-screen widget), a screen for Wunderlist and Keep widgets.

We have third party widgets that work well with Google Play Music. Jack's Music Widget has a widget that will go as big or small as you want, and the Material Music Komponent for KWGT has some lovely large widgets that you can color customize for your home screen theme. Posted via the Android Central App

Where can I get that wallpaper that's in the header?

I got it from the Disney Parks Blog. It's pretty, isn't it? Posted via the Android Central App

I use Google Launcher and a single home screen with folders to organize my most used apps. Less used apps remain in the app drawer. If I had no app drawer then I'd put all my less used apps into one folder. I've tried alternative arrangements and launchers but always return to this setup. II don't bother with widgets and don't like scrolling through multiple screens. My solution would not work for others, but that's fine. The wonderful variety of home screen arrangements, launchers, backgrounds etc embody of the Android ethos "Be Together but not the Same."

Well nobody really believes the app drawer is going away but you, the media, keeps on bringing it up and talking about it. Posted via the Android Central App

This isn't just for the G5, there are several phones especially in Asian markets that have never had app drawers. This is for them, and for anyone who wants more ideas for how to organize a busy home screen. Posted via the Android Central App

Is there a 3rd party launcher that doesn't have an app drawer?

There are a few with non-traditional app drawers. In Total Launcher, your app drawer is just a widget on the home screen. Posted via the Android Central App

Geez. That looks awful. Posted via Android Central App

Without an app drawer, folders are more like an ugly acquaintance I'm forced to work with, not a friend.

Depends on how customizable those folders are. Posted via the Android Central App

I really prefer an app drawer. I like my home screens to be relatively clean. I think the app drawer is one of Android's best features. Interesting organizational ideas, though.

I have more than 160 apps installed, all of them on 4 screens, organized using 14 folders. Also I'm using 7 widgets. I rarely use the app drawer. Works really fast for me. Posted via the Android Central App
Android Central Newsletter
Get instant access to breaking news, the hottest reviews, great deals and helpful tips
Thank you for signing up to Android Central. You will receive a verification email shortly.
There was a problem. Please refresh the page and try again.