How to make your Galaxy S9's software look like a Pixel with a simple theme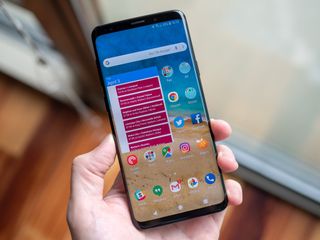 You may want all of the hardware, specs and power that come with a Galaxy S9 or S9+, but perhaps you aren't the biggest fan of how the Samsung Experience software looks. If you prefer the Google Pixel look instead, there is actually something you can do to bring your Samsung closer to that style. And it only takes a few minutes.
Big time fans of Android customization know that Samsung has a built-in system-level theme engine that lets third-party companies and individuals design complete themes for its phones. And these themes go way beyond just changing the launcher — they can change the colors across the entire interface, tweak the lock screen, change the navigation buttons, swap out icons for all of the system apps and even change coloring for the system apps like Phone, Clock and Messages.
How to theme and customize your Galaxy S9
The best Pixel-style theme I've found yet is one called "Pixelize" by developer Cameron Bunch (opens in new tab). It attempts to replicate the Pixel interface through changes in the launcher, notification shade, settings, navigation bar and a full set of Google icons for stock apps. On the whole, it does a great job — the launcher and navigation bar in particular are great, and of course the Google icons really add to the authenticity. The same developer also makes a "dark" version of the Pixel theme (opens in new tab) as well.
If you want to put this "Pixel" theme on your own Galaxy S9, the process is dead simple. Just click this link to the theme (opens in new tab) when reading this on your phone, which will launch Samsung Themes to its page. (If you're not on your phone, copy the link from your computer or search for "Pixelize" in the Themes store.) Once open, all you have to do is tap once to download and again to apply the theme, and a few seconds later your entire phone's theme will be changed.
This theme includes an icon pack, changing the system icons where possible, but if you want to swap it out all you have to do is go back to the Samsung Themes home page, tap on "Icons" down at the bottom and restore the stock ones. The same steps, but in the "Themes" tab, will let you revert your entire phone back to the default Samsung theme.
Now, this theme (or any other) won't make your Galaxy S9 look exactly like a Pixel — there are inherent limitations to the theme engine that make that impossible. The notification shade can change icon styles and colors, but it's still the same layout and configuration as before. Same goes for the settings panes, though a color tweak is mostly what's needed to make it "Pixel" like anyway. The multitasking view is the same, albeit with a different top bar color. And most annoyingly of all, themes cannot theme the actual notifications themselves nor the bottom "notification settings / clear all" bar. This really makes dark themes look incomplete, but it's a reality of theming on Samsung phones with its built-in engine.
Even still, switching themes feels like a win. Though this is just a basic change to colors and a few design elements, I think it has a far cleaner feeling to it than Samsung's default interface. And because it's a deep system-level theme, there are very few places where it doesn't feel "right" as you use the phone. Overall, it's great, and maybe it will help fight your nagging desire to switch to a Pixel phone for its software design.
Andrew was an Executive Editor, U.S. at Android Central between 2012 and 2020.
Where did you find the pixel navigation buttons and how did you get them to work on the S9?

It comes with the theme. A lot of themes from the theme store change the style of the nav buttons. The dark version is better IMO..

Sweet if it comes with the theme I'll try it out...

On XDA there's a super easy tutorial on how to change your navigation bar style to pixel style. It's only a couple steps, I just tested it out and it worked great.

Hate to break it to you but no one who bought an s9 and plus wishes they would've bought a pixel instead. Get real!

Ha this is probably true, since they had 6 months to do so before the S9 came out.

Comments on articles and in our forums beg to differ.

The trick is getting it to RUN like a Pixel... ;)

Easy, turn on power save mode.

Yeah. This theme looks dry and ugly. Urrgg. Like I bought my phone in 2013

Gotta love those stock android fan boys.

I have the Pixel and I agree that this attempt looks ugly. I like the simplified look of the Pixel launcher but this is just a weird mix.

You can, of course, install the Pixel launcher here too.

Combining this theme with pixelized icon and phaponb rootless pixel laucher makes my s8 looks like a pixel device almost in every way. Love it.

The dark version is better.

For 99 cents, get "DePixelizeD". It's even darker than PixelizeD.

Ditch the experience launcher and download either Shubby's 'Ruthless Pixel Launcher' if you want per-app icon theming and friendly swift developer support, or Paphonb's 'Rootless Pixel Launcher' if you want the option to use the P-style 'double bubble' search and a stable experience. Both complete 'the look' of this theme and are oceans better than the experience launcher. Samsung's software has improved, if not become downright pleasant in most places. . . . except for the launcher.

Don't listen to the haters this theme is awesome and just what I was looking for thank you. The dark version is awesome

Nice to have the choice.
Now any chance of Touchwiz on a Pixel?

One sentence was serious.
One was a joke.
Not saying which.

I unfortunately really hate to see icons that are shaped differently on my phone so I could never make my phone look Google style icon setup. My icons must be all round or square or combo of those.

You can still go and change just the icons ..

I use a launcher called Lean Launcher. It's very pixel like that a allows a dark theme without having to use a dark wallpaper to change it. Nice and clean.

Because you gotta fake it till you make it.

Nice way to copy Droid Life who posted (w/ video) same idea yesterday...coincidence? Not likely. AC you used to be better than this

Is it legal to replicate a software design like that?

Who would want to abuse his S9 in such a machiavellian fashion?

Now, how about "how to make Pixel look like Galaxy S9"?

Just downloade a dozen apps you don't want...

That would be so silly. As silly as this article.

You got time to download them 56 Non-Security updates to fix(cover up) the pixel issues?
Android Central Newsletter
Thank you for signing up to Android Central. You will receive a verification email shortly.
There was a problem. Please refresh the page and try again.