Make your car safer and smarter for $30 or less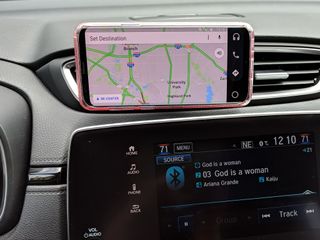 Android Auto offers a simplified UI in the car with Google Assistant voice commands that let you control the whole thing hands-free. Even better, non-essential notifications are quashed while in Android Auto's Car Mode, so new emails from work or new Snaps from your friends won't tempt you to try turning Android Auto off.
And since Android Auto can run right independently of a car stereo, you're already at least a third of the way to a safer driving experience.
Dependable, affordable car mounts
There are car mounts available for every style and price point, but the easiest car mounts on the market right now are magnetic car mounts. You stick a slightly magnetized metal plate to the back of your phone — or slip one between your phone and its case — and then just hold your phone close to the mount when you get in the car. Magnetism will pull the phone to the mount and keep it there.
These mounts aren't as bulky as cradle mounts, are cheaper to buy, and the magnets will hold on pretty well so long as you're not going over some backcountry dirt roads. Magnetic mounts come in all shapes and styles, but air vent mounts are compact, easily transferable, and cost less than a pizza.
Spigen Kuel Air Vent Magnetic Car Mount 2-Pack
As easy to securely stick onto an air vent as it is to transfer, this mount is perfect for multi-car families that switch vehicles frequently. Spigen's $10 2-Pack comes with 2 Kuel mounts and 4 magnetic plates.
Nite Ize Steelie
Hitting potholes like a whack-a-mole champion? No worries! The Steelie's concave magnet dot is super strong and moves around the spherical magnet mount to keep it from falling off. This mount is more expensive, but if you live in an area with bad roads, it's well worth the upgrade.
If neither of these mounts strike your fancy, there's an entire world of car mounts out there for you to choose from.
See some of our other favorite car mounts
Bluetooth adapters
You can use Android Auto without a car stereo, but unless the speaker on your phone is super loud, you'll probably want to pipe the audio from your phone into your car's radio. Bluetooth adapters also allow us to take advantage of Android Auto's Autolaunch feature and start Android Auto up every time your phone connects to your car's Bluetooth adapter.
There are several styles of Bluetooth Adapters out there, but we're going to touch on two today: an AUX adapter and an FM adapter.
Soundbot SB360 Bluetooth 4.0 Car Kit
This Bluetooth adapter plugs into the AUX port on your car's stereo and an included USB charger. The other end of the adapter is a magnetically-mountable hub that houses a microphone and call/media control buttons.
Because the adapter can be mounted with magnets, that means that you can move the adapter from car to car easily, just like the Spigen Kuel phone mount we mentioned above. You can even clip it to your shirt or seatbelt if your car is especially noisy in order to ensure the microphone — and Google Assistant — can hear and understand you.
Nulaxy In-Car Bluetooth FM Transmitter Radio Adapter Car Kit
If you don't have an AUX port on your radio, then you'll have to use an FM transmitter to get the audio from your Bluetooth in through the radio. FM transmitters are a clunkier solution, but the Nulaxy aims to make the experience as painless as possible without breaking the bank.
If neither of these options sound good to you, you can use your favorite pair of Bluetooth headphones, but you won't be able to turn on Autolaunch. You'll want to make sure that your state doesn't have any laws against wearing a headset or headphones, which AAA has a handy list for, and consider using one bud or earcup and leaving the other ear open to better hear hear road noise or any weird warning noises your car may be making.
Best Bluetooth Headsets in 2018
Setting up Android Auto Autolaunch
Once you've downloaded the Android Auto app and you've paired your phone with either the Bluetooth already available in your car or a Bluetooth adapter, you can set Android Auto to automatically launch when it connects to that specific Bluetooth device.
Open Android Auto.
Tap Get started.
Google warns you that Android Auto is going to ask for several permissions. Tap Continue.
Tap Allow for each of the 6 permissions.
Android Auto will need notification permissions to see notifications and let urgent ones through. Tap Continue.
Tap the toggle next to Android Auto**.
Tap Allow.
An Autolaunch prompt will appear as the final section of setup. Tap the checkbox next to the Bluetooth device associated with your car stereo or Bluetooth adapter.
Tap Turn on.
Ready to ride
With Autolaunch enabled, when you get into your car, simply place your phone onto the car mount and turn on your car. Your phone should automatically connect to the Bluetooth adapter when it turns on, which will in turn on Android Auto. Cutting down distractions without giving up the convenience of Google Maps or your music subscriptions like Spotify or Google Play Music, Android Auto and a good magnetic mount can help you to drive safely and smartly no matter how outdated the rest of your car's tech may be.
Read more: Setting up Android Auto so you'll actually use it
Ara Wagoner was a staff writer at Android Central. She themes phones and pokes YouTube Music with a stick. When she's not writing about cases, Chromebooks, or customization, she's wandering around Walt Disney World. If you see her without headphones, RUN. You can follow her on Twitter at @arawagco.
Has anyone had any experience in using a magnetic car mount with a phone that has wireless charging?

Yep. No issues. I removed the case when I wanted to charge my Moto droid. Won't work with magnet in the phone itself.

Ah I see. So, as I read it:
A) The magnetic charging coil in the phone isn't strong enough to mount the phone
B) The magnet that comes with a mount interferes with wireless charging Is this correct?

There are 2 in 1 magnetic wireless charging mounts like these on the market: https://smile.amazon.com/Spedal-Wireless-Magnetic-Dashboard-Qi-Enabled/dp/B075TWMXZB Take note that these kinds of chargers use a ring with a wide hole in the middle so that the metal plate doesn't interfere with the wireless charging coils.

I have android auto on my new Jeep only thing I don't like on the map the letter need to be bigger thanh

Are you recommending people use headphones while driving?? That's a terrible idea.

Not to mention illegal in a lot of states.

Which is also why they have this in the article... 'You'll want to make sure that your state doesn't have any laws against wearing a headset or headphones, which AAA has a handy list for, and consider using one bud or earcup and leaving the other ear open to better hear hear road noise or any weird warning noises your car may be making.'
Android Central Newsletter
Get the best of Android Central in in your inbox, every day!
Thank you for signing up to Android Central. You will receive a verification email shortly.
There was a problem. Please refresh the page and try again.