Three ways Android Auto drives circles around Apple CarPlay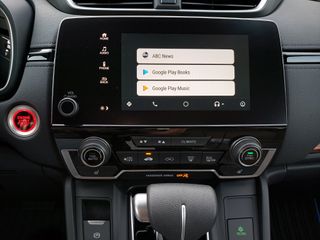 Using your phone in the car is an often awkward and often downright dangerous task. No one in their right mind should be using their phone one-handed while they drive to text, call, or open up some music. With this in mind, both Google and Apple have standardized, easy-to-use car modes for their mobile platforms, Android Auto and Apple CarPlay. Both have been around for years now, but the gap between them has been slowly widening and widening as they drive towards maturity.
And Android Auto is leaving Apple CarPlay in the dust, thanks to three performance boosts.
The one place Android beats Apple in apps
Third-party maps and apps
Android has traditionally been more welcoming of third-party apps, especially when it comes to setting them as the default for system actions and preferences. Nowhere is this more apparent and appreciated than in the car, as one of the biggest pitfalls with Apple CarPlay today is that it forces you to use Apple Maps over more popular navigation apps like Google Maps and Waze. Apple looks to finally remedy this in iOS 12, to the cheers of Apple users everywhere, but maps isn't the only app category where CarPlay is lacking over Android Auto.
When you get in the car, music isn't the only thing you might want to listen to, but Apple CarPlay is sorely lacking when it comes to media apps compatible with the service, and most of the media apps available are music subscription services. Android Auto, on the other hand, allows media apps of all kinds to work in Android Auto (opens in new tab), from podcast apps and audiobooks to radio show apps and even police scanner apps. And of course, there are dozens and dozens of music apps that support Android Auto, both streaming music subscription services and local MP3 players.
Additionally, since Android Auto strictly regulates the layout of media apps in Android Auto, no matter which app you use, they're all equally easy to use and navigate.
Assistant for the assist
Voice control reliability and flexibility
It's no secret that Google Assistant has long surpassed Siri as a voice assistant, and that dominance is just as apparent in the car as it is on the phone. Google Assistant's AI prowess allows it better recognize commands on noisy roads, and its AI better recognizes the contexts and actions within those commands so that Google can do what you actually want instead of embarrassing you in front of your whole carpool.
Google Assistant in the car can tie into Google Assistant actions for smart homes and other devices. The Broadcast command that will let you announce that you're on the way home with the pizza while you're pulling out of the parking lot, and smart home controls allow Google Assistant turn down the AC so that the fan's blowing when you walk out of the sweltering Texas heat into your apartment.
Look, ma, no car!
Android Auto has the ultimate compatibility: Running independently
While I love having a shiny, new car with a shiny, new Android Auto-compatible radio, I had been needing a car for three years already. Most people are not, nor are most people inclined to spend hundreds of dollars on a new radio when their current radio is still technically functional. That's okay, because this is where Android Auto's biggest ace in the hole shines through.
Android Auto has been able to run natively on your phone since 2016, meaning that whether you're rocking a car from 2018 or 1918, you can use Android Auto in your car so long as you've got an Android phone and a place to mount your phone in your car. Is the experience quite as seamless as using it through a car stereo with steering wheel controls? No, it's not, but you still get the larger distraction-free UI, the hands-free map/call/music controls and you can set Android Auto to launch every time your phone pairs with the Bluetooth in your car.
To use Android Auto after your initial setup, all you need to do is turn on your car, put your phone on its designated mount, and start driving.
Read more: How to set up Android Auto on your phone so you'll actually use it
Are you ready for a test drive?
While Apple could start catching up with the updates to CarPlay in iOS 12 this fall, Android Auto is still the best by far today thanks to Google Assistant and the independence of being able to run Android Auto without hooking it up to one of a few hundred compatible radios.
Android Central Newsletter
Get instant access to breaking news, the hottest reviews, great deals and helpful tips
Ara Wagoner was a staff writer at Android Central. She themes phones and pokes YouTube Music with a stick. When she's not writing about cases, Chromebooks, or customization, she's wandering around Walt Disney World. If you see her without headphones, RUN. You can follow her on Twitter at @arawagco.
Third-party maps and apps are coming for Carplay in ios 12. The other 2 are valid but not deal breakers. CarPlay is still better for people who already own an iPhone, which is the point. Car manufacturers should offer both!

Most do. At least that has been my experience building hypothetical cars online.

Indeed, most manufacturers that go to the trouble of adding one usually add both, but it took Honda three years to get Android Auto into their entire lineup, and many manufacturers still haven't added it, which is why Android Auto being able to run on its own is a dealbreaker, since you don't have to buy a new car or new radio to use it. And yes, third-party maps in iOS 12 was mentioned in the article, but we don't know whether the music/entertainment side of the app selection will see a similar expansion.

Most do. My vehicle along with any vehicle that my friends have that supports AA also supports CarPlay on the same head unit.

Well, third party app integration turned out to be a bust because siri will only default to apple maps.........which doesn't even have our house, street or subdivision. So I disagree carplay is better for someone that owns an iphone, we both do. I plan on getting a cheap android and leaving it in the truck. Carplay, with apple's walled garden, is no better than ford's Sync 3. Horrible. Worse even since apple maps is so bad here. That's not even mentioning how bad waze is on carplay compared to android auto. Apple doesn't want anyone using anything other than their maps.

Not to mention Android Auto have serious connection problems.

That is most certainly not an Android Auto problem…
Worn out cables or connectors are most likely are to blame…

Well, for some phone during the early Android Auto days it was also a driver problem on some phones like Samsungs (I remember Phil's rage over that quite vividly). Yes, cables can cause issues, in fact I had to switch out the cable I was using, but after switching to a right-angle USB-C cable. I'm using a ZUS right-angle USB-C cable so that maybe the cable won't be jostled so much when things move around inside the center console where the port is. But Apple Carplay has just as many connection issues, so that's a bit of a wash.

Oh yeah? Have a look at this thread, going on for 8 months, about the Pixel 2 and Pixel 2 XL using Google's provided cables, among others. https://productforums.google.com/forum/#!topic/android-auto/MMzfS_EbBt0;... I used to complain that my car only had Car Play, but then my wife's new car (2018 Chevy Bolt) has both and Android Auto crashes about once every 10 minutes with my Pixel 2 XL and I've tried almost 10 different cables. Now I know why my other car manufacturer said it simply wasn't reliable enough for their buyers.

I use AA with my Pixel 2 XL every single day -- every time I drive. No issues. Sorry you are having them.

Which cable are you using, if you don't mind me asking? If I haven't tried it yet...

Yes, I would like to know as well. Even though in one car it crashes a lot and in the other car it does not, using the same cable.

I have tried innumerable cables on my Pixel 2 XL. They all disconnected after about 10 mins or so. The only one that had worked is this Techmatte 5' one.
https://www.amazon.com/dp/B018Q5HOBS/ref=cm_sw_r_cp_apa_XmvuBb3AMXYNK?ta... In fact their short cable also did not work. Now, I should say that on my wife's Pixel 2, all the cables worked.

Pixel2XL is known to have a crappy USB-C port so try not to tension it by turning the phone so no pressure goes on the port. You have to be careful. Most short cables don't meet the USB-C spec. I can tell you the best cables that I have ever used have been the ones for oneplus as they have better connectors and over-speced cables as the OP charge at higher voltages. If you buy oneplus cables off the website they are extremely expensive, so I buy mine off of aliexpress. I have like 10 of them, not one has broken. Ha I bought 10 because they normal break, but these cables are downright awesome. Here is an example $3.32...Free ship https://www.aliexpress.com/item/Original-OnePlus-5-Dash-Cable-5t-3t-3-10...

Thank you. Will try that...

Same. My pixel 2 XL has connected every single time.
I had more problems with my LG G6 and even that was infrequent.
I use a 15 cm cable that I got cheaply online. No brand or anything.
It seems to me that the problem lies with the head unit rather than the phone

I initially had difficulty getting my PIxel 2XL to work with Android Auto on our Pioneer head unit. I tried multiple cables and none worked reliably. The problem ultimately turned out to be with the cable that was installed between the head unit and the USB jack in the car that came with the head unit. I purchased a USB 3.1 version of this cable and port and have had zero issues since.

Could be phone issue. If you try and open the phone while its connected I have found that it disconnects. I would also try and uninstall the android auto app and re-install it. I have a 2017 Malibu Premier and it works fine.

Or a smartphone manufacturer problem. Huawei forums are full of problems, mine included. Supposedly fixed in android Oreo, but even Huawei uk don't know when we're getting it. My now ancient nexus 5 works perfectly with all the cables I've tried.

I definitely agree with you about the cable... I had a lot of problems with my Pixel XL and a 2017 Chevrolet Malibu... I was using the new USB-A to USB-C cable that came with the phone and it would not work half the time. I figured using that cable that came with the phone with be the best but after I used another cable I purchased I have not had a problem since.

I use this everyday on my Honda CRV...works always!!

If the android auto google music app offered more than the same tired 3 playlists I might still be using it.

Uh, I can open any Google Play Music playlist in my library while I'm driving, if not though the Recent or Playlists menu than through voice commands via Google Assistant.

I used Android Auto for the first time in a rental car in Croatia. I must say, it is absolutely perfect for the rental car market. Even though I brough a vent mount with me, the car had no good place to hang the phone so I could see Google maps to navigate. The car's nav system was difficult to use. Then I realized the car had AA and it worked brilliantly. I could stick my phone anywhere in the center console and use voice control the whole time. So helpful having Google Maps on the big dash screen instead of smaller at an odd angle on my phone.

I don't rent cars very often, but yeah, I really wish that rental companies would have promote that more often. I'd pay extra to ensure my rental car has AA so that it's one less thing I have to worry about when I'm driving an unfamiliar car in an unfamiliar city.

I use both Apple Carplay and Android Auto extensively (via an iPhone 7 and Huawai P20 Pro). A few comments: "... but Apple CarPlay is sorely lacking when it comes to media apps compatible with the service, and most of the media apps available are music subscription services. Android Auto, on the other hand, allows media apps of all kinds to work in Android Auto." Carplay has plenty of podcast, radio station and audiobook apps that it supports too. Android Auto might be better in terms of pure quantity of media apps but the best ones (Audible, TuneIn, Pocket Casts, Spotify and Google Play Music etc.) are there on Carplay. Yes, Google Assistant is better than Siri so you'd expect it to work much better in the car which it does. But actually Apple Maps is surprisingly good in Carplay and I actually prefer the look of its mapping over Google Maps. Google Maps wins on live traffic updates, yes, but the gap between both has closed significantly. Two area where Carplay wins for me: (a) Ease of use and (b) Sound quality. I find the Android Auto menus fiddly to use, not good when you're driving. The large icon layout of iOS lends itself better to in-car navigation in my opinion. Simplicity is better. Sound quality for me has been vastly superior using Apple Carplay. I'm not sure whether this is a cable issue (I'm using the cables that shipped with both phones) or something else (e.g a phone setting) but I've been really disappointed with the sound quality of Android Auto, with music, podcasts and the quality of voice of Google Assistant. I hope both systems will get better and better but for the time being (yes I know this is subjective) I prefer using Apple Carplay.

Any RWD cars support Android Auto? What that car in photo, Honda?

That is my Sapphire (2018 Honda CR-V), and for a list of Android Auto cars, See the list on Android Auto's site.

Plenty of RWD cars support Android Auto. Mustang, Camaro, Corvette (for example). Audi, Cadillac, Ford, Dodge, Chrysler, Honda, Acura, Lincoln, Hyundai, Lambo and many others have done it. Toyota has not and has no plans. https://www.android.com/auto/ Go down to the bottom, click the car icon, and you can scroll manufactures. Click on the manufacture, it will tell you the vehicle that supports it and starting what year.

"Android Auto, on the other hand, allows media apps of all kinds to work in Android Auto, from podcast apps and audiobooks to radio show apps" Have you ever actually used CarPlay? It DOES have all kinds of audio apps too, including: Podcasts, Audiobooks, iHeart Radio, Spotify, Audible, Pandora, Slacker Radio, Vox, NPR One, Amazon Music, Google Play Music, Sirius XM Radio, Tidal, and others!

I know it supports some of them, I've seen them in action, but it supports fewer of them than Android Auto does.

Most people only use one app. It really doesn't matter how many more apps are available to not use.

It does if the app you use isn't supported

I wonder if I should buy one of those touchscreen units to replace my car's radio with. Currently using a Bluetooth fm transmitter. Android wear is pretty handy for directions.

I'm sure that there are just as many advantages for Carplay. So, no, it doesn't run circles around Carplay.

But you're missing the point. Articles like this are written for the emotionally insecure who need constant validation that they made the right choice--whether it's true or not.

Seeing as my current ride is a 90's Honda Civic...Android auto running independently on my phone and starting as soon as it hooks up with my Flexsmart fm modulator allows me to enjoy easily streaming music and directions while wondering about my other questionable life decisions....and that is all you can ask for...

Look at that map of Waco! When I tell folks I am from Waco, they usually ask me if I know Chip and Joanna. Nobody ever asks me if I know Ara but how much cooler would that be? The answer in both cases would be no, but the second question remains the cooler of the two.

Yeah, when PR people get my address now they're like "Oooh, I need to go to the silos!" Kill me now.... And I'm usually not that hard to spot when I venture beyond the TV station or my apartment: just look for the brunette wearing a shoulder holster at karaoke night.

Needs better voice controls.
Cant cancel navigation on Waze using voice and it's illegal to even touch a phone while driving in the UK so it's annoying

That's a bug with Waze not AA, right? Because I can cancel nav on Google Maps with voice (that said, it's usually easier to just tap the X when I'm at a stop light).

It was with both. But yeah with waze it's fixed now. I need to test Google maps. But I prefer waze for the speedo and speed limits being displayed

My new truck has an 8 inch screen and Android Auto works awesome on it.

Google is unable to get my home address correct and won't fix it after numerous submissions about it. These days, it seem Apple Maps works better. Was looking for a new house over the past two years and using Google Maps the marker was usually off, Apple Maps was dead on. Apple Maps knows my address as well. Been a huge pain and they won't fix it. Sad that they have a public service like that and won't fix what they know about.

What happens when you try to move the marker? That seems so odd. I've updated the marker location for dozens of places, all public locations with basic addresses, and they were moved with no questions asked.

I love that Android Auto runs independently, but I won't use it until they allow Waze to run. Makes no sense that it works in the head unit but not independently.

Funny you said that. This morning (after letting the AA app update last night) when I tapped the nav button it gave me a choice between Maps and Waze. I selected Waze and it FINALLY WORKS IN AA! It even remembered it as default so I don't have to choose every time I start the car. Update your apps and see where it gets you.

And here are 3 ways CarPlay takes a hot dump on Android Auto: 1. Full Browsing
2. No Parking Brake On Set Up
3. FF/RW through the interface and physical buttons (such as your steering wheel) Once iOS12 hits, it's a wrap.

Not sure what you mean by full browsing but the other 2 aren't an issue on aa

See's map-"Is that Waco??!" lol. Those lines at Magnolia Table though...

(sighs) Haven't been to Magnolia Table since it was converted from the old Elite Cafe (and my dad and I weren't impressed there). Only been to the silos once, because my friend needed a mug for his sister. But yes, Waco. It's nice for it to be known for something that didn't involve people dying.

I love AA but... Many times when sending a text, it would say "what's the message?" and I'd respond with the message, like "where are you?" for example. And then AA says "here's your message" ..."what's the message where are you?" It records its own voice prompt as part of the message. Been happening for several months to me and lots others on forums. Annoying. Otherwise it's a pretty solid app. Maps could load faster but overall, I hate driving without it.

That's weird! That's never happened to me! Has it beer fixed yet?

Compare android play to QNX technology?

Android Auto is one of the most useless and dysfunctional pieces of code ever written. Go to the Google AA message board and look at the long list of complaints and frustration.
I can't even plug my phone into the head unit without having it automatically installed and getting in the way.
I am not a big fan of Apple products but their Car Play works a lot cleaner and is more usable than AA.
AA has lots of useful features that ALMOST work.

Android Auto is still not officially supported here in Sweden, which obviously sucks. Same with Google Assistant. Meanwhile, Apple releases most stuff very quickly here in Sweden. So, sure, I can side load for example the German APK, then speak English to use Android Auto to the fullest (not quite, for example when saying Swedish names, for calling. Or when using maps to find Swedish addresses.). But how fun and practical is that...?
Compared to Apple, Google doesn't give two sh#ts about Sweden, sadly.

I hate Android auto. I feel carplay does much more
Android Central Newsletter
Get instant access to breaking news, the hottest reviews, great deals and helpful tips
Thank you for signing up to Android Central. You will receive a verification email shortly.
There was a problem. Please refresh the page and try again.