How to set up Android Auto on your phone so you'll actually use it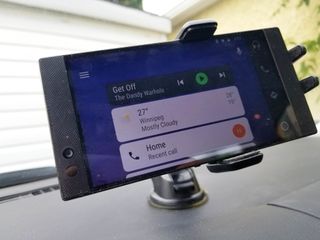 When Google first announced Android Auto, it was a fairly basic app that let you connect and display a limited amount of information from your phone to your car via a wired connection to an aftermarket in-dash display head unit. Automakers eventually supported the platform as more cars included touch displays in their interface, but unless you're driving a newer model car from 2016 on there's a solid chance the car you're driving isn't equipped to support Android Auto.
Fortunately, the Android Auto app (opens in new tab) for your phone has been vastly improved to the point where you really don't need to invest in a fancy head unit for your car. In fact, Android Auto works just as well using just your phone with a car mount and a Bluetooth FM transmitter — and you won't have to be bothered about thieves trying to steal your expensive car stereo.
Using Bluetooth makes the whole process so easy
Android Auto is such an obvious choice to use behind the wheel that the only reason not to use it is if you forget to load the app before you start driving. With your phone mounted on your dash, you're able to quickly follow directions from Google Maps, easily place hands-free calls to a recent contact, and control your music using a growing list of supporting apps (opens in new tab) that include Spotify, Google Play Music, YouTube Music, Podcast Addict, and many more.
One of the best features in the Android Auto app settings is the ability to have the app automatically launch when you connect to a specific Bluetooth device. This could be your car stereo if it supports Bluetooth or a Bluetooth FM transmitter — whatever you use in your vehicle.
Once set up, you're phone should automatically switch to Android Auto mode by simply connecting to your car Bluetooth. It's a simple feature that will make sure you get into a better habit of using Android Auto when you drive.
My car doesn't have an AUX in or Bluetooth support, so I use a GOgroove FlexSmart X2 (opens in new tab) Bluetooth FM transmitter because it fits well into the design of my console and includes a USB port for keeping my phone charged. What you choose to go with will depend on your car model, car stereo, and your price preference.
Customized responses for incoming messages
It's hard to resist checking your phone when you see that text notification while you're driving. A big reason texting and driving is so dangerous is that it's so easy to get overconfident in thinking that you're okay to take your focus off the road for a second or two. But it's those little moments of distraction that can prove to be tragic and life-changing.
Android Auto gives you a couple of ways of receiving and responding to incoming messages whether you use texts, Facebook Messenger, or WhatsApp. When a message comes in, you'll get a big push notification that lets you have Google Assistant read the message aloud with the option to respond with your voice. Alternatively, you can go into the app settings and set a custom response. By default, the reply message is, "I'm driving right now", but you can change it to whatever you want.
Google Assistant is integrated nearly perfectly
Speaking of Google Assistant, the integration into the Android Auto interface certainly deserves praise. You'll have the option of using "OK Google" to trigger the assistant along with a microphone button for triggering it with a quick tap. It's in the same place whether you're looking at navigation, your recent contacts list, or listening to music. It makes it really easy to quickly call up directions, place a call, or switch to a different playlist as needed using just my voice.
One of the few shortcomings that still need to be addressed is Google Assistant's inability to work with podcasts — you're able to pause and navigate through them using Google Assistant while they're playing, but that's it. I listen to a ton of podcasts while I drive and if one ends before another begins there's no clean way to use Google Assistant to call up another one.
Don't use your phone while you're driving!
There are a number of very valid reasons why it makes sense to use your phone's functionality while driving, but there's no reason to have your phone in your hand while you're driving. It's illegal, it's dangerous, and it's unnecessary because Google has created a pretty fantastic app in Android Auto.
Hopefully, these tips will help you and your friends and family to drive safe this summer.
Download: Android Auto (Free) (opens in new tab)
Android Central Newsletter
Get instant access to breaking news, the hottest reviews, great deals and helpful tips
Marc Lagace was an Apps and Games Editor at Android Central between 2016 and 2020. You can reach out to him on Twitter [@spacelagace.
Why not just use Android Assistant by itself? With that I can get directions, place calls, texts, etc (if it understands me...).
Does this support Waze?

Download the APK of Waze beta, them change the default navegation app to waze

Yes, it does work well with Waze, though I prefer Maps myself. It's not a bad app. I wish that you didn't have to connect the phone by USB in order to make it use the car's screen. Mine doesn't put out enough current to even maintain my phone. Yuck.

Is there support for Waze as the default mapping? Message support for Hangouts? I use Waze 99% of the time for navigation, GPM for music and Hangouts for messaging. The problem is, none of these have a UI optimized for driving (i.e. simplified interface, large tap targets, etc) not even Waze. Honestly, I kind of hate Waze. As a driving based app, it's poorly thought out and the search, voice or otherwise, is atrocious. But those real-time alerts are what keep me using it. I understand Maps is getting those alerts. If that is true, there'll be no more reason for Waze to exist. At that point I might try Android Auto again.

There is support of Hangouts. Unfortunately, while Waze can be used as the default navigation for Android Auto compatible head units, Waze doesn't work when Android Auto is run from the phone itself.

Download the APK of Waze beta, them change the default navegation app to waze!

Google maps works fine. Hands free calling in my car for calls and I would only check a text at a stop light (oops).

Anything more than two taps or swipes in Oregon is $1000 - that's is just for the first offense....
And that includes stopping at a red light or stop sign. Most of my interaction with the phone while driving - is with the Google Assistant. But I have to have the radio \ stereo off while doing so...

I will say I use Google Maps, Waze and HereWeGo or Sygic as backups for out of cell tower range adventures. And I use stand-alone apps like SMS and Call Announcer Pro or SMS my car and Me for announcing SMS texts etc. while driving. Android Auto still does not announce my texts correctly. I can always use the Google Assistant to reply to any texts or to make a call - all hands free - which is my goal - to be hands free while I'm driving. Google hasn't quite got that right just yet - so enter 3rd party apps.

I didn't even know that Bluetooth FM transmitter was a thing! Thanks for the recommendation! I've been trying to figure out how to get my wife's phone to auto start Android Auto. I'm totally going to go this route.

how about you **** off and not encourage idiots to look at their phone while driving?

Here here! 👏👏👏👏 Enter vehicle, turn OFF phone, then drive. "What about my music?!" There's a new thing called ray-dee-oh. It's free, uses no bandwidth or extra power, and isn't distracting! Amazing!

Would be a much better experience if it didn't cause my phone to have an extreme thermal throttle. I don't know why, but only when I'm using Android Auto do I experience this awful problem. I was to like using it, but it remains completely unusable in it's current state.

Seems like someone's in a lovefest with Google. Haha. I get it. I love Google too. I use Android Auto app because I don't have a head unit with AA. Why should I have to use a beta app just to get Waze which is a Alphabet not product in AA? Fix it Google! I have to use AA now because my stare just implemented a hands free law. I used to use Waze 100% because I love the traffic and police alerts. Waze seems more accurate when telling of traffic jams. I also love how Waze makes it easier to find an alternate route and displays the speedometer. Google Maps doesn't display traffic jams effectively, doesn't display speedometer, doesn't give police alerts, alternate routing SUX. The travel time isn't as prominent. I too enjoy listening to podcasts and I can start one before I go, but then I can't select the next episode. Lastly, I wish there was a way to change back to my FM and SiriusXM radio and still hear the audio from AA without having to disconnect from my car Bluetooth.

The only way I can do that is to disconnect the phone as a media source to my vehicle.
Leave the phone part - only - connected as a Bluetooth connection and that work just fine - I can listen to XM and hear directions over the phone - and receive calls to the vehicle.

FYI, there will be no need to use Waze anymore as Google will be including all the functions of Waze into the Android Auto app. Google bought Waze exclusively for this purpose. https://techcrunch.com/2013/06/11/its-official-google-buys-waze-giving-a...

I personally recommend buying a decent year or so old 8" tablet and side load AA and Waze Beta, then just connect it to your car's wifi or phone's hotspot. AA's Google Assistant actually works better than standard Google Assistant. I can't start a message in multiple messaging apps. like G. Voice or FB Messenger in GA. But in AA, so far I have found it notifies me of all incoming messages types that I use, and I can respond to them all over voice. I haven't been able to get standard GA to read and respond to messages.

I have an aftermarket Kenwood audio head in my 2016 Hyundai Accent that is Android auto friendly but have stopped using Android Auto. Instead I have gone back to streaming music via bluetooth and using a Garmin for navigating. Why? 3 reasons... 1. I spend a lot of time up in Northern Maine, NH and Vermont where cell service is sketchy. Android Auto is useless without a cell connection. "This connection isn't strong enough at the moment" is frequently heard. Never an issue with Garmin. 2. I have over 120 gigs of music stored on my phone. Google is useless when asking to play classical, indie, jazz, etc selections. You ask it to play an album and it plays just a song. I can't tell you how many times I have heard "I'm sorry, I can't help with that" or instead it starts playing something totally different from Google Music, something i never asked for. Forgot trying to scroll through your music library to find what you want... that feature is locked out 3. Several times my screen has locked up... try navigating in Boston when you lose your map screen and have to reboot your phone. Android Auto has a way to go before it is ready for prime time.

Carhome Ultra is a good alternative to Android Auto. It's an older app but just received an update. I alternate between both but I prefer Carhome. I have buttons on the main screen for my navigation apps and a left swipe takes me to the media controls. It also does auto reply for text messages. With my phone mounted at eye level just to the right of my steering wheel I don't have to take my eyes off the road to skip a song in my playlist, jump ahead or back in a podcast, or pause whatever I'm listening to. It's actually less distracting than messing with the car stereo controls.

Car Dashdroid is another option.

100% agree. I just found Car Home Ultra a little while back and it has everything that was lacking in AA. The interface is customizable. So, you can put as much or as little info on the screen as you want. All of the app launch keys are customizable - put whatever apps you want on there (Yeah - finally - Waze for navigation!). There is a slight learning curve and it's not free. But, it is well worth the $3!

I like AA a lot BUT i dont have any music stored on my phone so i use radio station apps via bluetooth thru my HU. When AA starts, and i hit the headphone icon it only lists one app i use so if i want to use another different app i have to stop AA, go to the home screen and chose that app but then AA wont restart..maybe im doing something wrong..and if anyone knows to keep from having to do this let me know.

I love the app but.... It only works with Google maps .. There is a specific combination of android auto + Waze beta packages that will allow you too use Waze but my phone crashed and I just reflashed it and I can no longer locate those apk files.

I found it by searching for Waze beta download.

Ever since I upgraded to Oreo it's hot or miss whether or not Android Suto is going to work. When it works, which is not that often, it's a great application to have. sadly it appears Google is doing absolutely nothing to fix the problem that hundreds or thousands or more people having right now.

Biggest problem I have with it is with text messages. When I tap the big "play" button, the audio will be either super loud or super quiet. Invariably, once I finish interacting with the first message, it drops the Bluetooth connection to my car, only to recycle and reconnect a few minutes later. If I'm using voice control to reply to a message and I get a second one, that's when the crap hits the fan. The Google color bars suggest it's still listening to me talk, but it no longer stops and responds. If I hit the phone's back button, I can see Android Auto show the "do you want to exit" message, but it's in the dimmed area of the screen (the "I'm listening" bars do not go away), and I can't interact with the phone at all. I have to completely power-cycle the phone to restore normal operation.

I have my music on my phone for me to listen to . But for some reason Android Auto will only play streaming apps, F*ck that. I use Ultimate Car Dock & I can play MY music and use The Maps app That I want to use as well as other apps that aren't locked out like they are on Android Auto.

Is that the exact name? I can't find that on Google Play

I'll give this a try. Hopefully it works almost as well as Cortana on W10M. That's the best hands-free over Bluetooth experience I've ever used. I wish they would make it the same on Android as it was on W10M, that would be perfect.

Tried it, unimpressed. Like someone else mentioned, assistant got hung up. Surprising that they couldn't integrate their own application properly. I thought that was a Microsoft problem...

Android auto is crap. My brother makes me jealous when he uses his Apple carplay
Android Central Newsletter
Get instant access to breaking news, the hottest reviews, great deals and helpful tips
Thank you for signing up to Android Central. You will receive a verification email shortly.
There was a problem. Please refresh the page and try again.