Android Auto now runs directly on your phone, marking biggest expansion yet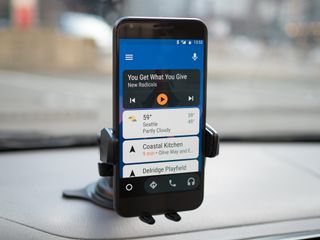 Android Auto, like other advanced phone-connected in-car experiences, hasn't gotten off to too hot of a start. Car companies are notoriously slow to integrate new infotainment systems into their new models, and people don't just go out and buy new cars every year. At the same time, the offerings of third-party infotainment systems with Android Auto have been expensive and not too well received.
That's why the announcement back at Google I/O in May that Android Auto would be coming natively to Android on phones was so exciting. And now after a few extra months of development, it's finally out for everyone to use. Now by simply installing the Android Auto app, your phone can be used more safely in the car without any additional hardware in the car itself — just clip the phone into an inexpensive mount for your dashboard or windshield, and you're up and running.
Here's a quick look at the new standalone Android Auto experience.
Bringing Android Auto to your phone
The new standalone Android Auto interface is a simple restructuring of what you've seen on dashboard screens since it was introduced. It's expectedly simple, and designed for big touch targets and minimal interaction.
The main Android Auto screen gets right to the basics, showing your current media playback, the weather and options to one-tap navigate to upcoming appointments or recent Google Maps searches. A static bar on the bottom lets you quickly jump between navigation, the phone dialer and media — you can also return to your phone's home screen with a tap of the enlarged circular home button and a secondary confirmation tap.
Whether you have the map pulled up just viewing live traffic or are actually navigating, you get an enlarged version of the Google Maps navigation interface you already know. Importantly, if you're viewing the home screen or media controls you get half-screen popover notifications for upcoming turns while navigating. Incoming SMS and Hangouts messages have a similar popover, with the option to auto-reply with a message or read the incoming message aloud. It's pretty bare bones stuff, but that's by design.
With my 5.5-inch Pixel XL mounted on the dashboard, everything is visible at a glance and manageable without much issue. Unfortunately this first release of the standalone interface doesn't actually include fully hands-free "OK Google" detection, though Google says that it will be available in the coming weeks. The interface works in both portrait and landscape orientation, but the former offers much better information density with less scrolling.
If you have a newer car that has Bluetooth connectivity the new Android Auto app will feel like a relatively integrated piece of your infotainment system. You can set the app to auto-launch when it detects your car's Bluetooth, and you can of course get both media and voice audio routed from the phone to your car's speakers. This isn't a requirement, though — Android Auto will work just fine with the phone's speaker.
The big thing to consider here is how much battery Android Auto drains: not only does it keep your phone's screen and GPS on, it uses mobile data to pull down live traffic information and potentially stream music as well. If you're going to be using Android Auto for more than 20 minutes or so for a drive, you'll probably want to consider a car charger — but that shouldn't be an issue if you're used to navigating with Google Maps already or regularly keep your phone in a dashboard mount.
Now Android Auto is accessible
Android Auto's simple interface is dramatically safer to use than poking around on your phone while it's mounted on your dash (or in your hand — don't do that), and its limitations aim to help you spend more time with your hands on the wheel and eyes on the road. In most aspects running Android Auto on your phone is identical to that of a dedicated head unit, though you'll of course have to deal with a slightly smaller screen and a couple missing car integrations.
The only real downside right now is the small list of apps that have really thought-out Android Auto interfaces. With so few Android Auto users up to this point there hasn't been much incentive for developers to make their apps Android Auto compatible, but this new flood of potential users using Auto on their phone should prompt a change to that thinking. Google's done its part, now developers can carry the torch and make the experience great for all the new users.
If you're using your phone to navigate already, there's no reason not to shift your use to Android Auto. It retains the same great Google Maps traffic and navigation, while also offering easy-to-use calls and message replies and access to a handful of popular media apps.
Get the Android Central Newsletter
Instant access to breaking news, the hottest reviews, great deals and helpful tips.
Andrew was an Executive Editor, U.S. at Android Central between 2012 and 2020.