A look at the Android smartphones still to come in 2017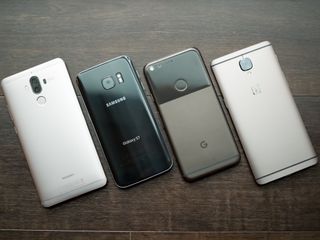 Samsung, LG, and HTC may have been first to bat with their flagship smartphones, but there are still plenty more device launches to look forward to. The year is only halfway through, and with the launch of the fourth-generation OnePlus 5, we're officially headed into the summer smartphone release season.
What's left to see? There's plenty, actually. We've put together a list of some of the marquee Android-powered smartphone releases we're still waiting on to hit the scene later this year.
ASUS ZenFone AR
At the beginning of 2017, ASUS announced the ZenFone AR. It's been more than 6 months, and the only time we've had with it was on the ground at Google I/O 2017, where it was teased in various demonstrations. The ZenFone AR has yet to materialize into something you can actually buy.
In August, however, it'll launch exclusively at Verizon, though it'll also be sold unlocked. This is the first phone bundled with both the appropriate camera hardware and an optimized Snapdragon 821 chip that can handle both Augmented Reality and Virtual Reality. That's also why it went missing for so long — the ZenFone AR underwent rigorous testing to ensure that both technologies could operate seamlessly on a mobile device.
For now, we're waiting for the smartphone to hit Verizon before we take a dive into its abilities and test what it can really do with all that VR technology baked in.
Motorola Moto X 2017
As we learned from a revealing leak, the Moto X 2017 is part of the lengthy lineup of Motorola smartphones hitting the scene this summer. Following the launch of the Moto Z2, we should be seeing the Moto X 2017 debut fairly soon.
http://twitter.com/evleaks/status/863580163153461249
Thus far, leaks have pointed to the Moto X 2017 being powered by a Snapdragon 625 processor and 3GB of RAM, and that it'll carry 32GB of onboard storage. It may also tout a dual camera setup— perhaps the "unlimited perfection" tagline that's being used internally is a reference to a trick the main camera can do.
Essential Phone
Andy Rubin's pet project is finally gaining some momentum now that we know a bit more about it, including the fact that it's launching later this year. The Essential Phone comes with a 5.7-inch QHD edge-to-edge display. It's also powered by Qualcomm's Snapdragon 835 and offers 4GB of RAM, along with 128GB storage.
Other confirmed hardware specifications include USB-C, Bluetooth 5.0, NFC, LTE support for all major U.S. carriers, fingerprint sensor at the back, an 8-megapixel front-facing shooter, and a 3,040mAh battery with fast charging abilities.
We don't know of the official ship date for the phones just yet, but for now, you can check it out (or pre-order it) here.
Samsung Galaxy Note 8
I like to refer to Samsung's Galaxy Note as the summer's repeat blockbuster hit. The company's phablet-sized smartphone (can we really call it that anymore?) is usually announced rather loudly and with much fanfare in the Android scene during the month of August. The device also typically showcases some of Samsung's future-facing mobile features; for example, the original Note was used to introduce the storable S Pen, while the ability to use iris scanning to unlock the phone was introduced with the Note 7.
This year, the launch of the Galaxy Note 8 will no doubt be accommodated by a different air, considering last year's fiery battery fiasco. That led way to a bit of unfavorable press about the Galaxy Note 7 and Samsung will have to act diligently to change the message behind this particular line of devices.
Fortunately for the company, the latest rumor sounds good so far. Our very own Alex Dobie offered some insight on the hearsay and what it can tell us about the Galaxy Note 8:
We don't yet have reliable evidence of what the Note 8 will look like, but it's safe to say that it'll resemble its sibling, the Galaxy S8. You can expect metal, glass, slim bezels, no buttons, rounded corners, and that extra-tall infinity display. Historically, Note devices have been a bit boxier than Galaxy smartphones, too, so slightly narrower corners and flatter sides are a possibility.
As for specs, we don't know much about what will be inside the Galaxy Note 8, though we can infer that, like last year's Note 7, it'll operate on much of the same hardware as its predecessor. That means it'll run on a Snapdragon 835 and 4GB of RAM, and shoot with the same 12-megapixel rear camera. Expect the battery size to be bigger, too — actually, expect a ton of emphasis on the battery.
LG V30
We actually don't know if the V30 will be the moniker behind LG's next smartphone, but we do know that whatever is next from LG will arrive ready to use with Daydream. At Google I/O, Google's Clay Bavor had teased that the manufacturer's next flagship would be compatible with the virtual reality spec.
Since Daydream requires an AMOLED display, we can expect the V30 to have an OLED panel instead of LG's usual choice of an IPS LCD display. (It seems the obvious choice if you consider LG has invested billions in OLED production.)
As for what else the LG V30 will be capable of? Well, that's hard to say, since there isn't much else out there on the forthcoming device. We can guess that it will likely employ a larger screen size, in addition to a G6-like 18:9 aspect ratio. It's also likely to come equipped with a Snapdragon 835 and plenty of RAM, considering its virtual reality capabilities.
Based on the release pattern of its predecessors over the last two years, expect to hear more about the LG V30 later this summer.
Google Pixel 2
If you've been paying attention to the blogosphere, then you now that we're mere months away from the debut of Google's next Pixel device. Until recently, we figured we'd see two more additions to the stock Android lineup—essentially a big phone and a bigger phone. But then the rumor mill began churning, and now there are reports alleging that Google will scale it back a bit this year.
Here's the low-down from our full Google Pixel 2 rumor roundup:
Beyond that, we know very little about the Pixel 2, save for the fact that it will feature Android O. We don't know what it will look like, nor do we know if the actual device will be water-resistant. We also don't know what's fueling it on the inside, though we figure it'll at least come equipped with a Snapdragon 835.
Check back after the heat waves subside and the leaves begin changing colors. We're expecting to hear more about the Pixel 2 in late September or early October.
Huawei Mate 10
There isn't much to speculate about the Huawei Mate 10 at present, considering it's been only 6 months since the Mate 9 has actually been on sale. But with the device's top-notch build quality and the later addition of virtual assistants like Amazon Alexa helping infuse a bit of an edge, we can expect that the Mate 10 will be a major contender in the Android sphere, particularly overseas.
What are we missing?
The world of Android smartphones is big and vast, and there are likely more rumors headed this way. Are we missing anything you're looking forward to? Let us know!
Get the Android Central Newsletter
Instant access to breaking news, the hottest reviews, great deals and helpful tips.
Florence Ion was formerly an editor and columnist at Android Central. She writes about Android-powered devices of all types and explores their usefulness in her everyday life. You can follow her on Twitter or watch her Tuesday nights on All About Android.