Logitech launches its first updated trackball mouse in nearly a decade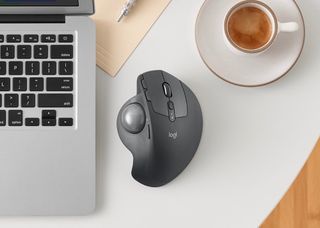 If you've become accustomed to trackball scrolling with your mouse, you'll be happy to learn that Logitech has just launched its first new design for a trackball mouse in almost a decade. It's called the MX Ergo (opens in new tab) and its design comes directly from Logitech fans that have figured out ways to make their own trackball mouse more comfortable.
What makes the MX Ergo stand out is its unique adjustable hinge that makes it possible for you to change the angle of your mouse position from 0 to 20 degrees. The mouse is also designed with ergonomics in mind. It is shaped to fit comfortably while your palm rests, but also gives you easy access to its scroll and click features.
The MX Ergo includes all the great features that Logitech's other mouse accessories have, like easy-switching (two channels), so you can switch between devices without having to re-pair anything. It comes with a unifying USB receiver, so you can pair up to six different Logitech peripherals to one computer, or you can connect it using Bluetooth.
It's wireless, using Bluetooth LE and a super-fast recharging system. According to Logitech, you could charge it from empty for just a single minute and it will last a full day of use.
The MX Ergo costs $99.99 and will ship in mid-September. You can pre-order it from Logitech today.
See at Logitech (opens in new tab)
Android Central Newsletter
Get instant access to breaking news, the hottest reviews, great deals and helpful tips
Features aside, at the end of the day, it's a mouse and no way is $99.99 justified.

I disagree. You interact with your keyboard and mouse more than just about any other physical object in your home. When you use something that much, the fact that there are far cheaper alternatives doesn't mean that an expensive purchase isn't justified.

I can agree that it's something you interact with regularly, but I see no reason to spend more than $20 to $30 on a mouse. Maybe I'm weird, but I find the cheap ones more comfortable, and they last for years. I've got friends that buy expensive mice, good gaming mice, and I hate the things. Uncomfortable and awkward to hold or use in my opinion. However I do value a good keyboard, budget ones work, but more expensive ones offer a much better typing experience.

They're not going to sell as much as normal mice so there's fewer to split the costs.
Also I'd gladly pay 99 bux(again) to be able to use a PC without wrist pain.

In spite of the headline, a trackball is not a mouse. If you use a trackball, you are probably in the minority. This trackball is an excellent design.

I'm on my second Logitech Trackball and my dad just bought one. Both are the same model and around $20. Hopefully by the time I have to replace my Trackball again this will be much cheaper.

I thought we were past this...

The trackball must has been one of my favorites as it helps you to keep from getting carpal tunnel since you only move your thumb and two other fingers. I will be buying this new one in October.

Rather hit up eBay or Amazon warehouse before dropping $100 on a non-gaming mouse

Sad but true. As much as I love the last trackball mouse, my emergence into PC gaming means I might have to switch to a gaming mouse :-(

Not true. I have the previous generation Logitech trackball and have used it for gaming. I play a lot or RTS and some shooters, and the trackball works great. I only wish they made a gaming trackball instead; something with more buttons and macro control.

The Verge article on this new MX Ergo mentioned that it had some type of fine control feature. That may be the only thing that could make me give up my M570.

LOVE my M570. I will be buying this one as well. Best buy will have it on sale soon.
Trackball mice as the best. I like mine so much I don't even understand Why anyone would want a "normal" mouse. I will forever use a trackball mouse. Never going back to a regular.

I would like to see Logitech offer an optional USB-C dongle so that you can use your existing mice with newer machines.

What machine has USB-C (and not USB-A) but not Bluetooth?

Some may not want to use Bluetooth for some reason, I agree a USB-C dongle for mice should be available as an option.

mayconvert, I totally agree. I have three of them at my house and will never use another type of mouse again unless something better comes out.

Love the trackball. I've been using them exclusively since the old Logitech Trackman Marble (no wheel and ps/2 connector). I'm sure I'll try this new one out eventually.

Only right handed available?

cool. i've had all of their trackball mouses(mice?) over the last 10-15 years. i'm surprised they removed any color in the new model...i liked the look of the red or blue ball at least. also not sure how i feel about it being rechargeable? my AA/AAA batteries last for years in the 2 different wireless ones i have.
Android Central Newsletter
Get instant access to breaking news, the hottest reviews, great deals and helpful tips
Thank you for signing up to Android Central. You will receive a verification email shortly.
There was a problem. Please refresh the page and try again.