LG teases G2 Mini ahead of Mobile World Congress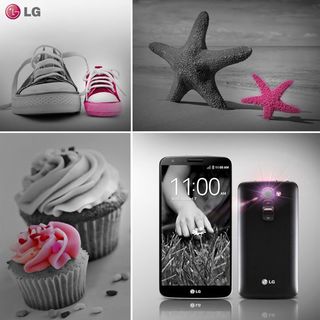 Miniature G2 tipped for Feb. 24 launch
Rumors of a miniaturized LG G2 making its debut at Mobile World Congress have been circulating for the past few weeks, and now it looks like the device is a lock for the Barcelona-based tradeshow. LG Mobile has just posted the image above on its Facebook page, inviting fans to "experience the mini" at MWC on Feb. 24. And sure enough, alongside the miniature cupcake, starfish and sneaker there's a shrunken-down G2, which when viewed from the back is the spitting image of the full-sized version.
It's unclear whether the G2 Mini might match its big brother's high-end hardware, as Sony's Xperia Z1 Compact does, or whether the Korean company will opt for the same approach as local rival Samsung, with a cheaper, lower-specced handset like the Galaxy S4 Mini. Whatever happens, we'll be in Barcelona on Feb. 24 to bring you full coverage of LG's new mini.
Source: LG (Facebook) (opens in new tab)
Alex was with Android Central for over a decade, producing written and video content for the site, and served as global Executive Editor from 2016 to 2022.
The pink accent in each image must mean something. Better colors in pictures or something? Posted via Android Central App

Pink is for girls... Sorry couldn't resist. Posted via Android Central App

It's just their corporate color, I don't think there's anything to be read into there...

Don't care,...not the S5. But this is interesting! http://www.phonearena.com/news/Alleged-Galaxy-S5-box-snap-lists-5.25-Qua... Posted via Android Central App

Then why do you even post? GTFO, homophobic moron.

More like unnaturalphobic, I like to associate with people who have morals & values, much brighter and pleasant people to be around. Not so bitter like pro-gays. Posted via Android Central App

"unaturalphobic" Really? Really? -------------------------------------------------------
Sent from inside a cave. Yes, T-Mobile covers caves. N5

you are either a new number on Samsung 's pay stub or Richard got seriously contagious. -Warning-
Stay away people, until the investigation is over! Posted via Android Central App
VZW Moto X

@derp089 Can't people check their politics at the door? This means you too Android Central even when you are acting as a surrogate for Google's politics. Posted via Android Central App

Then why even come in here to comment? You're just adding noise, you PITA.

Wonder if it will have compact bezels for its screen size. Sony Z1 compact doesn't have compact bezels, only a compact screen size. It's the same size (-2mm height) as Moto X with less screen.

With buttons on the back...quite possibly this will just look like a shrunken down G2

Hope so! Would be nice to have high end choices that are real minis. HTC One mini is too tall. Samsung S4 mini is too touchwized.

And both of those are too neutered AND as large/larger than the Moto X, which doesn't compromise. If LG is smart they'll release something at least as powerful as a full-on One/S4, but considering they Ape Samsung at everything, it'll probably be something that makes people just want to buy the huge, overspecced monster-sized regular G2. I just hope that in 2015 when I get my next phone that the "mini" phones are actually mini and not 5", and have good specs.

Oh man, if this has comparible specs I'm totally buying this.

LG should do what Sony is doing, but they like to mimic Samsung. That's probably the way they will lean.

This will probably be the best mini of them all... If they keep the 800 quad core in it... That's a lil beast! Posted via Android Central App

Let's hope LG follows Motorola (DROID Mini) and Sony (Z1 Compact). Posted via Android Central App

I just hope it is the same camera. Then I will buy it! Posted via Android Central App

If there going to do this lg needs to follow by example and personally keep the specs and lower the screen to 720 and have good battery life system management Sent from my Nexus 7 2013 or iPhone 5

That's what he said. -------------------------------------------------------
Sent from inside a cave. Yes, T-Mobile covers caves. N5

I don't know why people are hating on the regular sized G2. It fits perfectly in my hand especially coming from a Note 3. The Moto X feels just a little too small in my hand. Posted via Android Central App

Agreed. Once you go bezel-less you'll never go back. Posted via Android Central App

Agreed, the footprint of the G2 is nearly the same as the S4 and HTC One.

So smaller, thinner, lighter, waterproof, dustproof, absolutely no bezel (edge to edge screen) with the specs of the Note 3 and the battery of the Droid Maxx. It had better be all those things but unbreakable in every way, but none of that flex crap, all for $12.75 off contract. If you want smaller thinner lighter, no bezel, you are going to give up durability. I am not sure where the no bezel thing really came into play but the current crop is pretty darn good. Sony has the waterproof/dustproof thing so theirs is bigger, but come on. The smaller the phone, the smaller the battery is gonna be. Anyway, I hope this has the same specs as last years G2. I think that is a good way for them to go. I have a friend looking for a "mini" in the upcoming months, and the only one really out there is the Sony one. The rest are on the extreme compromise end.

If there are any intentional clues in the photos then my guess is the phone will have different specs than the flagship. Each of the four photos has a difference other than size. The clearest example is the starfish photo with the smaller one positioned on one leg. It reminds me of a kid showboating for a photo. The cupcakes appear to be two different flavors; the shoelaces are different in the shoe photo; and the phones facing opposite directions. It just make me think that the mini will have paired down specs.

I hope that it's roughly the same on specs, bit with a smaller screen (4.5-4.7"?) and possibly a few compromises on specs to reduce cost. Posted via Android Central App

LG will want to keep the costs down and won't want the mini to compete with the G2. This probably means a 4.5" 720p screen, 10 MP camera w/ no OIS, snapdragon 600 1.7 GHz processor, 1.5 GB RAM, 2000 mAh battery, and 16 GB internal storage.
Android Central Newsletter
Thank you for signing up to Android Central. You will receive a verification email shortly.
There was a problem. Please refresh the page and try again.