LG hints at possible exit from the smartphone market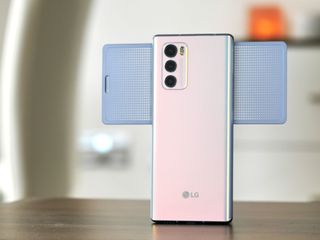 (Image credit: Alex Dobie / Android Central)
What you need to know
LG may give up on the smartphone market this year.
The company's CEO has told employees that it is open to "all possibilities" for the smartphone business.
LG's smartphone business has lost close to $4.5 billion over the past five years.
After losing money in the smartphone market for five years straight, LG may finally call it quits this year. According to a report published by The Korea Herald, the company's CEO Kwon Bong-seok has told employees that it is "considering all possible measures, including sale, withdrawal and downsizing of the smartphone business.
In a statement sent to the publication, an LG official said:
Confirming the authenticity of the internal memo, an LG spokesperson told The Verge:
It was recently rumored that LG has decided to withdraw from the smartphone market, but the company strongly denied the rumor. Despite changing its design direction with the LG Velvet last year, the company hasn't been able to compete with rivals. As per data from Omdia, LG could only ship around 9.3 million phones in Q3 2020. Over the last five years, the company's smartphone division has lost around $4.5 billion.
At CES earlier this month, the company teased its first Rollable device, which transforms from a regular-sized phone to a mini tablet - thanks to its resizable screen. Now that the future of LG's smartphone business remains uncertain, it remains to be seen if the "Rollable" will see the light of day.
Android Central Newsletter
Get instant access to breaking news, the hottest reviews, great deals and helpful tips
The only reason they're still in the smartphone market is because they feel they need to be.

That and they can offset their loss from other department of their company in the green. It's one of the only reason they can survive a dying phone market for them.

I would love to use LG devices but their software support lacks and that matters to me. I can't support a company that gets hundreds of dollars from me and not support the device that I purchase.

Wasn't there just a whole article about how LG wasn't getting out of the smartphone business?

That's accurate. LG denied it and basically said it was all lies and not worthy of a comment.

My V40 and v60 still get security updates. My V60 got an update about a month ago..
While at TMo yesterday to get my free scarf one of the workers told me the V60 will have a big update coming soon. But no details were provided. so we shall see..

Maybe Google will buy their smartphone business? I assume they would sell that part of it wouldn't they? I can't see them giving up making displays for phones or selling that part of the business, though.

Sad to hear if it's true. Unfortunately, LG has the worst record of updates. I admire them for their innovation. I wanted a V60 when it first came out. Couldn't get the second screen for three months and the lousy update track record steered me to another Samsung.

LG are not pulling out of the smartest market. They have confirmed this.
Or they are not pulling out any further than they already have. Getting one in the UK isn't easy.

As a current G8 owner, their support people are a nightmare. After dealing with them once, I'll never buy another phone from them. Despite that, I wish their support weren't so difficult. LG at least TRIES with smartphones. They do a lot of different, interesting things like the G5 mods and the Wing. I like having the DAC in my G8, as someone who uses the 3.mm jack in my car. At the same time, I don't get why they took out the third camera between the G8's South Korean launch and its release in the U.S. It's of no meaningful loss to my smartphone experience, but it's a new SKU that cuts from the spec sheet against the bigger players. I'd be happy to see LG do well because they at least are unique. That they're failing sucks, but it's not surprising when your support team tells you their latest release isn't in their support team's database and their staff can't help you on a support call, it's not surprising to see them lose customers and fail in the market.
Android Central Newsletter
Get instant access to breaking news, the hottest reviews, great deals and helpful tips
Thank you for signing up to Android Central. You will receive a verification email shortly.
There was a problem. Please refresh the page and try again.