Kreyos Meteor app now available for Android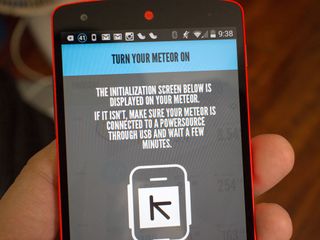 Backers of the Kreyos Meteor have been more than patient waiting for their new smartwatches to arrive. After running into some issues a few months ago, the folks at Kreyos got things fixed up and are finally getting new devices shipped out this week. To go along with the new devices, some brand new apps for both iPhone and Android are in tow.
The essential apps pair up to your Android or iOS device and allow it to communicate with your Kreyos Meteor. After connecting to the app, you can configure your watch, sync your activity and sports mode data with the Kreyos web application, view a detailed history of your daily stats, set goals and much more.
Features include:
Sports Mode for walking, running and cycling
Statistics on speed, time, distance and calories burned.
Shows the route you've cycled, walked or ran.
Daily Target allows you to set goals for your daily activities.
Various feature settings for the Kreyos Meteor Smartwatch
The apps are free for both iPhone (opens in new tab) and Android (opens in new tab). You can check out more on Kreyos or purchase a Meteor from their website.
Are you planning on picking up a Meteor? Have one on the way? Let us know in the comments!
Thanks Duncan
By day, Adam is a writer for multiple Future Publishing brands with over fifteen years of experience. He's expertly researched and written hundreds of articles ranging from mobile phones to mobile homes to baby mobiles. By night, he's a gadget geek, avid disc golfer, 80s nerd, cord cutter, cook, husband, dad, and memory collector.
I ordered one a while back. Not complaining and not cancelling my order. I never had it to miss it so it will get here when it gets here. Posted via Android Central App

Kreyos are a PR nightmare. They released an update this morning and said that the app was to be released "imminently", if they know they would be setting it live later the same day why not postpone the update? Already there's a review saying that the app won't pair with the phone. I too am being patient, historically I've not gone for V1.0 stuff and this experience has shown why I shouldn't have. Android Wear is looking enticing!

If I had known Android Wear was going to exist BEFORE the Kreyos reached my hands, I doubt I would have backed Kreyos. I wanted the Kreyos for voice control, and now Google Now launcher adds that from the home screen, plus Android Wear is all over this as well. If it would have been released last November as planned, I would have been thrilled with the Kreyos watch. But being nearly a year after the expected delivery, it's not so exciting anymore. I do hope it works well, but since I got tired of waiting and bought a Pebble in April, I don't see me actually using this much, if at all anymore. But hopefully when I get my hands on it in the next week or two, it ends up being decent and at the very least that it can hold me over until the Moto 360, or any of the other Android Wear watches. But I really hope it's more than this.

I have one on the way. I've been pretty excited, even with the delays, but right now I'm looking heavily at the Moto 360.
Android Central Newsletter
Get the best of Android Central in in your inbox, every day!
Thank you for signing up to Android Central. You will receive a verification email shortly.
There was a problem. Please refresh the page and try again.