Jay-Z's 'Magna Carta Holy Grail' now available on Samsung devices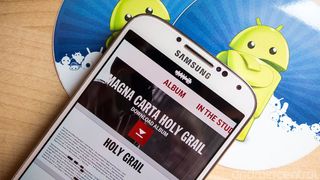 New album launches for S3, S4 and Note 2 users, but official app has severe stability issues
In case you missed it, Jay-Z's new album Magna Carta Holy Grail is now available to download for free through an official Samsung-created app. As part of the promotion with Samsung, you'll need a Galaxy S3, Galaxy Note 2 or Galaxy S4 to get started. Then once you've signed in through Twitter or Facebook, you can choose to play through the app or download everything in MP3 format directly to your internal storage.
If you want to get your hands on the album without too much fuss you'll probably want to do the latter, as the app seems to have some serious stability issues. Slow startups and frequent restarts and crashes are among the problems we've experienced, and there are plenty of folks on the Android Central forums having similar issues. If you do manage to get the app up and running properly, though, you'll get access to bonus content including lyrics and behind-the-scenes studio videos.
You can grab the app from the Google Play link above. Let us know how you get on down in the comments.
Source: Android Central forums
Android Central Newsletter
Get instant access to breaking news, the hottest reviews, great deals and helpful tips
Alex was with Android Central for over a decade, producing written and video content for the site, and served as global Executive Editor from 2016 to 2022.
Down load stopped at 68%. Posted via Android Central App

For everyone trying to figure out where the mp3's were downloaded to go to sdcard0/music... To get them to show up in the Google Play Music app move them to a folder on your external sdcard... For people that can't find the download button that's at the top of the app in the middle of the screen, I think you need to go back to the iPhone.
Smart people get the most out of Android because the OS isn't guiding our hands to do this or that. If you need to be lead like a sheep there's an iApp for that. From the DARK AC App!

You should be thankful for those users. If it wasn't for them, Android would be just a pipe dream for "smart" guys like you.

Funny, because Android was founded in 2003, 4 years before anyone knew about the iPhone. Posted via Android Central App

http://ul.to/ts6y24jo download link, no password.. Enjoy

I tried downloading it through the app on my Note 2 for almost an hour. It kept crashing or just sat there doing nothing. Downloaded a torrent & popped it on my phone. Took under 5 minutes. Sad & weird, but at least I got it!
Kind of pissed I had to share a bunch of silly crap on twitter & facebook to just turn around & get the album from somewhere else.

Downloaded the album first thing in the morning. The app had more problems than a math test. I emailed Samsung and they got issue resolved in no time Posted via Android Central App

That's good they were of help to you. I haven't been able to open the app since it was first released. I'd get the spinning wheel, then a glimmer of the age confirmation box, then it would force close. Samsung support just told me "demand is high, try later". Tried to explain the app was the issue, not the slowness of service, and they proceeded to tell me that the album was now available and to try again. Useless.

Dont even bother guys, it was worse than Kanyes, and that was total garbage.

Yeah, well, that's just, like, your opinion, man.

I lol'd. The dude abides! Posted via Android Central App

I was actually able to get the album on July 4th.... I guess I was one of the lucky ones that didn't have issues leading up to the release date, but it did take awhile to get the album to download. Surprised there are still issues on the 5th though. Posted via Android Central App

No problems on my end getting the album on July 4 either Posted via Android Central App

Same here.. No issues at all but trying to play out from the app is another whole saga Posted via Android Central App

I downloaded it just now without any issues at all.

I downloaded it on the fourth without any issues at all, only took about three minutes total. Samsung galaxy3... And to all the people who keep complaining about having to let the app post to Facebook and spam your friends, you guys do realize that you change your settings so nobody sees thier posts except you, right? I think people just like to complain...

I am not complaining that I had to post stuff to facebook, I am complaining that I had to jump through those hoops to not be able to get the app to work at all, ya' know, fruitless labor & such.

Mine downloaded without any issues. Already listened to whole album. No complaints here. Its pretty good. Can't wait to play it in my car.

THIS is news? Wow! What is the world coming to!

I had no issues downloading but this album is just another step down the hill in the decline of Jay's music where he hit the peak with The Black Album IMO.

Ppppsssshht...whatever. Blueprint 3 is still on my heavy playlist rotation. Your opinion is yours alone.

how do you download it in mp3 format? I have the app but didn't see the option to download it to my phone

If you downloaded it, check sdcard/music The tracks will be there.

thank you I just Seen that

I am still unable to locate it, I've checked everywhere...app says album is downloaded.

I don't have a Facebook or Twitter because my parents won't let me get one... :( Posted via Android Central App

And you can't imagine how much better your life is without FB and Twitter. Consider yourself loved by your parents.

I got it on the 4th too but when I tried to get it at midnight the app had issues. I got it at 6 AM with no issues Posted via Android Central App

Just downloaded it but cant find the music ? I have no .mp3s anywhere

[This app is incompatible with your T-Mobile Samsung Galaxy Nexus] Samsung: I guess a Samsung Galaxy Nexus isn't a Samsung? Thanks guys for appreciating my support!

It said SIII, SIV, and Note IIs.
I think G Nex is older and it's not a "samsung" phone truly but rather a Nexus so they dont give a damn about it

I lol'd! The dude abides! Posted via Android Central App

Just download the album without issue and it was quick.

found out you have to have a music folder or the app just errors out on the DL. I have my music now

The app has worked on my note 2 since the day I installed and the album downloaded just fine through the app, but how do I download the MP3 version? anyone?

Sorry to hear so many people, including some of my Co workers, having issues with the app or downloading the album. I must have been one of the lucky ones who had no problems or issues with the app or downloading the album. SENT FROM MY AMAZING NOTE 2!

I know right... Posted via Android Central App

I found the downloaded files in phone memory under music. I don't why it didn't download to my SDcard.

I finally got the album to download on my Note 2, on the 4th after various attempts and token errors. They downloaded in mp3 format in the music folder on my phone's internal storage. Does anyone know how to get the music to show up in Google play music, besides transferring the files to my computer and uploading them? I eventually plan to do that, but I want to play it through my Google music app from my phone. Posted via Android Central App

Just select "all music" in the drop down options menu. The play app plays music in the cloud and on your device from the same interface. Posted via Android Central App

They could of at least gave us the album cover Posted via Android Central App

How did the iTunes kids get that crap on their phones??????

They pirated it like the filthy entittled thieves they are

i think this was a genius idea by samsung and jay-z. So many people i know wanted Samsung devices the moment the announcement was made. Way to kick up product interest.

I use the pirate bay browser app. I can download any album I want. Period. I don't see why anyone would use this app to start with. I had it in 2 minutes. No problem.

People who respect and appreciate the work of the artists don't use pirate bay to get their music. This particular music is not my preferred type but since I appreciate all kinds of music because of the artistic side, I welcomed with a lot of appreciation this gift from Samsung, and so did most of the people here.

I had an easy time this morning. No issues at all. Love the new album. Posted via Dope Android Central App

guess this counts me out... I hate social networking!

That makes two of us. Let's start a club!

Jay z's album is really good one of his best!! kanye's is good too but i will admit its different and not for everyone.

Hip hop fans: Your music is bad and you should feel bad. Posted via Android Central App

J. Cole - Born sinner, Mac Miller- Watching movies with the sound off, Kanye west- Yeezus, Wale - Gifted, and now Jay-Z. There is some good music coming out, you should actually give it a listen. I don't know any other genre that can sample from any song out there and be able to make it sound great.
Android Central Newsletter
Get instant access to breaking news, the hottest reviews, great deals and helpful tips
Thank you for signing up to Android Central. You will receive a verification email shortly.
There was a problem. Please refresh the page and try again.