Jawbone Era Bluetooth headset review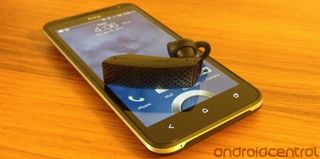 This may very well be the most expensive headset (opens in new tab) on the market. We will take a look at all the features, not the least of which being how it sounds, and try to determine if it is worth the premium it goes for. Read on for a full review.
This is my third Jawbone headset, I don't work for the company and I don't get paid to say nice things about them. The first two headsets I used (the most recent being the Icon) just worked and worked well. Aside from all the features, the sound quality and noise cancelation technology was best in class. I had very high expectations when I took the new Jawbone Era out of the box.
Jawbone Era Bluetooth headset
What's in the box
Jawbone ERA headset
Spout earbuds (4)
Round earbuds (4)
Binaural earloop (optional)
Micro USB cable
A/C wall adapter
Carrying case
User guide
Pairing the Era
When you first turn on the Era, it will automatically enter pairing mode. On your HTC EVO 4G LTE or HTC One X or other Android device, just:
Go to your Bluetooth settings
Choose Scan for devices
Select the Jawbone Era from available device
If you are asked for a passcode – just input 0000.
Now, Jawbone goes a little overboard with ways to pair your headset here. In addition to the easy way (above) you can also use what Jawbone calls the ShakeShake technique (I kid you now.) Hold the headset from the top and shake twice to automatically go into pairing mode. The Jawbone Era actually has an accelerometer on board that allows for this.
If those two methods don't work, don't despair. Just hold down the Talk button and then turn on the headset; the LED will alternate between red and white and it will be in Pairing mode.
NOTE: There is a Jawbone MyTalk website that allows you to "customize" your Jawbone Era. This was very cool, just go to Jawbone.com and then setup an account and download the Jawbone Updater app for your PC or Mac.
Run the install and go back to the MyTalk page and your headset will be detected. From there, you can:
Update the software
Download Audio apps – let you choose a voice to announce calls, etc.
Download Dial apps – let you customize the Talk button
The My Headset app also displays an on screen battery meter and has voice recorder functionality.
Functionality
Much of what makes this headset function well is what goes on behind the scenes. We have already touched on the built in accelerometer, which allows you to pair the device by shaking. The Jawbone Era also has a built in motion detector which allows you to answer calls by simply tapping twice anywhere on the outside of the headset. You can also tap the Talk button to answer calls.
Because the accelerometer knows when the headset is in your ear, that means calls will only be routed when it "senses" it is in your ear and in place. When your headset is not in your ear, double tapping won't do anything, but you can use the ShakeShake method and shake twice to answer a call. I'm just not sure why you would want to do that if the headset is not in your ear!
In most situations, you will have the headset in your ear and you simply double tap the outside to answer a call – it works flawlessly.
IN addition, you can simply press the Talk button once to answer or end a call.
Voice dialing
Voice dialing is installed as the default Dial app on the Jawbone Era. That means you
just hold down the Talk button until it beeps and you initiate the voice dialing function.
If you want to add the Voice control app, you can better control the Voice functions on your Android phone. Add the Voice on the go app for a year's free service from Jawbone to listen and send email, messages and call contacts. Both of these are downloadable from the MyTalk website.
The next bit of software to install is the Jawbone Companion for Android. This is enabled on the MyTalk website with your headset attached to the computer. Then you need to get the Jawbone Companion app from the Google Play store.
Once the Jawbone Companion app is download, when you press the Talk button, you will get the time read to you. The app also shows you the Battery meter as well as displaying a mini Battery meter in the notifications bar on the phone.
If you check off the Calendar Notifications circle, the Jawbone will tell you of upcoming Calendar items as the notifications get displayed on the phone.
Lastly, touch the Button Control tab and you can program the Single Press of the Talk button to either:
Speak the battery level
Tell you the current time
Tell you the current time and then the battery level
Comfort
The Jawbone Era comes with an array of earpieces. The retail box comes with eight earpieces and an ear loop. Most users will be able to find a comfortable fit. Four of the earpieces have a flexible "spring" at the outside edge ,which fits in your ear and holds it in place. I generally found that I did not need the ear loop to keep this headset in place.
The Jawbone Era is very light and was comfortable to wear for long period of time.
Call quality
The first time I ever used a Jawbone, I wondered how it was able to pick up the sound of my voice since it sat nowhere near my mouth. After doing some research I learned that this is why the company is called "Jawbone." The multiple microphones pick up the vibration from your "jawbone" and pick up your voice.
Callers generally felt that I sounded quite clear – several were actually surprised to hear that I was on a headset.
The real trick pony on this thing is the NoiseAssasin 3.0 technology – military grade noise elimination technology that does an amazing job of removing background noise. This technology also auto adjusts the volume of the call based on the background noise it picks up. It is pretty amazing tech in a little device. What's important to know is that it works, and calls were very clear on both ends.
Jawbone has a very clever video (albeit promotional) that really does help illustrate how the NoiseAssasin technology works:
NOTE: The Jawbone Era support A2DP audio streaming meaning that when the headset is connected, you can stream your music from your Android phone right to the headset. It does not support, however, AVRCP – so that means you can't control your music with the buttons on the Jawbone Era.
The wrap up
This is the most expensive headset available. The technology contained within is really amazing. Some of it seems almost "too much" for most people. I'm not sure I need to be able to shake my headset to pair or answer a call. Accelerometers, motion detectors, NoiseAssasins – there is lots going on here.
The bottom line is that this was the best call quality and most consistently good sound I have experienced in a Bluetooth headset – and it better be for what it costs.
The good
Very comfortable with lots of fit options
Fun and useful downloadable software
Amazing technology contained within
Noise cancelation really does work as advertised
The bad
The verdict
This is the best Bluetooth headset I have tested. If you want the very best and price is no object, then this is the headset for you. That being said, if you want some of this cool technology, it can be had for less money with other headsets in the Jawbone line.
Buy it now
Others like this one
Android Central Newsletter
Get instant access to breaking news, the hottest reviews, great deals and helpful tips
Amazon has it for $82 http://www.amazon.com/gp/product/B004K1EDG2/ref=as_li_ss_tl?ie=UTF8&camp... I currently have the Jawbone Icon - it seems like it is starting to die out though - people used to say they couldn't tell I was on a headset, but now I have to press it against my cheek and cup my hand so they can hear me - anyone know how to fix this issue?

The Bose bluetooth headset is MORE expensive than this at an MSRP of $150. :) And it's not as good, either.

I'm glad you wrote an article on this. Maybe you or someone can help me because I'm having quite a tough time with this. I have tried a Jawbone Era on my Evo 4G LTE (running ICS) & I can't get most of the voice control apps to work THROUGH the headset. It will register that I held the button down on the headset to trigger voice control but when I speak, it doesn't pick up the audio through the headset. Is this an ICS issue? A wrong setting on the Jawbone? I've only found one app that works and it seems pretty archaic. I think it's just called Voice Control.

Wow, no replies. That's disappointing...

Hookup your jawbone with the PC & update it
on Jawbone site Mytalk download & install software
maybe that will help

you can actually get it from Amazon for $53.40 - http://www.amazon.com/Jawbone-Wireless-Bluetooth-Headset-NoiseAssassin/d... - because of the price, i'm thinking of ordering it now.

good luck with this headset. Both them for both myself and the wife, and we are constantly having to push it against our face for the mic to work properly. Everyone says we cut in and out. Going with a different bluetooth that doesn't rely on vibration to trigger it.

I just bought an unused Shadowbox version from someone on Craigslist for $40. I am very pleased... Looking forward to getting into the apps and more of the custom features.

Just bought 2 Jawbone ERAs, one for my Android Motorola Atrix 4g, one for my daughter's iPhone 4S. I've had mine about a week, hers came in yesterday. Both headsets are junk. I get almost an hour of talk time (4 or 5 20-minute calls per day)and about 5 hours standby before the batteries run down. Wind noise on mine, in the car @ 20mph, is so loud I have to put the windows up to hear. If I leave it on my desk for a few hours mine drops the connection. Both are the Midnight Retail Package. Purchased both new through Amazon Part# B004K1EDEO $86.63. I am returning both if possible.
Android Central Newsletter
Get instant access to breaking news, the hottest reviews, great deals and helpful tips
Thank you for signing up to Android Central. You will receive a verification email shortly.
There was a problem. Please refresh the page and try again.