Jabra Elite Active 75t vs. Jaybird Vista: Which should you buy?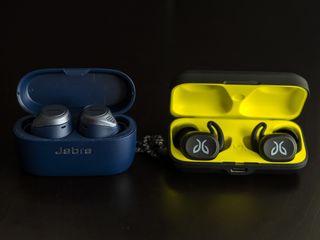 (Image credit: Ted Kritsonis / Android Central)
Jabra Elite Active 75t
The Elite Active 75t take the best true wireless earbuds Jabra has engineered to date and adds an extra level of ruggedness by upping the waterproofing. This extra insurance makes it easier to wear them in wet and sweaty conditions, like when you want to go out for a run or get into a serious workout. What helps the cause is that they benefit from the better fit and comfort introduced by the regular Elite 75t.
Jabra Elite Active 75t
Waterproof build
Great sound quality
Comfortable fit
Smaller charging case
HearThrough mode
Limited EQ functionality
No wireless charging
No improved call quality
Jaybird Vista
The Jaybird Vista is an example of an upstart surpassing expectations, especially relative to the company's previous effort, the Jaybird Run. What makes these work well is the combination of fit and audio customization through Jaybird's app, which can change the overall sound profile. In addition, the IPX7 rating is among the best available on any pair of true wireless earbuds to suit active users.
Jaybird Vista
Bass-heavy sound
Comfortable fit
App-based EQ options
IPX7 waterproofing
Quick charge via USB-C
No auto-pause feature
No ambient sound mode
Limited to SBC Bluetooth codec
These two pairs of true wireless earbuds are more evenly matched than it may seem, partly because they both have some form of water-resistance, but also for the simple fact they sound good. However, they do differ in some other key ways that set them apart. Let's see how these two competitors truly match up.
Fitting in everywhere
Unlike the AirPods, neither of these are built to crap out after a short time. Jabra made the Elite Active 75t sweat and water-resistant enough to withstand both the rain and a sweaty workout. Jaybird, on the other hand, is officially in waterproof territory with the Vista, meaning you can wear them down to a depth of three feet of clear water and not have to worry about it. That's one of the key differentiators between these two, among a few others.
Swipe to scroll horizontally
| Header Cell - Column 0 | Jabra Elite Active 75t | Jaybird Vista |
| --- | --- | --- |
| Durability | IP57 | IPX7 |
| Bud battery life | 7.5 hours | 6 hours |
| Charging case battery life | 20.5 hours | 10 hours |
| Connectivity | Bluetooth 5.0 | Bluetooth 5.0 |
| Digital assistant support | Alexa, Google Assistant, Siri | Google Assistant, Siri |
| Supported audio codecs | SBC, AAC | SBC |
| Speaker size | 6mm drivers | 6mm drivers |
| Active noise cancellation | No | No |
The two other points that stand out relate to battery life. Jabra has an edge in both the earbuds themselves and in the number of charges the case can manage to keep them going before plugging in to charge. Each case has USB-C, which is always convenient if you're carrying a phone charger around using the same port. Unfortunately, there's no wireless charging, so the convenience does have its limits.
Then you have the fit and finish. If this comparison was to the Jabra Elite Active 65t, Jaybird would have a clear edge with the smaller frame between them, but that's not so much the case here. These two models are of similar size and weight and come with a few different tips to help create a tighter seal. That matters a lot because of the excellent bass both have when you can increase passive noise isolation with a tighter fit.
Sporting better sound
You won't get poor sound quality either way here, though there are subtle differences between them that do stand out. Jabra generally goes with a neutral soundstage that delivers enough bass to help make them among the best audio performers in the true wireless category. There are limited options to change the profile through the equalizer in the Jabra Sound+ app, but a deeper set of options would make a bigger difference. It also doesn't hurt that Jabra also supports the AAC Bluetooth codec, whereas Jaybird sticks to the standard SBC only.
That's one thing Jaybird addressed with the Vista. By default, Jabra's earbuds sound more balanced, but the Jaybird app has a bustling community creating EQ "presets" that you can apply to the earbuds to alter their sound profile. It makes a world of difference if you're into multiple genres of music. Plus, it can modify the level of bass in the music you're listening to in case it's too low or too strong. You would just have to remember to switch between your favorite presets whenever you listen to audio.
Jabra does hold an edge when it comes to audio syncing when watching video on a phone or tablet. The Vista have a slight delay that offsets dialog enough to notice the contrast between the two models. It also helps that Jabra has HearThrough mode to let in ambient sound when you want to listen to the outside world while out on a run or when you need to have a brief conversation without taking the earbuds off.
Then there's battery life, where again, Jabra holds an edge with an extra hour of playback and a case that doubles the capacity of the Vista's case. That comes in real handy when on a trip, but even daily commutes benefit from the reduced number of times you actually have to plug in and charge. That's not to say the Vista is in a bad way — only that you would need to charge them much more often.
Both companies offer similar one-year manufacturer warranties, though Jabra takes it a step further with an extra two-year limited warranty when you register the Elite Active 75t on the Sound+ app. The major catch in both cases is that water damage isn't covered, so you do need to be careful. They may cover sweat damage, but you should confirm to be sure. The best way to avoid any problem with perspiration is to clean and sanitize the earbuds to avoid salt seeping into crevices.
Each model also comes in different colors. The Elite Active 75t come in navy, copper black, titanium black, grey, mint, and sienna. The Vista come in black, nimbus gray, and mineral blue.
So, which should you choose?
Neither pair is going to leave you in the lurch when it comes to being active. It just depends on how much water you expect to be in contact with. Both sets of earbuds are great for running, long walks, and workouts, though only Jabra offers HearThrough to let in ambient noise for added safety. Jabra is nicely balanced out of the box, with the app's equalizer adding some customization to the mix.
Jaybird certainly caters to the bass-heavy listener, but you can only really get the most out of the audio performance by tapping into the equalizer and presets available in the app. Without that, you're limiting yourself to the default profile, which is clearly suited to hip hop and house music. Both companies are good at updating firmware to add new features or improve upon existing ones, so you should get some longevity either way.
Your choice will come down to the details beyond audio performance, like battery life, comfort, and custom features. The Elite Active 75t are the better overall purchase, but you won't go wrong if you want more customized sound in the Vista.
Keeping it on
Ready to wear, ready to play
The Elite Active 75t cover many important bases, particularly good audio performance boosted by better battery life and a more comfortable fit over more extended periods of time.
Loud and proud
Listening on your terms
The Jaybird Vista have the right stuff to ward off wear and tear with a comfortable design and excellent fit, but it's the app's audio customization that really stands out.
Sign up for Black Friday email alerts!
Get the hottest deals available in your inbox plus news, reviews, opinion, analysis and more from the Android Central team.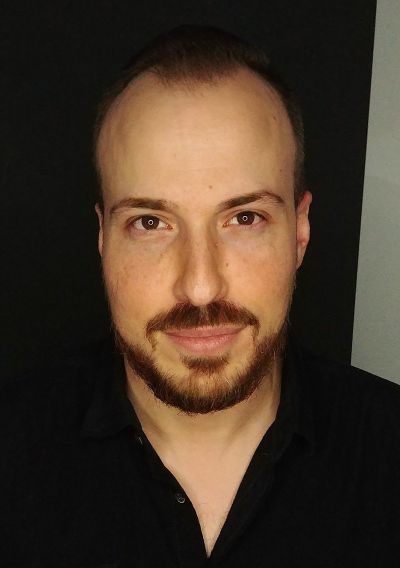 Contributor, Audio Reviewer
Ted Kritsonis loves taking photos when the opportunity arises, be it on a camera or smartphone. Beyond sports and world history, you can find him tinkering with gadgets or enjoying a cigar. Often times, that will be with a pair of headphones or earbuds playing tunes. When he's not testing something, he's working on the next episode of his podcast, Tednologic.