Intel's newly announced Core M processors will pave the way for thinner hardware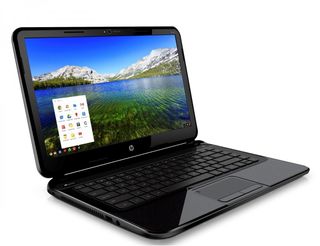 Intel today announced a new family of Core M (Broadwell) processors that will help make hardware even thinner. Tablets and 2-in-1 personal computers are already pretty darn thin, especially when you compare everything available in 2014 against what was on the market a few years ago. Intel has played its part in offering more advanced processors to cut down on unnecessary space taken up by cooling solutions without compromising on power and the next-gen Core M chips will further help manufacturers.
Intel has been pushing hard to make inroads with Android manufacturers, with their Atom chips ending up in a handful of tablets like the Acer Iconia A1-830, Dell's Venue series, and the Samsung Galaxy Tab 3 (but not the Galaxy Tab 4). Chromebooks, however, are where Intel's Core M processor could find a home. Intel and Google have been working together on making Chrome OS more x86-friendly, and the Core M processor could mean faster, thinner, lighter, and cooler (temperature-wise) Chromebooks.
Presenting the new chips at Computex, Intel president Renee James showed off a 2-in-1 PC powered by the company's new 14nm Intel Core M chip, making way into the fifth generation (Broadwell) of Intel processors. The new processors utilize less energy and improves battery life, while providing enough power for consumers to enjoy a smooth experience on supported devices. The 2-in-1 PC shown off at Computex was just 7.2mm thick (see below photo) with no fans to hear or external exhausts to see.
According to data supplied by Intel during the presentation, the new Core M processors will feature the following:
Runs up to 60 percent cooler
Will offer an increase of performance between 20 and 40 percent
Between 10 and 45 percent lower power draw
Takes up 50 percent less space in devices
This all sounds solid for consumers who are after yet more power in their hands, without having to deal with issues generated with more powerful processors (heat generation, etc). It'll also be interesting to see just what Chromebook manufacturers are able to cook up with a smaller and more efficient processor like the Core M.
Source: Engadget
Get the Android Central Newsletter
Instant access to breaking news, the hottest reviews, great deals and helpful tips.
Ooooo a Chromebook with that chip would be niceeee arm chipsets are just laggy and bog down under just a bit of load. Posted via Android Central App

Most new cb00ks have intel chips since a year back... ... ( 0ppo F5) ...

Most, not all, the newest HP Chromebook uses exynos. That'll be $15.20 plus tip.

I hear you and I still don't understand it... How is it that my Nexus 10 can run everything I throw at it so well with a terrific resolution, but my Samsung Chromebook barely plays youtube? It is the same hardware, so what gives?!

To me - I get less excited about complete hardware news and more excited about chips and the potential! Haha, maybe I'm overly optimistic, but I can't wait to see what these chips will power. I already love the newest line of Atom chips. If these are better, I guess I'll have to replace my laptop or something. Haha

Too bad the haswell chips are so darn hot lol. Guess they gotta make something cooler to make up for it.

Really excited for the future of PCs and Mobile computers. Posted via Android Central App

Forget this 386 for the win Posted from my Nexus 7 2013 or Samsung galaxy S5

Well, Ive been looking fot a Chromebook, now, with this news, Ill have to wait a couple of months. Is hard to hold my will of speding the money right now =/

Agree, I want to jump on board but everything is so fluid right now. I don't want to have buyer's remorse. I really want one running an Intel chip, though.