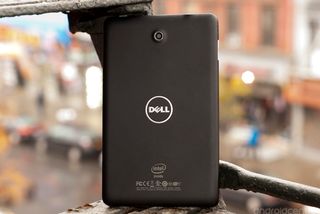 Dell is back in the Android business, and its Venue tablets are low-cost alternatives to the competition this holiday season
How do you make an Android tablet stand out? If you're Samsung, you equip it with 101 features and throw in an S-Pen for good measure. If you're LG, you craft a well-made tablet around remarkable specs and your increasingly popular UI. And if you're Google, you create a premium and pure Android software experience and let someone else worry about the hardware.
With a market cornered by a handful of big names, how does Dell, a company with an unlucky history in the Android world, compete? Well, one way is competitive pricing. And Dell will be hoping that the Venue 8's $180 price point, coupled with its brand name recognition, will be enough to lure first-time tablet buyers away from the competition this holiday season.
Pros
Lightweight, well-crafted design. Fast and fluid stock Android experience. $180 price tag
Cons
The display is outdated and noticeably sub-par. Ships with Android 4.2.2 with no updates in sight. Poorly-performing camera that lacks autofocus.
The Bottom Line
The Venue 8 is a refreshing reminder that a solid Android slate doesn't have to break the bank. It's a well-built tablet featuring a stock Android experience that performs remarkably well. Its specs might not be on the cutting edge, but for $180, the Venue 8 is a great choice for the first-time buyer.
Swipe to scroll horizontally
Dell Venue 8 hardware
From the outside, the Venue 8 is your standard 8-inch Android tablet fare: it fits nicely in the hand thanks to its modest 130 mm width, and at 292 grams, it's light enough to carry with you throughout your day, yet manages to feel sturdy and solid. I dig the matte black finish on the rear of the device, which avoids pesky fingerprints that glossy finishes tend to collect.
The left side of the device houses he volume rocker and microUSB charger, while the microSD card slot is hidden underneath a door on the Venue's right side. The headphone jack and a relatively low-powered speaker are located on the bottom of the tablet.
On the front we have an 8-inch display with a slightly-underwhelming 1200 x 800 resolution. Despite its low pixel density, though, this panel manages accurate color reproduction, respectable viewing angles, and reasonable brightness. We would have loved one or two steps up from what Dell ultimately decided to include, but at $180 we guess beggars can't be choosers.
What's on the inside
Under the hood lies one of the Venue's main talking points — its Intel Atom Z2580 processor, built on Intel's CloverTrail+ platform. It's clocked at 2.0 GHz and paired with two gigabytes of LP-DDR2 RAM. Dell likely made the choice to opt for Intel's technology rather than a competing chip from rival Qualcomm based on its long-standing relationship with the silicon maker – after all, Intel's Bay Trail processors are what powers Dell's other line of tablets, its Windows 8-powered two-in-ones.
We can get into benchmarks and other geeky head-to-head tests to weigh the advantages and disadvantages of the Atom processor over say, the Snapdragon, but we're guessing most consumers in the market for a $180 Android tablet won't be too concerned with these scores.
For our purposes, though, there are two things to keep in mind. First, in everyday usage, the Atom has more than enough power to deliver a fast and fluid Android experience. For casual users purchasing the Venue for standard apps, web browsing, and low-power gaming, the Atom processor will prove more than sufficient. However despite its advanced Hyper Threading and GPU technology, the Atom processor still lags behind Qualcomm's Snapdragon line when it comes to advanced gaming and processor-intensive multitasking. You'll notice the Atom stumble in certain instances where Snapdragons doesn't miss a beat – they're few and far between, but they're there.
Secondly, despite Intel's promises of low power consumption, thanks largely to the chip's low idling power, Qualcomm still does it better. The Venue's 4,100 mAh battery performs below average, and was never able to get me past a full day of usage. Whereas the competition, especially the new Nexus 7 and even Samsung's Note 8, seem to sip on their batteries, the Venue chugs it. Moderate and heavy users should count on plugging in their Venue nightly.
Dell Venue 8 software
We're thrilled to see that Dell is keeping costs low by avoiding the choppy waters of UI development: here, they've stuck with stock Android, which performs just as well as we've come to expect. Believe it or not, aside from two custom Dell apps, this is as close as you're going to get to a Nexus experience without actually purchasing a Nexus.
One place you'll definitely realize the difference between the Venue and a proper Nexus experience is in the software updates – the Venue ships with Android 4.2.2, which having passed the one-year mark is officially past its prime. Dell has given no word on if or when the Venue will be updated to Kit Kat 4.4, or even more recent versions of Jelly Bean. But there's a strong possibility that updating a budget tablet won't be a high priority for the manufacturer.
To touch briefly on the two custom Dell apps, they're actually a welcome addition to the Venue's software suite. Pocketcloud, a product of Dell's Wyse cloud-computing arm, is an efficient and easy-to-use remote desktop client. Simply install the desktop version on your home machine and connect your Venue using your CCM or Google credentials. From there, you'll be able to navigate your machine with little to no lag. Want to access your files? Here's where Pocketcloud Explorer comes in — drop files on your home machine into your complimentary 2GB "Cloudbin" and you'll be able to access them on the go. The entire suite is very well done, and those first time tablet buyers will be smitten with its simplicity.
Dell Venue 8 ca​mera
In a word, the Venue 8's camera is awful. If you're looking for high quality optics that can produce rich and detailed images, you're looking in the wrong place. The Venue's shooter lacks autofocus, making shooting a downright hassle. If you simply need to hop on a video chat or snap a selfie once in a while, though, the Venue will be sufficient. Otherwise you'll want reach for your smartphone or a dedicated camera.
The bottom line
It's nice to see Dell back in the Android game, and the Venue 8 is a refreshing reminder that a solid Android slate doesn't have to break the bank. It's a well-built tablet featuring stock Android experience, and one that performs pretty well too.
So why not just buy a Nexus 7, you say? For $50 more than the Venue 8 you can snag the latest and greatest straight out of Google's labs, complete with one of the best displays on the market and timely Android updates. Heck, you can even opt for a used first-gen Nexus 7 that would offer a similar experience for even less cash. For Android purists, and those with experience with the OS, the Nexus 7 remains the clear and obvious choice.
It's for the everyday consumer that the Venue is made. What's truly attractive about the Venue 8 is its price tag, coupled with Dell's unmatched customer service, not to mention its reliable performance and beautiful design. The promise of a brand new Android tablet wrapped underneath your tree for less than $200 is hard to ignore; couple that with the fact that should something go awry, Dell is just a phone call away, and the Venue becomes a no-brainer. For first time tablet buyers, the Venue is a solid choice this holiday season.
Get the Android Central Newsletter
Instant access to breaking news, the hottest reviews, great deals and helpful tips.
Not bad at all Posted via Android Central App

Meh. Posted via Android Central App

No excuse for 4.1. With no UI enhancement, why old software?

It was updated. It did say 4.1.2

Sorry Dell, never again after dealing with your utter lack of support for the Streak. Great device, ahead of its time, and utterly abandoned by Dell. Fool me once and all that.

I ran my Dell Streak 5 for 39 months, it was a Great solid device. Abandoned and forgotten by Dell.
I also bought 3 of the Dell Streak 7 tablets. Ok on Froyo 2.2 but HC3.x sucks!Bad viewing angles on the display. Poor battery life too. But all 3 tablets still work.
I don't think I can recommend Dell Android devices if they are not going to support them. But build quality was excellent.

I've been waiting for this review. Thinking about getting 2 of these for the kids for Xmas.

Ditto! Watch OfficeMax. They'll have them on the cheap on Friday.

Go to Dell's website. They are offering these for $129.00 for Black Friday deals. Just ordered one for my son.

Yea just ordered 2 for the $129. How did you order those 2 hours ago when they just went on sale at 43 minutes ago?

boycott this thief. he stole the company on the cheap from shareholders.

Hisense Sero Pro is a better deal if the deal is the object! Posted via Android Central App

I think Android Central failed to mention that one reason why this tablet is stuck at Android 4.2.2 is because Intel hasn't ported Android 4.3 or Android 4.4 to x86 yet. If you check https://01.org/android-ia/ which is Intel's version of Qualcomm's CodeAurora development community, you'll see that Android is still stuck at 4.2.2. Dell and Intel have stated that they will upgrade Android to 4.4 in the future, question is when rather than if. I personally wished Nexus had an 8 inch device, it's pretty much a sweet spot for me, so even though I would love another Nexus device, I think I might opt for this one instead.

8" would be nice, but the N7 fits nicely in almost all the pockets I have, an 8" tablet almost certainly would not (as it's a close fit).

Idk, man. I have the Venue 8 Pro, and it's really not much bigger than my N7 (2012). I find it's just as easy to 'pocket' the device.

I'm disappointed you didn't mention that, despite shipping with Android 4.2, there is no multiuser functionality. http://forums.androidcentral.com/general-android-device-chat/332606-dell... This was an opportunity to get the word out and hopefully force Dell's hand.

If you can go the extra $40 the nexus 7 is way better for updates with this its like stock android stuck with 4.2 and the screen is way better and power too everything about this tablet is like the N7 but worse Sent from my Nexus 7 2013

No reason to buy this POS over even 2012 N7.Hey Dell 2012 called they want their Android version back Posted via Android Central App from Nexus 7 2013

I would even buy the moto Xoom over this Sent from my Nexus 7 2013

If your behind Google and Microsoft you just copy what Apple did last year and try to add more features to it and say its different and better or try to beat Apple to market with a rumored product that fails for you and Apple skips by and shows the right way to do it when its version eventually gets released! Still waiting on iWatch to show us this repeated event again....

How was this relevant? I feel like I missed something.

You might want to check what you said because ios 7 is basically a bad locked down copy of Android, Windows phone and WebOS but most obviously Android. They didn't get a lot right and even admitted to it.

I'm kicking around doing this but the Venue Pro with Win 8.1. I really want an 8" tablet as I like my iPad Mini's form factor and I'm thinking Windows *might* allow me to get rid of the stuff that pisses me off about Android and iOS (Flash, apps that don't work quite right, websites that don't work quite right etc.) I'm using my iPad Mini for web browsing, Kindle reading, Facebook and Twitter and that's about it. I don't attempt any real work on it, watch movies etc. So *I think* the screen will be fine. And I won't have to care about Dell or Samsung or whomever screwing around with OS updates since it'll come from MS. I do wish it had a better resolution screen, but most reviews of the Pro seems to not complain about the screen's quality. Hmmmmm.

OEMs such as Dell, HP, and Lenovo should just stay out of the Android tablet market. All of their devices are crap and lose support almost immediately after release. It seems like their motive is to create cheap devices before the holiday season, give them a reasonable price tag, slap a relatively recent version of Android on them, and watch customers buy them on impulse. But try updating that device or getting any support for it after the purchase. The only OEM in this category that seems to actually give a damn about Android is ASUS. Posted via Android Central App

I have this tablet. Just got two of these for the holiday shopping. In fact got myself pretty good deal on these from Newegg for $152/each (16GB) so picked up two. I also have a Nexus 7 and Hisense Sero Pro. There is a comment above about Hisense that it would be a better buy because its cheaper. Let me tell you from first hand experience that even though Hisense is an excellent tablet for its price. You definitely see/feel its limits while gaming. For all other usage, Hisense is fine plus it has excellent battery life. However this Dell tablet is a lot better than Hisense because of better specs. It has clover trail and 2GB ram as compared to Tegra 3 and 1 GB ram in Hisense. 720p screen doesn't seem too bad on the Dell either. Its smooth and snappy transitions and animations. App loads are fast too. Overall its a very good tablet for what I paid for it except for one thing. Speaker. One thing this review didn't mention is the bad quality of speaker on Dell Venue. Its loud, no doubt, but the quality of sound coming out is crap. Its tinny and distorts badly at higher volumes. If you are not planning on using earphones and want to watch movies or play music, stay away from this. For all other intents and purposes its excellent.

I have the Dell Venue 8 Pro which comes with windows 8.1. I don't know why anyone would buy this one when the windows version is available. With windows no more worries of side loading flash and trying 5 different browsers to get it to work just for the browser to force close on you. The 8 pro is way better than my Nexus 7 (2012) and is receiving great reviews so far...

Simple, some prefer the Android OS and its available apps.

Easy...$120 more for a $180 tablet? The Venue Pro is in a different category altogether.

Surprised no one mentions micro sd card. Few phones or tablets have them any more. Key feature for media consumption. Posted via Android Central App

32G version is available in 159$ at amazon.. Just ordered it.. Great deal!!

If I can get back to the Venue 8:
Does anyone know if there is case for it yet?
From what I understand neither the 8 pro nor the 7 will fit. There are venue 8 cases being sold on Amazon but they cases do not appear to be legit. It just seems odd that there is not a case yet.

Why doesn't stock Android get automatic updates like Windows devices do? Windows devices always ship with the latest version of the OS, but to get the equivalent with Android you have to buy a Nexus device. Why?

This is customized a bit - in good ways. For example, you can mount an SD card - vanilla Android won't do that! I also noticed that they have received the Android 4.3 update now so they're ahead of most products... I would also stress the importance of 2 GB RAM. If you install more than about 30-40 Android apps with 1 GB RAM, you'll have performance issues. With 2 GB RAM, I have 150+ apps and have never had a hiccup. The only issue I keep coming across is that it seems to have difficulties connecting to wifi hotspots...some work, some don't - even where all my other devices connect fine. Weird. The 4.3 update didn't fix that.