Acer Iconia A1-830 review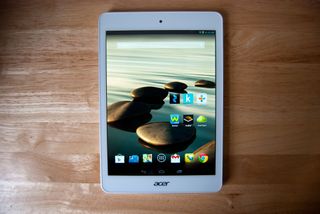 Acer's Intel-powered A1-830 is well-built, but not without some cut corners
Remember Acer? The company that, upon Android's introduction, stepped out of its Windows-powered comfort zone and introduced the Iconia A500, a clunky but noble first stab at the increasingly popular Android tablet market? Acer continued to experiment with various sizes and shapes, but never really managed to enter that upper echelon monopolized by big names like Samsung, LG and Asus.
But despite its lack of a blockbuster hit, Acer has honed its Iconia line into a budget-friendly, solidly built alternative to its expensive competitors. Last summer's A1-810 was built to compete with the iPad mini for half the price: the end product was a tablet that appealed to new and novice tablet users alike.
Enter the Iconia A1-830, the follow up to the 810 introduced at this year's CES in Las Vegas. It takes what made the 810 work – modest specs, a 4:3 ratio, and a sub-$200 price tag – and refines it into a sequel-worthy package. Here's a look at what Acer can do for $180.
Inside this review: Hardware | Software | Cameras | Bottom line
Iconia Hardware: What's on the outside
Believe it or not, the A1-830 is one of the most well-built Android tablets available today, thanks in large part to its gorgeous aluminum casing. It's a nice upgrade from the 810's plastic finish, and it gives the 830 a undeniably premium look and feel. In fact, aside from the iPad, there are few tablets on the market that can boast this kind of stunning design.
Drilled into that aluminum casing are two speaker grills, capable of producing loud, albeit tinny sound. For most occasions they're perfectly acceptable, though don't go searching for deep bass. Also living inside the aluminum is the power button, volume rocker, and a microSD slot, capable of holding up to 32 GB of additional storage.
There is indeed a small plastic swath covering the top rear of the device -- here is where you'll find the 5 MP camera (more on that later), the 3.5 mm headphone jack, and the microUSB charger, which I found to be awkwardly placed, especially when using the tablet during charging.
The aluminum finish even adds a sense of quality to the front of the device, which features an all-glass panel flanked by the buffed aluminum edges. There's a considerable amount of bezel surrounding that 7.9-inch display, though I found it made holding and operating the tablet more comfortable.
Sadly, the 830 looks better with the display turned off. Turn it on and you'll be met with a 7.9 inch, 768x1024 resolution panel, which at 162 ppi is all but Jurassic when compared to the rest of the market. It's painfully low quality, riddled with pixelation and poor color reproduction, as well as an obvious gap between the actual panel and the touch surface. Viewing angles are ample thanks to the IPS technology Acer is using here, but when all is said and done, it's really difficult to be content with this painfully outdated technology.
Despite my disappointment with the display resolution, I actually really enjoyed the overall look and feel of the 830, thanks in large part to its offbeat 4:3 ratio. Like the similarly laid-out iPad, it works remarkably well in both portrait and landscape, and at a mere 13.4 ounces and 8.2 mm thickness, you'll be hard pressed to find an uncomfortable way to hold and operate the 830. And thanks to its 7.9 inch size, apps designed for Android phones look a heck of a lot better here than they do on larger 10.1 inch, 16:9 displays. Call it blasphemous, but when it comes to tablets and what I use them for, I'd take this layout over the standard widescreen orientation any day.
What's on the inside
Use the 830 for a while and you'll begin to notice where Acer cut some corners to meet that $150 price tag. Underneath the hood, the 830 is packing a Intel Atom Z2560 processor clocked at 1.6 GHz with 1 GB of RAM and 16 GB of internal storage. In everyday usage, the 830 is capable of running relatively smoothly, thanks in large part to the lightweight, vanilla Jelly Bean. But begin the use the 830 in depth for things like graphics-intensive gameplay and, to some degree, heavy multitasking, and you'll notice just how underpowered that Intel Atom really is.
It's hard to fault Intel's Atom, as its perfectly capable of performing relative well at a remarkably low price tag. However, don't overestimate what it's capable of: you'll be perfectly pleased with light-to-moderate usage, but power users will definitely want to fork over a few extra bucks for something with a bit more horsepower.
The last piece of the 830's spec puzzle, that 14.8 watt battery, is as remarkable as Acer says it is. Thanks to the power-sipping processor and low pixel count, you'll easily squeeze two to three days of light to moderate usage out of the 830. You'll also notice stellar standby times, which is one of the most important aspects of a tablet's battery performance.
Iconia software
The A1-830 runs a mostly-untouched version of Android 4.2.2 Jelly Bean out of the box, which will go over well with Android purists. It's the stock Android we've come to know and love, and it's nice to see Acer focusing on hardware rather than getting bogged down in the software game. Why fix something that isn't broken?
That said, there's a handful of custom apps that ship preloaded on the 830, and since they can be removed, I'd stop short of labeling them "bloatware." The apps include the music service 7digital, the Amazon suite, Acer's own AcerCloud storage solution, Kobo ebook service, scrapbooking tool Life Image, and the WildTangent game portal. They're fun additions that make stock Android feel a bit more robust to new and casual users, but there aren't any standout deal makers (or breakers, for that matter).
I would have loved to see KitKat out of the box (obviously), and I'm a bit worried that we're a long, long way off from seeing the update, given Acer's track record. However, I'm still really pleased at how intuitive, user friendly, and fast Jelly Bean can be, and I'm just thankful Acer didn't do anything to get in its way.
Cameras
Two words: don't bother. The 830's 5MP shooter struggles dramatically in less-than-pitch-perfect lighting situations, and most results suffer from washed out tones, soft edges and low detail. In addition, Acer's custom camera interface isn't very fun to use with limited control over settings and a somewhat clunky menu setup. There's really nothing remarkable about this setup – if you absolutely must use one of the cameras, stick with the 1.3 MP front facer, which performs just fine for the video calls and selfies for which you'll be using it.
The bottom line
Acer did a fine job following up its A1-810 tablet, even if it didn't give it much of a spec boost. With an exponentially nicer build quality, a unique 4:3 screen ratio and a nearly-untouched Jelly Bean experience, the 830 is a fine device. At just $180, it's a fantastic buy for the casual or new tablet user.
This isn't to say the 830 is perfect, even at that price point: the display is abysmal, as is the camera, and power users will find the Intel Atom processor to be disappointingly underpowered. But again, the 830 probably isn't something you'll want to move to from, say, a Nexus 7 or a LG G Pad -- these products are well worth the additional change you'll shell out for them. For those looking a tablet with which to get their feet wet, though, the 830 is a solid choice.
Pros
Premium, high quality design
Easy-to-hold 4:3 ratio
Nearly stock version of Android 4.2 Jelly Bean

Affordable $180 price

tag
​Cons
Disappointing display
Abysmal camera, both in terms of interface and results
Get the Android Central Newsletter
Instant access to breaking news, the hottest reviews, great deals and helpful tips.
Perfect starter / second tablet when you want to make the most of your dollar.
Not everyone gets their rocks off to Geekbench numbers.. for some, light gaming, reading on the net and movie watching are all that is needed and ask for from their tablet.

I don't think asking for a 1280X800 screen at 7.9" is being a spec junky. That should be the minimum acceptable res today.

Not if you're trying to keep the price tag at $150-$180.

I don't know who manufactures this screen.. but 1024 x 768 on my former iPad Mini looked perfectly fine.. and unless you listen to these reviewers and let them convince you otherwise.. or actually put a phone or tablet One Inch away from you eyeball and proclaim that "You can see pixels!" ( Try that on a Saturday afternoon at a local electronics store.. everyone will think you are Mentally Challenged ) then 1024 x 768 packed into 8 inches of display is just fine for the average consumer that will be considering this tablet for purchase.. These sites now a days try to convince you that if a device doesn't have 4 cores clocked 1.5 GHz or higher with HD resolution then something is wrong with it.. If you believe that sheet.. You truly are a Wanna-Be Geek.

It's not bad, for the money. But, for a little more, you can definitely do better. And, as usual, you absolutely have to insult someone in your reply. Typical. Posted via my "Gift from God" Note 3, my "Blessed" iPad Mini 2, or my "Risen" Asus ROG"

If the Shoe Fits... Boy.
I see you are still the resident BROWN NOSE as well..... TYPICAL for you.. BOY.

Lulz Posted via my "Gift from God" Note 3, my "Blessed" iPad Mini 2, or my "Risen" Asus ROG"

Lol and typically for you you use insults to try and hide your ignorance. BOY. Posted via Android Central App

Another Brown Noser... Stop kissin AC's Ass...., When they are wrong they are wrong... CHUMP.
This has nothing to do with you CHUMP... WATCH IT.

Call me crazy, but i picked up TWO of these 2013 A1-810 models on Amazon a few weeks ago (refurbished but i coudn't find a hint of a defect on either one) for $109.00 each, and i have to tell you, i haven't put either one of them down YET. I have had so many tablets over the past few years, but always wound up rturning them for one reason or another, it usually always coming down to "not really being able to justify their 3, 4 5 or even 600.00$ cost."... With this lil guy, he is sooo useful, and so easily held, quick (did he mention quad core processing power), bluetooth, Google Play store, sd card slot, decent display, long battery life, this is definitely a "Can't Go Wrong" device : ) Even tho the two i got have lack the aluminum build as this newer one, the white back & black face of the A1-810 are really nice too... BTC

Sounds like you got a deal.. and YOU are satisfied with your purchase..
That's all that matters... enjoy them.

Hmmm the back looks like a ipad ! Here apple come!!! Posted via Android Central App

This seems a fairly wretched tablet to me! Firstly, it's almost 8" diagonal and yet can't play videos at full 720p due to the dismal 4:3 aspect ratio, despite the fact that most recent Android phones with smaller displays can. The screen resolution is awful and, equally importantly, looks terrible too. Tablet displays are the one thing you can never skimp on because their larger physical size makes any shortcomings a lot more noticeable. I was fairly happy with my Nexus 7 2012's 1280x800 display (the bare minimum res any tablet should be launching with in 2014, not this ridiculous 1024x768 that was even embarrassing for the original iPad mini....and Apple ended up having to correct this with a Retina version), but when I got an 8.3" 1900x1200 LG G Pad, the display was a massive step up from the Nexus. Even ignoring the camera woes (why are tablet cameras so bad? I think people don't use tablet cameras because of their poor quality and not because of any "wally" factor), this Acer's dismal display should rule it out of anyone's consideration, even if it's cheap.

So Apple release a smaller iPad following the success of the Nexus 7, despite saying they never would and they are an inspiration because one of the many many different tablets is the same size. Total nonsense and just another attempt to shoehorn Apple into every article.
http://game-generator.org/ new games

I accidentaly misplaced my acer charger. Is there any other way I could charge it other than using its original charger.