Intel's first commercial 5G modem, XMM 8060, is now under development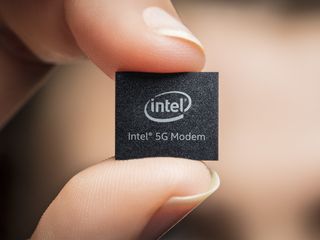 Qualcomm's been making huge strides in developing the 5G future lately, but it isn't the only company committed to this venture. Intel recently announced a couple new chips that it's currently working on, and the XMM 8060 – it's first commercial 5G modem – will be shipping out in just a couple of years.
The XM 8060 is the first addition to Intel's XMM 8000 series of modems, and it'll be able to support standalone and non-standalone 5G NR, 4G, 3G/CDMA, and 2G networks. Commerical devices that are based on the XMM 8060 should begin shipping in mid-2019, but as the XMM 8000 series grows, Intel will be able to integrate this power into smartphones, computers, vehicles, etc.
We won't see a full deployment of 5G networks until some point in 2020, so while we're waiting, Intel also announced that its XMM 7660 will be available for use in 2019. The XMM 7660 is a Cat-19 LTE modem, and it's capable of download speeds reaching as high as 1.6 Gbps. That's not as fast as what we'll be able to see with 5G, but it's considerably quicker than what current 4G LTE is capable of.
Intel's XMM 7660 is the successor to the XMM 7560 that was announced earlier this year, and Intel says that the XMM 7560 is currently being used and tested by smartphone makers with successful Gigabit-class speeds. A timeframe for its rollout isn't concrete quite yet, but commercial products should start shipping with it as soon as next year.
Qualcomm achieves first end-to-end 5G system based on 3GPP Standard
Joe Maring was a Senior Editor for Android Central between 2017 and 2021. You can reach him on Twitter at @JoeMaring1.
So, I bet this is what Apple will use to get further away from Qualcomm.

Yep, since analysts already said Intel will get 70/80% of Apple modem business in the next iPhone. Apple will completely cut Qualcomm out in about 2 years. Qualcomm just got short term greed and did not see how the long game could pay off for them. They have turned Intel into a viable competitor, once Apple go Intel, it will be only a matter of time before others start to move away from Qualcomm, so short sighted on their part.

Maybe i have it wrong ? but it appears to me Broadcom who is making an offer for Qualcom also may have apple shares in the company ?
So if that was to be true theoretically depending on how many shares of broacom apple owns , could end up having a controlling interest in Qualcom or ........... ???
Please correct me if im wrong .

Wonder why they don't mention that these modems were developed in conjunction with Apple.
Hopefully they are faster than Intels current offerings which make the iPhone X modems around 50% slower than the Qualcomm counterparts.
Android Central Newsletter
Get the best of Android Central in in your inbox, every day!
Thank you for signing up to Android Central. You will receive a verification email shortly.
There was a problem. Please refresh the page and try again.