Inside car mode on the Samsung Galaxy S5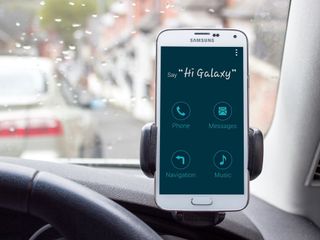 We're all aware of the dangers of using a smartphone behind the wheel, but as they're ever more the center of our connected lifestyles there are several things it can do for you. Music, navigation, hands-free communication, for example.
What Samsung has on the Galaxy S5 is its own built in car mode that gives you that functionality while trying to remain as safe as possible. You still absolutely need to use it in a windshield or vent mounted dock, but here's what Samsung car mode can do for you.
What it does and how to activate it
What it does is very little, and that's a good thing. It purposely limits the options available to you. So you can call, message, get your music and use the navigation. The buttons to press are pretty gigantic – and it also works just the same in landscape – so you don't need to concentrate too much on hitting the right one. In good light it'll be colored, when it gets darker you'll see the more refined user interface pictured up top.
It's also fully controllable with your voice. Say "Hi Galaxy" followed by a voice command and car mode will carry it out without you taking your eyes off the road for even a split second.
Sounds great, so how do you activate it? The first method is to slide down your quick settings menu and tap the relevant toggle. The second – and much cooler – way of doing it is with Bluetooth. If you have a Bluetooth connection in your car you can register it so that when the phone detects it and connects, car mode is automatically engaged.
Example voice commands
Each of the four options available has a voice command. Here are some examples of what you can say:
"Call David home"
"Text Katie message I'm going to be late"
"Navigate to Wembley Stadium"
"Play album Out Among the Stars"
Pretty basic, but get the job done without needing to touch the phone at all. If you do touch the buttons to initiate, you're still prompted to say what you want to do.
Settings
Each of the four features have their own settings to customize. While pretty basic, they're worth checking out because they could make the experience even slicker.
Phone - Edit suggested contacts
Messages - Edit suggested contacts to keep your most messaged people close at hand and set a stock response message.
Navigation - Set a location as home and work so you're able to just say "navigate home," or "navigate to work." Add other custom places too so that you can get them quickly and easily.
Car mode on the Galaxy S5 is a really simple tool but one that manages to keep you connected without needing to touch the phone at all. Distractions behind the wheel are still dangerous, but Samsung has done a good job at trying to minimise it.
Be an expert in 5 minutes
Get the latest news from Android Central, your trusted companion in the world of Android