I'm finally giving in and buying my first set of Bluetooth headphones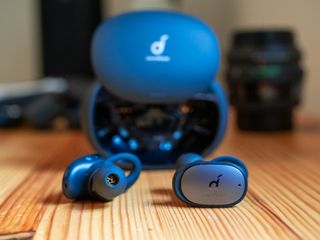 (Image credit: Daniel Bader / Android Central)
Everyone does different things on their phones, and I'm one of those people who uses mine as music player more than a camera or social media machine. I'm also kind of particular when it comes to my headphones and have been a holdout who uses a USB C adapter so I can still plug in my beloved wired headphones.
This was important when I used to carry around an LG V10 or HTC 10 as a music player. Both of those phones did justice to a good set of headphones while paired with high-quality music files. However, that's just not the case anymore. You can still buy a great-sounding music player, and some phones sound better than others, but in a world where Bluetooth or dongles are the norm, it makes no difference what the audio on the phone sounds like because it's not being processed there.
This became even more apparent when I lost my dongle, so I had to just use the phone speakers. I needed to find another way to use a set of headphones since the audio on the phones I have doesn't sound that great, and almost every company that makes portable electronics wants me to use Bluetooth products. So, that's what I'm going to do — toss out all my better judgment and just get a good set of wireless earbuds.
Man, shopping for Bluetooth headphones of any type is ridiculous. Every brand has its own set of made-up words that sound like they're describing pro-grade audio equipment that should cost thousands of dollars. They all claim to be the best, and are all probably made in the same two factories in Shenzhen. So I did what any normal person would do and asked someone — in my case, it was Andrew Martonik.
Andrew is a runner, and when he's out-running crocodiles or whatever else incentivizes someone to run 15 miles, he uses earbuds. If you knew Andrew you would also know that he is the type of person who will try 10,000 different things until he finds something he likes. That makes him the perfect person to listen to when it comes to finding earbuds that aren't going to fall out of my head and also don't sound like crap.
Andrew told me that Anker's Soundcore Liberty 2 Pro True Wireless Earbuds (opens in new tab) were exactly what I was looking for. They fit well, sound good, and won't slow you down if you're running away from hungry crocodiles. They also charge via USB-C or wirelessly and last a good long time between charges.
After a quick peek, I saw that Daniel Bader — who also has a known headphone addiction — actually reviewed them and called them "an incredible pair of true wireless headphones that are easily worth their steep $150 asking price." There was zero doubt about what I wanted to get. Safety from crocodiles and Daniel Bader approved is all anyone could ever ask for when it comes to earbuds.
More: Soundcore Liberty 2 Pro vs. Liberty 2: Which true wireless earbud should you buy?
I also like Anker stuff in general, so I'm hopeful that this is going to work out well for me. I also know that how earbuds fit is different for everyone, so I'm also going to ask you fine folks for other suggestions. It may take spending way too much money if I have to try a handful of different models, but if I can find something that fits and sounds at least passable I'll consider it a win.
What wireless earbuds are you using, and why? Help me out, because this is all uncharted territory for me!
Bader/Martonik approved
(opens in new tab)
Anker Soundcore Liberty 2 Pro True Wireless Earbuds
Great buds, right price
Anker makes great accessories and these earbuds are no exception. Built to fit comfortably and deliver great sound, they might be exactly what you're looking for, too.
Get the Android Central Newsletter
Instant access to breaking news, the hottest reviews, great deals and helpful tips.
Senior Editor — Google Ecosystem
Jerry is an amateur woodworker and struggling shade tree mechanic. There's nothing he can't take apart, but many things he can't reassemble. You'll find him writing and speaking his loud opinion on Android Central and occasionally on Twitter.
Jerry, I'm using exactly those, the Anker Soundcore Liberty 2 Pros. Excellent sound, fit, and battery life. Of course, it doesn't hurt I got them on sale. Hope you'll enjoy them man!

Ii just got the Jabra elite 65e on blk Friday
They are active noise cancellation -anc-
And makes a big difference can talk clearly in noisy env.
I got they very cheap 25 the MSRP is 200

On sale right now at Best Buy for $109.

I'm still waiting out for the new Pixel Buds and the subsequent reviews before I pull the trigger on new BT earbuds. I have the Optoma NuForce BE Sport4 right now and I love them. Good sound, excellent battery life, good fit for the gym or running.

I'm using galaxy buds and like them a hell of a lot. At the time they were the only set that really ticked all my boxes (good sound quality, Bluetooth 5, USB-C with Qi as a bonus, very compact case while maintaining good battery life) and had the very large benefit of being BRIGHT YELLOW! I've definitely been curious about these soundcores as well as the 85ts and the upcoming pixel buds, but I've held off because why spend the money when I've got a set I'm totally happy with?

Same here! Only thing that bug me about my galaxy buds is that they tend to slip off a lil and lose seal when I sweat a lot. Other than that they've been stellar!

I held out for a long time too. I still have an older phone so haven't needed a dongle. I really just wanted a pair so I could use them when wires were less convenient. I scoured reviews and ultimately went with the MEE Audio X10s. Connectivity is good. Battery life is excellent. Sound is about what I expected. Not as good as nice set of wired headphones, but I don't feel like I'm missing anything. The sound profile is also different, as expected with any headphones. I've used a few other pair, included including airpods. None of them are as nice as my wired ones. It's the price you pay for convenience. My real hope is that the batteries in these last long enough that I don't feel like I'm replacing them every year or two.

I'm using the Jabra Elite Active 65t and I cannot say enough good things about them. I'm a marathon runner and they still in and comfortable during all of my long runs. They stay in even during the hot weather when I'm sweating a lot. What I really like about them is the hear through feature so I can hear approaching traffic or stop to talk to someone without taking them out. Sound quality is great and so is the microphone. People can hear me loud and clear, without wind noise, when I take a call during a run.

The hear through feature seems like a killer feature to me, nothing worst than some clown oblivious to the environment.

I bought these for my husband who is a cyclist and he even uses them for his work conference calls.

I spent the better part of a couple years trying to find good sounding noise isolating wireless earbuds. I was partial to the neckband style because I use them at work and the battery lasts a couple days. So I had been using them for years. Then we got put into our new open office setup, hence the noise isolating/cancelling search began. I never really found good ones for what I was willing to spend which was usually under $100. So one day I went with the nuclear option and got a pair of bluetooth noise cancelling cans. Bose QC 35-II's. They were comfortable and the NC worked well but they sounded flat and there was no way to really change that much. Returned those and got Sony WH-1000MX3's and haven't looked back. They sound great and NC is top notch. Now I don't wear them when exercising or anything, I still have earbuds for that. But man did the sony's ruin me for earbuds with music. I really don't like music over earbuds anymore. They are find for podcasts and video but if I'm going to listen to music I want my BT over ear sony's. Point is, you may find yourself a bit disappointed. I hope works out for you though. Good luck.

I bought my first pair of bluetooth earbuds 2 weeks ago..meant to replacement Beats over the ear bluetooth headphones..I brought the Samsung earbuds to go with my new Galaxy S10....very happy with them so far..

Click the link...they're actually down to $109 right now.

Jabra 75t has been amazing so far. Picked them up for $130 on preorder, and while they took their sweet time arriving, the sound quality has been second to none.

Totally agree... I had the 65ts and the bass is much better on the 75s. My favorite headphones.. they only lack noise canceling to be perfect

The Ankers ARE the best quality/value ratio out there right now!

I'm still rocking my Sony WI-1000X. They're not wire-free, but they last at least twice as long as any of the wire-free sets I've seen, and sound good.

What a timely story! After 3 months of using the 1+6T I relented and decided to go wireless. I too am disappointed about the headphone jack still but this has taught me that I can actually live without it if need be. Within 5 minutes of using it I get the appeal. They are an absolute godsend in the gym and make it great to stay focused without snagging. Still don't care for some of the drawbacks like dropped latency, can't charge and listen to music at the same time, and charging yet another device. But battery life and sound quality are shockingly good.

I read the review linked in the article. Not sure how wireless headphones can get a 4.5 out of 5 when call quality is "trash" and people on the other end say you sound like "Charlie Browns teacher" when on a call. Thats kinda a big deal, no? Airpods Pro.

Using the Nokia True Wireless Earbuds. Never looked back. Still have regular headphones. But the Nokia ones are excellent. Sturdy, stylish and functional. And more importantly reasonably priced. It was a bit of an adjustment, but the battery life on them is good, the sound is good, simple to use (actually idiot proof). The carrying/charge case is quite unique in design and easy to store. So yep...as technology advances and becomes mass use and user friendly, why not? For me at least it was a worthwhile purchase.

I've been replacing earbud after earbud trying to find a solid combination of connection quality, video lag, and stability in my ears (especially during a workout) I have finally landed on the Powerbeats pro and use them with my pixel 3xl/iPad pro. They're fantastic for my uses, and the connection stability is rock solid, and even in ear detection works with my pixel. I've had the Bose soundsport free, the Jabra elite active 65t, and most recently the jaybird vista. All of them had something I just didn't like.

I'm on an LG G7, so there's wired goodness galore, but I've actually been using bluetooth buds for three years now, since I'm not much of an audiophile...
Until recently, I've been an earbuds-only man, but I bought a pair of ridiculously cheap Tribit over-ears after a positive review here on AC, and I have to say they're excellent; particularly the 5 day battery life is mind blowing!

Thai-resort-network-induced double post...

I am using the Jabra Motion, but plan to go for the Jabra Elite at some point. Their noise cancellation is excellent, and the battery life is good if not stellar.

No thanks, don't need more gadgets that need recharging.

I'm bitter too about headphone jacks disappearing. I use mostly corded headphones (one less thing to worry about being charged enough before I use it).
My headphone jack also doubles in accepting credit cards directly on my phone. I keep the little square in my wallet...very convenient.

Well true wireless earbuds still aren't there yet if you ask me, but could be soon enough. For those insisting on one's I recommend Edifier TWS1. They are both good and affordable. On the other hand TWS will simply never be good for sports/work/exercise as you will always end up losing them. For that neckband BT one's are much better choice. If you have a good earbuds that fit's you & you like them which come with replicable cable's you can buy a decent neckband BT cable & use them like that. My recommendation goes for KZ new one as it comes with newer QC BT chip (CSR8675) supporting up to AptX HD 48 KHz 24 bit, it's rather affordable (20$ or less) & covers three type of pins. For purists there are BT/DAC dongles which can be used as you like (wired/BT/combo), have a more serious DAC chip & suport some of still more exotic BT codes (LDAC, HWA [LHDC], UAT...). My recommendation is Shanling U2. Finally there are & complete very small sized DAP's that do it all & some are so small and with a clip so that they are suitable & for sports and exercise. Recommendations go to Shanling M0. Best regards.