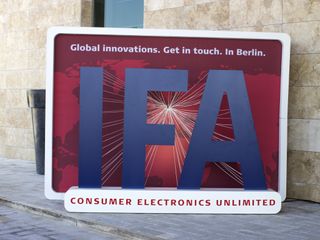 One of the biggest shows of the year is upon us — here's a taster of what to expect in Berlin
Every September the world's tech press descends on Berlin, Germany, for IFA, one of the biggest trade shows of the year. If you're not familiar, IFA could be described as Europe's answer to CES. A trade show covering the vast world of consumer electronics and as such, the vast world of mobile products within.
In other words, a whole lot of tech, and a whole lot of Android.
Traditionally there are a few big name players at IFA and we've come to expect certain things to happen as the years have passed. But this year's IFA promises to be one of the biggest yet. Here's what we know, what we think we know, and what could materialize during this year's German adventure.
Samsung - The Galaxy Note 4
If we've come to expect one thing from IFA, it's a new Samsung Galaxy Note. This event has seen the debut of the first, second and third generations of Samsung's pen-toting, oversized smartphone. As we head into 2014's show, we've already had the invites for another Note-focused Unpacked event in Berlin. That'll be the Galaxy Note 4, then.
We're confident enough to call it that. Four comes right after 3, and Samsung has even confirmed it by way of a promotional video out of its Chinese arm. Considering that Samsung China is hosting one of three simultaneous events for the new Note, it's probably more careless than speculative. We'll be live in New York as well as Berlin for the event, so you're getting it from two continents!
So, what do we know? Or what do we think we know? There have been numerous leaks and rumors that point towards a QHD 1440p display and that's absolutely a strong possibility. Samsung already has a 1440p display in a Korean variant of the Galaxy S5, so there's a good chance we'll see it on the larger Note 4. It's also likely that the Note will bump the internal specs over devices we've seen this year, with a Snapdragon 805 CPU seeming the obvious choice. There's been talk of an Exynos version, too, which again wouldn't be unusual for Samsung, even if the Note 3 did skip using Sammy's own chips.
The Note line also broke away from looking like an oversized Galaxy S with the Note 3. Leaked images we've seen so far claim the Note 4 will follow a similar design language to the new Galaxy Alpha with a metal frame. Traditionally the Note doesn't leak out all that much ahead of the event, and excitement for the device is ever increasing.
For absolutely everything we do, don't and think we know about the Galaxy Note 4, be sure to visit our dedicated topic page.
Samsung — everything else
Samsung is a huge player at IFA with the biggest booth — and this year it's moving to an even bigger one — the most visitors and some of the most exciting products of the show. Beyond the Galaxy Note 4 it's also rumored that Samsung will be taking another Gear smartwatch and a Gear VR virtual reality headset with them to Berlin.
The Gear VR has leaked out in some pretty clear images and it looks to be a more elaborate version of Google's Cardboard VR headset that was given out at Google I/O. Instead of being a standalone product like the Oculus Rift, the Gear VR looks to attach your — presumably Galaxy — smartphone for all kinds of virtual shenanigans.
Then we've got an actually already announced product, the new Tizen based Gear S smartwatch. This would be the much rumored cellular capable smartwatch from Samsung, with 3G capabilities to get online without needing to be connected to a smartphone. It's got a big 2-inch curved AMOLED display and a proprietary strap.
Samsung also takes a ton of non-mobile products to IFA, including some of the sexiest TVs you'll see anywhere. It's always a booth worth visiting and it's insanely popular when the doors open to the paying public. It'll be home to some of the biggest news to come out of IFA, of that there's little doubt.
Sony — new phone, new tablet, lens camera, watch
Traditionally Sony is the other big player to throw an early IFA press conference, and 2014 is no exception. Invites have already gone out for its Sept. 3 presentation and as is so often the case details on what we might be seeing have already begun to leak out.
Top of the list would be Sony's fall flagship, expected to be known as the Xperia Z3. Images that have already leaked out suggest exactly what we'd expect at this point. A similar looking design and form factor to the current Z2 only perhaps with front facing speakers this time out. The camera round the back looks to again be a 20.7MP shooter, and like previous Xperia Z smartphones it'll likely be water resistant, too.
There have also been leaks to suggest that we might be getting a new tablet from Sony, but this time out carrying the "Compact" moniker which would suggest a smaller form factor tablet. The Z3 Tablet Compact name first appeared in a user guide for a non-related product. Then, Sony itself put out a teaser image showing a smaller tablet and a new addition to its Smartwatch line.
The invite also suggests we might see an update to the QX line of 'lens cameras' first debuted at IFA 12-months ago. While the QX10 and QX100 may not have been the most commercially successful products in Sony's portfolio, they weren't without their charm.
Sony has this year moved its booth to the much larger Hall 20, previously inhabited by Samsung. Besides mobile products expect a ton of TVs, cameras and PlayStation presence at the show.
Asus — Android Wear watch
Like Samsung and Sony, Asus will also be throwing a press event on September 3. Asus press conferences are always entertaining but this time round it also looks like an anticipated product is due to make its grand debut. Asus has slowly been releasing more and more teases for its first Android Wear smartwatch, the Zenwatch.
We already knew Asus was planning to enter the Android Wear arena, and the company CEO, Jerry Shen, told investors that the product has been well received by Google for its design and price point.
Beyond Android Wear there's no telling what else ASUS might have in store. Phones, phones that dock into tablets, tablets that dock into laptops, who knows.
LG — new phones, new watch
LG has already announced most of its IFA portfolio, starting with the mid-range L Fino and L Bello smartphones that offer the premium design language of the G3 in a more affordable package. There has also been an announcement of a Sonos-like home audio system that you control with your smartphone.
Perhaps one of the most exciting products LG is taking to Berlin is the new, round, Android Wear smartwatch, the G Watch R. Having been teased in the run up to the event it has officially joined LG's product portfolio bound for Germany and it's pretty darn interesting. With a round P-OLED display and a design language that's arguably the most "watch like" we've seen so far, the G Watch R is something we're eager to get some hands-on time with.
LG also leaked out a new product all by itself, and then went ahead and announced the G3 Stylus like most of its other IFA bound products. It looks like a G3, it's the same size as a G3 but it's certainly not a G3. The G3 Stylus drops from a QHD 1440p display to a qHD 960x540 panel with some slimmed down internals and no 4G LTE. It's squarely aimed at the more emerging markets and it's also not the Note 4 competitor some might have hoped for, but we're still interested to see what LG has done in the way of stylus optimized software.
It's also been 12 months since the last high-end Android tablet from LG. Our first look at the G Pad 8.3 came at this very event in 2013 and while it's been all quiet on the rumor front, there's always a chance of a successor taking us by surprise. The recent G Pad releases have all been mid-tier devices so we'd certainly welcome a new, high-end offering.
Huawei — A driving math cat?
No, of course not. But Huawei did send out this little teaser ahead of its own IFA press conference. Between this and invites received in China it appears we're looking at a smartphone with fingerprint security, a likely octa-core CPU, Cat 6 LTE with the numbers perhaps relating to the percentage of the front of the phone that's display. The most recent leaked images which claim to be the Mate 7 would back this up.
The name looks set to be the Ascend Mate 7, with the most recent promotional video for the event giving further credence to those rumors. The number 7 and 'mates' plays a prominent role, so it doesn't take a genius to figure it out. The press also received a little look at Emotion UI 3.0, Huawei's custom software. It looks very different on the surface but performance has been a criticism in the past so we'll hold judgment until we get a proper hands-on.
While still not a massive name in the U.S., Huawei is one of the world's biggest sellers of smartphones. For that reason alone we'll be interested to see what this latest device has to offer.
Motorola — Not in Berlin, but still bringing it big
Motorola isn't throwing an event in Berlin — much to the dismay of the tech press — instead opting to host its shindig in Chicago on Sept. 4. It's got more than a few people excited since the invite suggests a new "X" and "G" phone, the long, long awaited launch of the Moto 360 Android Wear watch and what looks like some kind of earpiece.
We've already seen the watch — go check out our hands-on from Google I/O for more on that — and we've seen some leaked images of what's claimed to be the next Moto X.
Just because it's not in Berlin doesn't mean we won't be there. The Android Central team will be on the ground in Chicago throughout.
HTC — an octa-core, 64-bit mid-ranger?
It's a while since we've seen anything big from HTC at one of the major trade shows, and IFA doesn't look like being any different. With a virtually invisible presence at the show the past couple of years, there's nothing to suggest that HTC will be in Berlin with any big announcements.
A recent teaser coming out of China from HTC claims that they're working towards launching an octa-core, 64-bit smartphone. The render that goes with it looks more mid-range Desire than high-end One, but there's very little to actually go on. Qualcomm has now followed that up by publicly confirming that a new 64-bit multi-core smartphone is headed to IFA, using a render a lot like the initial HTC one. Then of course there's the already announced Desire 510.
HTC has proved that even in the mid-range and budget tiers it can make excellent quality devices, so we'll be keeping an eye out to see what might pop up in Berlin.
Other events to note
That covers off the big names that we're expecting things from in Berlin – and not Berlin. But, IFA is a huge show with something for everyone, and there are some other events worth noting that Mobile Nations will be covering.
Microsoft - Microsoft will be throwing an event on September 4 for what's expected to be its new 'selfie phone.' Our pals at Windows Phone Central will be all over that so be sure to drop by there if you're even a little curious.
Tony Fadell of Nest will be speaking at one of IFAs own industry press conferences on Saturday, September 6. It'll be an early one for anyone outside of Europe – like, really early – but we'll be headed there to hear the man speak.
How to follow it all
Everything that comes out of IFA will find its way to our dedicated event page. From there you'll be able to see just Android news or everything that Mobile Nations reports on from the event. So be sure to bookmark the link below, it'll come thick and fast! We're on the ground from September 3 through September 6.
Android Central at IFA 2014
Sign up for Black Friday email alerts!
Get the hottest deals available in your inbox plus news, reviews, opinion, analysis and more from the Android Central team.