Samsung Gear VR detailed in leaked image ahead of rumored IFA unveiling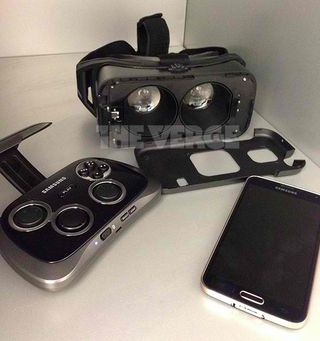 Ahead of its speculated September unveiling at the Berlin-based IFA tradeshow, Samsung's oft-rumored VR connected eyeglasses is now showing up in a leaked photo. The glasses, which have also gone by the name of Gear VR, is now shown in a leaked image published by The Verge that details how it will connect with a Samsung phone.
The wearable headset is also known by its code name of Project Moonlight and is described as resembling Google's Cardbox where the device's lenses can be coupled with a smartphone display to transport users "into an immersive world."
The VR glasses has a detachable lid that would hold the phone up in place to user's eyes along with a focus dial on top.
While Facebook-owned Oculus was rumored to be collaborating with Samsung on the project, the publication admits that Oculus' involvement with the VR glasses is unknown at this point.
In addition to the Gear VR, Samsung's Galaxy Note 4 is widely expected to be announced at IFA. Are you excited for this companion accessory? What do you hope to use the Gear VR for?
Source: The Verge
God I know we live on the cusp of the future always and we aren't quite there yet, but is it just me or do these look nearly retro?
I can't wait until this technology has come a lot further because I'm one of those people who would happily give away my real life for a pretty good virtual one haha. Totally kidding but I am interested to see where this goes I suppose.

This will be awesome once its in the wild

Just remember that there is a full galaxy note 3 display with the Samsung logo and home button hole inside every Oculus Rift... Posted via Android Central App

You say that like it is bad Posted via Android Central App

No, I'm actually really hoping for a partnership! ;-) Posted via Android Central App

It's always been pretty plain and simple for me nothing beats Samsung period they are Android nothing else matters. From my Galaxy Note 3 on T-Mobile via Android Central App

why waste one of your profound comments on this article?

Yeah, but Oculus is overclocking the display to 75Hz.

The only thing these would be good for in my hands would be to produce vomiting. #motionsickness

#twitterisgaygetalife # # # # # Posted via Android Central App

Whether you love or hate Samsung, it looks like they are going to have a heck of an ifa. Vr, note, edge, watch... Posted via Android Central App

Note will be awesome. Edge is first gen -but it should be nice. Vr is a bit big- not sure what its for. And a new watch as well? That could be interesting.
Yeah IFA will be good. Posted via Galaxy ace plus running Speedmod 2.5 with Xposed
Android Central Newsletter
Get the best of Android Central in in your inbox, every day!
Thank you for signing up to Android Central. You will receive a verification email shortly.
There was a problem. Please refresh the page and try again.