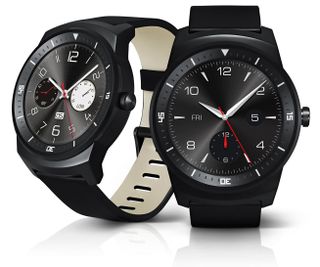 The second round Android Wear watch is a looker, but you'll have to wait for it
No more teasers. This is the LG G Watch R — the South Korean manufacturer's second Android Wear smartwatch. It's also the second round entry we've seen this year, the Moto 360 being the other. And it looks like folks are going to have some hard choices to make later this year.
Yes, we said later this year. (Which means we fibbed just a bit when we said "no more teasers.") The LG G Watch R won't be available until October at the earliest — fourth-quarter 2014 is all we've got at this point, and it wouldn't surprise us in the least to see it launch alongside the L version of Android — and we don't yet know the price.
That said, the LG G Watch R is a looker for a number of reasons.
First things first, we're fans of the round Android Wear watch. The Moto 360 immediately caught our eye as well, and these things just look more like watches than displays on our wrists. And if you're looking for the black bar that blemishes the bottom of the Moto 360, well, it's not there. As LG teased from the get-go, the G Watch R uses every part of the display, tucking the connectors and the like behind the bezel of the watch. The body is stainless steel.
Then there's the display itself. LG's using a 1.3-inch P-OLED panel at 320 by 320 resolution. (The Plastic OLED is the same tech used the LG G Flex, for what that's worth.) LG says you'll get "stunning image clarity even under bright sunlight" — that's been a pretty major issue with Android Wear watches thus far, so we'll see.
For the strap, LG's using a standard 22mm leather band (calfskin, if you must know), and you can swap it out for something else if you prefer.
The rest of the internals are pretty much what we've come to expect from this first generation of Android Wear devices. The LG G Watch R is powered by a Qualcomm Snapdragon 400 processor running at 1.2 GHz. It's got 4 gigabytes of internal storage, with 512MB of RAM. The battery is (just barely) the largest we've seen thus far at 410mAh. Sensor-wise, we're looking at a gyroscope, accelerometer and compass, plus a barometer (an altimeter widget showed up on a watch face in one of LG's teasers) and a heart-rate sensor.
There's a lot to like there — at least on paper and in the limited number of pictures LG's put out thus far. (Poor Photoshop jobs notwithstanding.) We'll have to see how it stands up in sunlight, and how the overall look (including with the dimmed always-on feature) and feel pan out. And we'll have to see how it stands up against the Moto 360, which we've actually been able to try out and should see more of next week.
Stay tuned. We've got a little while to wait on this one, it seems. We'll get a better look at the LG G Watch R next week at the IFA show in Berlin. In the meantime, be sure to swing by our LG G Watch R forum!
Image 1 of 6
LG READYING SNEAK PEEK OF NEW G Watch R AT IFA 2014
New Android Wearable First to Feature Full Circle P-OLED Display
SEOUL, Aug. 28, 2014 — Following the June release of one of the first-to-market wearable device powered by Android Wear™, LG Electronics (LG) is quickly expanding its wearable product offerings with the unveiling a new Android Wear device — the LG G Watch R at IFA 2014 in Berlin next week. The LG G Watch R will be the world's first watch-style wearable device to feature a full circle Plastic OLED (P-OLED) display that utilizes 100 percent of its circular display.
The most eye-catching feature of the LG G Watch R is its 1.3-inch full circle P-OLED display that produces stunning image clarity even under bright sunlight and superb clarity when viewed from any angle. Powered by a powerful 1.2GHz Snapdragon 400 processor, the LG G Watch R offers 4GB of storage, 512MB of RAM and a durable 410mAh battery. This Android Wear device will effortlessly run all compatible apps available in the Google Play Store and with an Ingress Protection Rating of IP67, the LG G Watch R is designed to run for up to 30 minutes in one meter of water.
With Android Wear™ at its core, the LG G Watch R delivers essential and relevant information exactly at the right time and place through voice recognition notifications. With a suite of LG health and fitness apps, users can also monitor their heartbeats with the support of the embedded photoplethysmograpgy (PPG) sensor. And the smart notifications provide users with important reminders of missed calls and messages, upcoming meetings, events, and local weather forecasts.
With an artisanal elegance, the LG G Watch R boasts a refined aesthetic that is reminiscent of traditional timepieces. Replete with a circular watch face, this elegantly crafted Android wearable has classic curves encased in a strong, durable stainless steel frame and carries a suite of watch faces that are accessible with a simple touch of the display. Its interchangeable 22mm calf skin leather strap also complements its overall aesthetic, giving it an air of modern prestige.
"What we've noticed in the year of the wearable is that this is a category that can't be compared to smartphones and tablets," said Dr. Jong-seok Park, president and CEO of the LG Electronics Mobile Communications Company. "Wearables are also accessories and consumers will want more than one to choose from. So we wanted to complement the modern design of the original G Watch with the classic look of the G Watch R. Customers can't go wrong with either device."
The LG G Watch R will be available in key markets early in the fourth quarter of 2014. Prices and details of availability will be announced locally at the time of launch. Visitors to IFA can see LG G Watch R up close in Hall 11.2 of Messe Berlin from September 5-10.
Key Specifications:
Chipset: 1.2GHz Qualcomm® Snapdragon™ 400
Display: 1.3-inch P-OLED Display (320 x 320)
Memory: 4GB eMMC / 512MB RAM
Battery: 410mAh
Operating System: Android Wear™(compatible with smartphones running Android 4.3 and above)
Sensors: 9-Axis (Gyro/ Accelerometer/ Compass), Barometer, PPG
Color: Black
Other: Dust and Water Resistant (IP67)
Get the Android Central Newsletter
Instant access to breaking news, the hottest reviews, great deals and helpful tips.
Damn, that's sharp looking! Posted via the Android Central App

I don't trust LG build quality though especially since I wear a Citizen EcoDrive and don't want to downgrade. Posted via the Android Central App

I wear all Seiko I agree i do appreciate a quality watch. But since buying the n5, i have much respect for LG and build quality. However, I would assume that if nothing else, you would be more mentally aware of the fragile nature of your watch when wearing a smart watch. Just seems like it would always be in the back of my mind.

To each his own, but I have the LG G Flex and think it's built better than just about any smartphone I've ever owned. My daughter has a G2 that has been bulletproof and absolutely stellar device. I've owned a wide variety of manufacturers from (old school) Nokia, HTC, Palm, Samsung, etc., and they've all been put to shame by what LG is putting out now. I do think Motorola has shot themselves in the foot with the impossibly slow launch of the 360. I have been salivating over that thing for 6 months, and was fully prepared to wait another two weeks or so to buy mine, but with THIS? Nope. Moto...you lost my money. While the 360 is a beautiful, it is rather generic/unisex in it's design. Not necessarily a bad thing, but this one is far more masculine and looks a lot like my current traditional wristwatch. I'm betting with the winglets on the top and bottom of the watch, they can cram some components in there, which I'd wager will make this watch THINNER than the 360. That will be a huge plus if it comes to be. I've waited 6 months for Moto to get their act together...I can wait another couple of weeks to see what this beauty will offer. Nice work LG...putting out some really top notch stuff!

Meh. It looks like a $50 sports watch. Posted via Android Central App

How? Just about every watch from the cheapest of the cheap to ones costings tens of thousands look pretty much like that. Its classic design. The 360 however looks tacky, like a 90s Swatch.

Sorry, but the upscale watches don't look like that. That's a plastic watch. I've worn enough sport watches to have a pretty good idea what they look like, and that looks like a $50 sports watch. If it's a $100 smart watch, then that's probably fine. If it's a $200+ smartwatch, then it's not. There is nothing premium looking about it. Smartwatches on the whole are limited functionality accessories, I don't see myself ever getting one as they just don't do enough to be worthwhile. But at least the 360 looks like a premium device. I expect the iWatch probably will as well. Posted via Android Central App

"Limited functionality accessories" ? You just defined accessories! Smartwatches are an accessory with MORE functionality than a normal watch. Posted via Android Central App

The Moto 360? You mean the one with the ugly bar at the bottom to power the LCD ... looking like a piece of beta hardware? That Moto 360? That thing is hideous.

You should probably know then that $500 is not a premium sports watch at all. So $250 or less is quite reasonable for a smart watch.

Who was talking about premium sports watches? Not I. I said this looks like a $50 sports watch. I.e. it looks cheap. Any smart watch on the market has less functionality than a similarly priced sports watch. Without a smartphone in your pocket, a smart watch is an overpriced watch with a crappy battery. Posted via Android Central App

You all are talking about this like it's the only way the watch can look. You all do realize that what you're seeing is a screen and that you can change the way it looks... right? Come on people!

Bingo. To get a better understanding of what I'm talking about, ignore the watch face/screen. Cover it up with your thumb when you look at it. The face looks spiffy, but the actual watch case and band look, at best, like nothing special. If you consider the step down you often get from this level of render, it may very well look and feel cheap as an actual product. Which is just a shame. Posted via Android Central App

dude, you are judging a picture that isnt even the FINAL product release yet. If your watch needs to be this high fancy accessory, then dont get it. Spend the same amount on a watch that just tells you time. I want this because I am a fitness trainer, the apps in development now are using the watches to make more precise heartrate monitoring, gyroscope for movements like pull-ups, push-ups, etc. It also tells me more than just the time... if the look of the band is the biggest concern then you need to go to the Apple forums and drool over their pretty/ limited/ and behind-in-tech watch. No one is going to look at your watch and make fun of you for your watch band...its the circular thing in the middle that you are paying for not the bands. Plus the bands are going to be interchangable with different looks to please the icon status obsessed crowd that you belong to. this watch, and all other android watches that are out or coming out show one big thing for me-- utility. I dont have to pull my phone out of the armband to navigate to a new song or check my statuses. I will be getting one once all of them are announced and i will be buying two of them, one for me, one for the clients. I will use that to link to their Google accounts and log information we all can look at and become more knowledgable about our progress. If you dont like it, shut up. Go to pebble or whatever watchmaker you think deserves $$$. Just please, dont buy a smartwatch, cause that would just make you an even bigger d*uche...

Gyroscopes for pushups and pull ups? If you seriously consider that a 'feature' then I'm really glad you're not my PT. Heart rate monitors are already pretty damn precise. If you actually knew what you were talking about then you'd know that. Like they say, there's a sucker born every minute. The utility of any smart watch is incredibly limited. And without your smartphone in your pocket, they're all but useless for anything other than telling time. For fitness a Suunto or Garmin is easily a better choice. Posted via Android Central App

That nasty plastic dial around the outside is not part of the screen and that is what makes it look like a cheap sports watch.

I'm almost positive that one of the articles about this watch says it has a stainless steel casing. Posted via Android Central App on the Moto X

Perfect watch to go with my G3! Posted from my LG G3 or Nexus 5

Thanks LG! Posted via Android Central Beta Tablet App!
Hisense Sero 7 Pro

No thanks I only roll with Tizen based Galaxy Gear Solo products true Wrist watch communicators Not this silly Android wear notification watch it's worthless. From my Galaxy Note 3 on T-Mobile via Android Central App

Really? I'm wearing tizen right now and I find that comment funny. Posted via Android Central App

well yarrell is unintentionally a funny guy Posted via the Android Central App

But looks aren't everything...

when i stand nude in the mirror im reminded every time Posted via the Android Central App

I am a Samsung fanboy, but i'll admit that is a very nice looking watch

Yeah, and I'm sure you would love the superior build quality than what you are used to with those Samsung products you love so much. Posted via Android Central App on the Moto X

Wow very nicely done! I might have to seriously consider this one. From the DeathStar using my rooted LG G2

This Posted via Android Central App on the Moto X

Great. Now I have to think about the Android Wear watch I'm going to buy. I almost liked it better when Motorola was the clear winner, but this could easily come out on top. The Moto 360 looks slightly classier, but the full circular display of this one and the specs could make it the better of the two. Now I'm conflicted and confused. Bring on the reviews and comparisons! Posted via the Android Central App

Exactly the same sentiments here! Need the reviews to come in soon..

Exactly, dood. Reviews come, and I might get my fins on an Android Wear watch, dood. Posted via the Android Central App on my Moto X

Aye aye, dood!
Nice to see another fan around these parts of the Internet. :-) Posted via Android Central App

Just bought the A Promise Revisited for Vita :) I played 1 and part of 3 (my save was lost and I said 'screw it') but 4 seems really good. Maybe I can use my G Watch R to look up stuff about it XD Posted via the Android Central App on my Moto X

Definitely! I've played 1, 2, part of 4, and just recently beat the main plot of D2 (most recent release). I'd say 1, 4, and D2 are my favorites by far. When you finish 4, do yourself a favor and get D2! Posted via Android Central App

Moto 360 still looks classier IMO and I suspect it might be slightly smaller (leaked pics have shown it's no larger than the first LG G Watch)... The clincher for me is wireless charging, unless Moto somehow flubs that, it's enough to sway me. If only they'd launch the damn thing already...

I see nothing classy in the 360, it looks girly and tacky and the black bar just screams compromise.

You're entitled to your opinion, those bothered by the black bar will never see past it ands it's a valid gripe... This is the first time I've seen someone describe it as girly tho. I guess compared to a sportswatch-esque LG R with more bezel it can be viewed in that context tho... But it's nowhere near the size of a woman's watch. Didn't you also claim the Nexus 5 looked like beta hardware? Just checking... ;p

Same here. Posted via Android Central App on the Moto X

Have to admit, this is starting to look like an actual watch, though the render of it is not going to look the same on a 320x320 LCD screen.

I still don't understand what's been taking Motorola so long to get the 360 out. If they'd released that thing a month ago, everyone would have just bought one on impulse. Now it looks like they'll be getting it to market just in time for everyone to be looking forward to other things.

I agree. I'm sure Motorola is kicking themselves about right now.

That actually looks like something I'd wear! Still no ambient light sensor though, so I really hope Google can fix that with a simple gesture in an Android Wear update.

You can't fix the lack of a light sensor with a software update. Posted via Android Central App

Yes you can, if you think a little differently. I assume these watches support two finger touch, if they do there are a lot of simple gestures available for things like quickly adjusting the brightness. =)

Learn to differenciate "fix" and "workaround".

Learn to differentiate
"do I care how it's done"
"Git'r done"

We don't know it doesn't have that. It doesn't say either way. Just like it says nothing about how it is charged....

I'm just going by their own tech specs where a thing like that surely would be mentioned.

Android wear is looking to be really exciting. Now it feels like we have to wait for the holiday season before making any choices on what to buy, because as of now this looks a little better then the moto 360. I'm waiting to hear about real world battery life for all of these new watches.

Very nice but indicative that the designs are only going to get better and better. Posted via Android Central App

I'd like a metal band with it, but I really like the look of this.

Well, looks like a standard band of any type is easily swapped... a key feature.

Motorola did a pretty good job on that themselves. They should rebrand it to something like HL3 or Duke Nukem.... :D

I didn't know it has been 15 years since March 2014.

No, but in a quickly emerging market, the actual 6 months might as well have been 15 years.

That depends on what you want. How much do they weigh? How do they both perform in sunlight? How is battery life in each? Does the R support inductive charging? Etc...

Agreed, size, price, and charging method will be the biggest differentiators... I'm a little skeptical they've improved sunlight visibility a ton, tho that was never a major concern for me. I know the Moto 360 is about the size of the G Watch, so if LG really wants to dissuade me from getting a 360 they better announce the R has wireless charging (or hope the 360 is $300+).

Lol, that's stupid. Posted via Android Central App

I'm new to LG products (got a G3 last month) and am quite impressed. But seeing the proposed R watch, I have to admit that I WANT ONE. :) Just so happens that I was considering getting a Samsung Neo, but I can certainly wait a bit to maybe get an LG R

Wow, that's one hell of a looker. I'd seriously consider it, but my eyes are still on the 360.

I really want wireless charging on my 1st smartwatch. I didn't see that in the specs for this one and it looks the nicest of the bunch so far. (to me anyway) :)

That's pretty damn nice :) I would definitely get this over the Moto 360. Well, if any of these devices were the least bit appealing to me Haha

Smexy. Posted via the Android Central App

No word (yet) about how to charge this. I agree it's beautiful, but if I have to plug a USB cable into it every night, I'll just buy the qi wireless charging 360.

Winner,winner chicken dinner Posted via Android Central App

I'd buy that for a dollar!

Whats the best guess for battery life on these type of watches? Will they just duplicate some of what my phone can do or do they have unique features that will complement it?

If this comes with a heart rate sensor and a light sensor, I'm considering this watch instead. Posted via Android Central App

Perfect match for my G3. white/gold VS985

I kinda like the look of this as well. Maybe I'll be getting an Android watch sooner than I thought.

From a design perspective this is the first smart watch that appeals to my sense of style. I still don't see the need to own a smart watch, but if I was going to get one this would be it. Posted via Android Central App

I agree, the first one that looks like a real watch. The Moto 360 looks like a mini hockey puck on a fat rubber band.

I agree. It sure does. Posted via Android Central App

Looks like cheap Casio sports watch knockoff, you can't even pair it with a semi decent suit, looks oddly out of place. Moto 360 at least has the aesthetics to trick you into thinking you're wearing something more than its worth.

That black strip sure doesn't make me think of high value.

Quite the opposite for me. The 360 looks tacky and totally unprofessional.

Wow now this is a looker. First android wear watch to make me consider not getting the moto 360. The longer Moto delays the worse it's going to hurt them. I would say this slyly timed LG info release will hurt them some...maybe not much, but some.

I really liked the Moto 360 for it's looks, but now I will have to see this too and compare both before deciding.
I have an LG Nexus 5 so am familiar with their hardware - at least as far as the Nexus brand goes so I will compare these two. Phil. Why did you say this is going to launch along side the Android L announcement?

RIP Moto 360 Posted via Android Central App

Lovely. Posted via Android Central App

Why no render of any Android screens on the watch?

Yeah I do like the look of that.

So much for the Moto360, with all these round watches being announced, it's no longer special.

So far the 360 is still quite different. But they are losing their edge every week that goes by without releasing it.

Ehh, as long as it's actually available next week they still have a big lead on the other OEM... Non enthusiasts haven't been glued to their screen drooling over tease after tease like you or me. If it's over $250 and/or not immediately available after announcement tho, the 360 will flop hard... I sure hope not tho.

looks nice but i like the more minimal design of the 360. I do want to know if the outside second dial is digital from the renders it does not.

I am fairly sure now that outside ring is part of the huge metal bezel. This sucker will not only have a smaller screen, but likely weigh a lot more too... Still, a very interesting set of features (that we know of) so far.

This. Still riding the moto train here. Posted via the Android Central App

Yup, pictures are deceptive... A lot of people seem to think the 360 is larger than it really is cause of the narrow bezels. In reality the 360 is no larger than the first G Watch. I'm sure the LG R will appeal to men who like big watches tho, that's the trend anyway isn't it? I'd be surprised if it's smaller than the 360 tho.

Even worse, it looks like the outer ring has the numbers and hashes printed permanently. You think a little black bar is bad? Wait until you try some nice custom faces that just look horrible. Posted via the Android Central App

Well, tons of watches have that permanently printed too, though it's usually the ones with a rotating crown so you can have some very basic timing functionality... Not sure I'd see the point on the R so I'd have to agree.

Wow that's a great looking device. Excellent job @LG. Posted via Android Central App

Wireless charging or not will be the deciding factor for me between this LG R and the Moto 360.

I admit that inductive charging is also one of the most important key features for me, too.

Looks good but I'm looking for a nicer strap. Black stainless steal would be nice.

It look like a cheap watch nothing more. Posted via the Android Central App

Wow it looks like a watch, I don't get it. Posted via the Android Central App

Handsome watch but way too masculine for me... my search continues...

Moto 360 looks better to me and will support Moto over LG and Samsung. Posted via the Android Central App

Day on render says Fri 5th. Sept? December? Am I thinking too much? Am I an idiot? Posted via Android Central App

Still going with moto 360.

Who TF wears watches anymore? Is this the 90s? What's next, Android land lines? Posted via Android Central App

You genius you. Posted via the Android Central App on my Moto X

So to every idiot here that put me down for taking issue with the 360's black bar when I said it looked like a blemish... To everyone of you who insisted that the black bar was a necessity and that the watch cannot be made without it... Here's what I say: I TOLD YOU SO!!! I told you it could be done. This watch is STUNNING! And NO BLACK BAR... NO DEAD SCREEN REAL ESTATE. IT HAS BEEN DONE!!! This watch looks like a watch, and not a hockey puck on one's wrist. Can I wait until October for it? Hell yes! I could wait until December for this one!!! Posted via the Android Central App

If you don't mind a huge metal bezel around it, that is. Posted via the Android Central App

Like just about every watch in existence you mean? The 360 proves to me that watches need a bezel otherwise they look stupid.

It doesn't have a black bar because it has bezels more than twice as thick as the 360s (if not more). Which is exactly what Motorola told us would happen if the black bar wasn't there. Posted via Android Central App

And they made the wrong choice in my opinion.

Nobody said they couldn't make one with a full 360 screen, people just said it was necessary for the light sensor. The lg r doesn't have one, and is hideous compared to the 360. But I do hope tons of people buy this watch so I look that much better with the 360. Posted via Android Central App

Heh, might wanna wait until some size comparison photos show up... The 360 might look bulbous but it's actually modestly sized, no larger than the original G Watch. The LG R is either larger or has a smaller display, or both... Not that there's anything wrong with that, it'll still be massively appealing to many men who wear larger watches anyway. The black bar was never a big deal to me, tho the design of the R might protect it better from random dings and scratches too, so there's upsides and downsides to everything, shocker.

Now this is what a smartwatch is supposed to look like. It doesn't have an ugly black bar at the bottom of the watch face and it's sharp looking. If I were to buy one, I'd buy this one.

Looks better than Moto360. What's taking Motorola so long to release it ? Posted from the Future via Android Central App

I saw the picture and my jaw dropped. Nobody will stare at me anymore saying 'what the hell is on your wrist?' with my pebble on. THANKS LG!
/serious Posted via the Android Central App on my Moto X

I didn't like the black bar on the 360 to begin with. Now that there will be a nice looking, watch looking, round smartwatch without the black bar, it's going to make the 360's look like a serious design flaw.

You don't like it because you don't understand the technical reasons for its existence. Posted via Android Central App

You'll have to tell this to another 100 people. Posted via Android Central App

We know why its there, its still ugly and dumb.

The first smartwatch who look good for me and who start to look like a real watch. Probably the only one currently who can stay on my arm for a full day, all the others are just good to be used on the workout for their fitness functions.

I dont know. What's all this hype about these smart bands having to look like regular wrist watches. Watches look like they do because that's what they do, tell the time. These new smartbands should be in a class of their own. Bigger, thiner and certainly not circle because they do much more than telling time. But that's just my opinion

Waiting on a Casio G(oogle) Shock.

This is more of a 360 than the Moto 360 lol Posted via the Android Central App

That's a nice looking watch... If I wore a watch, I'd buy it. I haven't worn a watch since Afghanistan though. Back in 2002. Posted via Android Central App

I really want a moto--SQUIRREL!!! Seriously folks? We've got nothing but renders on this one. I'll be picking up my 360 next week. Posted via the Android Central App

+360 Posted via Android Central App

Very nice indeed. (Rubbing chin)... Posted via the Android Central App

I'm waiting for a Nexus branded Android wear. Posted via Android Central App

I wonder how this watch looks with metal band.. Posted via Android Central App

This looks amazing. Posted via Android Central App

I'll wait for a demo. Posted via the Android Central App

I'm astounded anyone thinks that looks good, its hideous! Maybe I just don't like the watch face they're displaying on it. Posted via Android Central App

looks too much like a sports watch to me, the Moto 360 is more my style

+1 Posted via Android Central App

It looks very masculine. I don't like this at all. Posted from my S5

Permanently printed numbers and lives on the bezel? No thank you. Posted via the Android Central App

I don't know. If you look at the teaser it appears the outer part of the screen that looks to be permanent also changes. Hopefully the link works http://cdn.androidcentral.com/sites/androidcentral.com/files/styles/larg...

Gonna come down to price and features. The 360 is too expensive at $250, has poor sunlight visibility, and has a display that isn't always on. Those are all deal killers for me, so if LG can solve those issues with this new watch, they'll have a winner on their hands.

Personally, I think the 360 was going to be at least $300. Also, I'm not sure where you're getting poor sunlight visibility without using it.

I like the look of the LG better than the Moto just a bit, but I'm willing to bet the Moto will have a better build quality and longer battery life, given their recent phones. Still the Moto 360 for me (if they release it, that is). Posted via Android Central App

I've been waiting for a watch like this. I'd pay for it. :) Posted via the Android Central App on my T-Mobile LG G3

This looks slick as hell! With a brushed metal band, it would be the perfect smartwatch. I'm lining up for this one!

It looks fine, but no light sensor. Moto 360 still wins for me.... at least I think it does. It's hard to tell without seeing one. Yeesh. Posted via Android Central App

Looks like the fashion watches Hugo Boss was putting out over an decade ago. Not for me but it's not offensive. I guess...

no black bar.. but those extensions where the strap latches to are ugly... for some reason i like the 360 better with the black bar at the bottom then those extensions... i guess this falls in line with the nice watches though.. i.e. Rolex and Tag...but to each their own.. at least we have choice.. WELL that is if Moto and LG decide to release anytime soon

I don't trust renders. The Moto 360 looked much better in renders and didn't have the stupid black bar everyone said was required of any round smartwatch using current technology until much later. Until we see the actual watch I am withholding judgment.

No QHD display and 3GB of RAM? I'll pass.

Dang!! I guess ill be getting two new watches soon. :)

348ppi though. Defiantly on my wish list. Posted via the Android Central App

Using some rough estimates, I'm making the width of the case to be about 1.67 inches not including the crown. That is pretty reasonable in my eyes. Now the question becomes the case thickness, and charging method. Another thing I like about this watch over the Moto 360 is the screen is inset within the bezel - offers a bit of protection from scratches. I will have to see the two of them in person before I make a decision, but I like what I'm seeing.

I want that watch. poasted from my perfect the way it is note 3

This looks so much nicer and more watch-like than the 360 in my opinion. Wish they had a shiny silver model. Also, is that an optical illusion or are the tick marks on the bezel permanent?

Moto 360 my a$$, this looks so much better Posted via the Android Central App

No images of smartwatch being smart?

Nice, I'd like to see this with some A-Wear on the screen though. This definitely looks better than the black 360 not too sure about the grey yet.

It's not the face, it's the metal around the face... The face is fine. But every bit of metal screams CHEAP DOLLAR STORE SPORTS WATCH.

That's the first "smart watch" that I really want to have.

Great googly moogly, that thing looks nice so far! Obviously, it's too early to make any real decisions, but at the moment, this is the round watch I like best. What I'd really love to see is this with the SIM/3G connectivity of the Samsung Gear S, so the watch could work in a stand alone capacity as well (or at least, how I have imagined that would work on the Gear S). Hey, I can dream! ;-)

I'm loving how these smartwatches look.

Looks awesome but if its worth more than three hundred dollars im not getting it. I'll just suck it up and get the moto 360. Posted via Android Central App

No shock the leader in OLED is using an OLED screen. Great news for people who care about a quality screen.

I agree with the comments on this looking like a cheap watch. That being said, I'd buy this as a casual watch. It does look like a $50 watch. However, because it's a smartwatch and not a regular sportwatch, I'd pay up to $300 for it. I just wouldn't wear it with my suit. I never expected to only have 1 smartwatch. Even if Kairos turns out to be vaporware, someone will come along with a nice hybrid. That's what I really want. Motorola did seem to drop the ball here. The first thing I noticed was the display. No annoying dead zone. I'll wait to see them both in person now.

Now that's the best looking smartwatch I've seen to date. Looks better than the Moto 360 which previously had that position. I certainly did not expect LG to release this, but it's making my decision about buying a smart watch or waiting it out a lot harder. Posted via Android Central App on the Moto X

Can someone explain to me how a screen can be measured LxW in pixels when its a circle? I'm really confused as to how resolution works on these screens. Posted via Android Central App on the Moto X

This looks interesting. I might have to get one.