Unannounced smaller Sony tablet and smartwatch get a poolside leak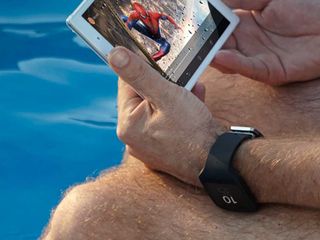 Sony may have indadvertedly leaked their own unannounced smaller tablet and a new smartwatch in a promo for the unrelated Sony SmartBand. The fitness band takes the lead in all the rest of the blocks of the Facebook promo page, but in one instead you can find a small unannounced tablet and an unannounced smartwatch. Could it be the rumored Xperia Z3 Tablet Compact and an Android Wear-powered smartwatch. We'll find out more at IFA 2014 in just over a week.
The tablet displayed looks to be in the 7- to 8-inch range, with a thin and rounded form factor. And, of course, being Sony, the user is watching the latest Spiderman flick by the poolside instead of enjoying being in the actual pool. Sony's products, including the Xperia Z2 Tablet from earlier this year have a tendency to be waterproof, so the poolside setting makes sense.
The smartwatch, interestingly, doesn't take many design cues from the previous two generations of the Sony Smartwatch series. The Sony Smartwatch 2 has distinctly body and band divisions, while this teased/leaked smartwatch looks to be something more along the lines of the original Samsung Galaxy Gear and its integrated wrist band.
What do you think, are a smaller Sony tablet and a new Sony smartwatch what you need in your life?
Source: Sony (Facebook); Via: Xperia Blog
Get the Android Central Newsletter
Instant access to breaking news, the hottest reviews, great deals and helpful tips.
Derek Kessler is Special Projects Manager for Mobile Nations. He's been writing about tech since 2009, has far more phones than is considered humane, still carries a torch for Palm (the old one), and got a Tesla because it was the biggest gadget he could find. You can follow him on Twitter at @derekakessler.
Stop leaking in the pool, guys.

Should I have not done that? Posted via Android Central App

Give me a specs to top GTabS.

Based on the xperia tablet z2-
Z2 is thinner (insubstantiality)
Lighter-439 vs 457 g
Screens- the tab s is higher resolution 2560 vs 1920 but its amoled so pentile and there for less sharp.
Camera- 8.1 vs 8mp- really can't say.
CPU -exynos 5420 vs snap 801, pretty sure the 801 is better.
Battery ratings aren't listed for tab s. Based on that comparison. And that Sony only seems too build premium tablets, this model should be good competition for the tab s. Posted via Galaxy ace plus running Speedmod 2.5 with Xposed

I hope Sony actually uses Wear this time. That will help sell more watches. Posted via Android Central App

I think they've said that they don't plan to use AW. Not sure how long that resolution will last, though. Posted from my Nexus 5, behind seven proxies

No, they said the would not abandon current ecosystem but would have AW as devices as well. Posted via Android Central App

I hope they use Wear as well, but to my knowledge Sony still isn't an Android Wear partner, so it seems unlikely.

The clasp looks a little like my galaxy gear... Posted via the Android Central App

Love my Xperia tablet z, have no doubt this will be a great tablet, just not sure I personally would prefer the smaller form, but I imagine the majority of people would. Not sure about the smartwatch, would need to be Wear for a start. The simple fact is I have not been convinced I need a smartwatch by anyone yet. Posted via Android Central App

This. The xperia tablet z is seriously good tablet, easily an equivalent to the ipad. Posted via Android Central App

Hmmm no. iPad is years ahead of any Android tablet, apps are just not there. Posted via Android Central App

Lol... Your kidding right? Posted via Android Central App

Well that's just not true. Posted via the OnePlus One

As someone with a 2013 Nexus 7 and an ipad mini, I can say Android tablets have a long way to go. Posted via Android Central App

Look at the price difference between those too.You're trying to compare apples to oranges.. I had an iPad and traded in for a note 10.1. Don't miss the iPad at all. Posted via Android Central App

The only thing missing on Android is National Geographic. The NatGeo iPad app is incredibly good. Posted via Android Central App

Bad troll is bad Posted via Android Central App

I have both the Tablet Z and the Z2 Tablet, and my son has an iPad. I would gladly take either of my Sony tablets over the iPad any day. Even the Z, released a year before the iPad Air, is still thinner/lighter than the Air, is waterproof, and runs anything I've thrown at it. The Z2 definitely improves on that. There are plenty of apps, even if not every one of them is fully optimized for a tablet display, the ones that aren't scale just fine and don't bother me much. More and more devs are now making tablet optimized apps. Your argument, CBDrew, doesn't hold water. My son is stuck with the iPad for his schooling, but he wants my Xperia Tablet Z.

Love watching spiderman while I do laps.

A floating tablet would be nice Posted via the Android Central App

Waterproof tablet is nice... Android / Blackberry fan on T-Mobile!

The Xperia Tablet Z and Z2 are already waterproof as well Posted via the OnePlus One

I would of got a z2 buy limited us availability made me get oneplus one. If only it was waterproof... Posted via Android Central App on 1+1

Indadvertedly? I doubt it.

Is it running Android L? The navigation buttons... Posted via Android Central App on my Nexus 5

Maby. Or its a render pasted onto the screen.
I wonder if L is finalised. The manufacturers must have something to work off to design their new UIs Posted via Galaxy ace plus running Speedmod 2.5 with Xposed

Those are the normal Sony buttons. Posted via my sixth Sense HTC M8

Ugly strap Posted via the Android Central App

tablet maybe, watch, not my style.

Don't want to sound like "that guy"....but honestly. For here in the US, Sony should, imo of course, make a phone for vzw and sprint. That would help gain traction I think.
Don't get me wrong, I know there is a great big GSM world out there. But I think it would be easier to change the radio than change vzw and sprint. Can't stand that part...

Z3 variant coming to Verizon in a couple months along with T-Mobile. Posted via the Android Central App

I would love to have GPE edition xperia compact tablet, awesome Sony design + waterproof and stock android. Loved the GPE Z ultra and amazed how thin that thing was, it was like holding a thin glass slab and loved it. Posted via the Android Central App

No interest in a Sony Smart Watch (Who is to say tat they will continue support and it may be limited functionality and reliance (no dounbt) on other Sony devices?
I may be wrong about that, but I am not about my choice
Sont SmartWatch
NOOOOOOOOO!