HTC U11 vs Google Pixel XL: Which should you buy?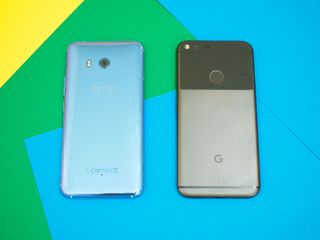 They're both made by HTC, pack similar display sizes, high performance and phenomenal cameras. But there's a big price difference between the Google Pixel XL ($769), and HTC U11 ($649) — and you'll also be getting a significantly different software experience. So which should you buy? Let's take a look at some of the major points of divergence between two of the top Android phones of the moment.
First off, the specs. And in this area, you're mostly looking at a generational gap between the U11 and the Pixel XL. As great as the Pixel is, this is late-2016 smartphone hardware going up against a 2017 flagship.
Swipe to scroll horizontally
Category
Google Pixel XL
HTC U11
Operating System
Android 7.1.2
Android 7.1.1
Display
5.5-inch Quad HD AMOLED
Gorilla Glass 4
5.5-inch Quad HD SuperLCD5
Gorilla Glass 5
Processor
Qualcomm Snapdragon 821
Qualcomm Snapdragon 835
RAM
4GB
4/6GB
Storage
32/128GB
64/128GB + microSD
Main Camera
12MP f/2.0 with HDR+, laser AF
12MP f/1.7 with OIS, HDR Boost
Front Camera
8MP f/2.4
16MP f/2.0, UltraPixel Mode
Battery
3,450mAh
3,000mAh
Fast Charging
USB-PD
Quick Charge 3.0
Water Resistance
IPX3 Splash Proof
IP67 Water Resistant
Edge Sense
No
Yes
Headphone Jack
Yes
No
Daydream VR support
Yes
No
Aside from faster benchmark scores and (potentially) quicker high-end gaming performance, the Snapdragon 835 powering the U11 also leads on efficiency. And that allows the phone to sip power from its fixed 3,000mAh cell at a rate which gives the U11 similar battery life to the Pixel XL, despite its larger capacity.
I've noticed virtually no difference in longevity between the Pixel XL and U11 in day-to-day use — both are "all day" phones, though you'd probably struggle to get a second day out of either. Quick charging — provided through Qualcomm QuickCharge 3.0 in the U11, and USB-PD on the Pixel — allows for fast refills on both phones, with the U11 having a slight lead on charging speeds.
Image 1 of 2
Specs are all well and good — what about the way these things look and feel? Well, both phones share a handful of common design traits, like the style of speaker cutouts, the rounded corners of the display and the style of the metal trim. But overall these are two very different designs. The Pixel XL is understated, particularly in the silver and black color options, while the HTC U11 is all about color. There are five bold hues available, including the eye-catching "solar red" and "amazing silver" options, which change color as they tilt through light.
The glass back of the U11 makes it a little slipperier, and a good deal more fingerprint-prone, while the upper glass segment of the Pixel is a magnet for hairline scratches. So Google's phone wins on ease of use — it's easier to grip onto the angled side walls of the Pixel XL — while HTC's is prettier. Mostly, though, it's a matter of personal preference.
The same goes for the fingerprint scanner — both phones have excellent one-touch sensors, but the U11 keeps its fingerprint sensor on the front, flanked by capacitive keys for back and task-switching. On the Pixel, it's located around the back, and can be used in conjunction with a handy swipe gesture to bring down the notification shade. Again, neither is objectively better, it's just down to which you prefer.
The 5.5-inch displays, too, are equally matched, but differ in the technology they use — AMOLED on the Pixel, SuperLCD 5 (read: a pretty good IPS LCD) on the U11. I would give the U11 a slight advantage in daylight use, but it's a razor-thin edge, and you could just as easily call it for the Pixel if you prefer the more saturated colors of AMOLED.
Image 1 of 2
Of course, one thing the Pixel's AMOLED panel gets you is Daydream VR support. Currently no LCD-based phones can use Google's VR platform, and HTC says it has no plans to support Daydream on the U11.
While both phones feature hefty top, bottom and side bezels, the U11 offers more on-screen real estate thanks to its off-screen buttons. That's a plus for a handset with a relatively large footprint by the standards of 5.5-inch phones.
Audio, too, is won out by the U11, with one major asterisk. There's no headphone jack built into the phone, so you'll need to rely on HTC's 3.5mm-to-USB-C dongle included in the box, or use the company's (admittedly great) USonic noise-cancelling USB-C earbuds.
On the Pixel, you'll get that all-important headphone jack, but the sound quality from the built-in speaker doesn't come close to matching HTC's BoomSound Hi-Fi. Although the U11 features just a single bottom-firing speaker, alongside the earpiece up top, it's able to produce rich bass and enough volume to compete with even the noisiest of backgrounds.
That's not the only hardware advantage HTC has to offer in the U11. It's also water resistant, rated IP67 (as opposed to the "splash resistant" rating of the Pixel), so you needn't worry about dunking it in the sink or using it out in the rain. And there's also Edge Sense — HTC's squeezy shortcut feature, which can let you quick-launch the camera, jump into Google Assistant, or do any number of other (configurable) things by squeezing the phone in your hand. I was skeptical at first, but after a few days with the U11, I'm starting to appreciate the simplicity of the squeeze gesture compared to a double-tap.
Google's phones have always had an inbuilt advantage when it comes to software. Nexus and Pixel phones get new versions of Android first, and if that's something you care about, software alone might be reason enough to cough up the extra money for a Pixel XL. But HTC's software pedigree shouldn't be dismissed, even if Sense has been dailed back to a (mostly) stock Android experience, augmented by one or two extra apps and tricks. HTC's lightweight UI isn't a million miles removed from the Pixel software experience, and more importantly, it's every bit as fast.
On the other hand, don't count on the U11 getting Android O anywhere near as quickly as the Pixel. Google's phones are expected to get version 8.0 of the OS in August; for its HTC-branded cousin, you're looking, conservatively, at a holiday 2017 timeframe.
Nevertheless, the U11 is wicked fast on Android 7.1.1. And that speed extends to the U11's camera, whether you're launching it from the Edge Sense squeeze shortcut, a double-tap of the power button, or an app shortcut on the home screen. Image quality, too, has come to rival pics produced by Google's legendary HDR+ mode. In fact, HTC has its own take on that technology in the U11, dubbed HDR Boost.
I still think Google's post-processing is able to draw out more color detail from low-light images — while also doing a better job retaining highlight and shadow detail in extremely high contrast scenes. But there's no denying the U11 produces sharper and generally more accurate photos, as opposed to the more overtly colorful, less true-to-life Pixel pics. And HTC also benefits from a more fully-featured stock camera app, which includes a manual mode and RAW photo capture support.
Image 1 of 12
HTC also leads in the selfie arena, with the U11's 16-megapixel front-facer producing high-res pics in daylight, backed up by a lower-res UltraPixel mode for use in darker settings.
Really, though, I'm picking nits here. What'll probably have a more significant impact on your photographic experience is the storage provided in these phones. The U11 comes with 64GB as standard — there's a 128GB model offered in parts of Asia, which also boasts 6GB of RAM — where as the Pixel comes with a mere 32GB, and good luck tracking down the more expensive, lesser-spotted 128GB variant. What's more, the U11 provides a microSD slot, letting you offload all your photos from precious internal storage. On a 32GB Pixel, storage anxiety will very quickly set in, despite the free full-res photo and video backup offered through Google Photos.
So let's wrap things up: By just about every measure, the HTC U11 is the better phone of the two. It's faster, with a more attractive, eye-catching design, boasts more internal storage plus microSD expansion and costs less. And in other key areas like display quality, camera and battery life, the U11 goes toe-to-toe with Google's phone.
Unless you really want the Google Pixel UI and Daydream VR, or want to be among the first to update to Android O, you're better off with the HTC U11.
Sign up for Black Friday email alerts!
Get the hottest deals available in your inbox plus news, reviews, opinion, analysis and more from the Android Central team.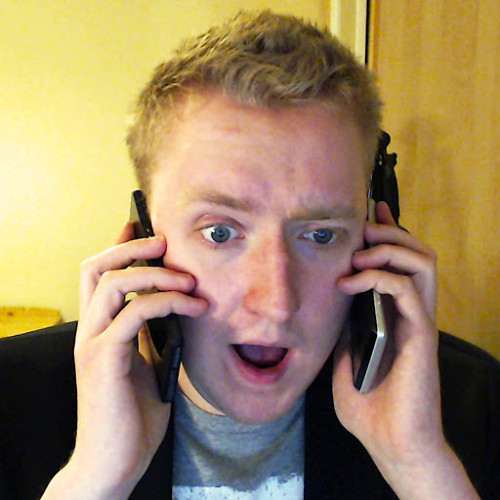 Alex was with Android Central for over a decade, producing written and video content for the site, and served as global Executive Editor from 2016 to 2022.