HTC Puccini spotted, AT&T LTE confirmed once again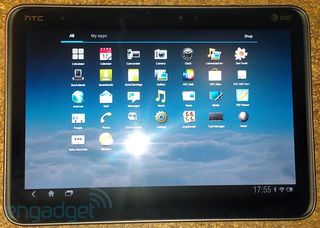 HTC Puccini, Jetstream -- whatever you want to call it at this point hasn't exactly been a secret as of late. It's been spotted a number of ways in the past but now we're getting to see the device up close and in a more personal setting. The folks over at Engadget have got the images and specs for the device, if you find yourself interested.
Thus far, some confirmations -- 1.5GHz dual-core, 1GB of RAM, Honeycomb, 16GB of storage with a 10.1-inch WXGA touchpanel and of course, LTE. There is also that 8MP shooter on the back with LED flash. Jump past the break and you'll see the backside baring the AT&T 4G LTE logo.
Source: Engadget
Yawn.... At&t trying to be like Verizon now with lte.. at&t your network will always suck even with lte!

I agree, but Verizon just has to get more LTE phones out so that there is a good selection of all sorts of form factors.

all this at&t hate. it was iPhone that did all the damage you know.

ATT has a tower 1/4 mile from my house that is currently interfering with Verizon LTE reaching me. I have service right up until I drive within150ft of that tower, then bye bye LTE.... :(

Doesn't make any sense.... different frequencies.

actually if att had a decent network and actually maintained it using the record profits they made from their overpriced data plans no one would be complaining about them. Im not a fan of the iPhone but don't blame the phone for att's crappy network with advanced backhaul.

AT&T's network sucks because it's small. And you have to pay way more than it'll ever be worth to use it. For those that are willing to pay a ton of money for crap service, AT&T's LTE is supposedly quite a bit faster than Verizon's.

I had the specs in the rumored device forums days before this. -_____________________________________________-

I got to say I love htc and sense but for some reason this looks ugly!

Honeycomb> Sense. This is honeycomb you're seeing. Don't fret, you'll love it.

I'd like one but i'm sure the price will be ridiculous.

i'll take one and a htc holiday when they finally get around to releasing it

I don't see the point of HTC or Any OEM skinning honeycomb when Ice Scream is coming so soon. To have them Spend time again to play catch-up with Google. When they're playing catch-up with Apple.

Without the skins their's nothing to differentiate the manufacturers devices.

Uh oh, looks like an iPad. Apple is sure to sue!

Anyone else concerned that a 1.5 GHz dual-core processor isn't enough to power a Sense-bloated Honeycomb tablet? I surely am.
Android Central Newsletter
Get the best of Android Central in in your inbox, every day!
Thank you for signing up to Android Central. You will receive a verification email shortly.
There was a problem. Please refresh the page and try again.