HTC Gallery update lets you share M8 Duo Camera effects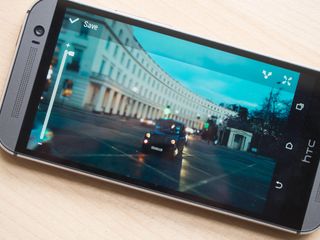 HTC has updated its Sense 6 Gallery app through Google Play, introducing the ability to share live Duo Camera photos from the HTC One M8 on the web. Whereas previously you'd have to apply your effects and save a still photo before sharing, now you can share Duo Camera effect shots directly through a Google-hosted web page. Through this new Duo Effects Gallery, viewers can play around with refocusing shots and applying other 3D and artistic effects, just like they would on an M8.
HTC One M8 owners can find the new Duo effect sharing feature by first selecting a photo, then going to Edit > Effects and choosing an effect, then hitting the share icon in the top right corner. So there's a little work involved, and it's easy to miss if you're used to operating within Android's sharing intent system. But the resulting web-based widgets seem to work well enough, and you can embed them in web pages too.
M8 owners, be sure to share your Duo effect shots down in the comments!
Alex was with Android Central for over a decade, producing written and video content for the site, and served as global Executive Editor from 2016 to 2022.
For the next time; add the source.

Which would be Google Play Store.... Posted via Android Central App

Uh oh - here come the editors of Time and The Princeton Review. Even though you have links to the source, & a big giant picture of the source icon, that will not be good enough. You guys better get your shit together! Posted via Android Central App

Haha Posted via Android Central App on the Moto X

Not the best example of 'Depth of Field' but I do love my Android neon light! https://df9e0a9d65c3d63ae2edaa8c7720240662558ec2.googledrive.com/host/0B...

Why as an HTC M7 owner are they going to tease me with this update when it serves me no good? Available to download for what reason?

I have and love the M8, but the hocum with the "ultrapixels" and duo camera is particularly annoying. You cannot "ufocus" any image in which (1) you use zoom; (2) you use anything other than "auto" mode; OR 3) you are in low light conditions. That's not just brain dead, that's pretty close to outright deception. I have had the phone since the hour it was released and have taken dozens of images. I have been able to use ufocus to any effect on one shot. One. Or as they say on Jeopardy, "Buzzzzzzzzzz."

Then you're not very good at taking photos Posted by my Nexus 7 (2013)

Really? I use Ufocus quite often and it's pretty easy to use and some of the shots it transforms are very cool looking. Despite the limitations, I find plenty of situations where I can use Ufocus. Posted via Android Central App

Niiiceee Posted via HTC ONE M8 Gunmetal Gray

I'm wondering if the receiver of the image can actually save image effects and changes to their own gallery? Does anyone know? Posted via Android Central App

article says share, but share with what ? drive ?

Ok, so when you find a picture that you want to share. You have to hit the effects tab and then choose which duo effect you want to share. Once you've decided, then you'll hit the share tab to share the link. Once the picture is uploaded then you can share the link based on whatever choice you selected, ...i.e. text, email... The receiver will get the link and be able to apply the duo effect that you sent them. Once they have the effect they want, then they can save the image by holding their finger on the image until they get the menu to save, copy, etc....just another way you can say look what we can do with our phones. Honestly, it's pretty neat. But, it's probably not very practical! Posted via Android Central App

just test :)
https://9879bd948d161de2007835ceaaeaac4db8405aff.googledrive.com/host/0B...

Have some snacks lol.
https://duoeffectsgallery.htc.com/host/0B4cwzNMIPpoWTTBnd252cHhvamM

Very nice! Posted via Android Central App

Thanks, I've taken some really nice pics with my M8, I'll post some more shortly.
Android Central Newsletter
Get the best of Android Central in in your inbox, every day!
Thank you for signing up to Android Central. You will receive a verification email shortly.
There was a problem. Please refresh the page and try again.