HTC EVO 4G+ caught on video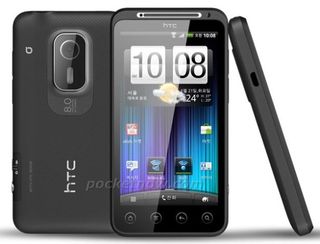 Youtube link for mobile viewing
The HTC EVO 4G+, a.k.a. the HTC Rider, has been caught on video at a Korean Youtube channel. The EVO 4G+ is basically the EVO 3D, with WiBro (Korea's version of WiMax 4G), and no 3D camera or playback. As you can see in the video, the snappy operation and Sense 3.0 are there, and on the hardware side the specs (minus the dual cameras and network specs) are the same. In place of the 3D setup you find on Sprint's version, the EVO 4G+ will have a 1080p capable 8MP rear and 1.3 MP front cameras. Further details and an official announcement haven't popped up just yet, but for all intents are purposes it looks like Korea is getting it's own 3D-less EVO 3D.
Source: Reviewyang. More: Pocketnow. Thanks, HustleHard101!
Update: And it's official, folks (opens in new tab).
Android Central Newsletter
Get instant access to breaking news, the hottest reviews, great deals and helpful tips
Senior Editor — Google Ecosystem
Jerry is an amateur woodworker and struggling shade tree mechanic. There's nothing he can't take apart, but many things he can't reassemble. You'll find him writing and speaking his loud opinion on Android Central and occasionally on Twitter.
That's sexy and I want it in the US.

But isn't a 3d less evo a sensation?

The Sensation has less RAM.

Well the EVO 3D technically has more RAM than the Sensation as well as that awesome camera button so they are the same but not the same.

i guess i am moving to korea...nice toy ...

So the toggle is indeed for switching between camera and camcorder mode. Very nice. The EVO 3D was very nice for its ginormous camera button but I hate the 3D gimmick everyone is throwing on. Too bad I'm cheap. Let this be on Virgin Mobile?

did u not read the part where its going to korea, and probably only korea

Why must you ruin my dream? :D

this is what i wanted to replace my evo 4g! bsically a evo2 i would love the evo 3d if it didnt have the 3d!! or replace a nice 8mp camera with two 5mp camera i dnt want 3d for pictures or playback......i want this phone! moving to korea i guess!

My feeling exactly. Hopefully it gets released stateside in the next 6 months.

So tired of that same drivel. 1) Having 3D does not detract from the Evo 3D AT ALL. If you don't want the feature, just ignore it. 2) Number of pixels really means nothing. Just because the other chip is an 8MP doesn't mean it will take better pictures.

Some people are too stupid to understand such simple logic. If you are that dumb, why have android? that is what the iPhone is made for.

1) I have actually heard that the 3D feature cannot be turned off on the EVO 3D. Also, if people are complaining that the 3D gives them a headache, it can obviously not be ignored. 2) I agree with you there. Higher megapixels does not equal better pictures.

Go read a review or something... Even one as mediocre as Engadget's clearly states that it can be turned off, and when it's on it's only active in a few select apps (one pre-loaded game + movie), not throughout the whole phone. You could ignore the feature the entire time you own the phone, the only reminders that it's there would be the toggle by the camera and the 2nd lens. Frankly I don't care much for 3D either, but it doesn't bother me that it's there... At least they packed in a couple of extra perks with it (more RAM, camera button) while giving up the Sensation's metal case.

I'm still rolling @ "WiBro" hahaha

The phone is nice but for people talking about they want the 8mp camera instead of the 2 5mp cameras, 3mps more don't really make much of a difference in quality.

MP != Quality. Megapixels are only the size of the image. The sensor determines the overall quality of a picture and generally, phone sensors suck, which is why a good 5MP point and shoot will look better than the best 5MP camera phone.

programmer? not sure everyone knows what != means :)

Number of pixels has nothing to do with quality, just resolution.

Bottomline people need to get over it 3d is the technology today otherwise other handsets would'nt be trying to compete with htc. Either buy the Evo 3d here in the states or don't buy it either way the Evo 3d is a top device according to It's technology and we should appreciate what sprint has done to try to bring cutting edge innovation to their customer base. I don't see anyone else pushing the envelope from a technology standpoint. Last year sprint was first to 4g, then the first carrier to have a 4g android device, now they have pushed the envelope with the first 3d 4g android device I applaud that.

Ever since Avatar was released, 3D has gone ballistic. I'll take an Evo 4g+ thank you...yeah the one without the 3D logo :)

So, its the 3D logo that bothers you?

Thanks for the shout out Jerry..!!

No kick stand. Without two cameras, you think they could have put this back in.

I want this. Id prefer this device as would many others.

dual 5mp cameras = 720p, one 8mp camera = 1080p, as.much as 3d is a benefit, 3D isnt at its peak yet so many ppl inculding myself dont even own a 3D tv or monitor, point is i rather get a phone that i can watch my gorgeous 1080p video on a 50" than a 3D phone that i have to watch on a 4" screen, maybe next.year or after when 3D is more common and can record in 1080p, get more games, or if they figure put how to get hdr recording on it...

None of the (few) phones that can currently record video in 1080p can do it particularly well, go read any Sensation review... Most state if you want to avoid frame skipping and jitteryness, switch it to 720p. The video recording resolution has nothing to do with the photo capabilities btw, it just so happens that the first few phones that had 1080p video recording all had 8mp sensors (8mp or even 5mp is a way higher resolution than 1920x1080 = 2.07 MP). Ultimately, all those sensors are probably capable of 1080p video recording but the CPUs in the phones still can't handle the real time encoding (at least not smoothly, probably with the next gen it'll be commonplace). I'm sure there's some software improvements to be made too. None of these phone manufacturers have a prefect implementation of sensor drivers and camera UI yet, that's why a point and shoot camera with far less processing capability but more specialized software and hardware can handle 1080p (at much higher bitrates I might add, the Sony HX9V rivals some of the cheaper camcorders).

True. However the video tests I've seen on youtube show that the SGS2 records 1080p really well: http://www.youtube.com/watch?v=xkVVihNqvgU This is the difference between the E3D and SGS2 that made me decide the SGS2 will be my next phone. Though I wish the UI looked as cool as Sense...

Why are some people calling others names just because they dont like a phone. people have a right to choose the phone they like. Its their money, let them choose the phone that they like. Some people wont like the evo 3d for whatever reason. Get over it already. The very fact that we have so many options is what is great about Android.

I wish I could give more than 3 stars for that.

Cant read the korean specs page. If it has NFC, I'm in.

anyone else love how their 4g is called WiBro?

If bloatware manifests as hardware,
Is it BLARDWARE,
Funny how most of the same people who go to the ends of the earth to remove unwanted provider apps to save ram/rom,
Are OK with gimmick hardware tying up space/ram/rom on an otherwise spec advanced devise,
Many of you don't want bloatware,
I don't want gimmick 3D camera and associated ware taking up physical space, ram, or rom on my device.

ughhhh once again, YOU CAN TURN OFF 3D!!!! for the last effing time your phone can just stay in 2D mode for however long you want it to! option is a wonderful thing my friend! thats also why they implemented extra memory into the phone, to compensate for android central complainers... jesus.

Jesus has nothing to do with 3D.

CPU processing speed 1.2 GHz, Dual-Core
Store 1 Built-in storage space: 1 GB
RAM: 1 GB
Expansion Slots: microSD ™ memory card (SD 2.0 compatible) Link 2 3.5 mm stereo ohdiohjaek
micro-USB 2.0 (5-pin) port with mobile high-definition video link (MHL) for USB or HDMI connection Sensors Gyro Sensor
G-Sensor
Digital Compass (Digital compass)
Proximity Sensors (Proximity sensor)
Light Sensor (Ambient light sensor) Multimedia Gallery, Music, FM Radio
SRS virtual surround sound, wired for cell phones
Wireless streaming for media DLNA (TV turns your computer). Audio formats: Playing:. Aac,. Amr,. Ogg,. M4a,. Mid,. Mp3,. Wav,. Wma (Windows Media Audio 9)
Record:. Amr,. Aac Video formats: Play: .3 gp, .3 g2,. Mp4,. Wmv (Windows Media Video 9),. Avi (MP4 ASP and MP3),. Xvid (MP4 ASP and MP3)
Recording: .3 gp Battery 3 Battery Type: Rechargeable Batteries Capacity: 1730 mAh
Talk time: WCDMA: Up to 410 minutes
GSM: Up to 440 minutes Standby Time: 4 WCDMA: Up to 330 hours
GSM: Up to 270 hours Network 5
HSPA / WCDMA: 900/2100 MHz
Download 5.76 Mbps 14.4 Mbps upload Quad-band GSM / GPRS / EDGE: 850/900/1800/1900 MHz WiMAX (WiMAX): Mobile WiMAX (WiBro)
Upload up to 15 Mbps up to 7 Mbps downloads (Pre-conversion on the band, HSPA possible situation, data speeds can vary depending on the carrier.)
Platform Android ™ (HTC Sense ™ mount)
Camera
8-megapixel camera: Autofocus and dual LED flash Front camera: 1.3-megapixel front camera HD Video Recording: 1080p HD video recording Internet 6
3G: Up to 14.4 Mbps download speed
Upload speeds up to 5.76 Mbps GPRS: Up to 114 Kbps download EDGE: Up to 560 Kbps download Wi-Fi ®: IEEE 802.11 b / g / n Bluetooth ® Bluetooth ® 3.0
A2DP wireless stereo headset.
File transfer FTP and OPP (object push)
Car Kits - Contact Linking PBAP-ins Social Networking Facebook ® and Twitter ™ for HTC Sense
Friend Stream
Photo / video sharing (Facebook ®, Flickr ®, Twitter ™, and YouTube ™) Location (map features) Built-in GPS antenna
Built-in location (map features) Pros: No downloads and data roaming fees, faster loading speed Tethering Tethering USB and Wi-Fi ® Recommended default Windows system recommended Windows ® 7, Windows Vista ®, or Windows ® XP
HTC Sync

Size: 126mm x 65mm x 12.05mm
4.96 "x 2.56" x 0.47 "
Weight: 160 grams (battery included)
Display: 4.3 inch touch screen
Screen: 109 mm (4.3 inches)
qHD (540 X 960) resolution

I want this, over the EVO 3D. Who wants a gimmick, and who wants to "ignore" a feature? That sounds asinine. And all the pretentious folks out there that feel the need to point out one's seemingly lack of intelligence, go suck on something. This phone is kick ass. I love the toggle feature between video and still photos. I hope the wait isn't long.
Android Central Newsletter
Get instant access to breaking news, the hottest reviews, great deals and helpful tips
Thank you for signing up to Android Central. You will receive a verification email shortly.
There was a problem. Please refresh the page and try again.