HTC and AT&T announce the HTC First with Facebook Home, coming April 12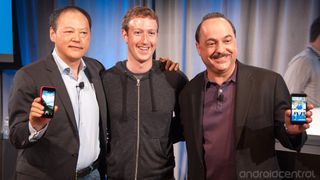 We're live at Facebook HQ in Menlo Park, Calif. where HTC and AT&T have taken the wraps off the HTC First, the first handset to come with the new Facebook Home experience out of the box.
A minimalist design with curved corners and a widescreen display, the HTC First puts Facebook Home's content and people-centric UI front and center. The device runs Android 4.1 Jelly Bean on a 4.3-inch screen, and is powered by a Qualcomm Snapdragon 400 CPU.
The HTC First will be available on April 12, for $99.99 on AT&T in four color options -- black, white, red and blue. Preorders begin today. In Europe, it'll launch on EE and Orange.
Keep watching Android Central for more information as it emerges. In the meantime, we've got more photos after the break.
More: Facebook Home forum; HTC First forum
Alex was with Android Central for over a decade, producing written and video content for the site, and served as global Executive Editor from 2016 to 2022.
I like how the specs didn't seem to matter. oh and.. FIRST! lol.

Specs don't matter because Facebook. First is the worst, second is the best!

third is the one with the hairy chest

Ron Jeremy is certainly looking better after that heart attack

See, like what if it has meh specs? I know it will probably won't be the HTC One, I would assume it would be speced similar to the HTC One X/X+, as it is only $99.99. But who knows.

I don't think spec conscious people are their target audience.

I don't think conscious people are their target audience.

Honestly if the phone runs smoothly, do specs even matter?

Hm, couldnt care less about this phone, but I do think it'll help HTC in the sales department. And the target audience isnt spec buffs, but social buffs..which is a rather untapped market. Good for them.

For those pointing and laughing at the specs. This phone isn't met for tech geeks obviously. It's mean to people that heavily utilize social media. It will probably be a heavily customized Facebook UI integrated and optimized for it. I imagine it being a fun phone for a young teen.

what the hell is HTC thinking?

Providing a phone that has a potential 1 billion interested buyers. Seems pretty smart to me.

But Facebook is already available (such as it is) on a phone you can buy now. Basically only reason I can see why is FB is giving them tons of money.

Probably that their sales have gone down the crapper and they want to target all the people obsessed with Facebook (millions upon millions) who will jump at the chance to be engrossed in constant Facebook information.

Its an interesting concept, but since it will be coming to most Android phones anyways....what's the point of giving it its own phone? Do I spend $99 on a phone with worse speces then the one I have or wait 3 months and download it for free...hmmm. And Peter Chou just because Steve Jobs announced every new product doesnt mean you have to, get someone at HTC that SPEAKS ENGLISH to give your announcements.

What about my statement was ignorant? His Engish is terrible. You are putting on a HUGE press event and he bareley speaks English, mumbles, and lacks any sort of energy; the man is not a good public speaker.

Nah. I get your point and somewhat agree it just came off worse because of the CAPS I think.

Sorry, it just kills me to see these huge companies put on these massive events and to have a guy come up who has very little energy and does not speak the language well just sort of ruins it for me. If you are going to give a presentation you have to engage the audience, have energy, and get what you are trying to say across clearly. Peter Chou fails to do so every time. This model of the CEO always has to get up there and do it because Jobs did it is BS, it worked for him because he was good at it.

I agree with you. Mr Chou is not a good public speaking, at least in English, and it makes everything worse !

It isn't for people with high end phones, but rather for those with the cheapo, low end ones. It's also for dumbphone users who have yet to switch to a smartphone.

They should have called it the HTC "All up in your Face"

HTC "THERE GOES YOUR DATA PLAN"

These specs are actually near-perfect. Perfect size, resolution, and the CPU is great. I don't trust HTC's overlay on less than 1GB anymore though, so that's the only thing holding them back.

"HTC's overlay"? I don't think this has Sense on it.

again my 2.3.6 version of android has #@$% me over again... sad monkey.. i hope that getting a nexus next time around this 1 version per phone is over with..
Android Central Newsletter
Get the best of Android Central in in your inbox, every day!
Thank you for signing up to Android Central. You will receive a verification email shortly.
There was a problem. Please refresh the page and try again.