HP's SlateBook is a 14-inch Android laptop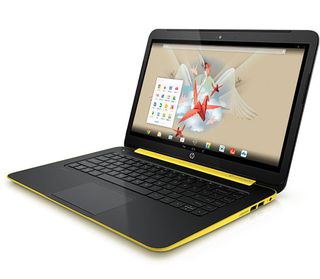 HP does Windows laptops, and HP does Chrome OS laptops, and now HP does Android laptops. Today HP unveiled the SlateBook, a 14-inch Android-powered laptop. If that sounds familiar, well, it should. It was just over a month ago that such an HP Android laptop was leaked, and today we're finally getting some better details.
The SlateBook isn't the first Android laptop we've seen, though it is by far the largest we've seen entering production. Inside is an NVIDIA Tegra 4 processor, 64GB of storage, 2GB RAM, and a battery good for 9 hours of use. The screen's a 1080p touch-screen, though there's also a keyboard and trackpad below that for more traditional lap-bound use. At 3.7 pounds the SlateBook slots right around where we would expect a laptop of this size and specifications (no hard drive, no disc drive).
The SlateBook is due out in August, priced starting at $399. It is quite thin for a laptop, measuring in at 16mm. That's a thinner than the traditional Apple MacBook Air, but thicker than the new Microsoft Surface Pro 3 — though both those options cost at least twice as much.
Additionally, HP has updated the HP Chromebook 11 with a larger battery and lowered price. Now starting at $249, the Chromebook 11 can now run for up to six hours on a charge. It also comes in white or turquoise, if those happen to be the colors of your choice.
Is a 14-inch HP Android laptop something you need in your life?
Source: HP (opens in new tab)
Get the Android Central Newsletter
Instant access to breaking news, the hottest reviews, great deals and helpful tips.
Derek Kessler is Special Projects Manager for Mobile Nations. He's been writing about tech since 2009, has far more phones than is considered humane, still carries a torch for Palm (the old one), and got a Tesla because it was the biggest gadget he could find. You can follow him on Twitter at @derekakessler.
Why is the Chrome OS app launcher shown on this Android device? Also, what's that next to it on their site? Looks like a HP Android phone: http://www.www8-hp.com/us/en/images/i/gateway/slatebook/banner_android.jpg

Hopefully android gets chrome extentions & app support... Also that phone looks... Interesting.

That looks like the android dock to me, and that phone is running 4.3 at best...notice the blue status icons?

I think the opinion that that's the chrome app launcher is more plausible. Notice the store shortcut. Also given this is HP I think it's more likely to be 4.2.2 they have a thing for that particular flavor of Jelly Bean.

Just having a shortcut doesn't make it chrome. It could be android still...it's not like anyone couldn't change that.

Its a folder I think. Looks like that to me Posted via Android Central App

IIRC Dell did something did something similar a while back, it turned out to be horrible. Posted via Android Central App

I personally never trust Tegra processors after my experience with my TF201, super shitty gaming performance, got hot all the time, contacted ASUS and 3 RMA's later I'm out of the warranty. I may have been a bad unit or that ASUS did a shitty job but I just don't Tegra is the way to go, especially for laptop performance.

My nexus 7 has never had issues. Well it did when I overclocked the processor and voltages but at stock never had problems.
Posted via Android Central App

Then it must be a quality control problem because my Nexus 7 was horrible. Got itself sold recently. Posted via Android Central App w/ Moto X

Sorry but I just don't see Android as a viable and useful platform in a laptop. I mean I guess if all you want to do is surf the Web and play Android games on a bigger screen. Otherwise I'll stick with a Windows machine. Posted via Android Central App

I'll have to agree here, not that it couldn't have been a useful full desktop option, but they keep designing android to fit mainly the consumer on a phone use-case.

I have to agree as well. This just reminds me of a phone with a larger screen. I can add a keyboard to my Galaxy 4S or my Note 2014, and either will work the same way this does. And both combined were half the price. I'll stick to my Toshiba for the workhorse stuff and my phone or note tablet for portability and that's the only reason I would consider this.

Well now... if you guys all have to agree, I guess I am required to agree too.

Why not? You can download all the Google stuff like chrome browser, docs, and drive, and even use office... Offline. Seems a helluva lot better than chrome... I want one. Posted via Android Central App

Having used android and chrome a lot, I can honestly say that chrome offers a much better desktop or laptop experience. Most of the "apps" on Android are just website replacements, Chrome has far superior Windows management, and the track pad is oriented correctly. HP should have made this a chromebook, I have no idea what they were thinking Posted via Android Central App

Not the apps I use... Posted via Android Central App

"posted via Android Central App" Posted via Android Central App

I'm interested, but not at $399. I'll wait for the inevitable HP $99 firesale price on this product. In the meantime I've already played with a Rikomagic MK802 IV Android stick with a monitor and BT keyboard/mouse to play with Android as a Desktop OS - it was interesting.

Well for 400$ 1080p at 14 inches makes it a really nice screen. Posted via Android Central App

Can I install Linux on it instead?

name one thing you can't install linux on...i dare you to try ;)

Lol +10000 Posted from my Motorola Moto G

And that may not be necessarily true since you can install android on an iPhone. Don't forget that is a distant cousin of Unix. Posted via Android Central App w/ Moto X

Maybe an external dvd movie player on android-linux? That's one thing I always wanted but could not get working on phone or tablet. .. Posted via Android Central App

isnt Android already Linux?

A variant yes. I'd like a little something more hard-core.

It's not a variant. It's linux running a dalvik VM

This must be for the crowd that has grown up with Android and would prefer to stick with something they know. Otherwise, why wouldn't they just buy a Windows machine for the same price? Better quality software is available there for someone who needs a laptop.

Because it's 16 mm thick and has a 1080p screen for 400 dollars, maybe? Posted via Android Central App

I have a chromebook... I would prefer an android based laptop that will run my already purchased apps, and let me sideload Microsoft Office for Android... Like I have on my tablet. Posted via Android Central App

Where can a guy buy a 14" 1080p touchscreen windows laptop with 9 hour battery life for under $400? -Suntan

Looks like the laptop and telephone that should have been out two years ago and should have been webos. While I still like their printers, I am kinda over HP.

I hate hp, but I'm very interested in this. The only reason I don't own a Chromebook is because of either crappy storage options, or crappy display quality. I'm going to have to consider this strongly.

If you need a ton of storage on a Chromebook, you're doing it wrong. And none of them have terrible screens. Although it's not the best out there, I find my Acer C720's display to be adequate, especially for $200. From my Moto X+1 running Android 5.0 in the world's worst dummy case

The hardware looks good, especially with different color options... Not sure about the software though...

Why just upgrade the battery in the 11"? Take the opportunity to upgrade that 2 year old shit Exynos processor and make it a world beater. Posted via Android Central App

It's worse than that. They downgraded the screen from an IPS to a TN. So they did nothing to improve the worst thing about it (the weak processor), got rid of the one thing that was great about it (the IPS screen), the battery life still trails it's competition, and it gained weight. All for a modest reduction in price.
Epic fail, but sadly par the course when it comes to HP. Posted via Android Central App

This so much. My dream Chromebook is the old HP 11 with a Celeron or new Exynos processor. Then again, I'm getting a Macbook pretty soon so these things won't really be anything I'm looking at anymore. From my Moto X+1 running Android 5.0 in the world's worst dummy case

I would expect more RAM if you're trying to make a laptop. I believe LG is pushing some 3GB and some other companies 4GB this year, so I would expect at least 3GB-4GB RAM for a laptop. More power and more RAM and I'd take another look.

I basically had one of these 2 years ago (minus the touchscreen). I have a Motorola Lapdock 500 Pro. Too bad it isn't compatible with today's more powerful phones as that's what it really needed, more processing power than the Droids of that era had. I used mine a lot. Posted via a beautiful Ebony backed Moto X or the amazing Nexus 10 using the totally awesome Android Central App

Android and Chrome OS are just so close to being great in a mobile world. If Android had windowing, or at least splitscreen like Windows 8.x snap, it would be super super useful on this type of device. And on the flip side if Chrome OS could run Android apps it would be pretty powerful. I like both platforms, I really do, I'm typing this on an Acer C720 that I really like right now. But there are just enough holes in both Chrome OS and Android that neither work perfectly.

Completely agree. They're getting better every year though! :-D Posted via Android Central App

Wonder if it can accept an external dvd drive -not just as a drive, but to play dvd discs/movies.
I think there was/is some issue for Android on codex use. ..
Posted via Android Central App

Even though Android works with keyboard and mouse, most apps are designed for your touch. Unless this is a detachable, the experience will suck. Posted from the Future via Android Central App

It won't be that had, the design could be better but it's a step in the right direction for chrome books / bigger "tablets" Posted via Android Central App

Maybe this is a preview of what week come at I/O this yeae. Merging chrome OS with android on tablets or 'android books' would be awesome. Imagine the possibilities if you root it. Posted via Android Central App

Agreed here. I would love to use a full featured desktop browser..Gmail..also be able to installed Android apps to the mix. I have the Acer 720 but wish it can do android apps as well.

My only concern would be application formatting. If anyone remembers the Droid Bionic laptop accessory, the formatting was awful. I wouldn't mind trying this one out.

This is really disappointing, I would rather see a Chromebook with similar specs to this than an android laptop. None of the google utility apps are optimized for big screen and laptop form so it would be really poor for productivity. Since HP proved they can make a laptop with a 1080p screen can they please make a Chromebook with those specs as well? But I wonder how this will compare to the new Samsung 2 13" Chromebook since they are the same price.

I agree, and since Google has zero interest in making android better on laptops (the opposite, In fact) this will get no support or improvement. Posted via Android Central App

I think I'd miss a multi-window desktop environment, like I have now. chrome 2/3 of the screen on the left, messengers and notes on the last third on the right.

Theres nothing saying that you can't do that yet. Also I'm sure some devs on XDA will make a root and allow multi window through xhalo and xposed, or with a custom ROM. Posted via Android Central App

Are devs on XDA even going to care enough about this device to do that? From my Moto X+1 running Android 5.0 in the world's worst dummy case

I would just try flashing a galaxy note tablet ROM of you wanted to Posted via Android Central App

Why does this have 64gb storage when Chromebooks all have 16gb standard? Posted via Android Central App

HPSlateBook 14 http://youtu.be/3dnwd6GSVR8

So, this or the Samsung Chromebook 2? Same price point. Posted via Android Central App

Probably the Chromebook 2 since it actually has an OS suited for a laptop. From my Moto X+1 running Android 5.0 in the world's worst dummy case

I agree. HP really needs to release some kind of info on what they envision this thing to be, because it makes little sense as of now.

14" touch screen? checked.....1080P full HD? checked...Super wide-viewing IPS screen? errrr....darn. Pass..

That thing is mine!! Posted from Google Nexus 5

I just recieved my Slatebook 14 on February 19th, 2015 ! The only issues I have had with it is the glossy screen and the keyboard sometimes double typing a letter. Amazon has this thing on sale for $227.00 right now ! For that price this HP Slatebook 14 is a steal ! There is no 1080p laptop for that price anywhere ! This is your fire sale folks so jump on it while you can ! It may not have an ips display but it looks damn good as long as you are looking at it straight on. Not only that this thing is built out of metal and very high quality Nokia like polycaronate. The lid and the palm surface where the keyboard is are metal. I know because it was cold here and they were colder than the other plastic parts of the laptop because metal retains heat or cold more than plastic. This is the best deal around folks and if you wanted to you could dual boot chrome OS and Android with this thing. They make Chromebooks using this Tegra 4 processor and this has a micro sd card slot, one USB 3.0 , two USB 2.0, headphone jack (single android type) and a full size HDMI port. This is one more USB and a full size HDMI plus a 1080p screen that most chromebooks and all lower cost windows laptops lack. I have a Note 4, Dell U2713HM 2560x1440 monitor, Kindle fire hd 8.9 and a Galaxy tab pro 8.4 to compare screens with this thing and as long as I am looking at it from the proper angle I am quite pleased with the screen on the slatebook 14 by comparison. If I was not it would go back immediately but as of right now the more I use this thing the more I like it. I just typed this with it in my lap and it was very comfortable. The keyboard is great on this thing and it has no fans therefore is completely silent. I did have to correct some of the times where it double or triple typed a letter but I believe I can iron out this issue and any other issues I may confront because after all this is Android and I will make this device my own and get it working just the way I want it to !